TLDR | 99.99% of my work shows epic destinations and Mother Nature's most iconic sunsets. Outdoors is gorgeous and where my soul and passion live! Yet, nothing beats the emotive and nostalgic feeling of having memories with your favorite people under the roof where your journey happens. Your home will enhance the authenticity of your family memories!
4 reasons to LOVE the in-home experience: 1) the weather is not a factor, rain or sunshine, we're a go! 2) you can wear your favorite outfit year-round! 3) It's the safest place for kids to be themselves, it's also a safe place for grandparents. 4) All we need is a window light, every home is THE home for family memories!
What do you think you'll feel 30 years from now when you see the love captured in the home where you were raising your family? Every family should have at least 1 in-home session to look back at! ❤️
In-home sessions offer a coziness that's even more delightful during the winter months! ❤️⁠ ⁠
Estimated Reading Time: 5min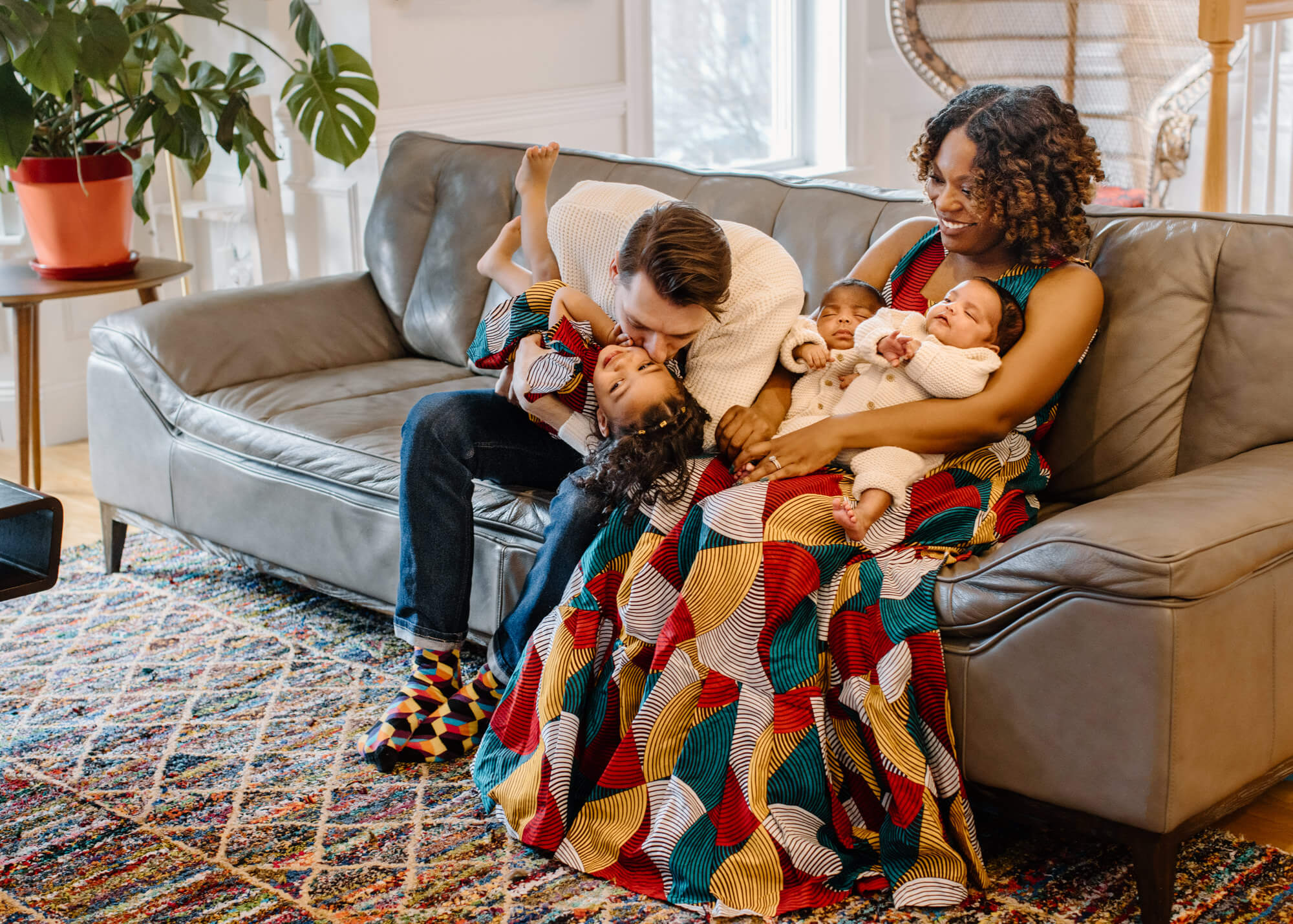 Home is the place you're raising your kids.⁠

Home is the place where you have danced, cried, laughed, and dreamed.⁠

Home is where you come back each day regardless of how difficult the journey was.⁠

Home is the place your kids feel safest.⁠

Home is your happy place, even when it's messy.⁠

Home is where your kid's childhood memories will go back to.⁠ ⁠

Having your family's essence captured at home is beyond special. Decades from now, it will be a window to the past. A window that will let you walk memory lane at home.⁠ ⁠
Here are 4 reasons why In-Home sessions are a great experience!
1. The weather is not a factor. Rain or sunshine, we're a go!
One of the perks of shooting at home is that you have no need to plan for a raincheck. We're always a go! That takes stress off, no need to be stalking the weather channel app on your phone 😅😜😅
We can meet with rain, snow, wind, or sun. The unstoppable magic happens during the 4 seasons regardless of the weather!
In-home sessions are my client's favorite during the winter months ❄️🌨️❄️❤️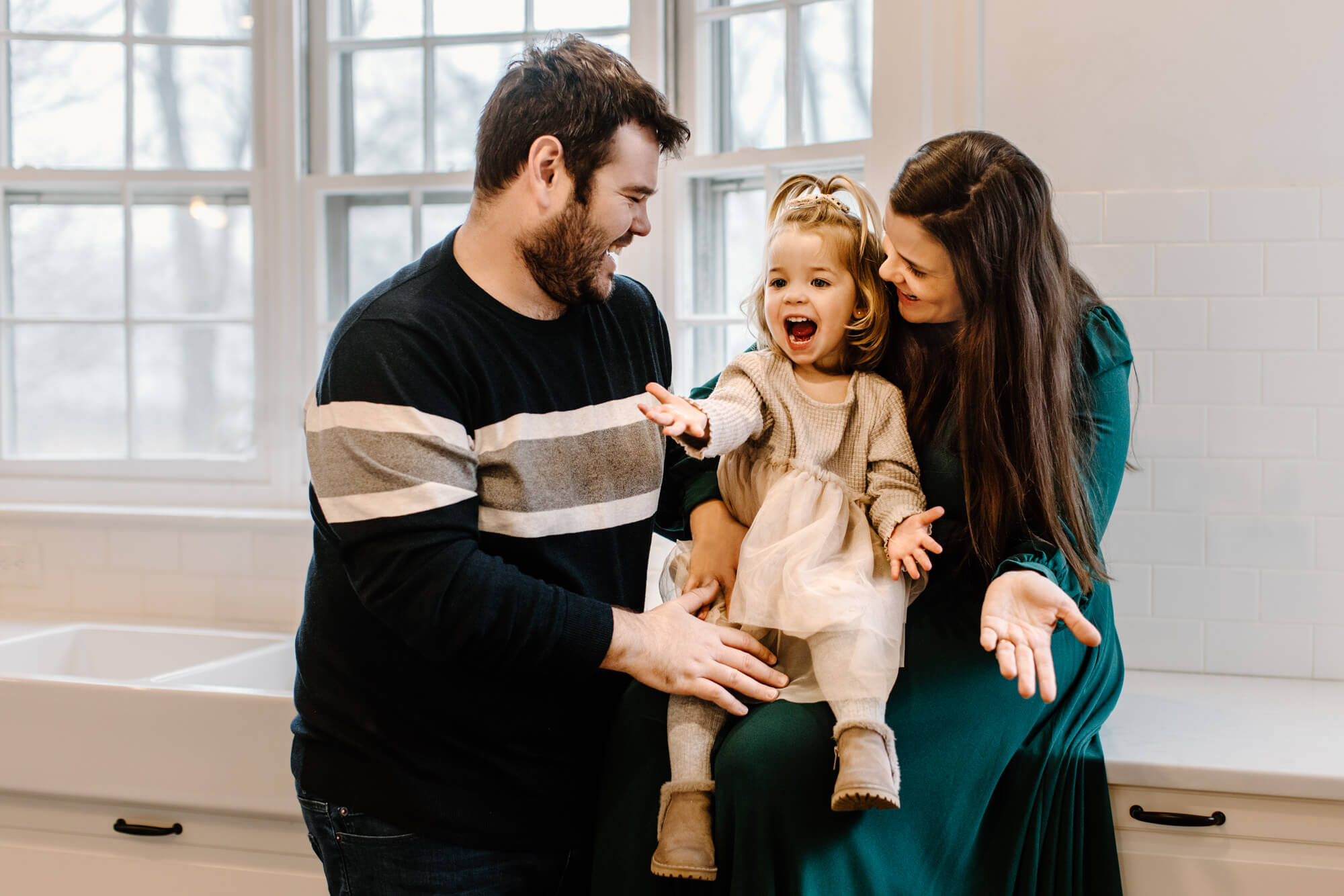 2. Your favorite outfits no matter the season!
This session took place in January during one of the coldest days in Boston. Snow outside yet you wouldn't know it if I didn't tell you. Indoors we were warm and cozy!
Mom was dreaming about wearing these matching dresses and voila! It works beautifully during a cold winter morning! No coats, no sweaters, no tights.

Changing outfits it's 100% doable
A single gorgeous outfit it's all we need (and recommend) for our session! When shooting outdoors I don't recommend changing outfits. It can kill the mood, some kids are shy, and changing clothes in the middle of a park exposes them. Others might get out of their happy zone. Changing clothes can kill the session flow with kids.
Yet when we're shooting at home, it's the ONLY time I would say changing outfits it's more than OK! Why? there is tons of privacy and we welcome the break! The session flows completely different at home, we're not exploring a beach or hiking a trail. You can easily change outfits and embrace a new look! 😀❤️👍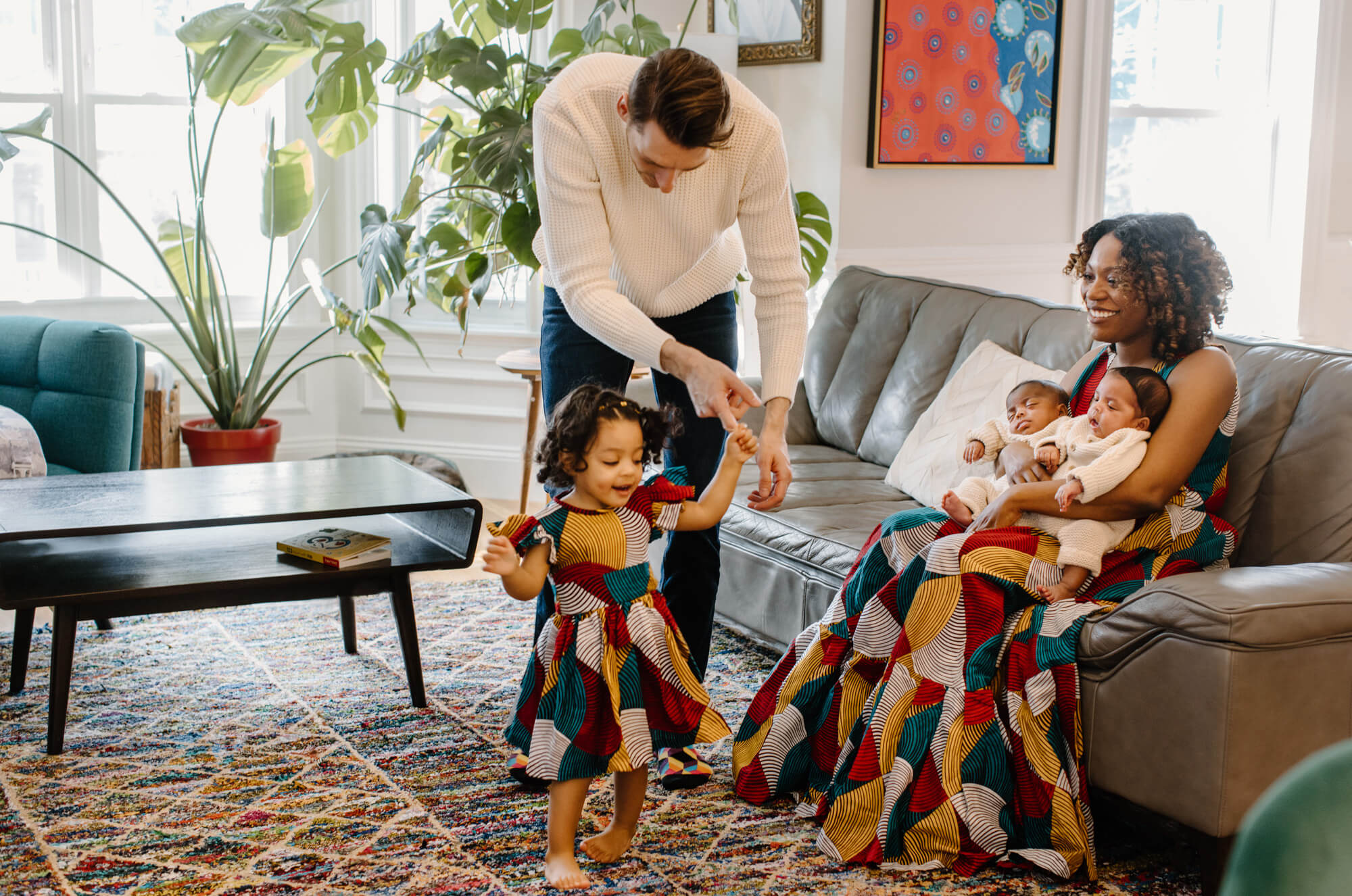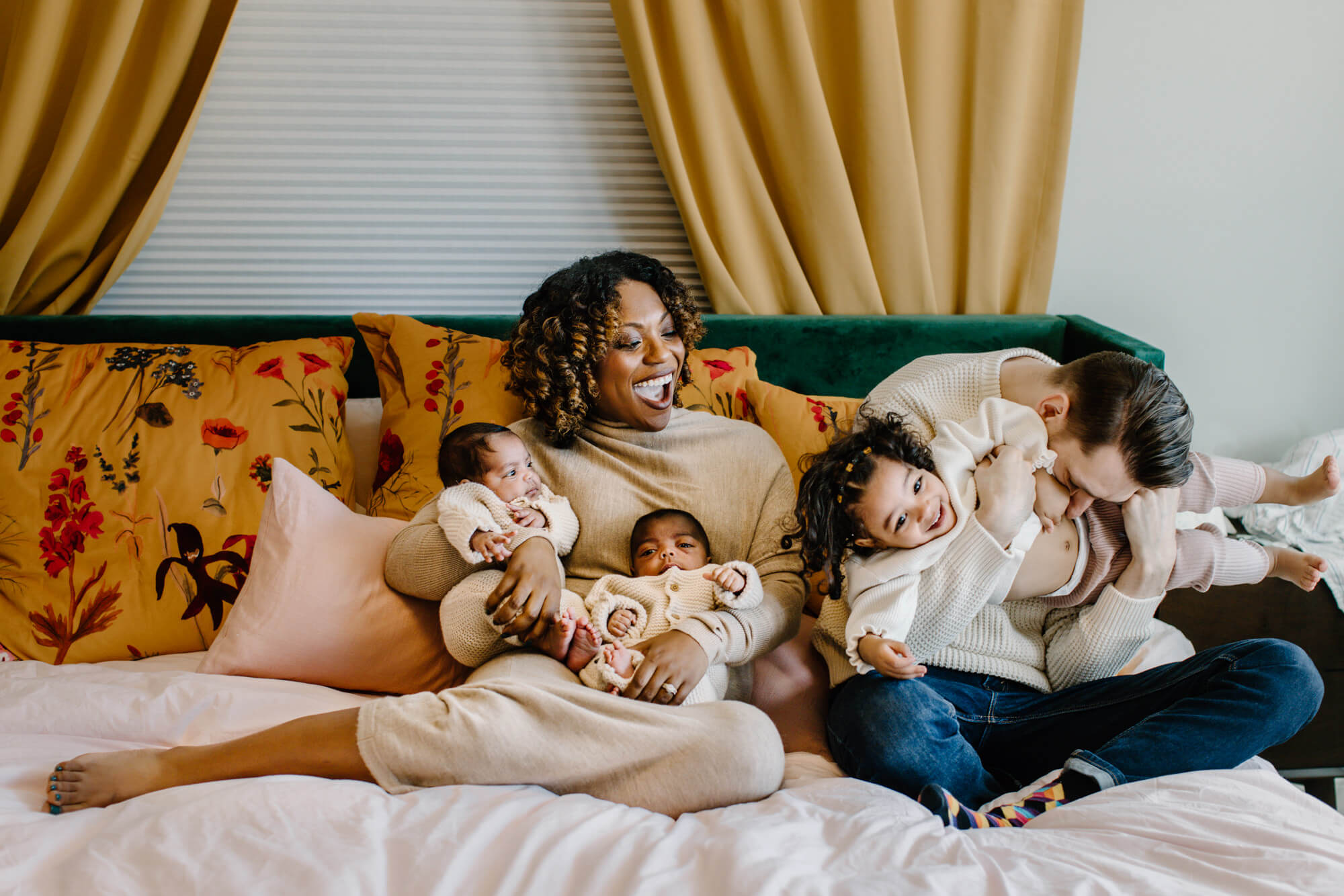 Did I mention no shoes?
This is probably my favorite part. Barefoot photos give such a nostalgic look & feel. It's both intimate and casual.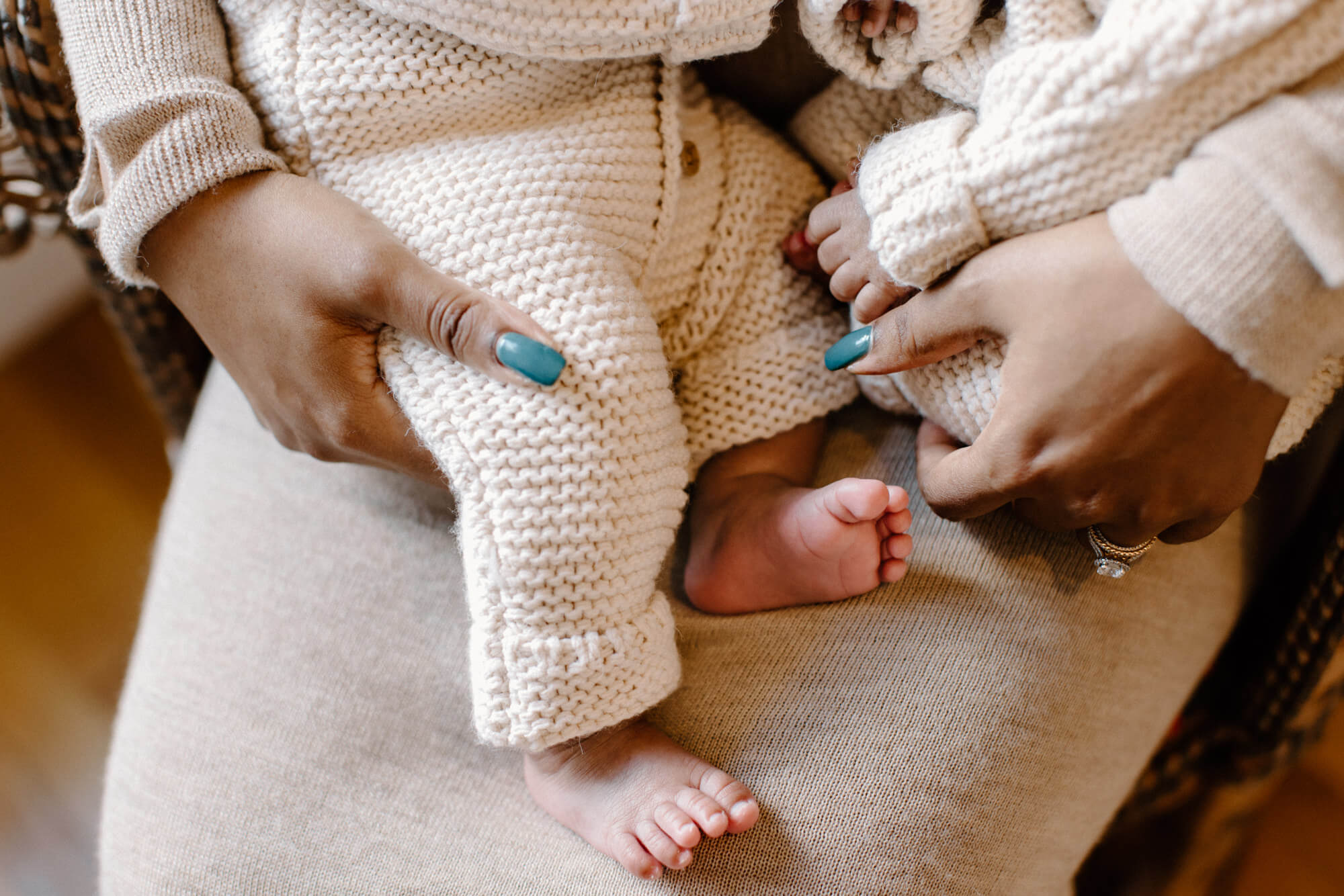 3. Perfect location for Grandparents to join us!
Having memories with their grandparents is something we want to gift our kids. We don't know how long we'll be lucky to enjoy grandparents in good health yet scheduling an outdoor session with them can be tricky. Your dream location might not be logistically doable for a grandma. It can be too much for your parents or in-laws!
You might also be debating the decision, thinking that if you bring grandparents they'll be in every memory captured OR that the family dynamic might be affected with grandpa spoiling the kids.
Peace to your heart, we have your back. We (photographers) know that when grandparents join us, the bulk of the memories captured will be your immediate family. We'll also make sure breathtaking memories take place with the adored grandparents, we'll enable those pockets for the grandparent magic to shine!
Shooting at home is very welcoming to grandparents. They can be comfortably sitting as happy and delighted spectators to witness the magic unfolding in front of their eyes. Their hearts will be captivated by the experience of watching their family opening their hearts and creating memories. Then when the time is right, they'll join us with a smile!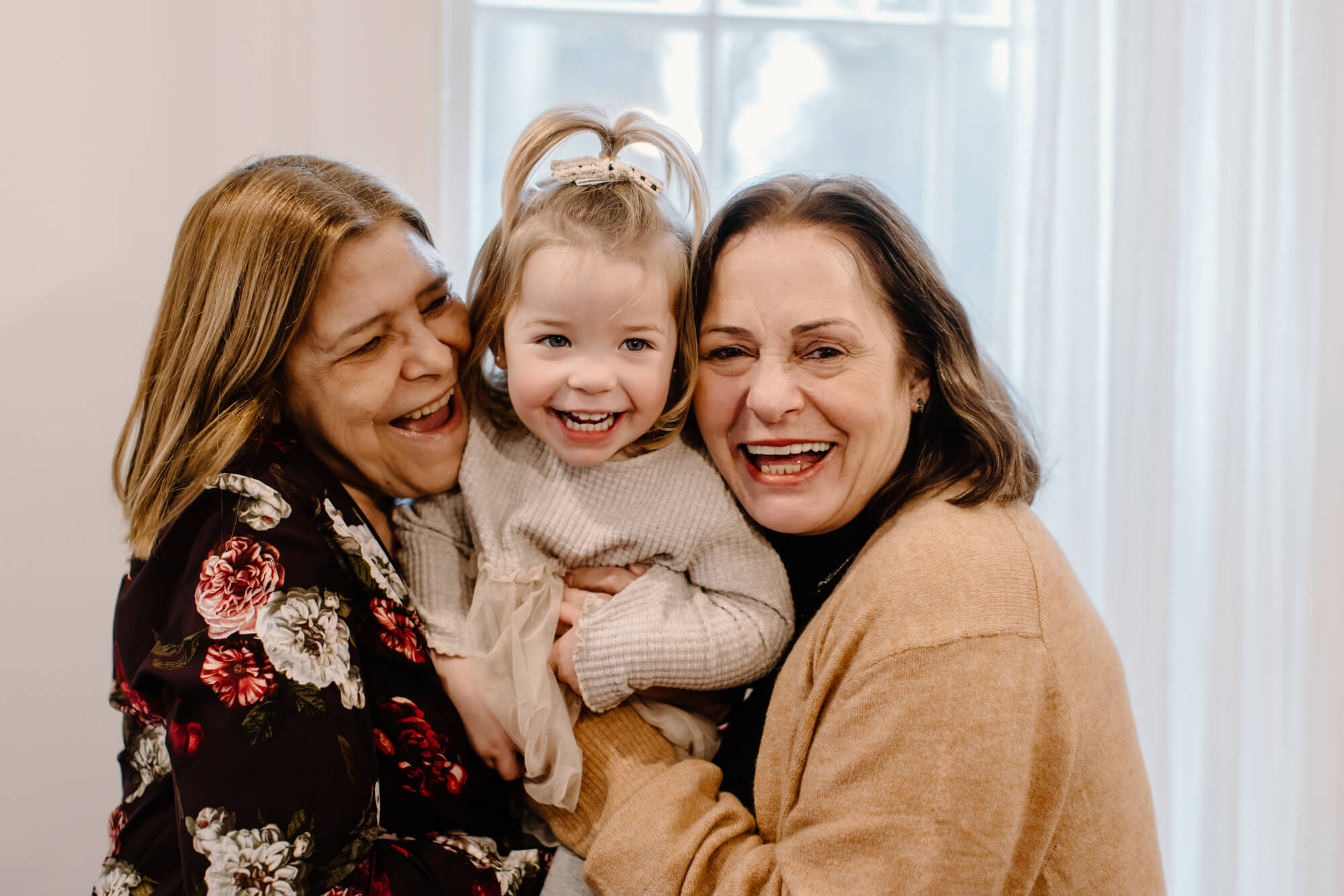 4. EVERY home is THE perfect home for family photos.
One of the biggest hesitations for families to do their photo session at home is not having THE perfect space.
Well, we JUST need a window, that's it! Natural light for the win!! when I get to your home I'll chase that gorgeous light ❤️❤️❤️. I've got your back. It's my job to make it work, just relax and enjoy the time with your family!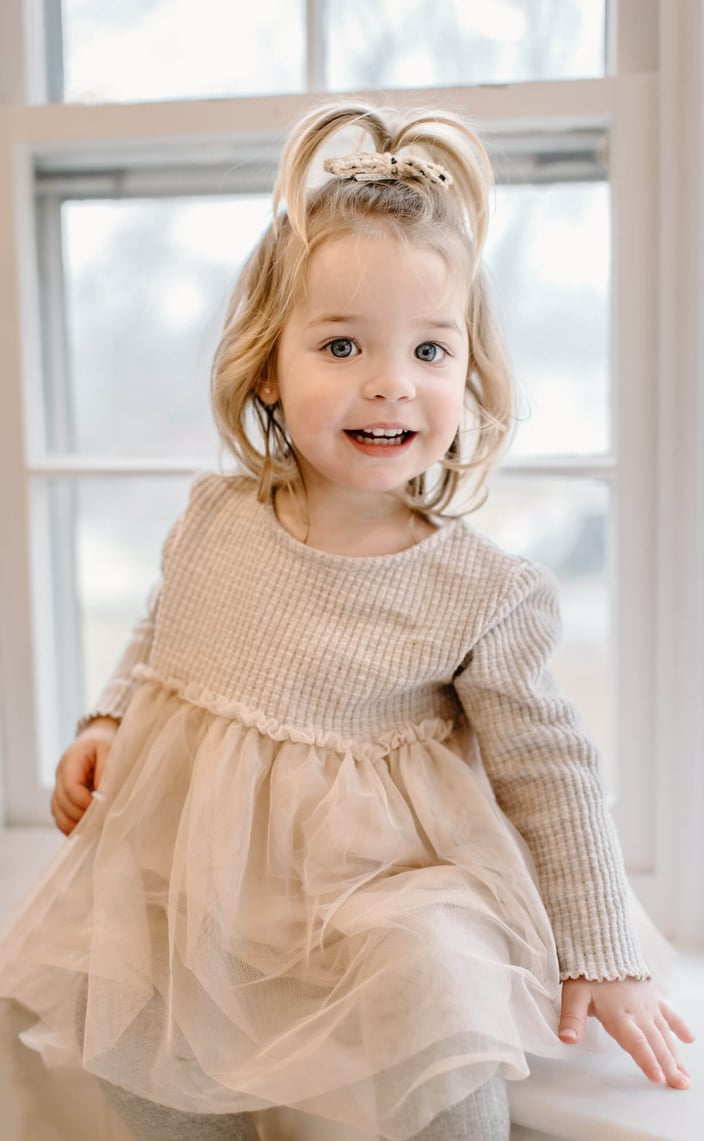 We love the kitchen!
Your favorite spots are home is where we want to be! We'll create magic singing and dancing by the stove and the sink. No props, no special decoration, just the love that embraces your adored family!!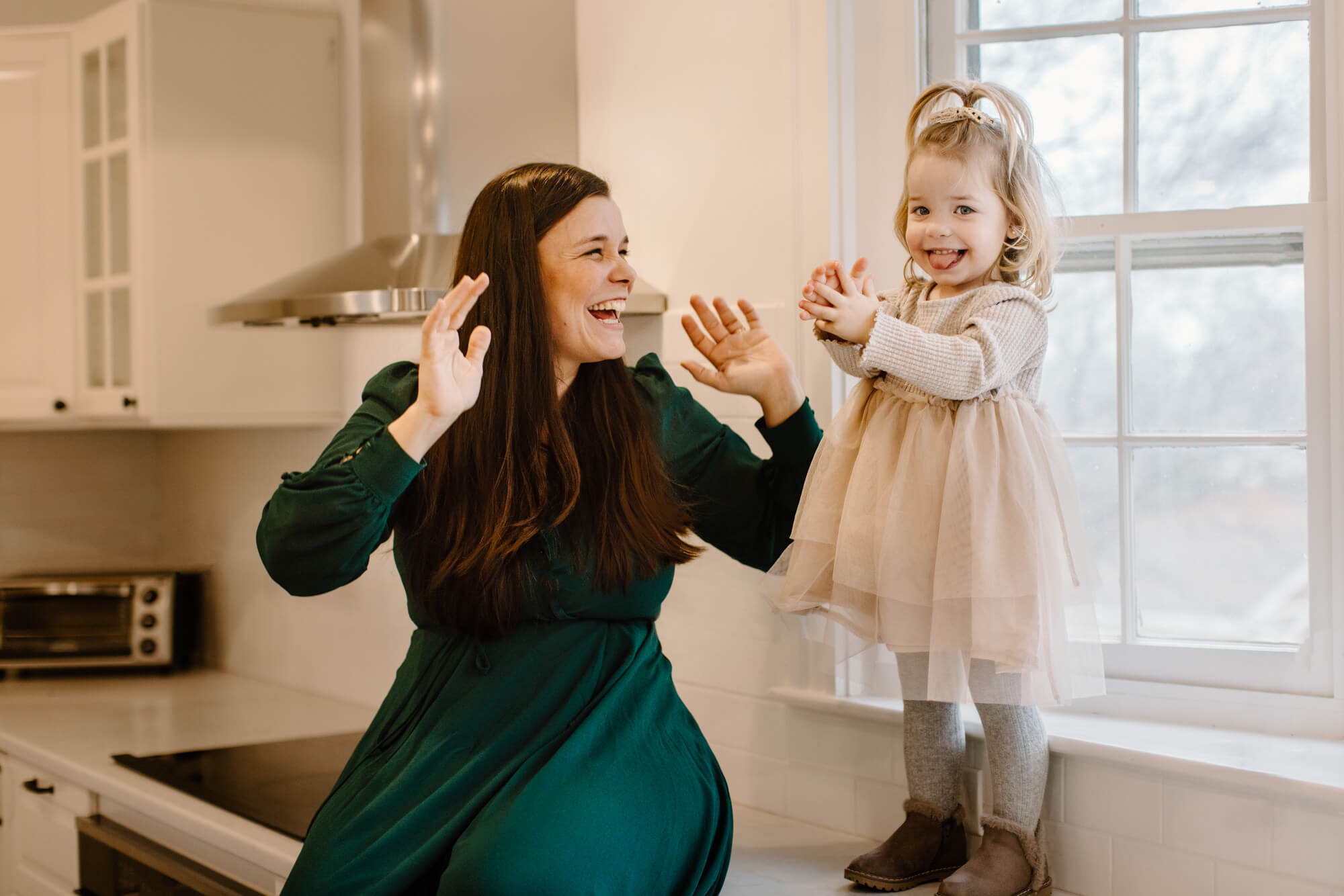 Did I mention the Master Bedroom?
Your bed is the safest place of all. With little kids, they can jump and play with their sibblings. With babies, you get to cuddle comfortably. It's my favorite spot of all. A whole session can take place in the Master Bedroom!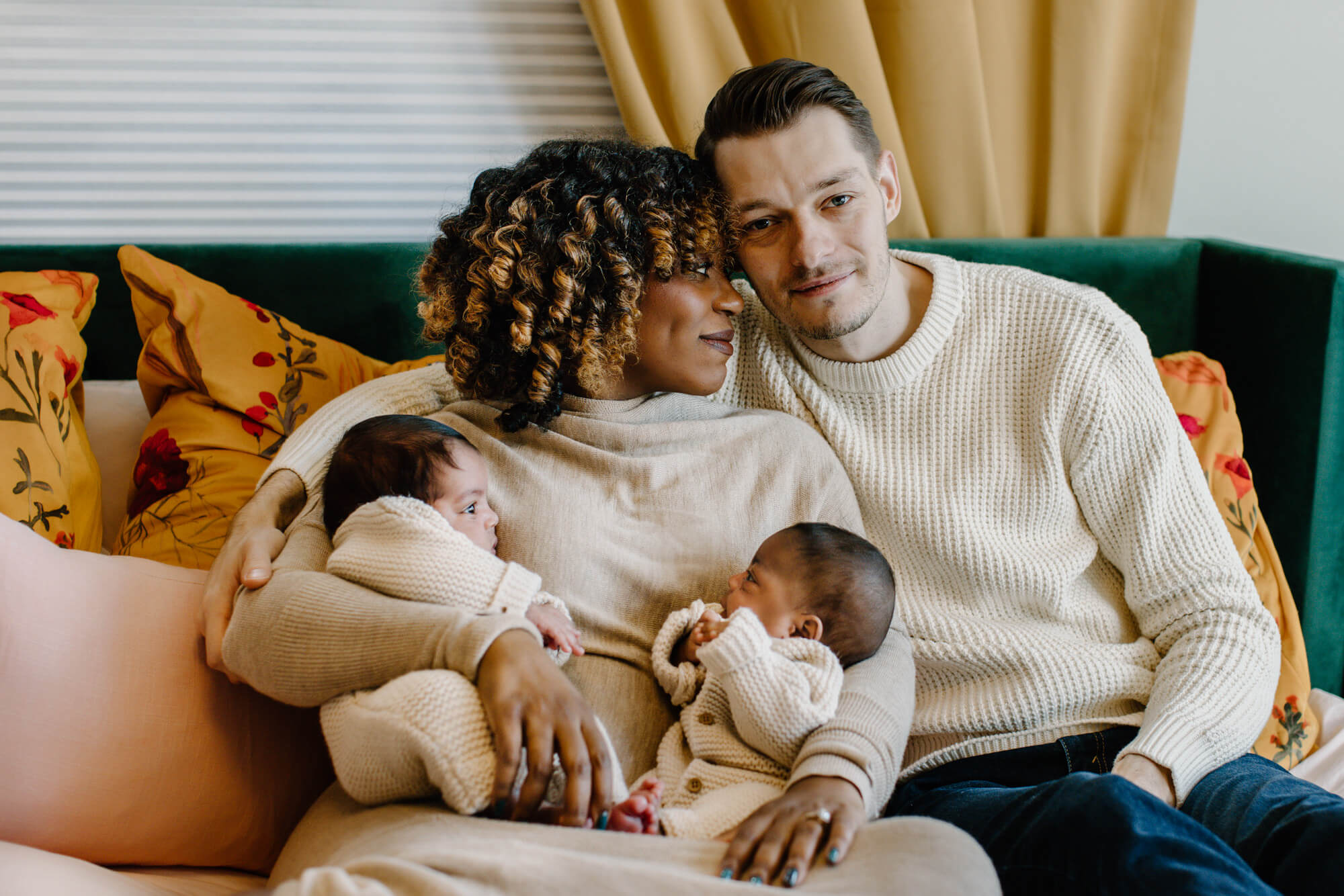 And don't forget about signature furniture that defines your home!
You might have iconic furniture at home that you take for granted. I'll spot those and we'll use them!! In the same way that I scout a new location, I'll scout your home ❤️. Looking for angles, backdrops, and light!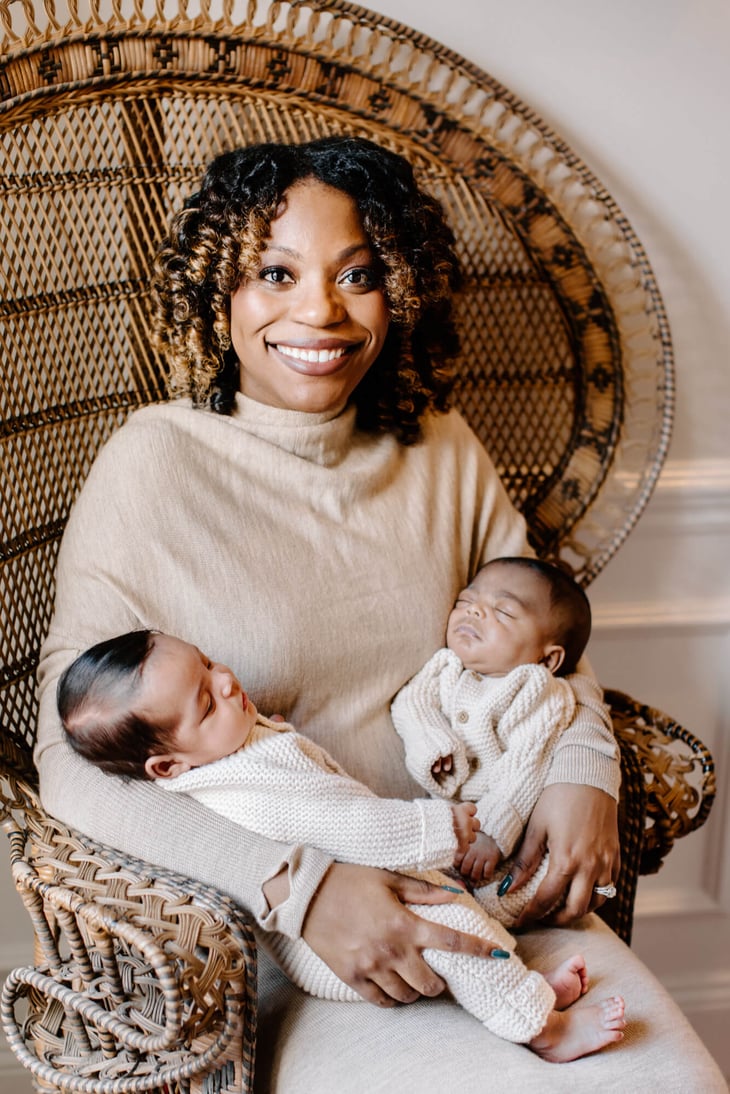 In-home family sessions mean no worries about the cold weather, kids are in their favorite environment surrounded by their toys, and we get to drink coffee while we chat about life! Because my sessions are all about connection, connecting with YOU as a family. Sharing your dreams, fears, and moments that have defined you as a mom. We'll chat while the kids play, we'll pick up toys with a smile, and we'll create memories that your soul will crave for decades from today!⁠ ⁠
I can't wait to meet you at home to give you the sweetest family memories to enjoy for decades to come!
Love,
Andre
ABOUT ANDRE TORO PHOTOGRAPHY
Andre Toro is an award-winning family photographer based in Boston, MA. She calls her style Real Art Photography, which she defines as Fine Art inspired by candid moments. Andre is a passionate soul, obsessed with human connection, and emotive storytelling. She believes love is raw, messy, and beautiful. To inquiry about booking a photo session, please contact her at andre@andretorophotography