I've been wanting to write an update for SO long and I kept forgetting. Today is THE DAY to share my update! Why? because I feel SO healthy today... and I owe it to Dr. Chun
and to my family who supported me and made this possible. My husband was my absolute rock, my twin my co-researcher and cheerleader, and my mom my unconditional nurse.
I've been thinking about HOW to share my journey and help those on the fence about explanting and those who are just starting to have symptoms that they can't explain.
I'm a family photographer so I decided to use PHOTOS to tell my explant story AND my twin's explant story. They're VERY different.
My Explant Journey
We'll rip the bandaid off right away. Here are the graphic photos of my recovery. The before and after surgery, the drains, the sleepy face but hopeful soul. Also, the bathing suit photo because we all wonder how we'll look with no boobs by the pool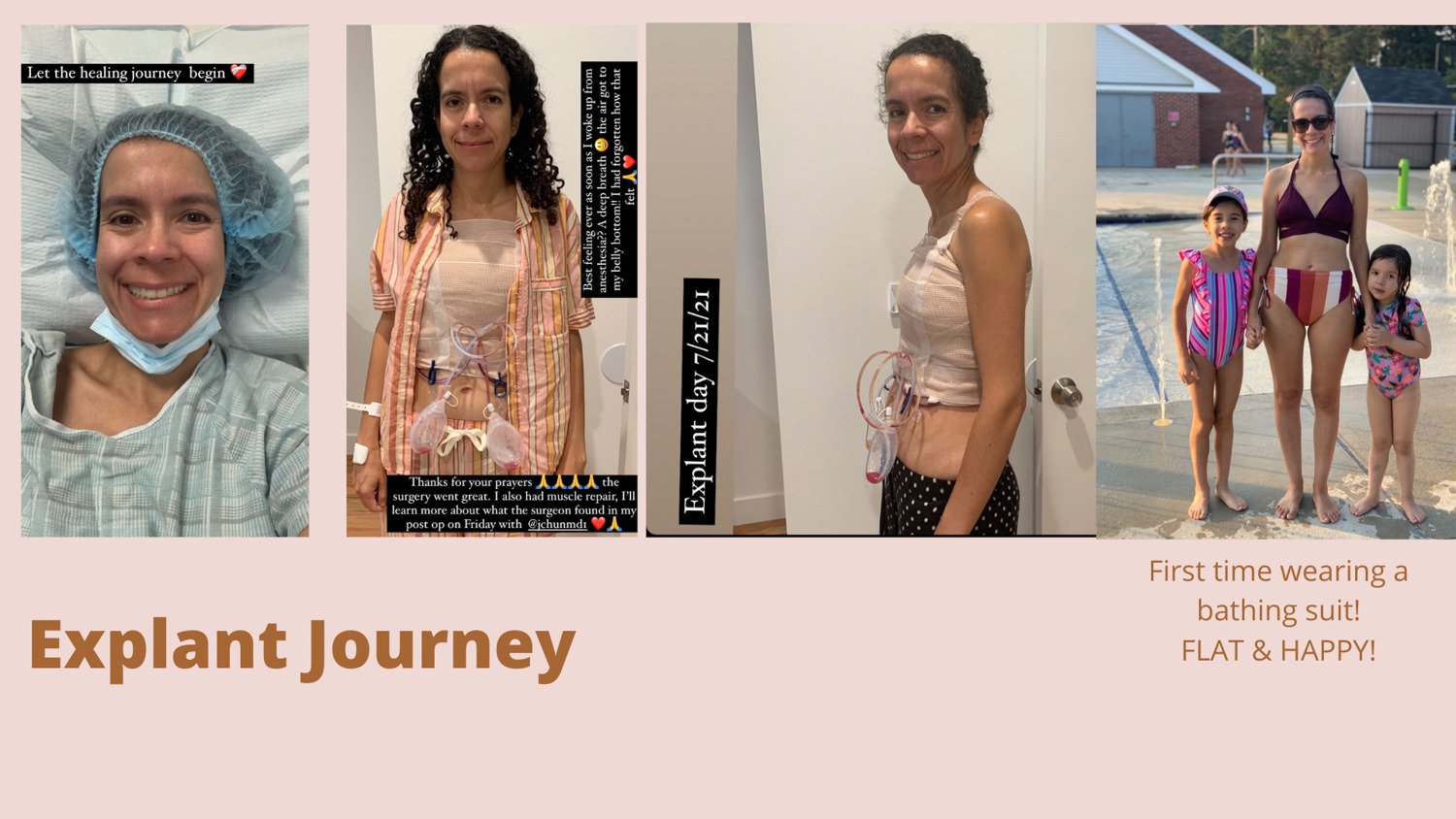 BEFORE AND AFTER MY EXPLANT
You've seen the drains. But THESE are the photos I wanted to share the most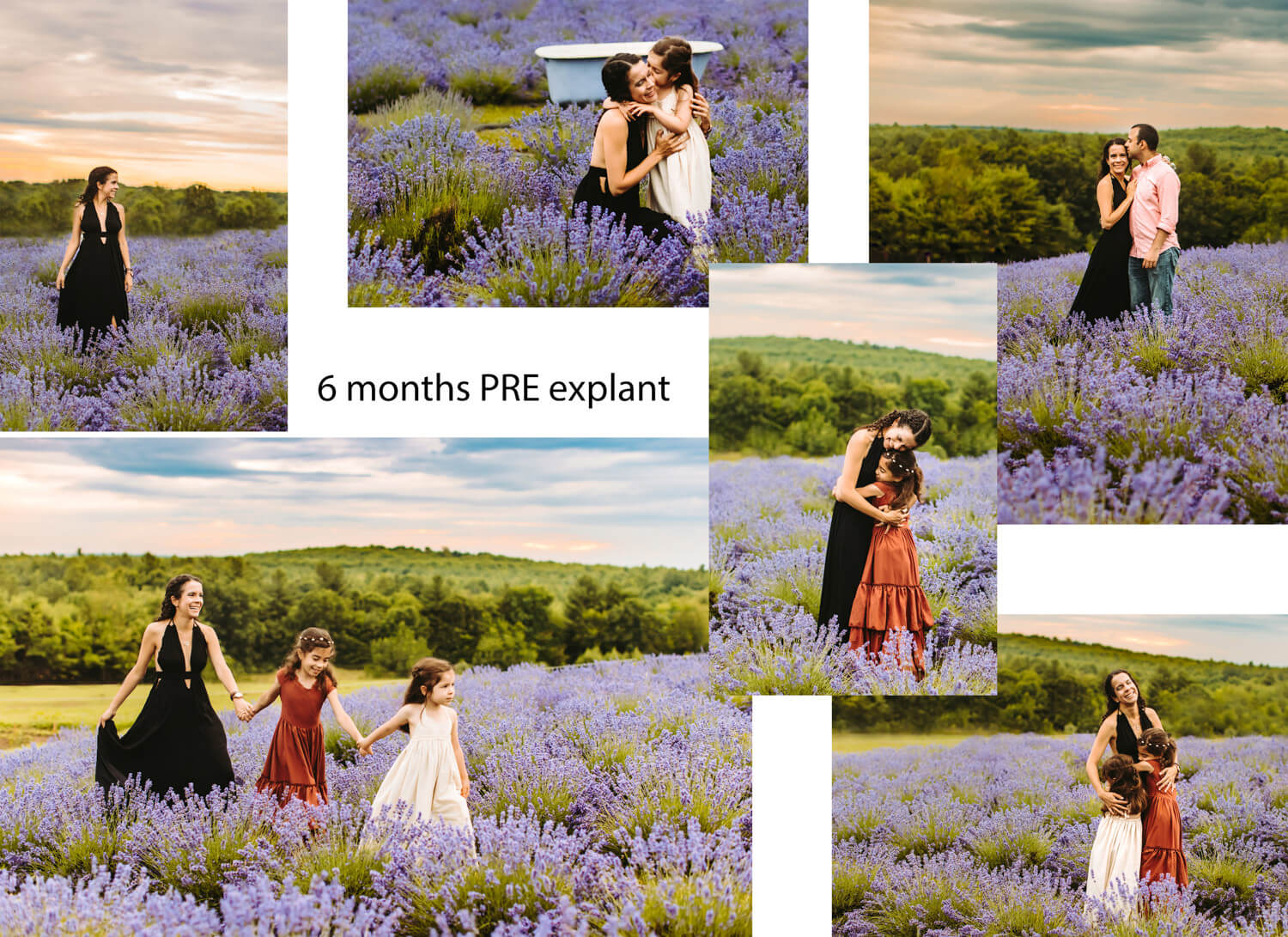 In the Lavender field, I have BIG BOOBS. In the snowfield, I have NO BOOBS, I'm literally FLAT. I hope you can see in their faces that my family couldn't care less about the size of my boobs. Do you see how HAPPY the kids are regardless of my boobs? I'm mom, their superhero! I'm PERFECT in their eyes. They LOVE me inside out. For my kids & husband, NOTHING changed. I'm ME! The same passionate soul who is intense about everything in life. One who dances in the kitchen and hugs you 2958493 times a day. You probably wouldn't have looked at my BOOBS unless I asked you to. I'm sure you would have smiled looking at a happy family enjoying an epic sunrise (lavender) or sunset (snow) together!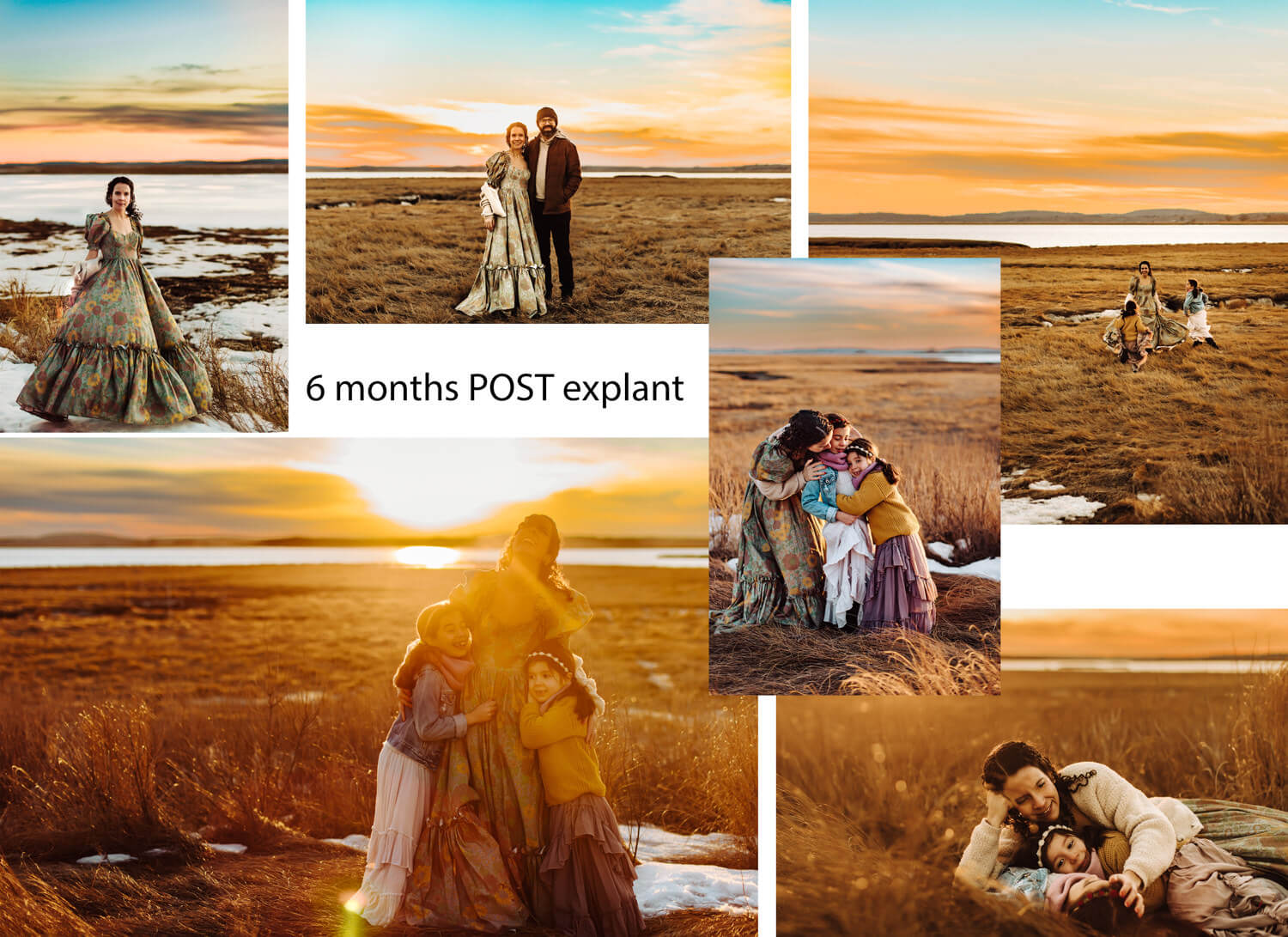 BOOBS or NO BOOBS my soul didn't change.
What changed is that I look for dresses that enhance the new ME! I probably won't use that black dress anymore... haha.. and that's OK. It's just a dress!
What DID change is how I feel! My kids & husband saw me SO sick for 2 years, way too many weeks in bed feeling weak catching my breath. Endless doctor's appointments with no answers. They were WORRIED about me and I was terrified of NOT KNOWING what was going on!!! Where ALL days SO bad? no, it was a cycle, the Lavender day was a happy day. Probably the ADRENALINE of waking everyone up at 4 am to catch the sunrise! hahaha... But it was a slow declining cycle, it didn't happen overnight. These toxic bags slowly start making you sick. I had to use more energy than normal to keep up with life, I kept working and photographing families and catching my breath afterward.
Now I can:
HIKE while I talk & photograph families!
Do my PELOTON daily (still a beginner but wohooo!)
PLAY WITH MY KIDS as much as my soul wants without excusing myself to BED.
Be grateful for every long breath I take, those that end up in your belly bottom!
I joke with my husband that I've done MORE exercise in the last 3 months than what I did in 12 years of MARRIAGE!!! I'm just SO energetic and feel that I can conquer the world... we're even getting a PUPPY in 2 weeks! I feel I can do ANYTHING!
Am I 100% recovered? I honestly don't know. I'm 7 months post explant and life is GOOD! I feel blessed with a SECOND CHANCE at life. I have days of days when I feel a bit OFF but I KNOW the recovery is NOT a straight line, the KEY is knowing that the tendency is UPWARD and nonstop!
Do I miss my boobs?
I DO NOT! Not for 1 bit have I wanted to have boobs again. NO WAY. With the hand in my heart, I say: "
I DO NOT MISS MY BOOBS
"
I actually feel BEAUTIFUL! I don't feel that it's a compromise between health and beauty. I FEEL that I got the BEST deal. I'm healthy and I'm beautiful after my explant.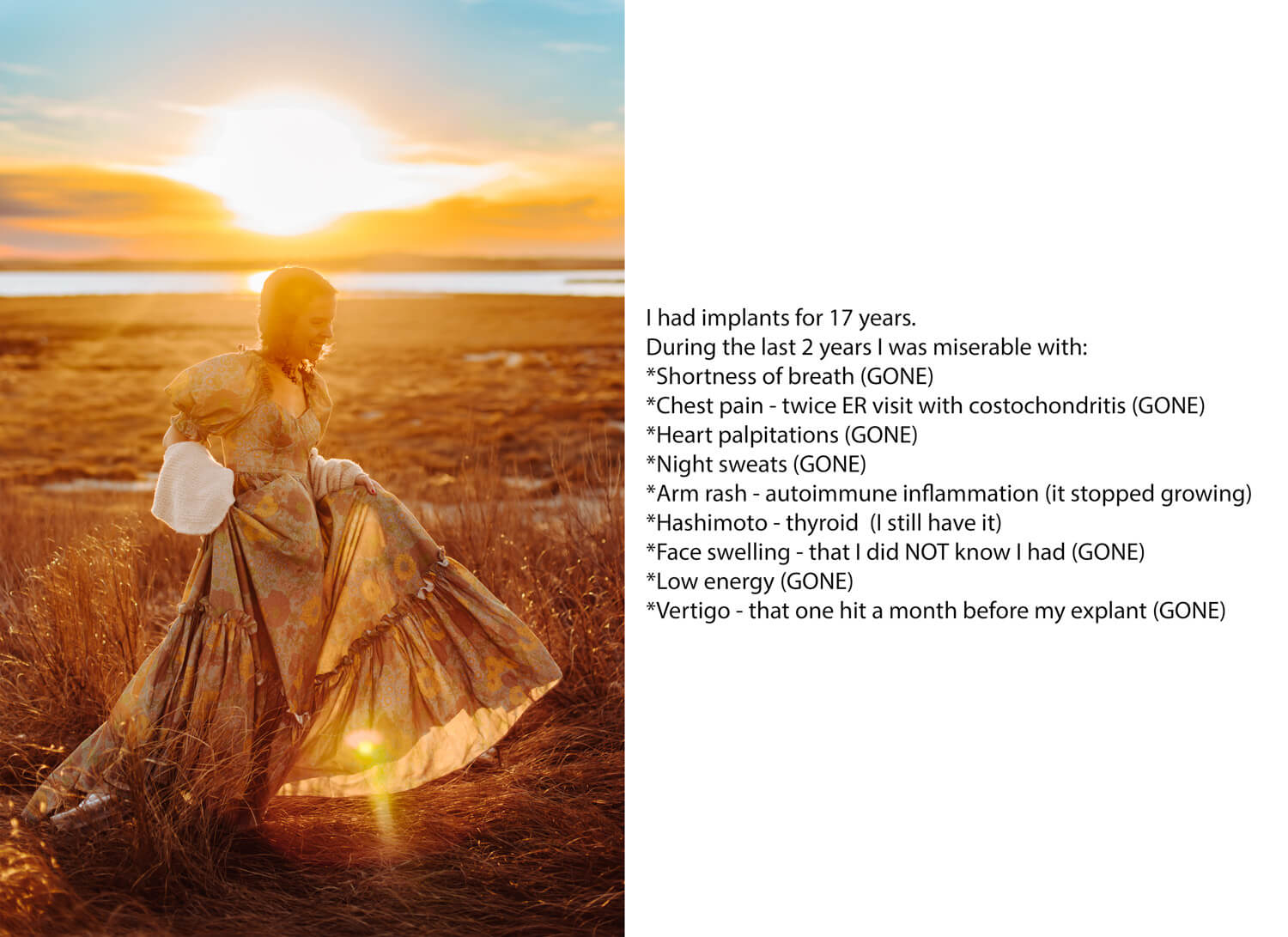 How did I know I had Breast Implant Illness?
It's a discarding game. My symptoms actually started in March 2020, right when Covid hit the world, I started feeling horrible. I was convinced I had covid. I checked MANY boxes but the covid test came back negative. I even isolated myself for 7 days believing it was a false negative.
I started visiting my primary care, who at the time, didn't pay much attention to me. The doctor almost claimed it was all in my head. I changed primary physician to one who was open to hearing ALL about my complaints and sufferings. He started going ALL in into my diagnosis.
My primary ran endless blood work, it all came back normal.
Then I saw a pulmonologist, they did a chest x-ray (it came back normal).
Then I saw the cardiologist, I didn't pass the 1st stress test. The second one was combined with a heart ultrasound. That came back normal. The cardiologist then decided to do a heart MRI, it all came back normal. NO ONE could explain my symptoms.
After that I saw a dermatologist, I developed a rash in my arm. After many tests, the biopsy came back as autoimmune inflammation. what??? but it didn't ring a bell.
At that moment, I was pretty frustrated. My primary couldn't explain what I had. I felt HORRIBLE! trips to the ER thinking I was having a heart attack and it was costochondritis. Low energy and catching my breath.
A few who loved me thought it was all in my head. Just the stress of COVID times with small kids. Quarantine hitting hard and my exaggerated self feeling sicker than how I was. My mom & husband did worry a LOT and felt horrible not being able to help me get to the bottom of this.
IN THAT MOMENT, a fellow friend and photographer - Catalina Avila - posted about Breast Implant Illness on social media. I had NO IDEA that was a thing. I have NEVER heard the term. I forwarded the info to my twin and we started the research quest. I CHECKED SO MANY BOXES!!!! It took us less than 2 weeks to understand all about this disease. I cried, I grieved, and I took action. I KNEW I had to explant!!!! It was a matter of WHO and WHEN? Dani and I were committed to explant. Me with symptoms, Dani as a precaution.
My primary doctor was SHOCKED. It would have been easier to tell him that aliens were coming to invade the world. But as I explained all behind the disease it MADE SENSE to him. I told him that in 20 yrs he will remember THIS conversation. The day he learned about Breast Implant Illness.
Who was my surgeon?

Dr Chun. The best in the world. He dedicates his practice to explants. ONLY explants. He performs +300 explants a year. He has seen the easy cases and the difficult cases.
I wasn't convinced about flying to California for surgery but my twin who is in the medical field convinced me. It was THE best decision ever. A BIG investment but worth every penny. 100% peace of mind.
Here is actually a list of expert explant surgeons all around the world. Country by country, and state by state in the US and Canada. It's an incredible resource. You can have peace of mind if your surgeon is on this list. The list is vetted constantly.
My TWIN's explant journey
My twin explanted too, NO "symptoms"!
The day my twin explanted I felt like I ran an emotional marathon, I was so drained. Having your twin in the OR is no joke. I was TERRIFIED!!!!! I had the same surgery 2 months before her, I KNEW Dr. Chun is literally the #1 explant doctor in the world, and still... my anxiety was OFF THE CHARTS! I'm so glad her surgery is behind her. Her healing journey officially began on October 5th, 2021.
I told her she is NOT allowed to have any more surgeries in her lifetime!!!! I get too scared. I can't do life without her. So she better live until we're both 103 yrs old like our grandma!! ⁠⁠
Breast Implant Illness (BII) is scary. I'm SO proud of her that she decided to take the implants out WITHOUT the deadly BII symptoms that I had. She did it as a precaution. She didn't want to risk her health, it goes downhill without notice. She was an advocate for her own health. The day she knew the risks and how toxic breast implants were, she decided to explant. Plain and simple. She didn't doubt the decision. Her whole life is ahead of her, she is a mom of 3 small girls. ⁠
I'm SO PROUD of her!!! It's NOT easy to make this call when you are OK with your implants and you have NO symptoms, but she is a woman of science and data speaks volumes. She read the research and jumped on the explant boat overnight. Having her SO committed to this journey actually helped ME explant with the best surgeon. We did the research together. She held my hand, supported my explant, and then I supported hers.
I hope Dani inspires other women who are on the fence over explanting without deadly BII symptoms. She is a role model. Wow, it's NOT EASY!!!!!
For me it was a NO BRAINER, the implants were killing me, the explant SAVED my life. Yes, my breast implants were literally killing me. I had seen SO many doctors, I was feeling hopeless until I found out about BII and the explant journey. DANI on the other hand took the brave road and explanted as a precaution. Kudos to her!!!!!! ⁠
She thought she had NO symptoms. Here are her words once she explanted "that first deep breath was like FREEDOM, the air going all the way down to my belly button! The redness of my eyes disappeared (that inflammation that I had no idea I had!), my skin is better, I have way more energy! Before I just thought, well, I am a mom of 3 young kids + dentist + practice owner and that is why I was exhausted, but now I am tired but never to the same level of exhaustion, I also had light pains and "needle" like sensation in my fingers every now and then (it has since disappeared)".
That's the scary thing, SO many symptoms can be give excused due to LIFE as a busy mom, entrepreneur, doctor, dentist, artist, teacher, rock climber, lawyer... Only once you explant and health/mood suddenly IMPROVES, you suddenly realize that it was always the breast implants.
I could also share photos of her and her family with boobs and NO boobs. The message is the same. LOVE IS LOVE. Boobs or not. Her soul is hers to keep forever.
LOVE YOU TWIN! May you always open the doubtful door to other women!!! ⁠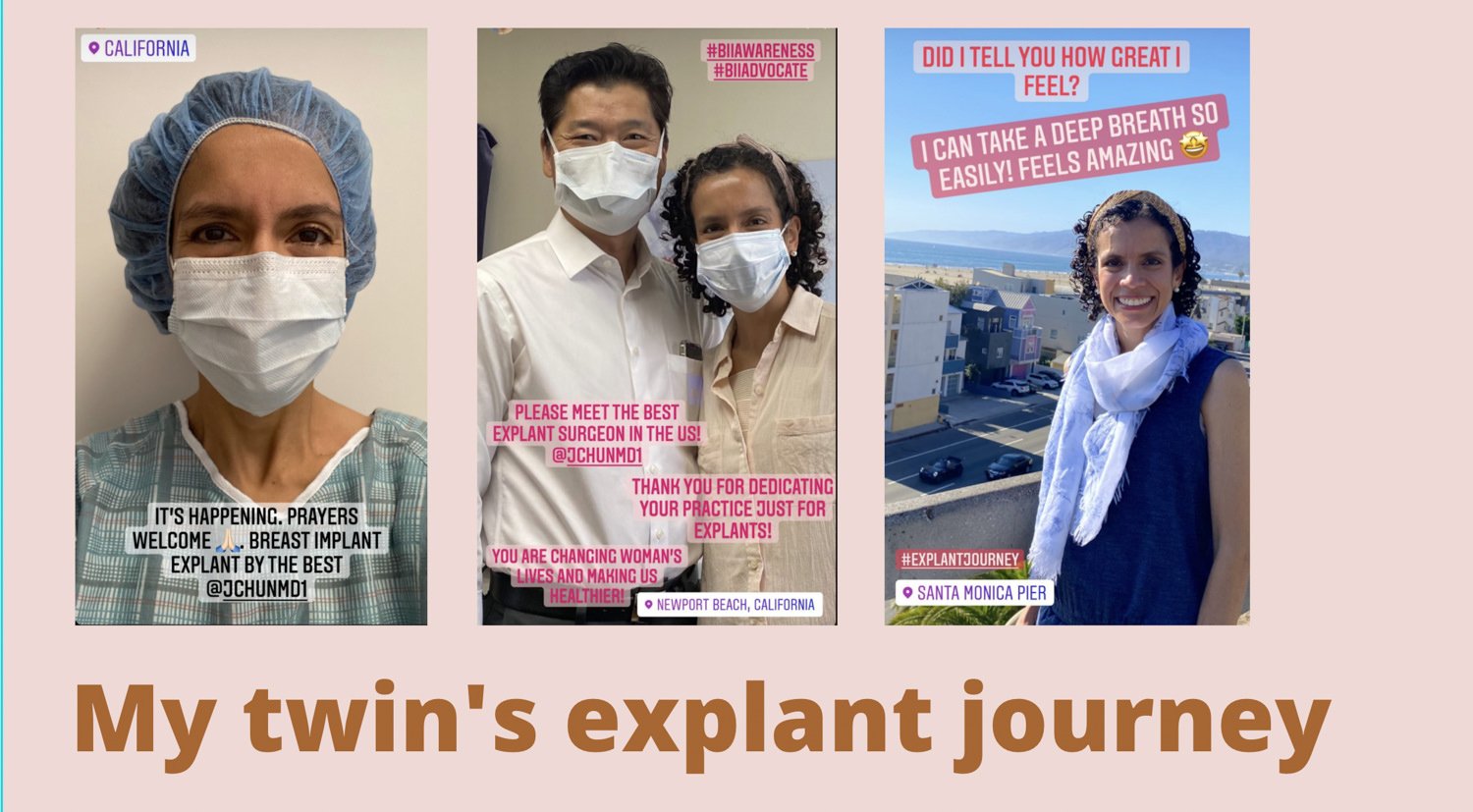 Was I scared of the EXPLANT surgery?
I made it to the OR table crying and terrified.
Dr Chun had so much empathy and assured me that I wouldn't mess his statistics. No one has died in his OR table (that made me laugh so much). His anesthesiologist was the biggest empathy, I felt that he cared so much. He heard nonstop crying and made me find peace going into the operating table. Held my hand while I went down. I woke up smiling and grateful. I made it through surgery and so will you
❤️‍🩹
❤️‍🩹
❤️‍🩹
How difficult was my explant recovery?
The recovery went great, surprisingly the 2 things that were the hardest to deal with the week after the explant.
Headaches. I have had a severe concussion and then mild ones, headaches are my Achilles ankle. I had daily headaches that drove me bananas. It was seriously worst than any pain from the explant. I then realized that your body goes through a detox phase and headaches are normal. I guess I just had the top-of-the-notch headaches.
Shoulder ache. I had muscle repair and the muscle next to my right armpit was SO sore, I woke up 2-3 times at night with shoulder pain and I need to change the sleeping position. The shoulder ache lasted 4 months, the pain was tough. I thought I would NEVER recover fully from that shoulder. 6 months later, I'm back to 99% OK with almost no pain.
My breasts were in NO PAIN AT ALL

❤️‍🩹

❤️‍🩹
Besides that, life was SO good. Getting implants 17yrs ago was SO painful. I remember the pressure and feeling like an elephant in my chest. Getting an explant is NO extreme pain/pressure at ALL, it's actually liberating, the pressure is off the chest. You breathe awesomely, you feel lighter. The scars do itch (totally ok with that), random pain comes in the nerves (totally ok with that). I got an explant and a lift. I ONLY took Tylenol for the headaches/shoulder.
I couldn't move my arms much for 1 month, I was blessed to have my mom with me in California (2 weeks) and then a dedicated husband when I flew back to Boston. I'm super independent with a VERY strong personality. I surrendered to their unconditional love and care
❤️‍🩹
When did I go back to work?
I had to take 6 weeks off. My recovery was VERY slow. My shoulder pain was TOO intense to be able to use my arms and grab a camera. I started working on the backend of my business (in the computer) in week 4, I started shooting clients in week 6. I had to take it very slowly, I couldn't raise my arms for a month.
On the other hand, my twin, who ALSO had muscle repair, explant, and lift... went back to work as an orthodontist only 2 weeks AFTER surgery!! Her recovery was faster than the speed of light. She started using her arms days after surgery and had NO pain whatsoever. No headaches, no shoulder pain, she was back in her feet a couple of days after the surgery. My mom who had taken care of ME could not believe her eyes. My sister looked like no surgery was performed. You might be as lucky as her ❤️😀
The expected time off would probably be between my twin's and my experience. 3-4 weeks is a good estimate.
Did I receive my implants back?
Yes. I have them. I want to keep them so in a couple of years I can have a candid conversation with my daughters. I'm not throwing them away, they will help me navigate that very important & meaningful conversation.
There is a wonderful movement happening called: Not Our Daughters: Our grandmothers have suffered. Our mothers have suffered. We have suffered. The next generation will not suffer. They will be INFORMED. #notourdaughters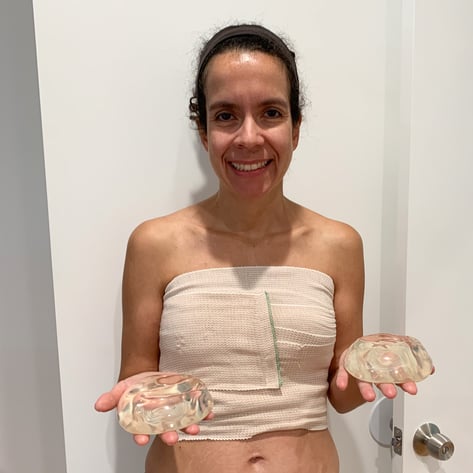 Does EVERY WOMAN with breast implants develop Breast Implant Illness?
Almost all the info shared today comes from this website. It's the holy grail of Breast Implant Illness, there you will find so much good and insightful information!
Foreign objects of any kind, can and will cause endocrine disruption and immune system dysfunction. THIS IS A FACT.
Not every woman that has breast implants will develop (serious) BII symptoms. However, every woman with breast implants is at RISK of developing these at some point. Some are right away, others (many and most) many years later (for ME it took 16 years). My twin wrote it so clear "the question is how much risk you are willing to take? For me, an example of this is that not every smoker will have lung cancer or many other health problems, but by smoking, you are at risk. The awareness now is increasing incredibly and more research is being done as we speak. In the medical community (you all know how slow the guidelines change in medicine and dentistry) the risks will be known and in a few decades, we may see breast implants as we now see cigarettes. Some people still smoke, but everyone is aware of the risks. For me, as a mom of three young girls, I just decided that I wanted to be as healthy as I could as long as I could, for them. And removing this risk factor (implants) was the right decision for me. I wished someone had told me about all these risks BEFORE I had the implants, to be able to make an informed decision."
Breast implant illness does not have to do with the brand or type of implant that you have. Breast implant illness occurs in all brands and both saline and silicone implants and is a very multifaceted illness.
To read some papers and cases studies about this.

I'm fine, my breast implants are OK. Denial is normal
There is a lot of info on BII. Denial is normal, we got our breast implants for a reason, you probably love them (I DID!). You might feel GREAT today, with no symptoms (amen, good for you!!). Yet information is POWER, NOW you KNOW. NOW you are informed and can pay close attention to your body. Be your own health advocate. Don't settle for so-so health. We're supposed to be healthy and FEEL GREAT! Kids + work are NOT the reason for symptoms.
There is LIFE without breast implants. A happy healthy life. Once you accept and make peace with the fact that you don't need boobs to be happy, everything flows. You embrace your inner beauty in a way never seen before, you become powerful. There is so much PEACE from being healthy!... and you know what? Healthy is the NEW SEXY! Having boobs and feeling like crap is HORRIBLE!
If you have NO symptoms, you can be my twin. Explanting as a precaution. Don't be ME. It took me YEARS to know that breast implant illness was a thing. 2 years suffering tons. I wish I had known about explanting. It was too late for me, I hope more women get this info at the beginning of their journey! It saves lives. The explant saved my life.
Breast implants are toxic bags, a time bomb that will not give you notice.
Can ANY plastic surgeon perform an explant surgery?
Probably the best question. Yes, they can remove breast implants but not necessarily in THE RIGHT way. If your plastic surgeon doesn't believe in breast implant illness and the risks associated with implants, they won't take the necessary precautions. That could mean that you might need a second surgery done by THE explant expert to remove what was left behind. Symptoms can persist AFTER explant if the capsule is left behind. You have no idea how many exploratory surgery
Dr Chun
does a year, women who explanted and still feel sick. That second surgery is 100% avoidable if you do it right the FIRST time.
Who are the BEST explant surgeons in the world?
Here is actually a list of expert explant surgeons all around the world. Country by country, and state by state in the US and Canada. It's an incredible resource. You can have peace of mind if your surgeon is on this list. The list is vetted constantly.
If you have breast implants, focus on the identification of Breast Implant Illness Symptoms, when you recognize yourself in these symptoms, then move to Explant. Proper removal of your breast implants is the most important step to recovery from breast implant illness. Breast implants ideally should be removed En Bloc (in a manner that prevents contamination to you) and always with a Total Capsulectomy (remove all capsule tissue). The body, when treated well has an amazing healing and regenerative capacity. Trust in your body's ability to heal. Choose a surgeon that is skilled and experienced at En Bloc and Total Capsulectomy removal of breast implants and is dedicated to removing all capsule tissue. Here is an international list of Explant Surgeons recommended by the members of our group who used these surgeons for proper explant. Choose a Surgeon Committed to En Bloc / Total Capsulectomy

The most eye-opening experiences come from TESTIMONIALS
Join these FB groups. It will be a before and after.
If you're considering getting breast implants
If you are considering breast implants, or already have breast implants, or have a loved one with breast implants, please watch these two documentaries, they are eye-opening: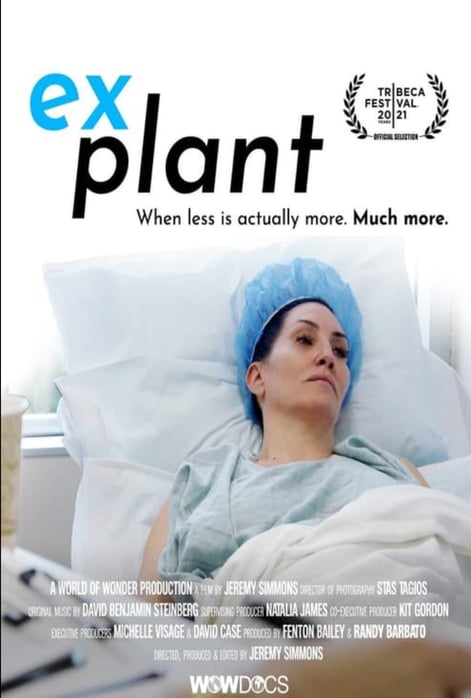 Please keep in mind that you need to change the breast implants every 10 years. No one ever mentioned this to me. Mine were 17!!! Imagine having a major surgery every 10 years. The time off, money, and risks of major surgery. And 10 years is only a number. They often rupture or contract before that timeline.
Many breast implants have been recalled in the past. If you research PIP implants it will break your heart.
Things I wish I had known BEFORE getting implants
Silicone breast implants were suspended by the FDA for many years in the late 90s early 00s, only to be approved back. Doctors that worked in these investigations were later linked to the big pharma companies.


BLACK BOX WARNING: After years of activism, on October 27, 2021, the FDA issued orders restricting the sales and distribution of breast implants to ensure patients are provided adequate risk information including a black box warning and checklist for breast implants (already categorized as a Class III medical device which comes with the highest warning for medical devices) to further warn users of the negative health effects which many women have experienced: Textured implants causing BIA-ALCL breast cancer, all implants associated with increased risk of autoimmune diseases such as Sjogren's, Scleroderma, Rheumatoid Arthritis Hashimoto's (me & my twin), etc. Plastic Surgeons do not show this box to patients.


Gel Bleeding. This is a term that even the FDA is aware of. It means that the silicone slowly bleeds through the shell of the breast implant, even though implants are intact and do not appear ruptured (see how my breast implants look after explant, 17y later, how deflated they are). Silicones are foreign to the body, and when silicone particles enter the body, the immune system is triggered and toxic effects can occur. For example, silicone migration to lymph nodes can trigger an immune system response, whereas silicone migration to the nerves or spinal cord can cause immobility. Depending on the migration pattern, concentration, and location of its degradation products, different symptoms can occur.


Toxic Metal. The list of toxic metals inside the silicone breast implants is so large, and we already described the term gel bleeding above. The approximate 40 toxic chemicals and an array of heavy metals in silicone which are known endocrine disruptors, inflammatory, carcinogenic, cytotoxic and neurotoxic poison our fragile endocrine glands especially thyroid and adrenals and poison our immune system and gut health which creates toxicity in our body.


With saline (saline breast implants, these are toxic too) there is also the added element that the saline fill valve ports collect body fluid and can mold and these mold organisms can cross into the implant due to defective valves and even colonize the implant. These microorganisms produce metabolites known as biotoxins which are toxic to us. The interior of capsules is a perfect place for infections to grow and the inside of capsules necrotize over time.


Textures (textured breast implants) add another layer of toxicity soaking up body fluids and providing spaces for infections to thrive. Textures also aggravate the immune system as they flake off and travel through our lymphatic system. Many of us also have pathogens and parasites in our gut due to bad gut health and even past our gut as they inhabit our body because there is very little immune opposition to them due to immune deficits. With poor gut health, we cannot digest our foods and due to autoimmune processes, our guts and bodies are full of inflammation. We could go on but as you can see saline and silicone implants profoundly damage our health in several ways


In 2018 it was revealed by the FDA that FDA kept hundreds of thousands of breast implant incidents hidden from the public


Please read the story of plastic surgeon Dr. Amy DeRosa in Michigan

. She is on the list mentioned above. She is an expert in performing breast implant explants, just a few months ago she decided to go through the explant journey herself. Please read her post below. She can explain better than me the reasons for explanting. Her awareness is incredible and her voice is so powerful.



For both saline and silicone breast implants a strong and immediate response to the silicone shell directly after implantation may be predicated by your genes specifically HLA B27, HLA DR52 and HLA DR53 which are genes associated with being ill in the first year after implantation and a higher sensitivity to silicone. Even if you don't have these specific genes your body will still respond to the fact that breast implants are large foreign objects implanted in your chest over fragile organs and glands and you will experience the usual foreign body immune response as your body mounts an all-out war which causes immune deficits, immune dysfunction and eventually autoimmune symptoms and diseases. Our overwhelmed immune system eventually switches over to attacking itself instead of attacking invaders. This is known as switching from TH1 dominance to TH2 dominance and it is when the immune system develops antibodies against itself instead of killer T-Cells to kill what it perceives to be abnormal cells. Eventually, both saline and silicone breast implants cause immune system failure by overwhelming the immune system and allowing various infections in the body to gain a foothold which causes symptoms. These infections can be bacterial, viral, fungal or parasitical.


a. Breast Implant Lawsuits Filed Globally
b. (Reading about breastfeeding and implants is something that I try to not read as it breaks my heart, it really does.)
Every couple of months I get questions about my explant journey on my Instagram page. Here are some examples. It might answer some of your concerns. If it's not there. Please email me at andre@andretorophotography and we can chat ❤️. I'm ALL ears and will be happy to point you to the right direction/expert.




Symptoms Consistently Reported by Women
· Fatigue
· Brain fog, memory loss, cognition problems
· Muscle pain and weakness
· Joint pain of neck, shoulder, back, hip, knee, hands/feet
· Hair loss, dry hair
· Premature aging of the skin
· Skin itching, various rashes
· Weight problems
· Inflammation
· Insomnia and poor sleep
· Dry eyes, decline in vision
· Hypothyroid
· Adrenal fatigue
· Parathyroid problems
· Diminishing hormones, early menopause, hysterectomy
· Low libido
· Slow healing, easy bruising
· Slow recovery after exercise
· Vertigo
· Headaches, migraines, ocular migraines
· Throat clearing, cough, difficulty swallowing, choking
· Reflux, GERD
· Nausea, gastritis, leaky gut, SIBO
· Irritable Bowel Syndrome
· Fevers, night sweats, heat intolerance
· Persistent bacterial and viral infections
· UTI infections, Interstitial Cystitis
· Yeast infections, Candida, Sinusitis (fungal)
· Ear ringing
· Metallic tastes
· Sudden new food intolerances and allergies
· Heart Palpitations, heart changes, heart pain
· Blood pressure problems
· Swollen and tender lymph nodes of breast and underarm
· Bouts of dehydration for no reason
· Frequent urination
· Numbness and tingling in limbs
· Cold and discolored hands and feet
· Chest discomfort, shortness of breath
· Pain or burning around implant and underarm
· Liver problems
· Kidney problems
· Gallbladder problems
· Pancreatitis
· Depression, anxiety, panic attacks
· Feeling like you are dying
· Symptoms or diagnoses of Fibromyalgia
· Symptoms or diagnoses of EBV
· Symptoms or diagnoses of Lyme
· Symptoms or diagnoses of autoimmune diseases such as Raynaud's Syndrome, Hashimoto's, Addison's Disease, Graves Disease, Rheumatoid Arthritis, Scleroderma, Lupus, Sjogren's Syndrome, Unspecified Connective Tissue Disease, POTS, Ankylosing Spondylitis, Multiple Sclerosis and others
· Symptoms or diagnoses of BIA-ALCL, Breast Implant Associated B Cell Lymphoma, Breast Implant Associated Squamous Cell Carcinoma
· Symptoms or diagnosis of other cancers known to be associated with breast implants such as Melanoma, brain cancer, Myeloma, respiratory cancer, various breast cancers, various lymphomas, various carcinomas and sarcomas
I hope this blog helps you navigate this journey.
I KNOW it is a LOT to digest.
I see you and I feel you. You're NOT alone. I'm here for you ALWAYS! Shoot me an email andre@andretorophotography and we'll chat.
Happy healing :)