Calling all marvelous moms out there! Have you ever noticed how often we find ourselves behind the camera, capturing those precious moments and milestones? From baby's first steps to school plays and birthdays, we are the ultimate memory keepers!

But when was the last time you saw yourself, radiant and beautiful, in those cherished family photographs? When was the last time you stepped in front of the camera, instead of staying behind it?

It's time to shift gears and let someone else take the reins!

Picture this: a gallery of stunning photographs adorning your walls, showcasing the love, growth, and togetherness that define your family. Each portrait captures a unique chapter in your family's journey.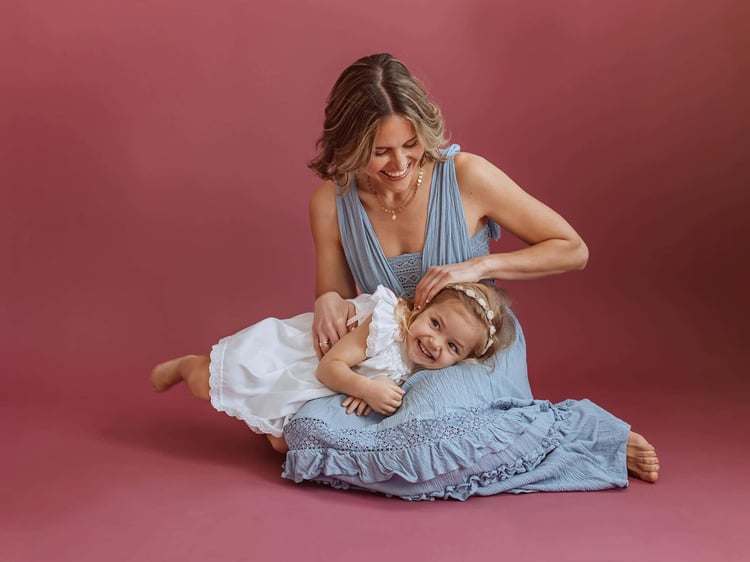 Life moves quickly – way too quickly! – and before you know it, you're looking back at your photos thinking, I should have taken a moment to get in front of the camera, too!

Booking a studio photography session means opening up an entire new world, one where you're in the fame, laughing and celebrating life's precious memories with your family. Family is all about those little moments spent together, the inside jokes, and the bonds formed that we find a sense of belonging and joy – and family photography in studio can capture those moments and freeze them in time.

The Power of Professional Family Portraits
Life is so precious and short and wild! And it often goes by far too quickly…blink and it's gone! But capturing those cherished moments becomes a way to freeze time and walk down memory lane.
That's where I come in! As a family portrait photographer, I am both honored and excited to step behind the camera to capture your family's unique essence. No matter if your children are taking their very first steps or your teenagers are getting ready to head off to college… It's all precious!
The more time passes, the more these memories become important to you and your family. That's time you will never be able to get back – but you'll always have it captured in beautiful portraits. When you look at my family photography, you're looking back and remembering life at that particular moment.
Family portraits are so much more than just photos to hang on the wall. They are timeless treasures and cherished heirlooms that can be passed down from generation to generation, connecting the past, present, and future. Looking at them makes you smile and remember all the happiness of years past.
From newborns to grandparents, every stage of life deserves to be captured and celebrated.

Our Studio: A Haven for Family Memories
Life is hectic – and our schedules are constantly packed. When's the last time you sat down to spend quality time with your partner, or dedicate time to intentional family bonding activities in studio? When was the last time you got to feel beautiful and spend intentional time together, making memories?
Studio photography is so much more than posing for photos and sitting as stiff as you can! It's an opportunity to set time aside together as a family, to feel beautiful and get dressed up, to spend that special quality time together in studio. It's a special, dedicated space indoors – no matter the rain, no matter the sunshine – to sit down and come together.
Quality time is different for each family, and these studio photography shoots are the perfect way to celebrate this beautiful, wonderful life you have with your family and your life partner in an intimate and intentional way.
So many of my couples and families book studio shoots with me, only to get emotional when they realize the raw power of the process. Imagine receiving your photos and realizing how far you and your partner have come – and how grateful you feel for this one special life you get to spend together?

Tomorrow is not guaranteed, and your daily portraits are a celebration of your life – and a testament to your strength and beauty and resilience and happiness as a unit, a tribe. Capturing you and your family, as you are right now, truly cannot wait.
Collaboration and Personalization: Crafting Your Family Narrative

How many times have you thought about family portraits, only to think about forced poses in a dark space? My studio photography isn't just about coming to my studio space, sitting down, and smiling. There are so many styles of family portrait photography, and I'm here to tell you: we're going to make your session feel like you.

If you would feel more comfortable indoors, in your family's living room, let's make it happen! If you want to visit the place your partner proposed to you, let's hop in the car and go! And, if you're all in and want to discover breathtaking scenery and landscapes, I'll take you to my favorite hidden gems for the most unbelievable photos! Look, it's about doing what you love best as a family and embracing your truest selves. I believe, deep down, every portrait should capture you as you are: smiling, laughing, tearing up – your honest emotions!
That's why I spend so much time with my clients, before, during, and after the shoot. My process is personalized, from the first moment we have together until our last. If COVID has taught me anything, it's that family photography is my calling. My inspiration is your family's story – your struggles, your achievements, your love and your connection. And connecting with my families in their spaces and understanding their goals and bringing out their true beauty? I am so, SO lucky to be able to do this!
So what does a personalized experience mean? Think of me as your guru and your guide through this journey. I'm here for you every step of the way, from learning where you might display your photos to the final unveiling of your shots.
When we first embark on our journey together, you and your family will probably have a lot of questions. That's normal, and I'm here to help! Do you need help figuring out your outfits? I've got you covered with style advice, mood boards and even links to local stores to buy your outfits. Do you have kids who might be a little shy – or need extra encouragement to bring out their true personalities? We work with your kid's pace and find the most engaging way to spend time with them in studio – and win them over! It's my job to ensure you feel comfortable, confident and happy!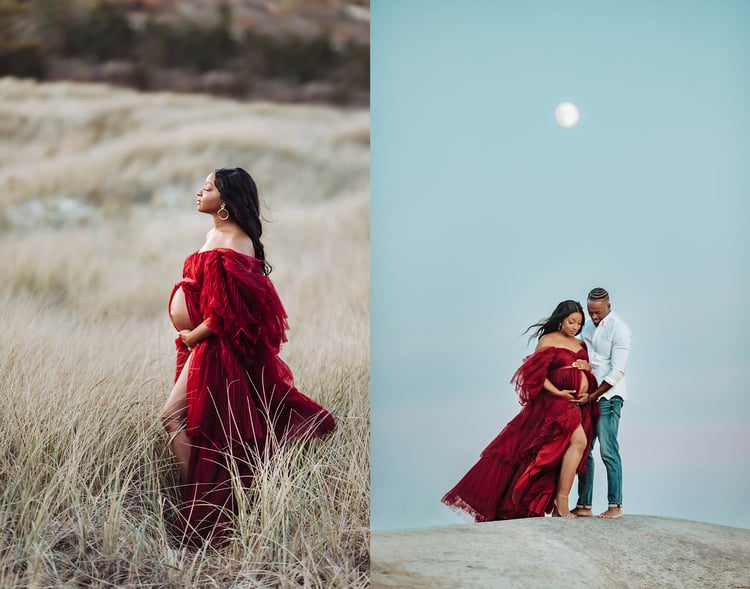 Unveiling Timeless Portraits: The Art of Capturing Family Moments
Working with a family portrait photographer is an investment in your family and your memories. Think about it: How many photos do you have of your family? Family photography wasn't as popular back in the day, and I would do anything for a couple more photos of my parents. Years from now, you and your kids and even their kids will look back and think, I'm so happy they worked with a family portrait photographer, either in the studio or outdoors!

Working with me, a professional photographer, is vastly different from capturing photos with your smartphone – or even working with an amateur photographer. My photos are all about blending creativity, artistry, and technical finesse all while capturing your family's energy and authenticity. Family moments are fleeting – but the memories in your family photo last forever. Book a family photo session with me now to freeze those precious moments in time!
The Journey: From Session to Display
When you hire a professional photographer, it's not an everyday event – and it shouldn't be! It's a transformative journey filled with excitement, joy, and anticipation. You're going to feel so in love with your family during your shoot as you share your story. So how does it work when you work with me as your family portrait photographer?

From the initial booking to the final display, I guide you through each step.

It all starts with a phone call – simple enough, right? During our call, we'll chat and get to know your family better. We'll talk more about your vision, preferences, and the type of session that resonates with you. If you have any ideas, now is the time to tell me. This is when you book your session fee and secure a date on the calendar, marking the start of a beautiful adventure.
Next, we'll have an in-home planning consultation. During this meeting, we'll dive even deeper into each and every detail, including the location of the shoot. There's no detail too small – we even talk about potential walls to display the gorgeous wall art for your family memories, so you better understand the vision. I'll walk you through styling, outfits and anything else that will bring your vision to life. We'll map out the entire experience so you feel prepared and excited for your upcoming family photography session.
Then, the next time we see each other, it'll be time for your family photography studio session, either in studio or on location! To help you feel pampered and beautiful, we provide a professional hair and makeup artist who will enhance your natural beauty. When's the last time you spent an hour getting professionally pampered? Most moms will say…their wedding! Today is all about you, your family, and your connection. If we're shooting at the studio, you'll be pampered there. If we're shooting on location, I'll send my stylist to the comfort of your home! When you and your family are ready, we'll start our shoot and embark on a unique journey to best capture authentic moments and genuine emotions.

A couple of weeks after the photoshoot, it's time for the big reveal (also known as: the day your heart melts!). We'll meet in the comfort of your own home and go through your shots. As you view the photographs, you'll relive the beautiful moments captured during the session. This is when you'll have the opportunity to select your favorite photos and choose the images you'd like to display in your home.

Being part of your family's journey is an emotional and rewarding process. Not every day is guaranteed, after all – and I love that I can help you capture this moment in your lives! At the end of the process, you'll receive timeless portraits that will bring smiles to your faces and warmth to your home for years to come.