Pregnancy is a beautiful, transformative journey…but it doesn't always feel that way. Let's get real: pregnancy doesn't always make you, as a mother, feel your best – or your most beautiful. Sometimes you have terrible back pain, sometimes you feel all glowy and excited, and other times you're relegated to bed rest with nausea – And don't get me started on the swelling and fatigue!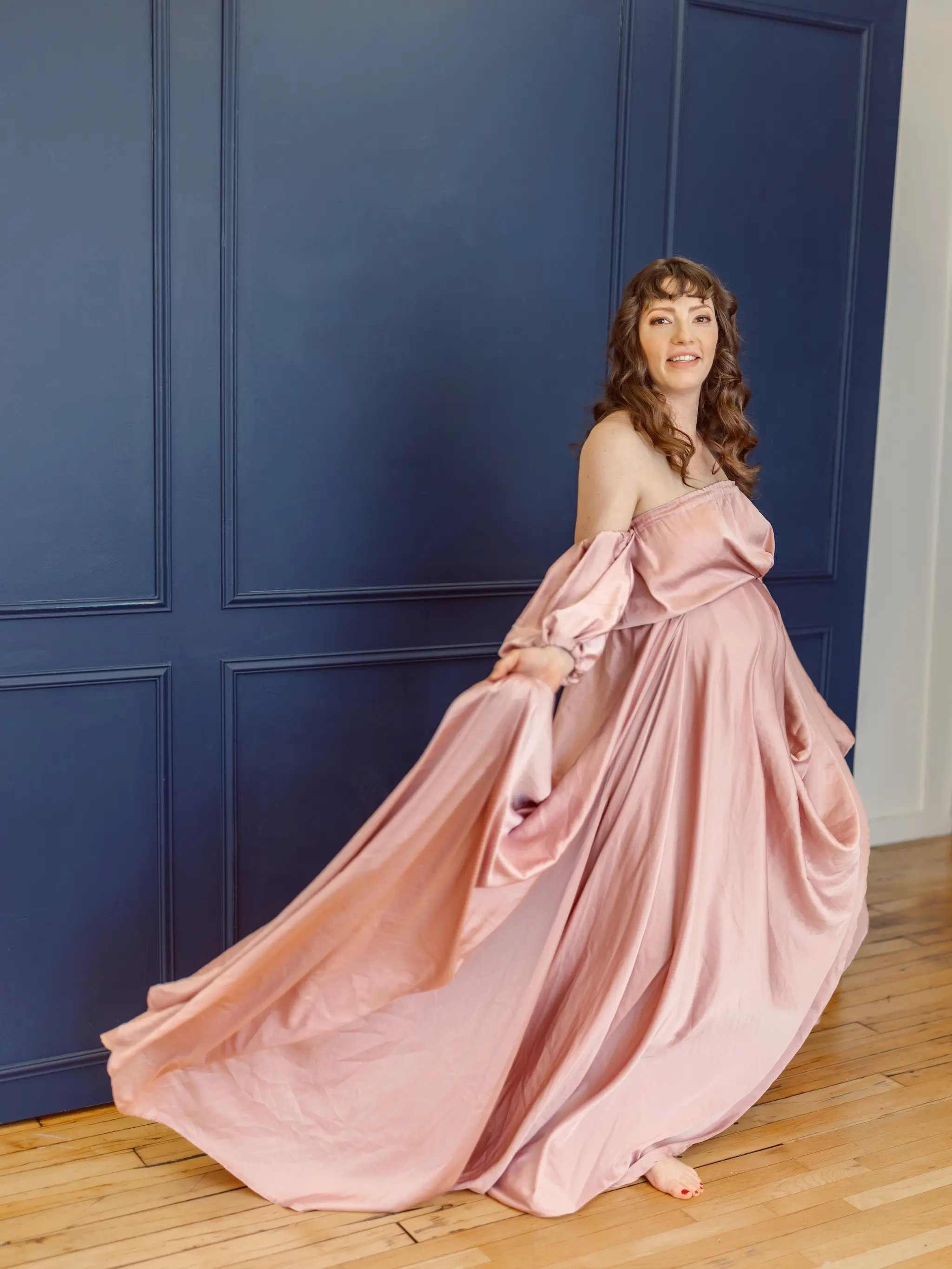 Over the course of nine months, your body changes in ways you could have never imagined as you create a whole new human being and future best friend. It's a whirlwind of emotions and anticipation. But here's the thing: time passes in the blink of an eye, and memories can fade faster than we'd like. That's why I always encourage expectant mothers to preserve these precious memories from this special stage of life in a maternity photoshoot.
The gentle curve of the belly, the graceful lines of a mother's silhouette, and the tender expressions of love and excitement – all these little details fade with time. Your future child won't be able to know you in this way, unless you capture these priceless moments.
As a professional photographer and a mother, I've been through it all myself – and that's why I feel so strongly about the power of a maternity session. It's more than a photoshoot, it gives you the opportunity to get dressed up, spend a relaxing time getting pampered by a stylist to do your hair and makeup and feel beautiful, inside and out, and create breathtaking memories. My maternity sessions empower moms-to-be and mothers to feel radiant, gorgeous and powerful.
Capturing the Essence of Motherhood
Pregnancy is a time unlike any other – and each woman experiences it in their own way. Sometimes, it's filled with moments of nausea and swollen ankles; other times, you may find yourself in awe of the little kicks in your belly.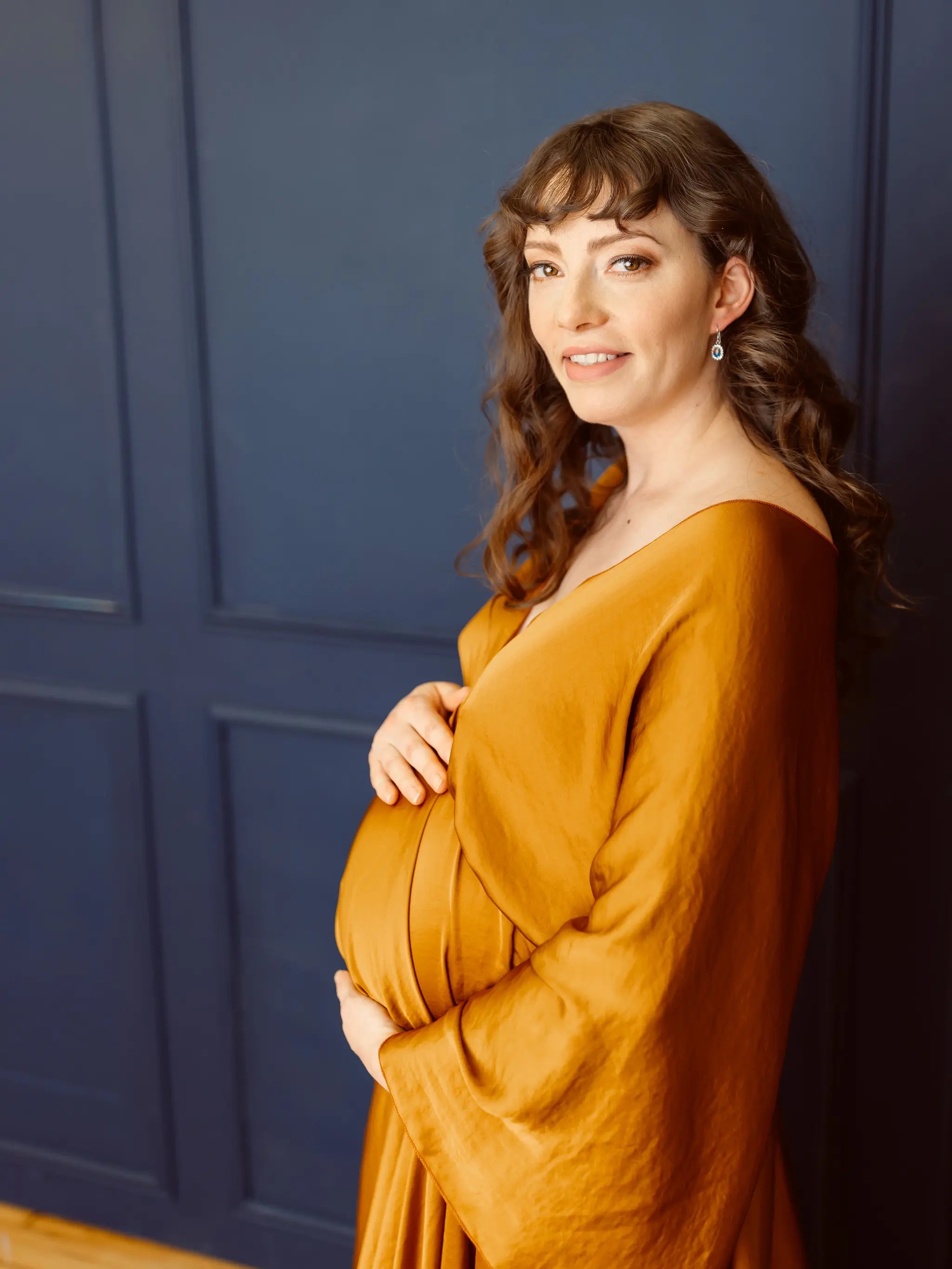 No two experiences are the same. But in my experience, there's one underlying factor for most expectant mothers: they don't always feel beautiful. It can be hard to take time to appreciate the incredible stage of life when you're feeling low energy or simply trying to balance caring for yourself and your family.
That's because your body experiences so many changes during pregnancy! For many mothers, there's so much joy and excitement surrounding the physical journey. There's nothing quite as magical as feeling those first kicks and imagining the little one's arrival.
Trust me, I've been there. It's exciting, it's wild, and it's nerve-wracking all at once. The overwhelming sense of love that grows with each passing day – those emotions deserve to be cherished forever.
Studio maternity photography freezes these meaningful moments in time, allowing mothers to revisit them time and time again, reliving the emotions and memories that might otherwise fade.
Shooting your maternity session is an honor and a privilege, and one I take seriously and with a smile. I know what it's like to feel scared and bloated and nervous and thrilled and excited all at once – and I know how hard it can be to feel beautiful when your body feels foreign to you.
As a professional maternity photographer, it's my job to ensure our space, no matter whether it is outdoors, in my studio, or at your home indoors or outdoors, feels right for your maternity photography shoot. It's your job to show up – and I'll take care of the rest. You'll walk away feeling empowered, beautiful, and cherished.
Timeless Portraits: A Gift for Future Generations
When my parents were growing up, photography wasn't as popular. I don't have many photos of my parents as a result, and even fewer of my mother when she was first pregnant with my twin and me. Every day, I wish I had more photos of them – smiling, laughing, preparing for their new twins together. If Covid times has taught me anything, it's that family time is the most precious time – and those memories last a lifetime.
What if your future kids could have a glimpse into life before they were born? Maternity portraits are timeless – and heirloom for your kids, long after they have been born, and long after you're gone.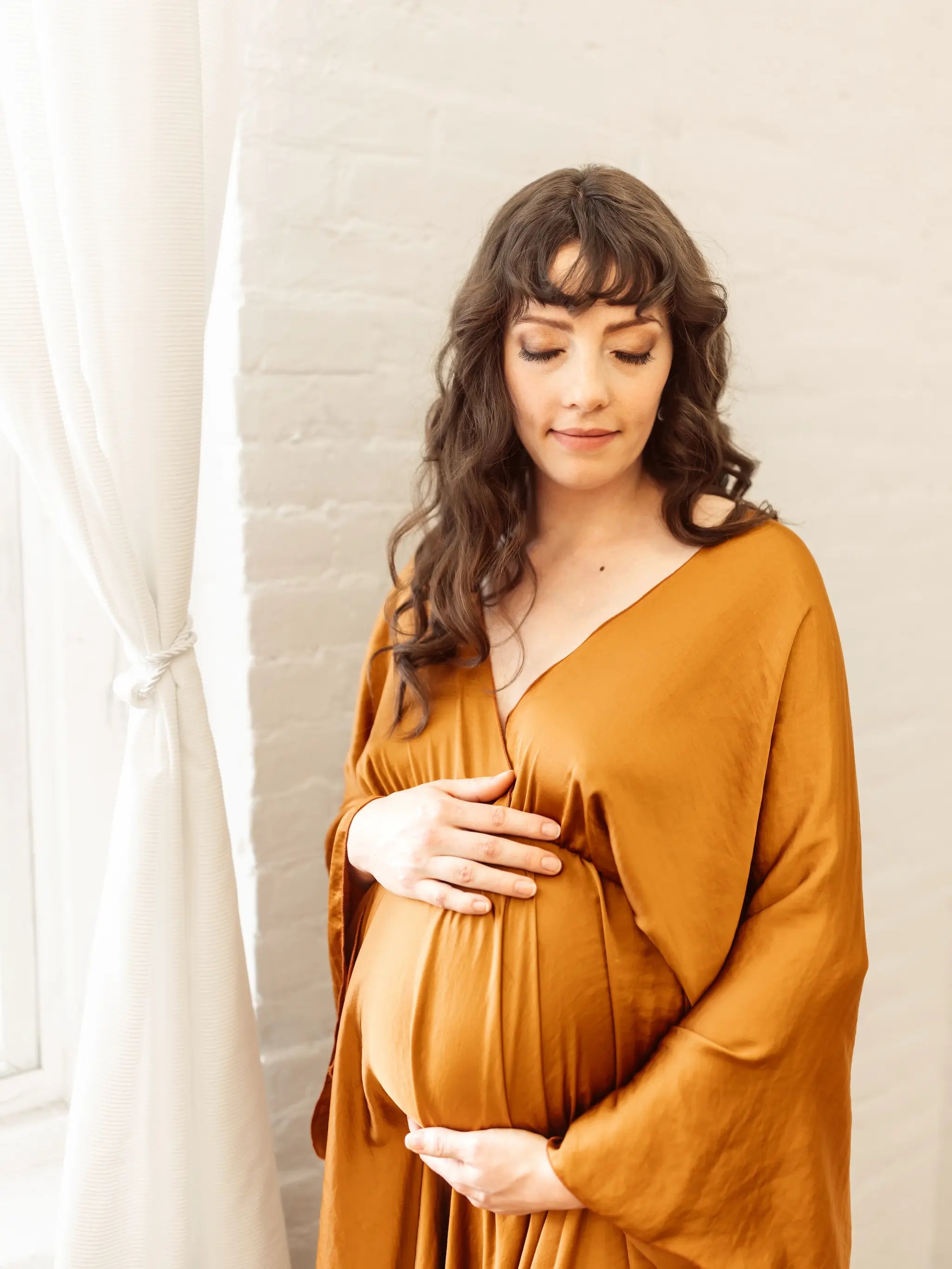 Imagine sitting down with your daughter or son when their families first get pregnant. Your maternity portrait gallery is the string that ties through each generation, connecting mothers, daughters, and granddaughters in a celebration of womanhood and the enduring legacy of love.
These portraits become a tangible connection to the past, a cherished reminder of the transformative power of motherhood. By preserving maternity portraits as heirlooms, we pass down not only a physical artifact but also a legacy of love, strength, and resilience.
Preparing for a Memorable Maternity Photoshoot
I get it. Not every single day is going to be wonderful when you're pregnant. Trust me, I've been there! I know some days, you don't feel that glowy or beautiful. It doesn't mean you should skip your session, or even cancel it all together.
Here are some practical tips to prepare for your most memorable studio maternity photography photoshoot.
Think about timing
You don't want to schedule your maternity photoshoot too early – or too late. I recommend booking your session between 28 and 32 weeks, when your baby bump is beautifully pronounced. This is the best schedule for your maternity photo session because it is right before you enter the final stretch of your pregnancy, where many mothers feel most uncomfortable or the baby decides to enter the world a bit earlier.
Pick the best outfit to highlight your changing body

Styling is an important part of your maternity photoshoot, but you don't need to do what everyone else does. Pick clothing that makes you feel comfortable, showcases your personal style, and highlights your beautiful belly.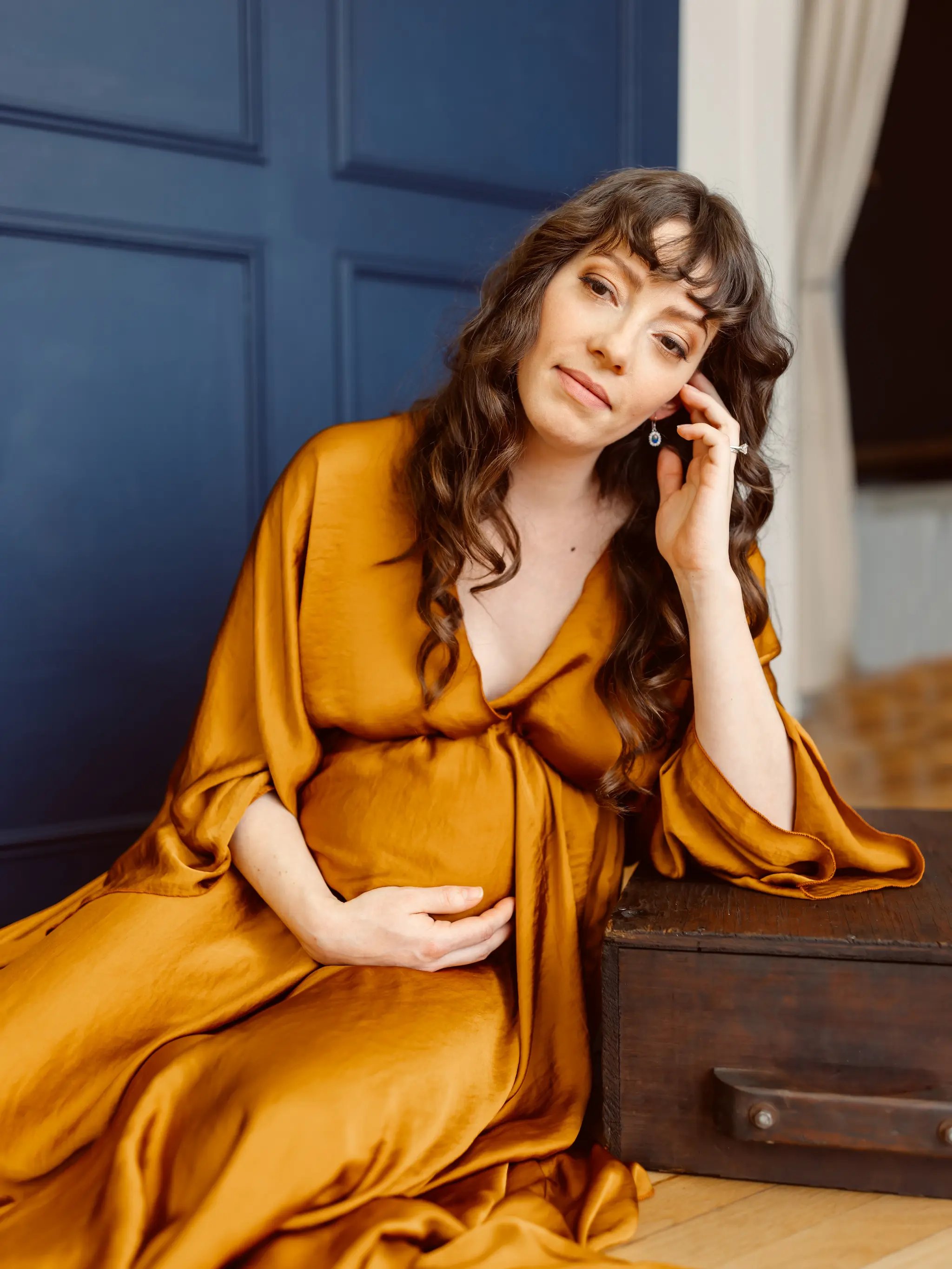 I love maxi dresses, those are my signature style! Their comfy, feminine, flattering, and versatile. If we're shooting outdoors, the light fabric will add extra movement with the wind. If we're shooting in studio, you can enjoy multiple outfits, from looking glamorous with a fancy gown to rocking jeans and a tank top or other casual outfits that feel like you. Consider picking out accessories, too, like hats or flower crowns to make it feel extra special. In short: pick clothes that make you feel like you.
I recommend women opt for solid colors or subtle patterns that won't distract from the main focus: you and your growing belly.
Fortunately, when you book with me, I do all the styling for my clients. During the in-home consultation, we discuss outfits. We pick clothing based on three things: what you gravitate towards in terms of style, the photoshoot location, and your home interior design. It's all about ensuring you look your best!
With Andre Toro Photography, we do styling for our clients, holding your hand through every step, picking outfits from your closet or sending links to stores with clothes I know you'll love and match your style.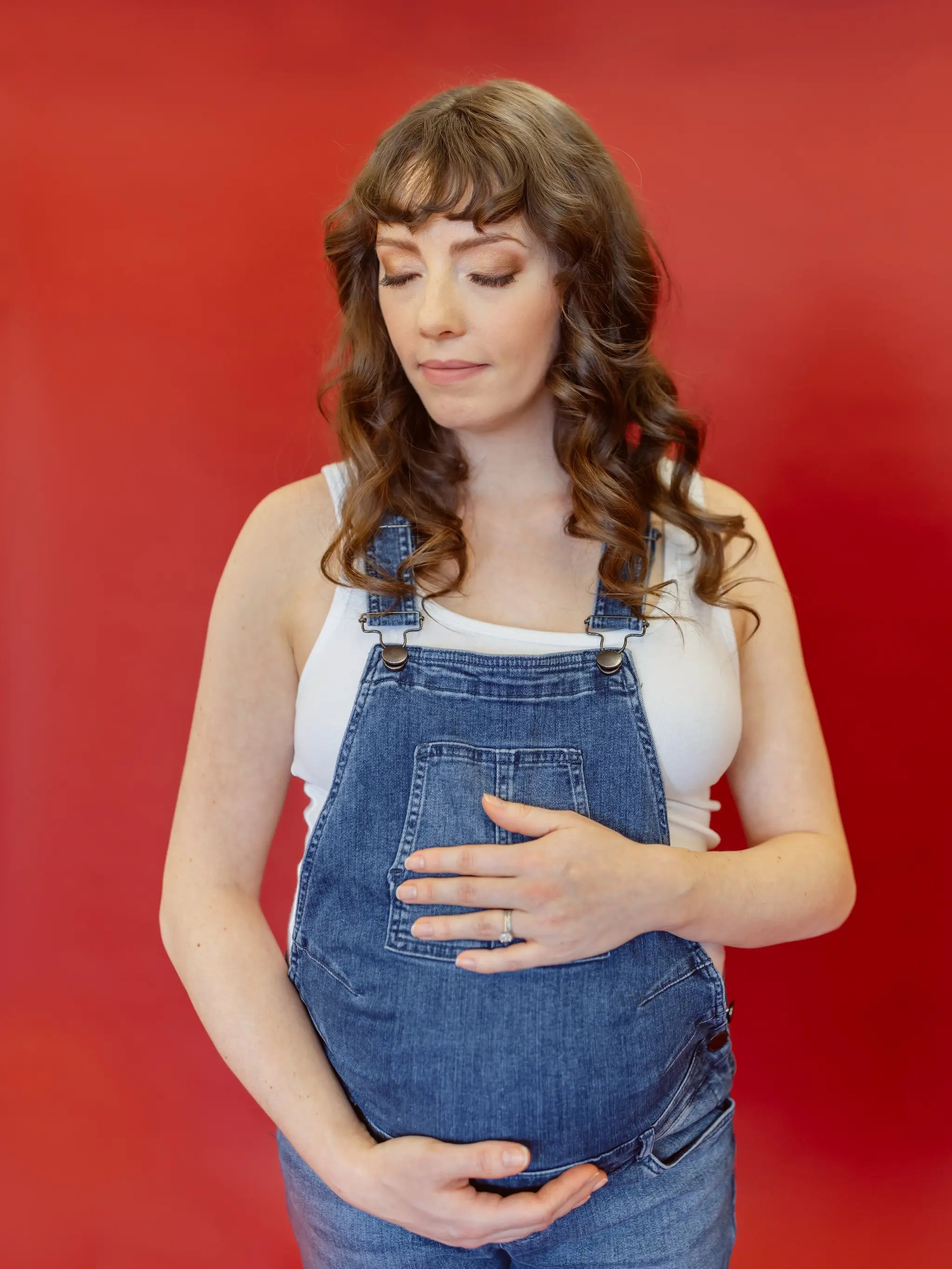 Pamper yourself
Is there anything better than a little self care? A studio maternity shoot is a big milestone in your pregnancy journey, and you should feel as beautiful and radiant as you are! That's why all my photoshoots include relaxing pampering time with my professional stylist (for hair & make-up!).
The pampering can start before the shoot, too. In the days leading up to the shoot, treat yourself to some self-care. You deserve it! Get a fresh haircut, a manicure, or indulge in a prenatal massage. Feeling relaxed and confident will shine through in your photographs.
Personalize your shoot
Do you have any personal elements you want to incorporate in your shoot? Be sure to bring those on the day of your studio maternity shoot. Some mothers might bring baby socks they wore when they were children, or their ultrasound photos. Other love to bring a scarf that we can then use to wrap your baby during the newborn session. Anything that holds significance to you can add more of a personal touch to your maternity portrait gallery.
Celebrating the Journey of Motherhood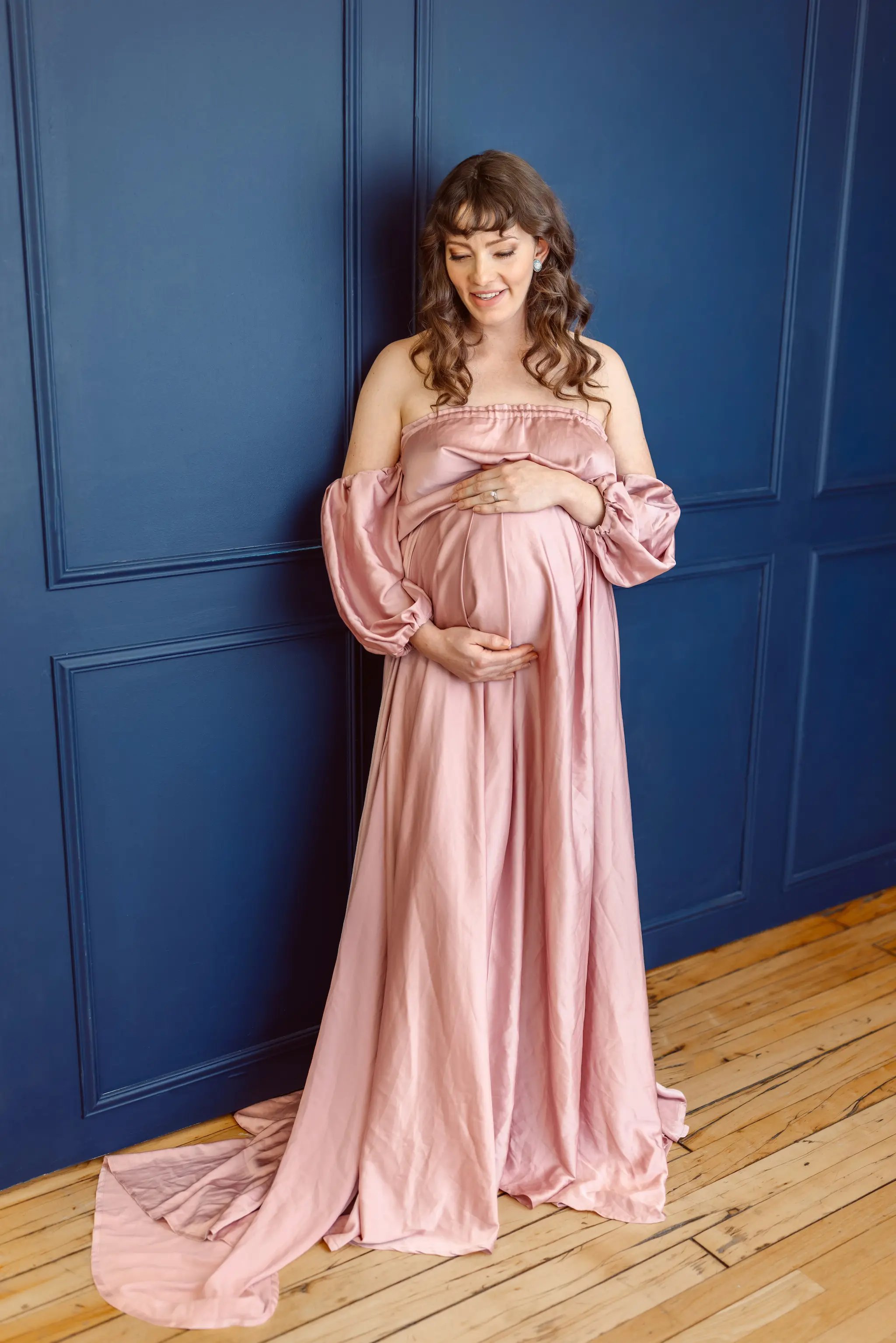 For many mothers, pregnancy is equally challenging and exciting. It's truly a once-in-a-lifetime experience that should be celebrated! Maternity portraits provide an opportunity to celebrate the incredible changes happening within our bodies and cultivate self-love and confidence.
"Andre's photography is art," KC Lan says. "Her photos are world class, and we're lucky to have our memories captured so artistically and beautifully." By stepping in front of my camera, these mothers are able to discover a newfound appreciation for their beauty and strength, allowing them to embrace their journey with pride