I enjoyed so much writing this TOP countdown blog in 2020, that I decided to start a tradition! Starting in 2020, every year, I'll share my favorite Beach Family Photos! The beach owns my heart and soul. I grew up going to the beach every weekend, for me the ocean breeze, the warm sand, and the splashing waves take me back to my most cherished childhood memories! I can't wait to share my beach journey with you as the years go by. Here goes year 2 of this tradition! Hope you enjoy it 😀
Estimated Reading Time: 7 min
What spoke to my soul in these Beach Portraits?
As always, these are overall reasons/themes that made these 15 Beach Family Portraits SO special to me.
Emotive storytelling. I'm all about human connection, candid moments, and feelings.
Dramatic skies. Ohh, give me all the clouds in the sky!
Gorgeous styling. It adds to the authenticity and feel of your memories.
The light! There is SO much beauty in either the golden light or nostalgic overcast.
The movement. Ohh, give me all the windy sunsets/sunrises!
Are all these photos taken on the SAME magic beach?
Nope! there are SO many hidden gems in Massachusetts. Breathtaking beaches with a unique look & feel. We've got the beautiful marsh, epic huge rocks, endless dunes, sunsets in the water, and also sunsets behind the sand! So many gorgeous beach destinations to pick from!
Countdown from Top #15 to #1
Top #15
Dancing at the beach is SO fun! Dancing with mom during sunset is a whole new level of sweetness. The little one was so inspired and having so much fun. A ballerina who won my heart. I also love how Mom pops against the textured sand and the golden tones. I just love this moment captured! (May, 2021)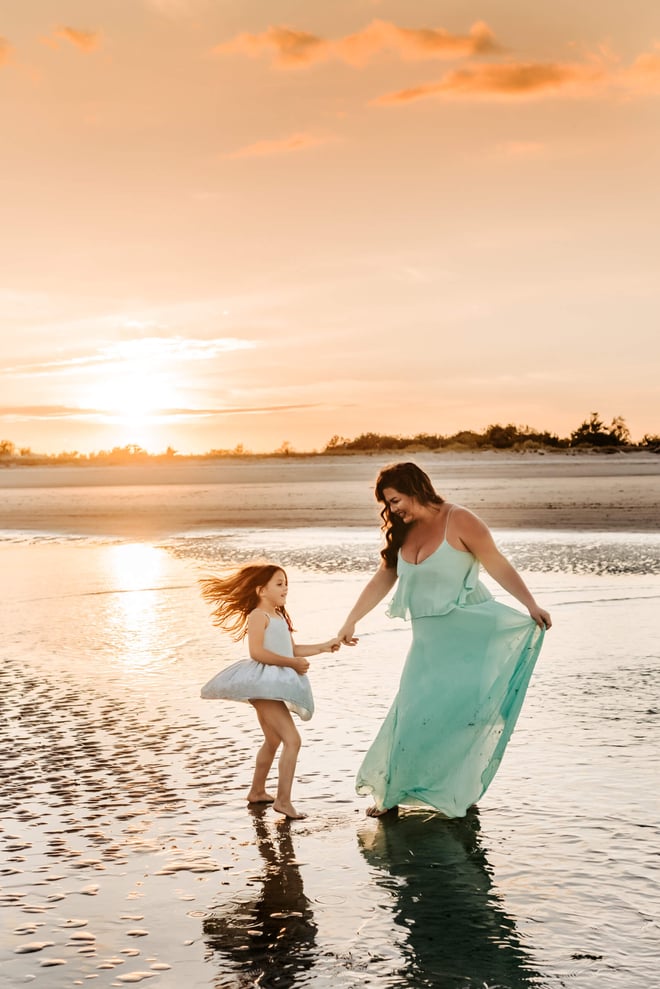 Top #14
My first beach session of the year always wins my heart! This session took place in early May, the cool Spring breeze was delicious. Just warm enough to enjoy walking in the sand. The sunset was incredible, the wind was SO nice, adding movement! In this beach the magic takes place behind the sand, that yummy light added so much texture and emotion to this capture! A mommy & me moment to cherish forever! (May, 2021)

Top #13
I have a sweet spot for this family. Mom used to work with me in my Wayfair days, I adore her! Since then, I've been lucky to capture her family's essence as she grows her family! I styled this session with a nostalgic vibe in mind. The neutral tones worked so beautifully with the water. For me, this moment captured is all about mom embracing her boys. She's proud and delighted to be surrounded by so much love! (June, 2021)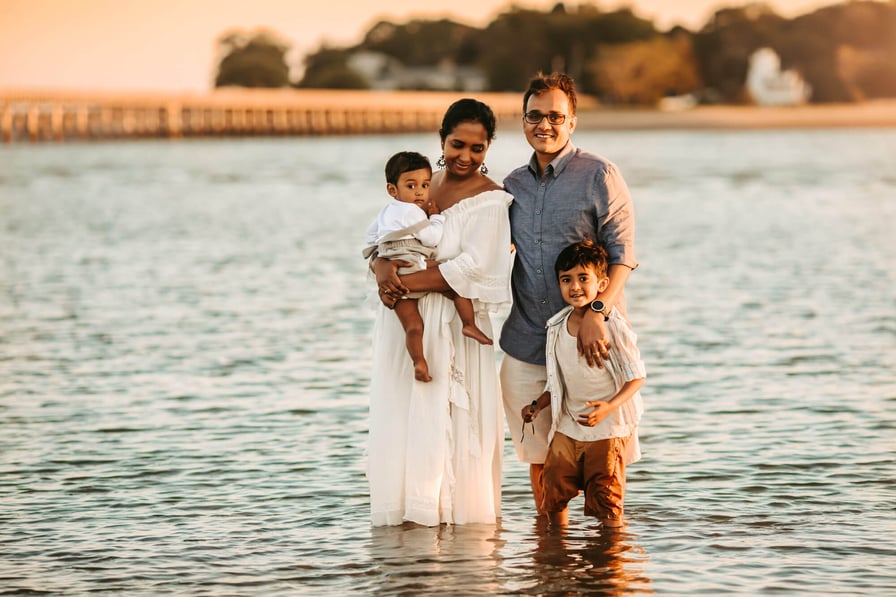 Top #12
There is a feeling I can't describe in photos that show people walking away, I wonder what they were thinking, what plans they had in mind? The beauty of beach sessions is that we get to explore the entire beach, it is a walking session. On this particular beach, we start at the rocks and make our way to the water. So much to see, so many views to enjoy. I love how the boy was leading the way! The combination of rocks + water + sand + sunset... ads so many layers and textures, I love it! (June, 2021)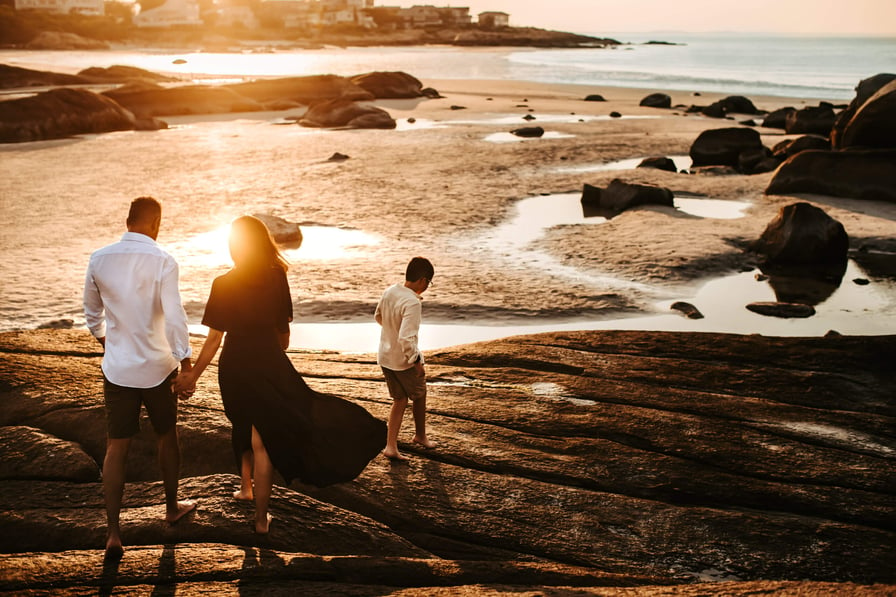 Top #11
When people think about beach sessions, they usually think about epic colorful sunsets. Yet there is something SO special and nostalgic about overcast weather at the beach. When the colors are muted, the emotions run high. There are no distractions, all the feelings go with your subject. This little guy couldn't believe all the rocks he could explore, all the places he could run to! (September, 2021)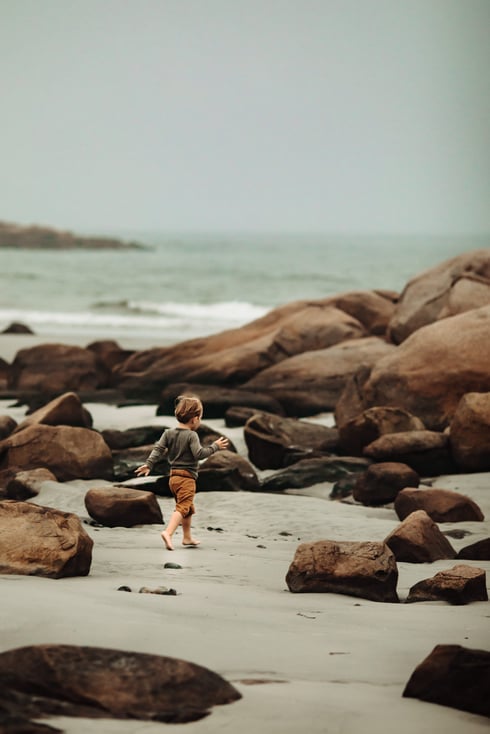 Top #10
That moon!!! The blue hour at the beach is SO pretty! With older kids, we always make it to the blue hour and it's SO SO SO gorgeous! The full moon was a gift! the clouds were just below it in the most beautiful pink cotton-candy color ever. This family is a favorite of mine. I've been photographing them for 3 years and their photos always speak to my soul. These boys are so charming and kind, I love this family so much! (June, 2021)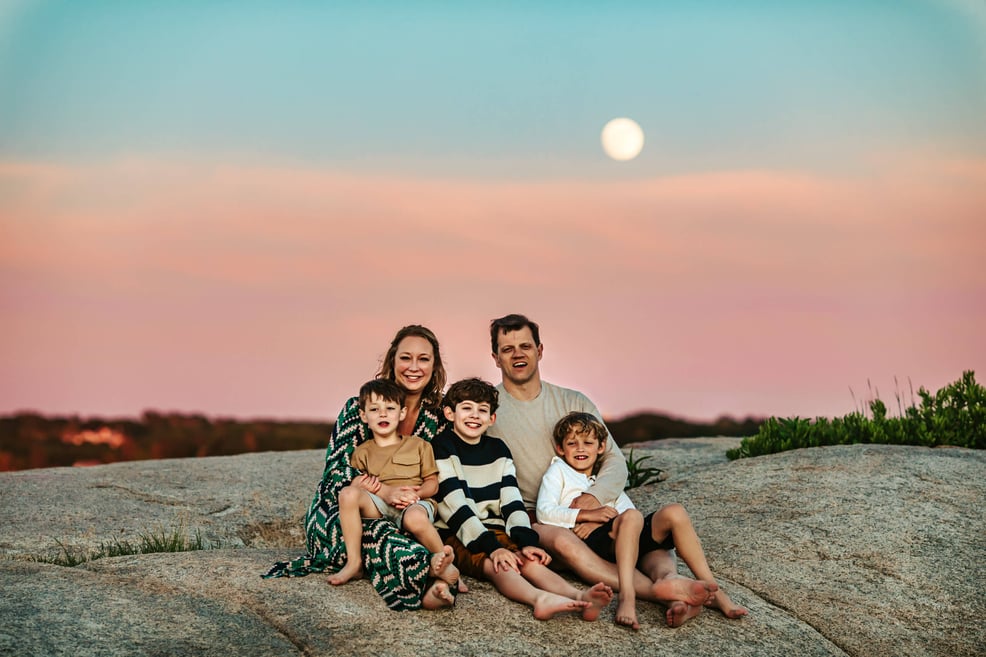 Top #9
What if I tell you that you'll have memories of THE first time your kid met the ocean!? I'll never forget this moment, this was HER FIRST time in the water feeling the waves! She loved it so much, she was splashing and laughing nonstop. A happy girl who stole my heart! Moments like these lift my spirit and make me LOVE my life calling! ⁠ ⁠(June, 2021)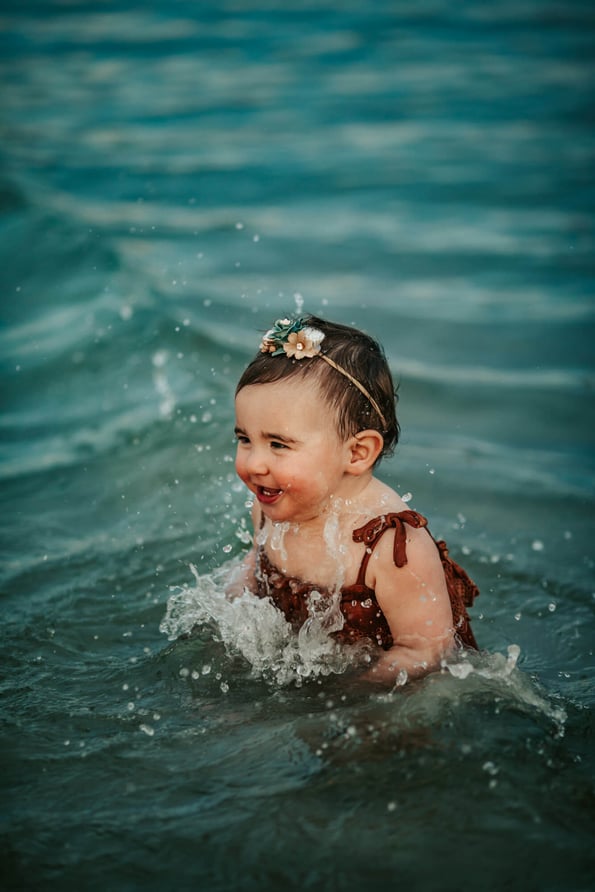 Top #8
The textured sand, the wind, and the sky! I wonder what was she thinking about, a girl who has her whole life ahead. I love the composition and the peaceful feeling that it transmits. This sunset was supposed to be overcast, it was raining and a bit wet... THEN the sky cleared up and the most emotive sunset took place! So inspiring! (July, 2021)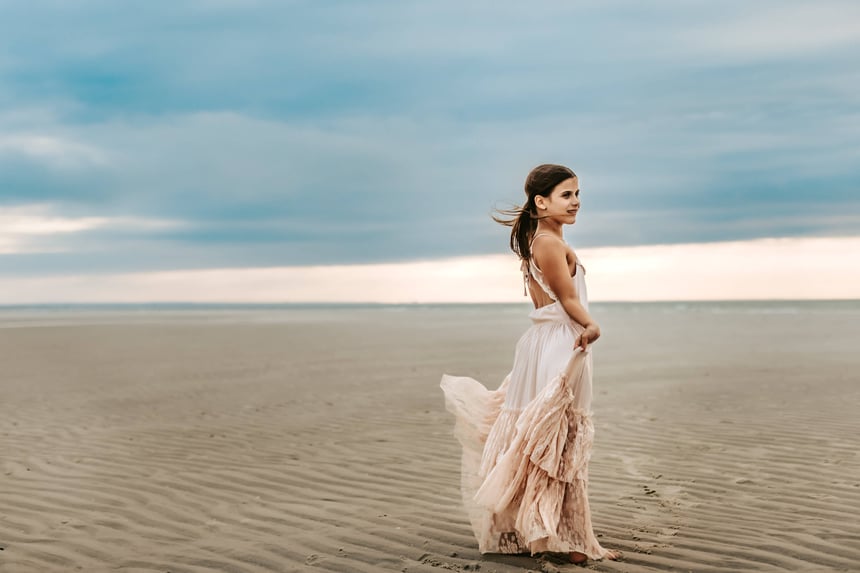 Top #7
Direct harsh light can be intimidating, but I LOVE IT!!! It adds so much contrast and boldness to a photo. This was one of the first photos I took during this session, the sun was still up in the sky. The birds, the laughter, and the boys happiness melt my heart! Such a happy moment! (June, 2021)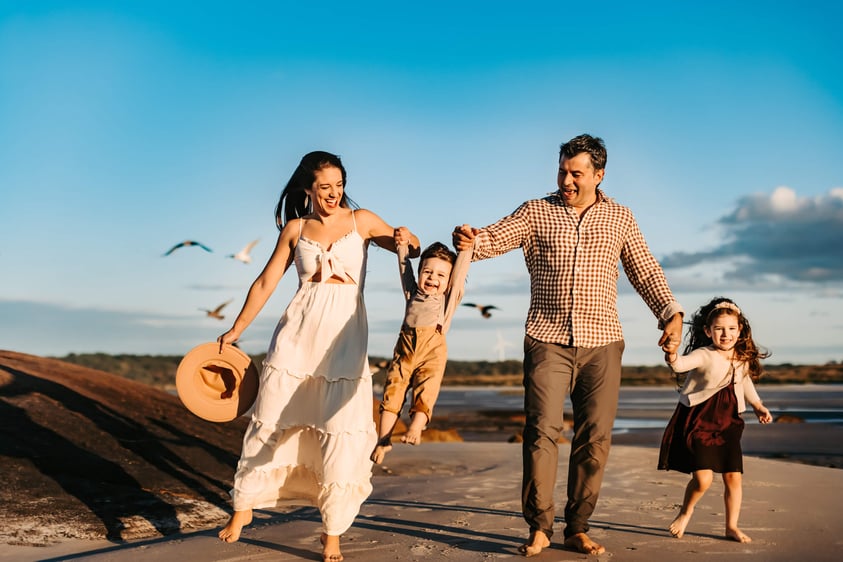 Top #6
Another blue hour moment that stole my heart, the dramatic sky was insane!! Mom looks like a goddess. She is so kind, smart, and gorgeous!! Wearing black on the beach is always stunning. Then the fact that dad & son were having a moment while mom walked her walk.... was just WOW! (June, 2021)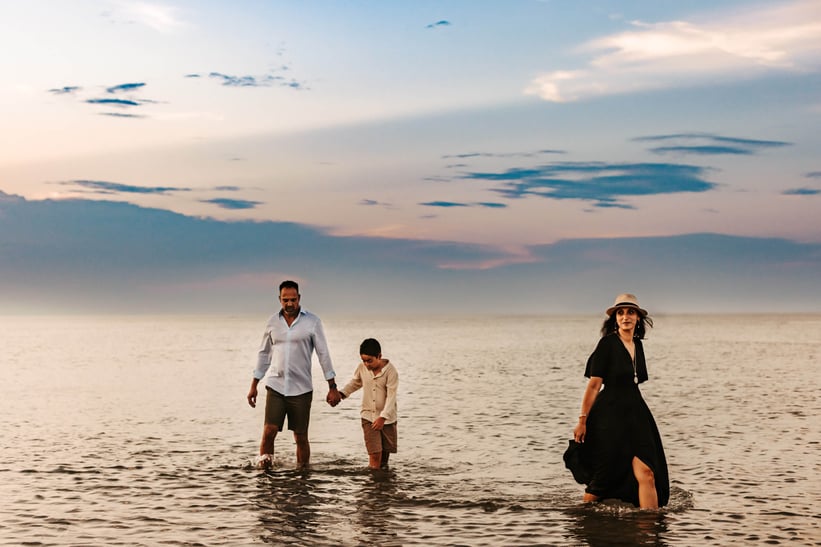 Top #5
Cloudy days are my jam. I live for dramatic skies during sunsets at the beach! It adds so much emotion and feeling. THIS candid moment was so adorable! boy chasing the bird, and that chasing the boy. The lighthouse, the bird, the sky, the white sand... this composition spoke volumes to my soul! Fun fact: this Dad used to work in the Secret Service!! knowing that makes me love this photo even more! he's used to chasing and protecting the big guy! :) (June, 2021)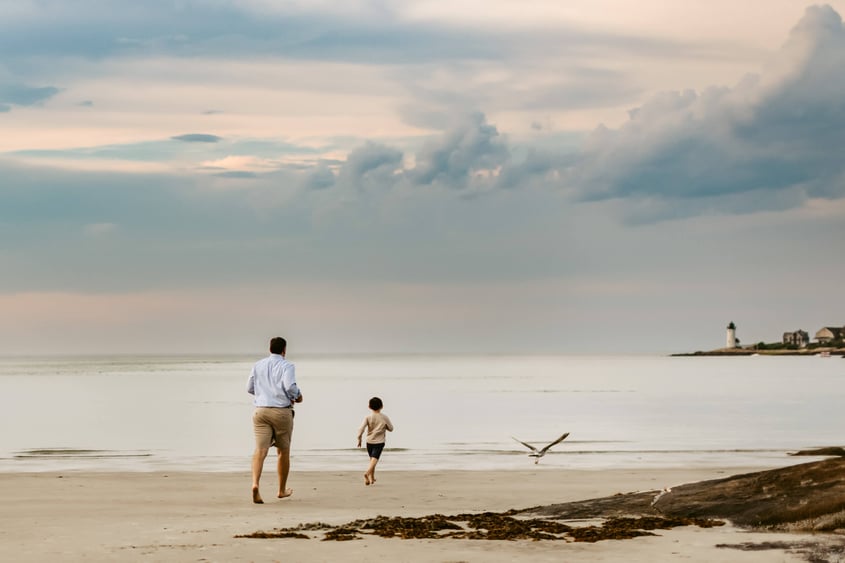 Top #4
The calm after the storm! This is a sunrise session! They drove in the dark for 2 hours (from Boston to the Cape) with NO rain, then it was POURING rain at sunrise. We had to delay the session a bit and I invited them over for breakfast! After some delicious pancakes, the rain stopped and we could finally try the beach again. We had a very small window of only 15min to make magic happen. The rain followed right after!!! I've NEVER shot an entire beach gallery in 15min, well, it's SO doable... when there is LOVE, intention, and no stress... MAGIC HAPPENS!!! We were all SO happy that the rain had stopped that we couldn't stop embracing and enjoying our time together! (August, 2021)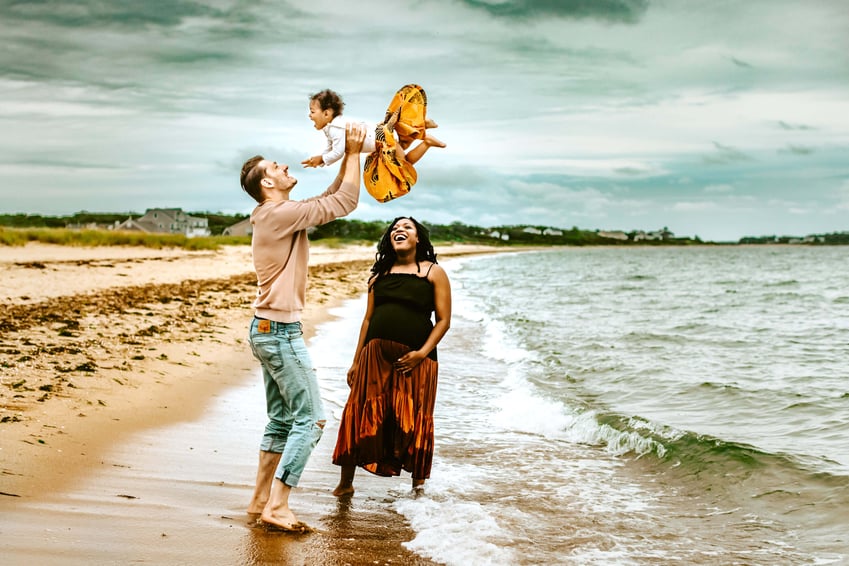 Top #3
For moments like THESE is that I do what I do. I want every family to be able to FEEL the love when they look at the memories captured. You can't pose this happiness, it just happens in a blink! The messy hair, the wind, the stick in his hand, Dad trying to hold everyone together and Mom delighted with her tribe. I ADORE THIS PHOTO so much! Is it OK if I hang it in my living room? :) (September, 2021)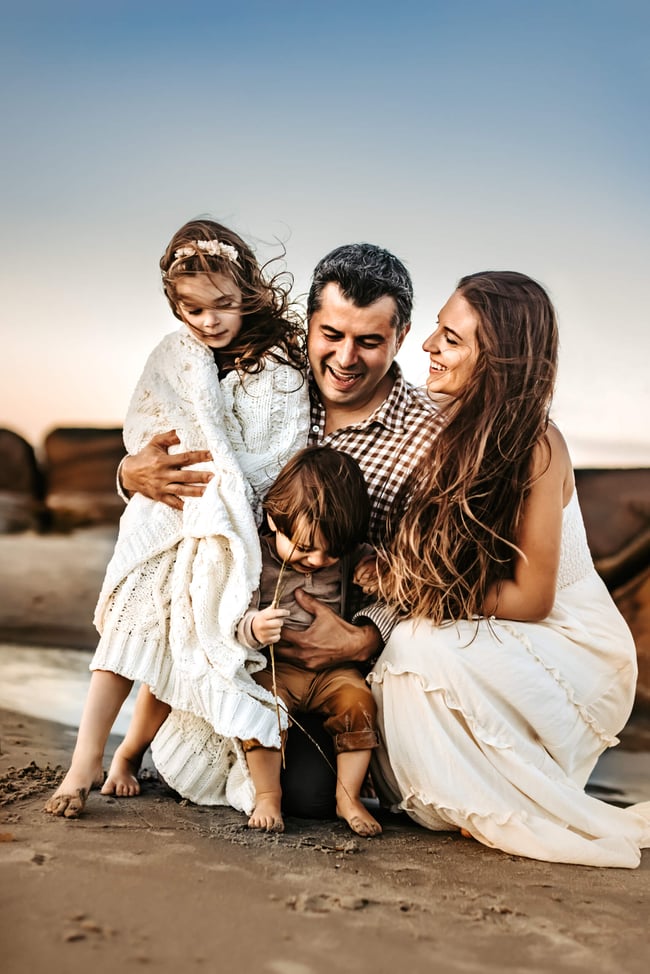 Top #2
Same family as photos #3 and #7. This sunset was incredible, not a cloud in the sky (well, just that tiny one)... birds flying all over and the sky exploding in color! It was such a beautiful sunset, the WIND was wild and I loved it!! I told mom not to worry about the wind, the wind is THE BEST that can happen in a beach session. It adds SO much movement and feeling!! This moment captured was so adorable!! (September, 2021)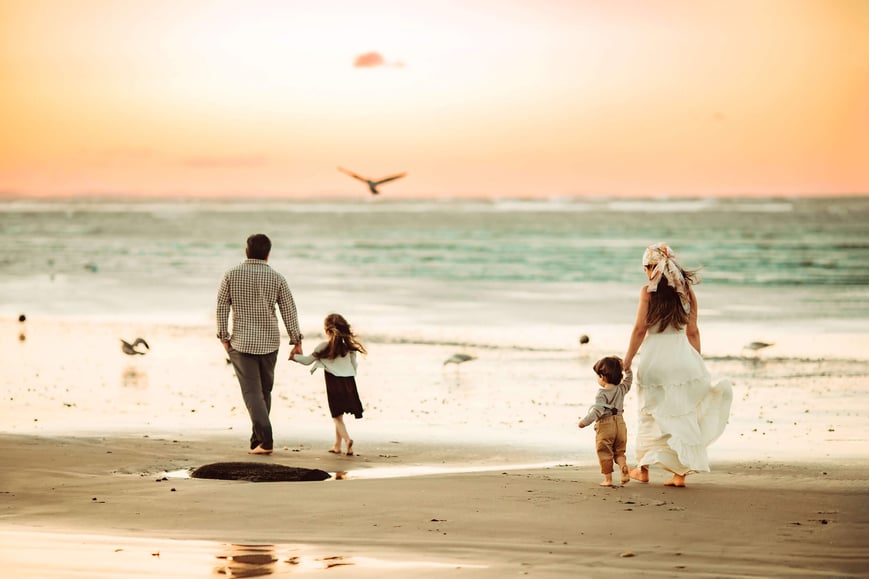 Top #1
The bond between this mom and her girls is so beautiful!! Mom's hands are full and her heart even more so! What an epic sunset. We were delighted that Mother Nature put on a show for us after such an overcast afternoon. An unexpected colorful sunset full of laughter and fun. This beach gets the most beautiful textured sand EVER and gorgeous clear water! THESE candid moments are the ones that drive my art. Mom will cherish this memory forever! This is LIFE right here: beautiful, messy, and fun :) (July, 2021)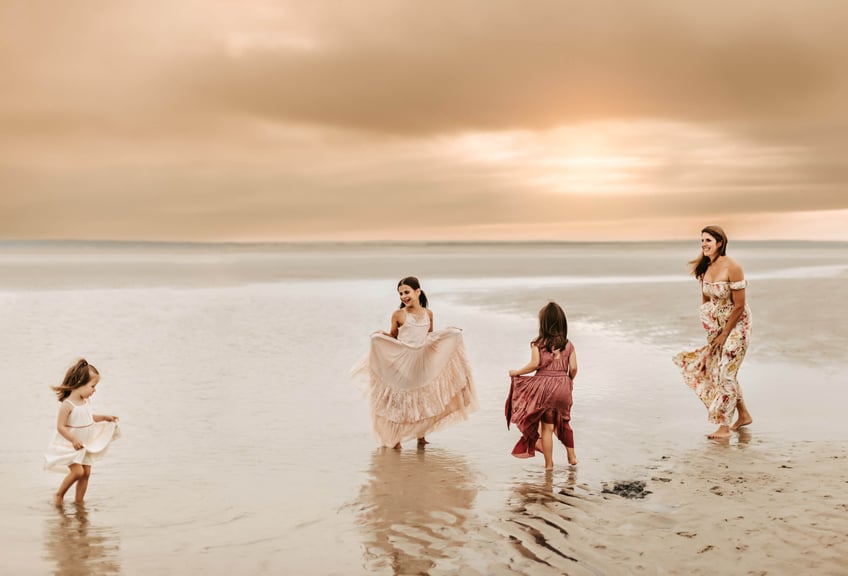 There is so much magic in Beach Photo Sessions. If you love summer and are in love with the beach, go for it! Sunrise or sunset will give you the most poetic sceneries to capture your family's essence. You'll have beautiful artistic memories by the water! The experience is much more than photos! ❤️
The beach gives all the charm to embrace emotive storytelling, the beach setting just pushes the experience to be a Fairy Tale one. Every beach has its unique signature look, ask your photographer what are her/his hidden gems! You'll get marsh, rocks, and textured dunes to pick from.
I hope you enjoyed the 2021 Top 15 Beach countdown as much as I did! If you're eager to see which photos made it to my 2020 TOP Beach countdown, check this blog!
Love,
Andre
ABOUT ANDRE TORO PHOTOGRAPHY
Andre Toro is an award-winning family and published photographer based in Boston, MA. She calls her style Real Art Photography, which she defines as Fine Art inspired by candid moments. Andre is a passionate soul, obsessed with human connection, and emotive storytelling. She believes love is raw, messy, and beautiful. To inquiry about booking a photo session, please contact her at andre@andretorophotography.com