You love summer, your family loves the beach, and you are craving memories by the water. You've see photos at the beach and you're dreaming to have your own! Love it!! Beach Sessions are epic, the experience is just unforgettable. Beach Photos Sessions are my personal favorite, I found my calling with my feet in the sand and the Mother Nature putting on a show with her sky exploding with color! Today I'll give you 3 tips that will help you navigate your options and pick THE best family photographer for your beach family photos!
1. Candid vs. Posed
This is the biggest distinction. What are you looking for? do you LOVE candid moments that take your breath away? or are you into classic portraits with everyone smiling gorgeous while looking straight at the camera? There is no bad answer, both styles are BEAUTIFUL and the beach makes it for picture perfect!
Every beach photographer will have a signature style. A lifestyle photographer like me will deliver a gallery with some classic portraits ~ I do believe everyone needs a couple of these shots, I call them 'gifts to grandma' ~ yet the bulk my galleries are storytelling full of human connection and emotive moments.
Other photographers will have the opposite mix, the bulk will be classic and posed with a few candid photos shot in between.
Understanding what makes your heart happy is key to fall in love with your beach memories. Beach Family Photos are an investment, make sure you are IN LOVE with the photographer's signature style. Does he/she poses families all the time or are candid/raw moments running the show in the beach photos he/she posts online?
Hello Candid Family Portrait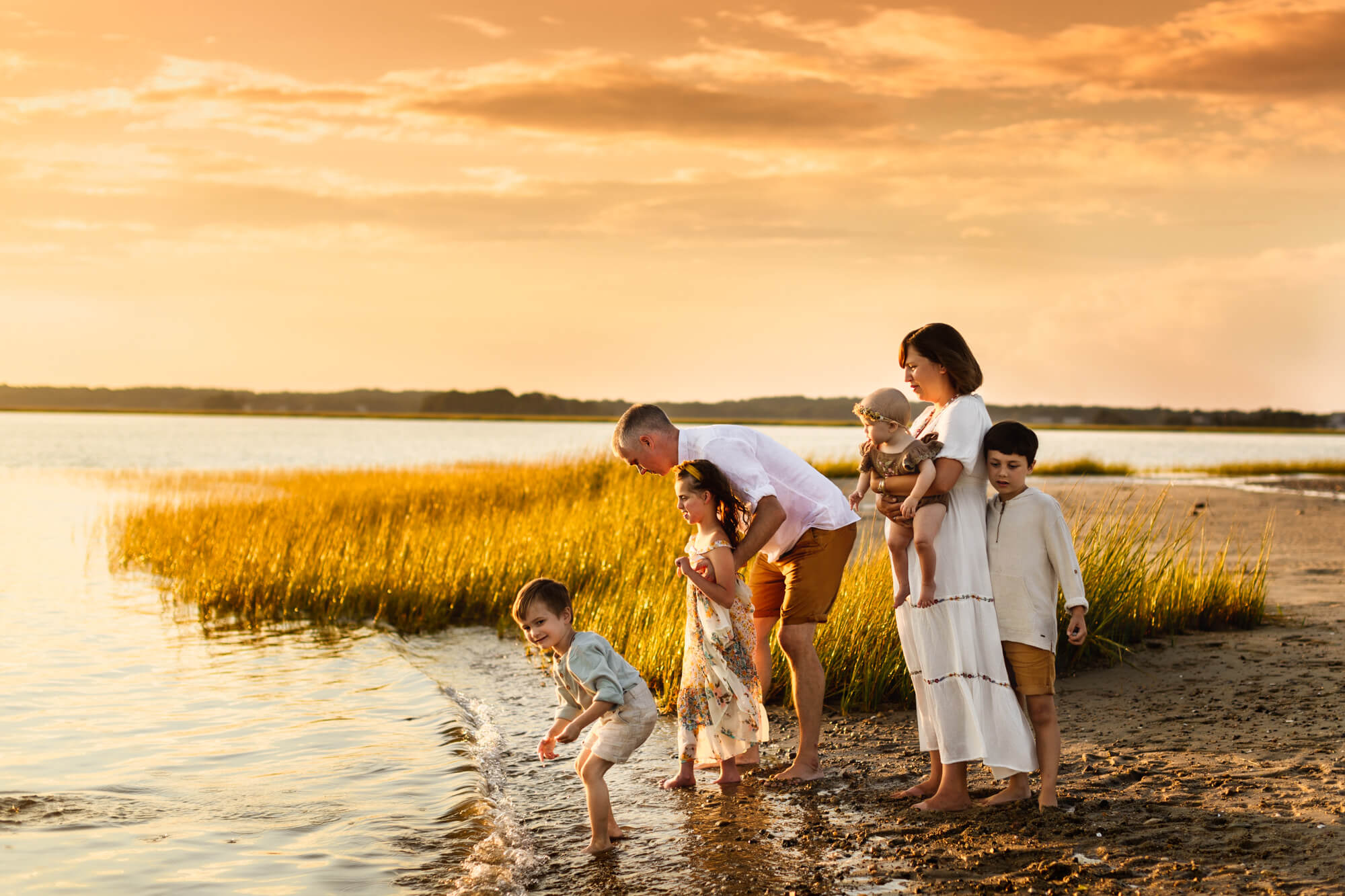 Hello Posed Family Portrait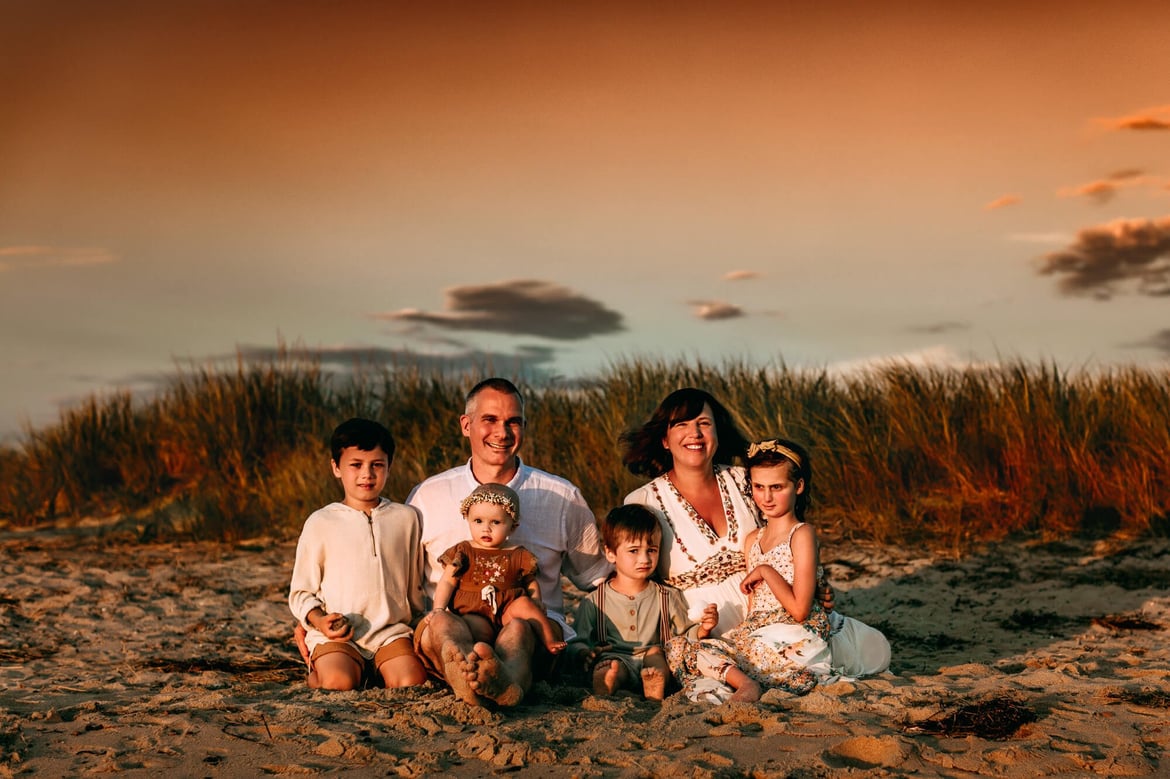 2. Editing style
The best way to understand a photographers' style is by following them on social media and checking their websites. What you see is what you'll get. At the beach, there are 2 extreme editing styles with many in-betweens.
What do I need to look for? The skies play a HUGE role, the editing can embrace the dramatic skies making it an epic powerful sunset or it can be light and just another element blended with the rest of the photo. I've had clients ask me why their beach photos with another photographer look so light in color and the sky doesn't pop. I took a look at the photographer's feed and it was super consistent with her amazing work! :) Everyone has a signature style, a look and feel that we go after every time. For me, it's the dramatic skies! It makes my heart happy. I embrace every cloud in the sky and give it character.
So, do you love rich earth colors and dramatic skies or light & airy tones? What speaks to your soul the best? BOTH are beautiful and different. When I'm scrolling IG and I look at a beach photo, I can sometimes name the photographer before looking at the account. That's how powerful editing can be, it's a signature look. Follow your heart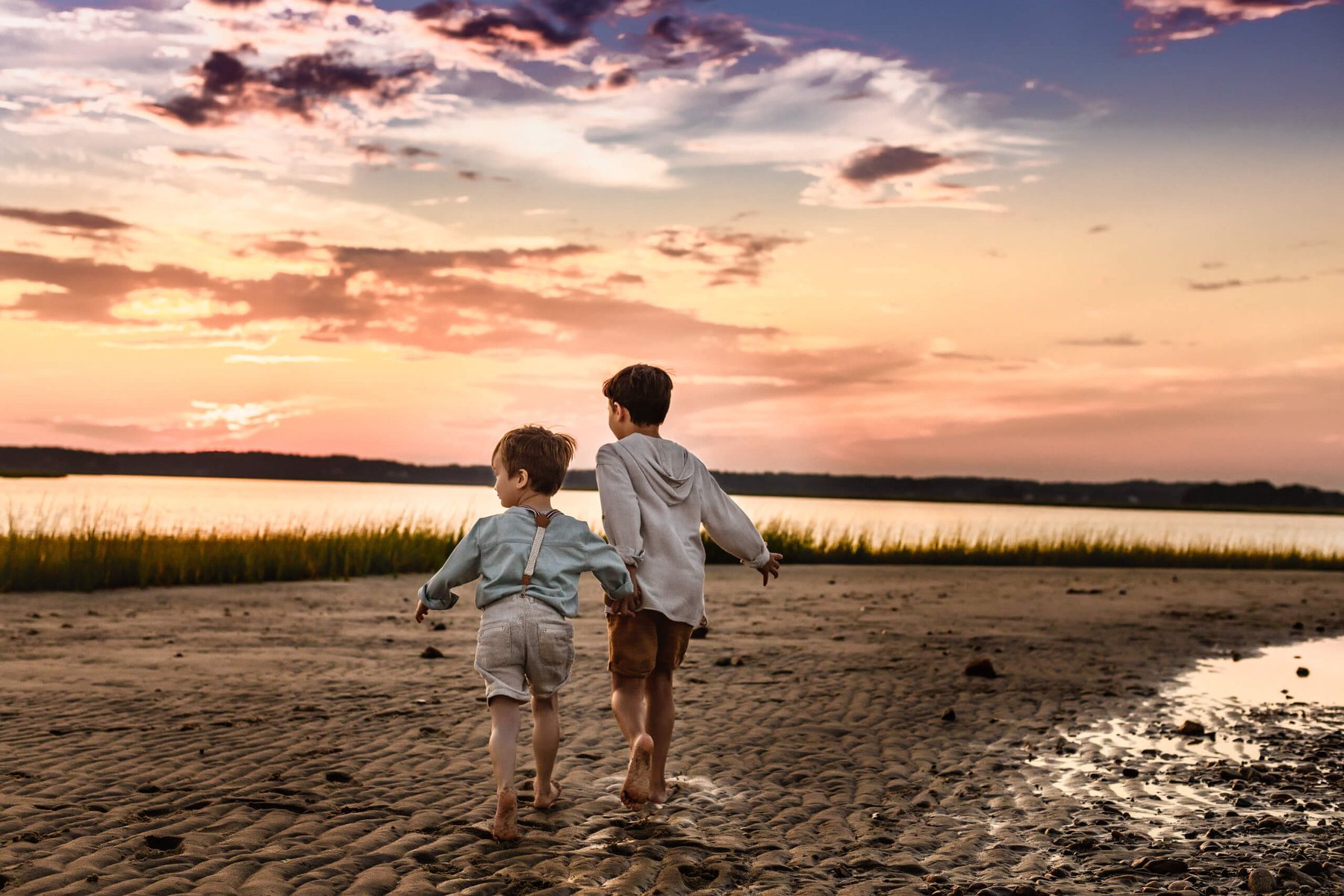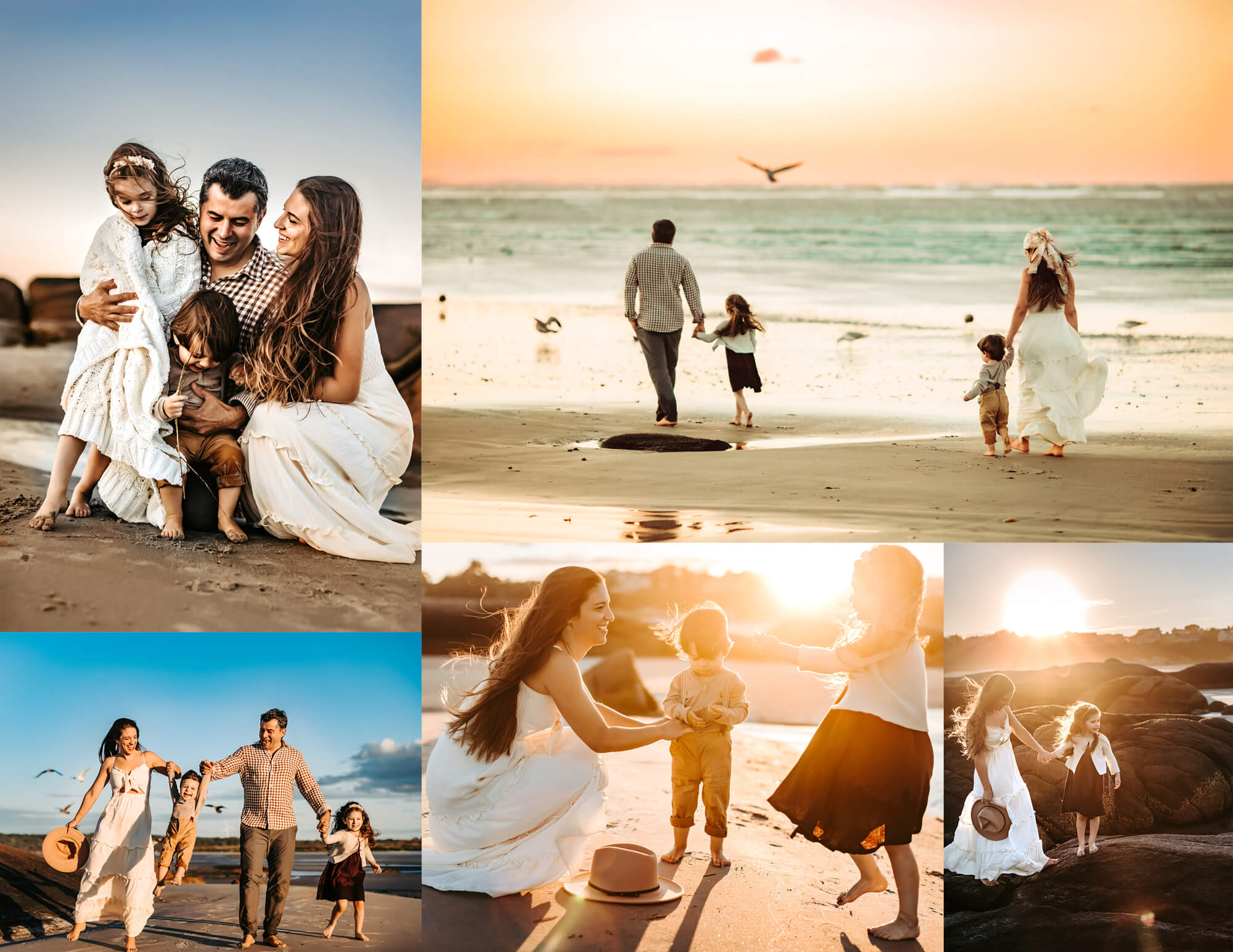 3. Experience
Not every beach works
This is very important, some beaches are epic for sunrise, others for sunset. It all depends on the direction that the beach is looking at. An experienced beach photographer will be able to propose THE best beach based on the time of your session. It's true that ANY location works for photos because it's all about the moments captured BUT at the beach, location is key.
The photographer should be able to pick the best beach based on tides & sunrise/sunset. That's why there is so much limited availability for beach sessions, all the stars need to align. You need the right tide, the right weather, the right beach. Best hidden secret? weeknight beach sessions... you'll have fewer crowds ;)


Master of light
Shooting at the beach is HARD, some photographers would not take on beach clients and that's ok. The reason why is hard is that we have NOTHING to block the light with. It's an infinite open field. For some (like me) this is a DREAM! We can get super creative. We actually crave the beach and look forward to navigating this complex light.
How can I know if my photographer can master this difficult light?? take a look at their portfolio. Do ALL the photos look the same? are they all backlit, are they all facing the sun? Do you see shadows in the faces? How do they use harsh light? How about photos taken during the blue hour? there is a FANTASTIC light called the blue hour after the sun is gone, it makes for glowing night portraits at the beach. Professional photographers find it fascinating that all the crowds are LONG gone after sunset, for us that light screams PICK ME, SHOOT ME!! :)


Beach Mini Sessions don't work
Why? because the BEST portraits in an open field like the beach take place ONLY during the golden hour. That's approx 60min after sunrise and before sunset. The light is GOLD and makes for the most beautiful beach tones. When we shoot in the city, in a park, or any place with elements that we can use to BLOCK the light, a photographer will be able to create MAGIC basically at any hour of the day (except close to noon, we avoid having the sun straight above our heads!)
At the beach, there is NOTHING to block the light, that's why Beach Mini Sessions are not fair (in my point of view). Only 2 families would have THE BEST LIGHT, families who get the SUNRISE or SUNSET light will have gorgeous flattering portraits. The rest will have a compromised experience, reaching the full potential of a beach session in the early afternoon is tough on everyone. The sun is too high in the sky. It is doable but not as enjoyable/flattering.
Beach Family Photos deserve the whole sunset to make it an epic and fairy tale experience! You'll be talking about your beach sessions and the memories captured for years to come.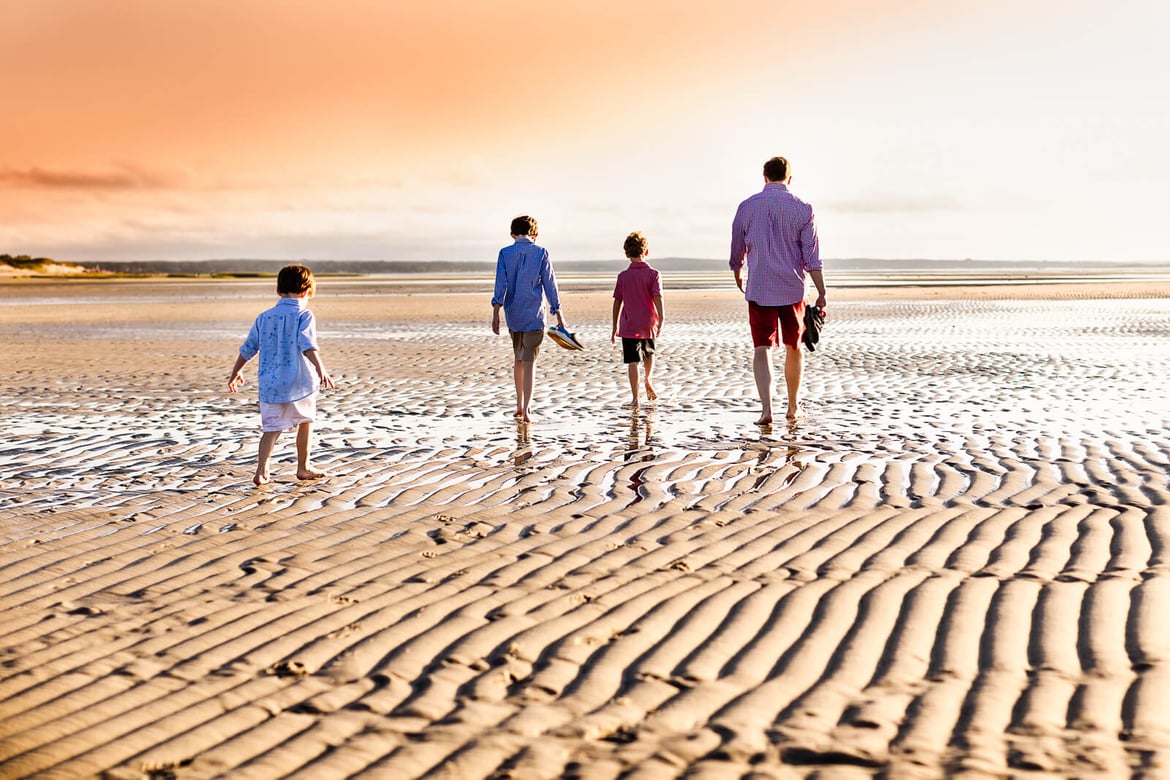 Photographer's Personality
Sessions at the beach are WILD, the beach is the best playground for kids. What's best than having no shoes, getting wet, and playing with sand? Beach photographers embrace this chaos and enjoy it. We thrive when kids get wet and into their element while running wild at the beach. Beach photo sessions are all about enjoying Mother Nature and letting go!
A beach photographer will be counting the minutes to roll her/his pants up to get WET while capturing the most emotive moments by the water. We love the chaos and we have fun. You want someone relaxed and experienced who knows how to run the show when the energies are high and the temptation to go swimming is huge! haha I LOVE IT!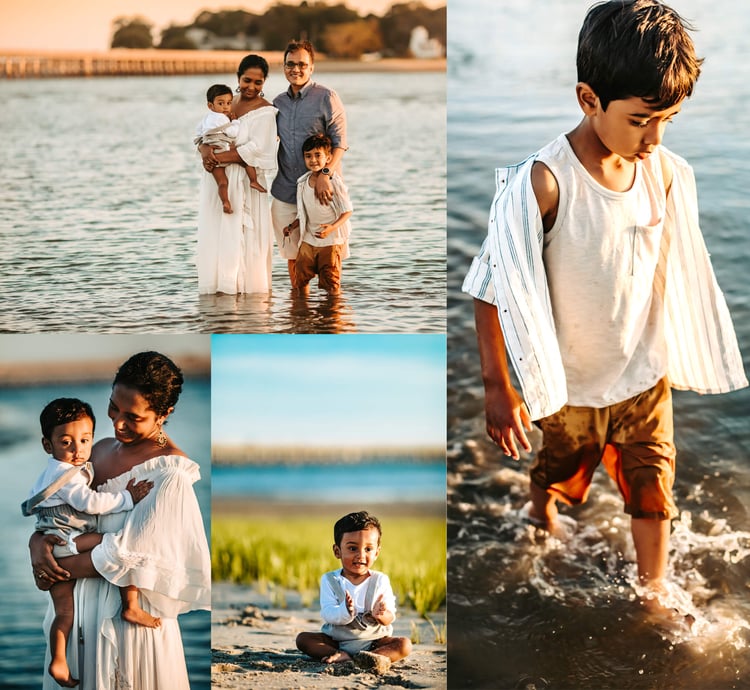 I hope these tips are helpful when choosing the best family photographer for your beach photos! Take the time to research each photographer, you'll KNOW when you've found THE ONE. Beach Sessions have a unique magic, it brings the best out of a family who loves summer and the water. Art will be created with your family's memories, it's an investment that is so worth it! For beach lovers, you'll be able to walk down memory lane with tangible family memories at your favorite place in the world!
If you love Boston, there are so many gorgeous beaches close to us ~ Gloucester, Duxbury, and Newbury are my favorite. If you're willing to take a road trip, then The Cape offers the most epic sunsets for beach family photos.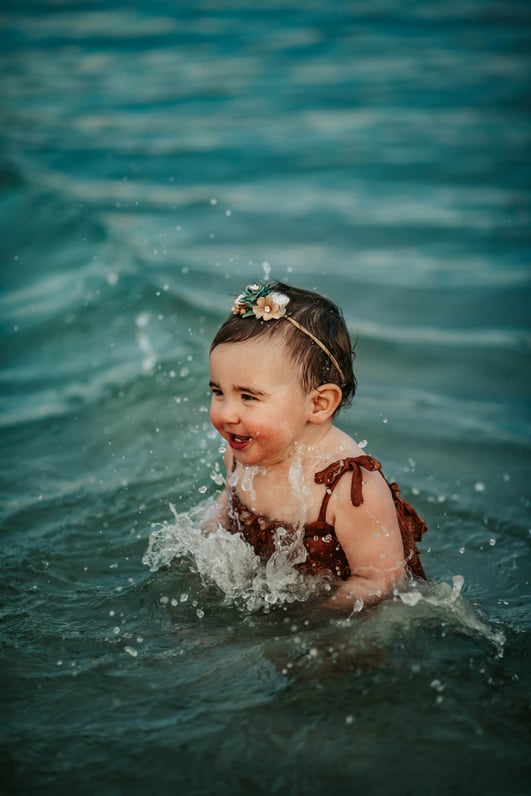 Enjoy your summer beach family photos!!
Love,
Andre
ABOUT ANDRE TORO PHOTOGRAPHY
Andre Toro is an award-winning family photographer based in Lexington, MA. She calls her style Real Art Photography, which she defines as Fine Art inspired by candid moments. Andre is a passionate soul, obsessed with human connection, and emotive storytelling. She believes love is raw, messy, and beautiful. To inquiry about booking a photo session, please contact her at andre@andretorophotography.com