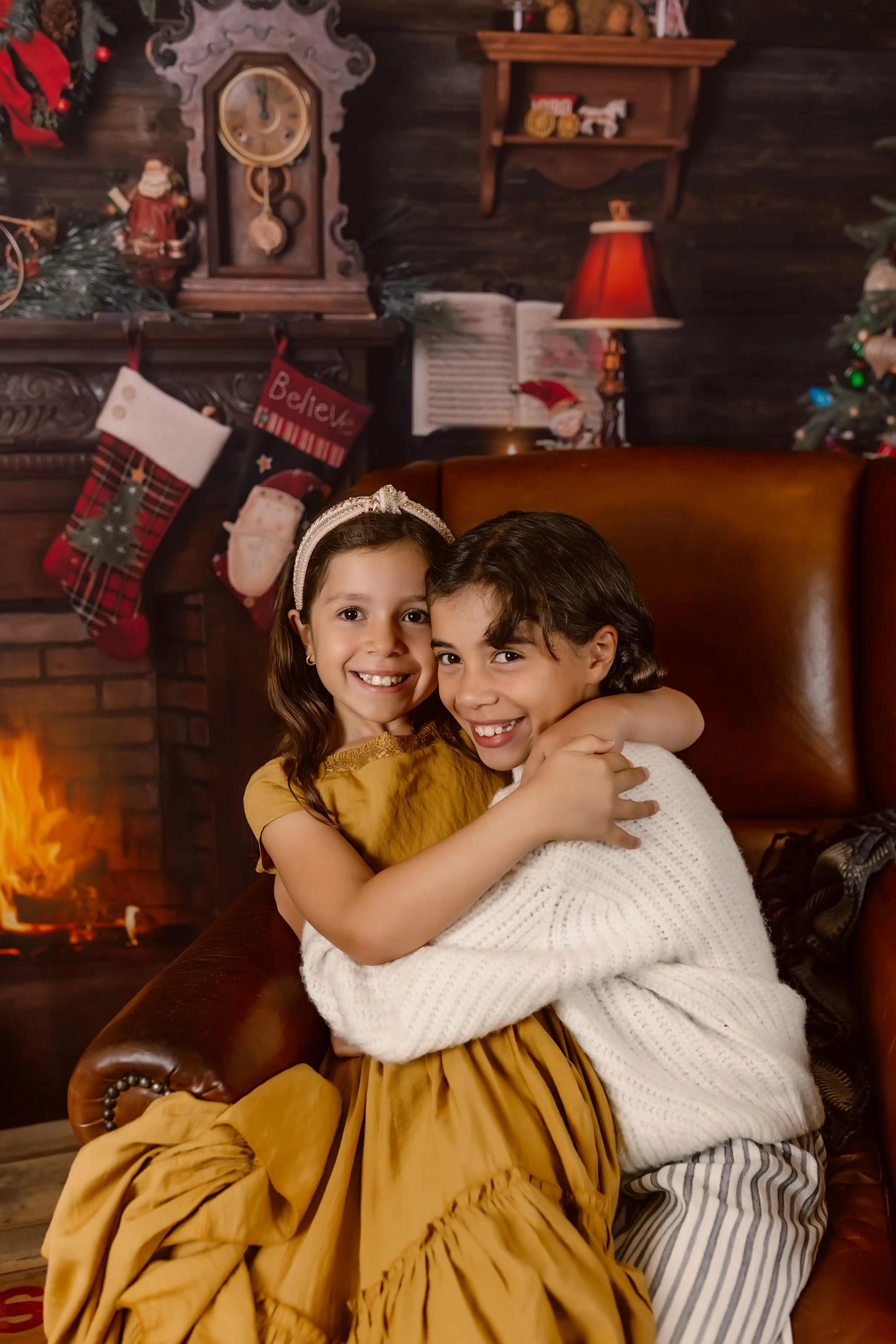 First snowfalls, candles burning late into the night and hot cocoa with extra marshmallows… It's officially one of the most magical times of the year: the holiday season! And with the holiday season comes one of my favorite photography opportunities: family holiday photos and family photos with Santa!
Let's talk about the little magic that happens every year when the holiday season rolls around… It's a kind of magic that's not found in glittering ornaments or twinkling lights. It's found in the warmth of family, the sparkle in children's eyes, and the jolly embrace of Santa Claus himself!
Now, imagine capturing that magical moment with your loved ones forever. There's something so special about family photos with Santa and family holiday photos – they're like little time capsules filled with joy, wonder, and the spirit of togetherness. Waiting in line to see Santa might feel like a little too much with your kiddos, but what if you could have those perfect holiday photos…in studio?
Family photos with Santa on your own schedule can take the stress out of waiting in line and wondering whether your children will have the patience to snap that perfect photo. I've had the privilege of witnessing and capturing these heartwarming moments in time, and let me tell you, it's pure holiday magic!
Embracing the Festive Family Photo Tradition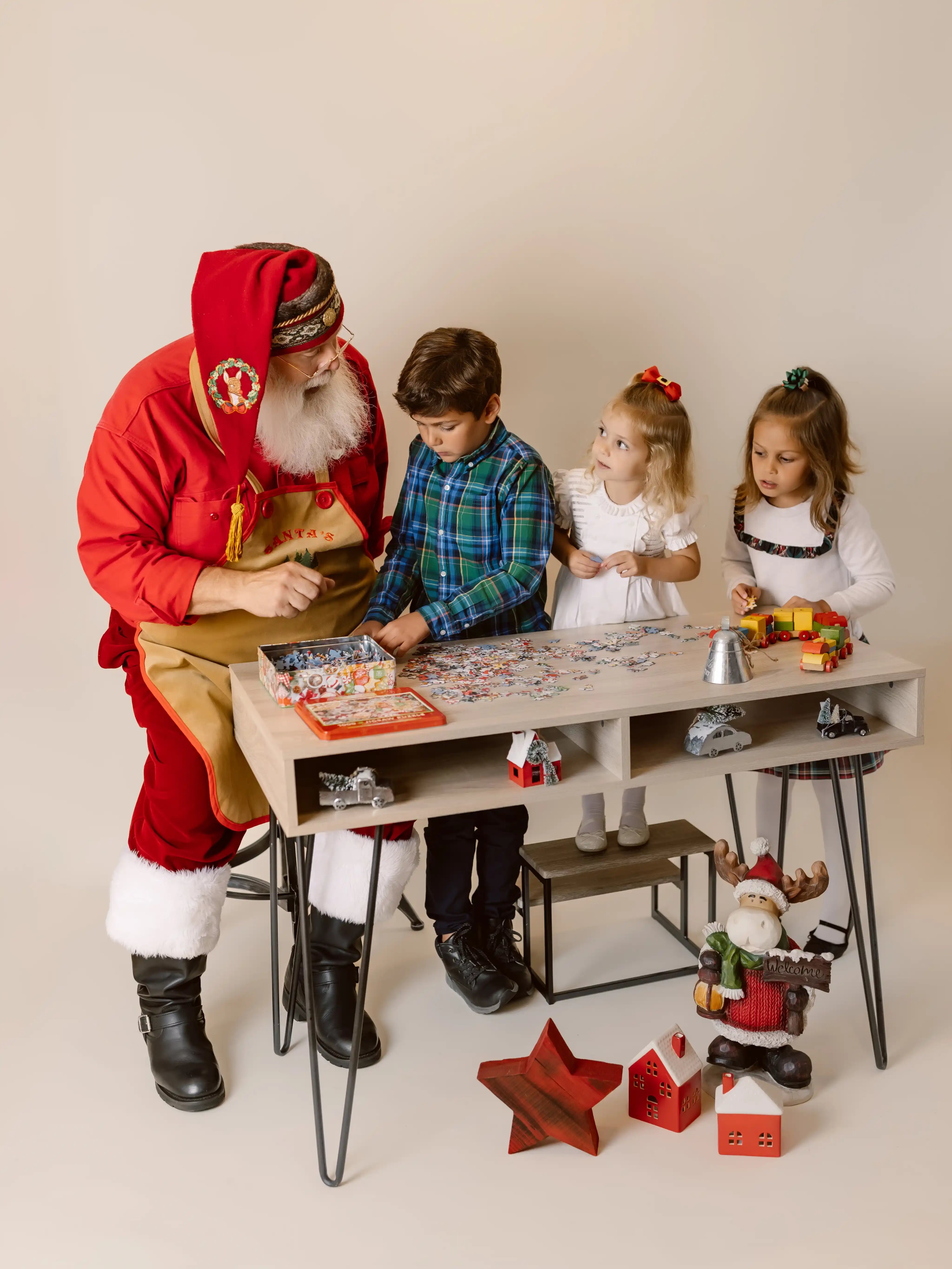 Most people think about family holiday photos and immediately picture Santa sweaters, mall photos and cheesy smiles. But holiday photos are so much MORE these days – they're an opportunity to capture your family in this particular moment. Years from now, you'll be able to look back at these photos and see everyone grow and change.
Santa mall photos come with a whole list of possibilities. Will my child like Santa? Will they survive the wait in line? Will that single photo look good?
Investing in your own Santa photos in a controlled, peaceful, and luxurious environment tailored to your needs will create beautiful memories for years to come. It's simple, really. It's a reminder that family is what matters most during this winter season. Family is our most precious legacy on this earth. It's a way of saying, "We're here, we're together, and we're celebrating the love we share." Holiday family photos are about embracing the spirit of togetherness and love.
Unveiling Santa's Role in Holiday Photos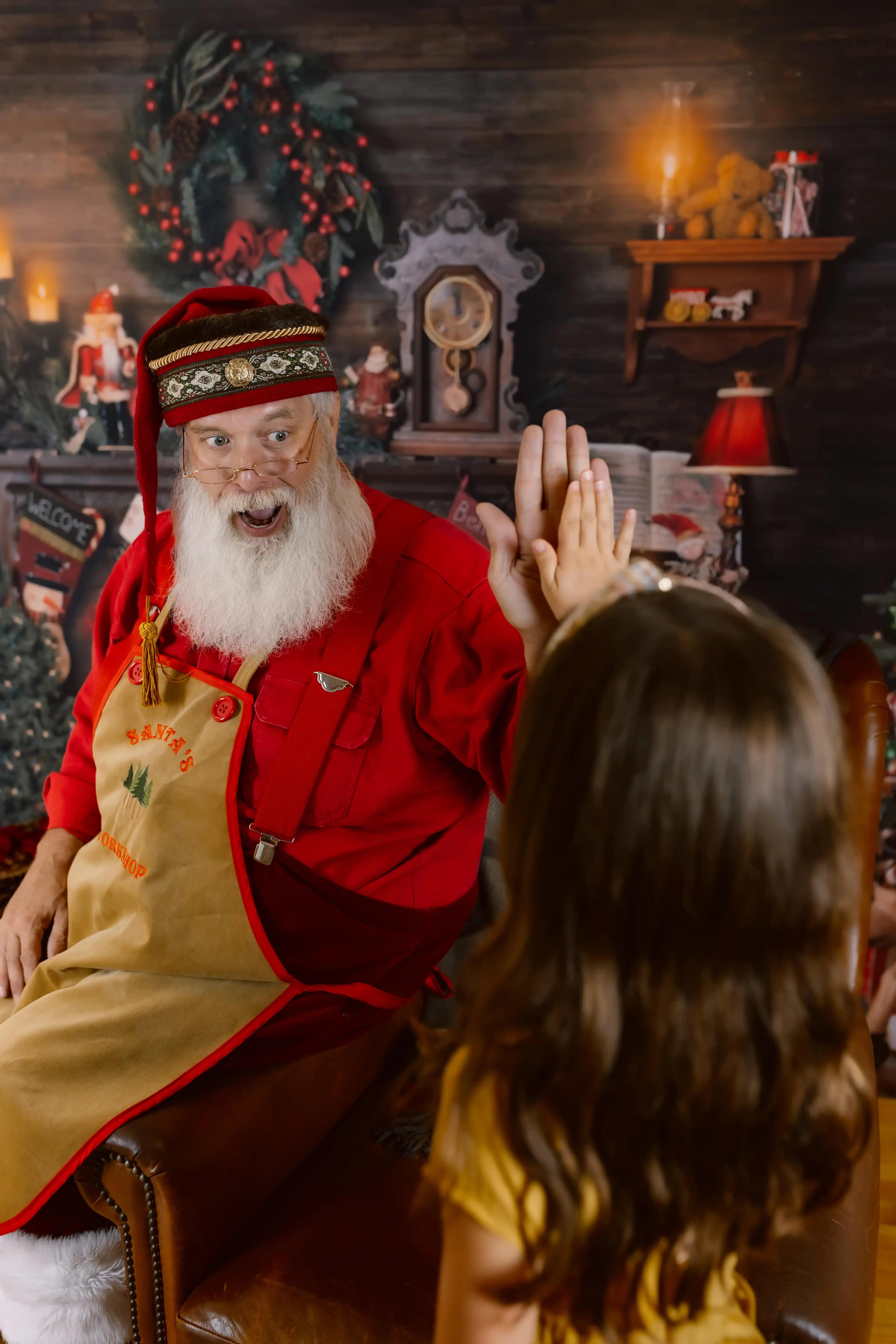 Raise your hand if you have at least one photo with Santa. I know I do! You see, Santa isn't just a character in a red suit; he's a symbol of wonder, generosity, and the pure magic of childhood! When Santa steps into the frame, he brings that extra dose of wonder and enchantment.
For kids, meeting Santa is like touching a piece of holiday magic. It's that rare moment when their imaginations come to life, and they believe in something truly extraordinary.
But what if meeting Santa was a whole magical experience? When you book Santa holiday photos with me, the journey starts with a mystical golden ticket mailed to your home. It's an invitation for your children to come meet Santa! Can you imagine the wonder on their faces?
My Boston studio is transformed into a winter wonderland in November, well before peak holiday season craziness (and plenty of time to send out holiday cards!). You'll step into Santa's workshop, where your kids can meet Santa. There's even a workshop table to play games and puzzles with Santa.
When they speak to Santa, share their wish lists, get a unique North Pole stamp in their letters, and whisper their dreams, it's like they're stepping into a fairy tale. Is there anything more magical than capturing that moment?
In the end, it's not just about the perfectly posed photos – it's about snapping photos that encapsulate the holiday spirit. If you're ready to book your Christmas session, get in touch now!
Tips for Capturing Heartwarming Moments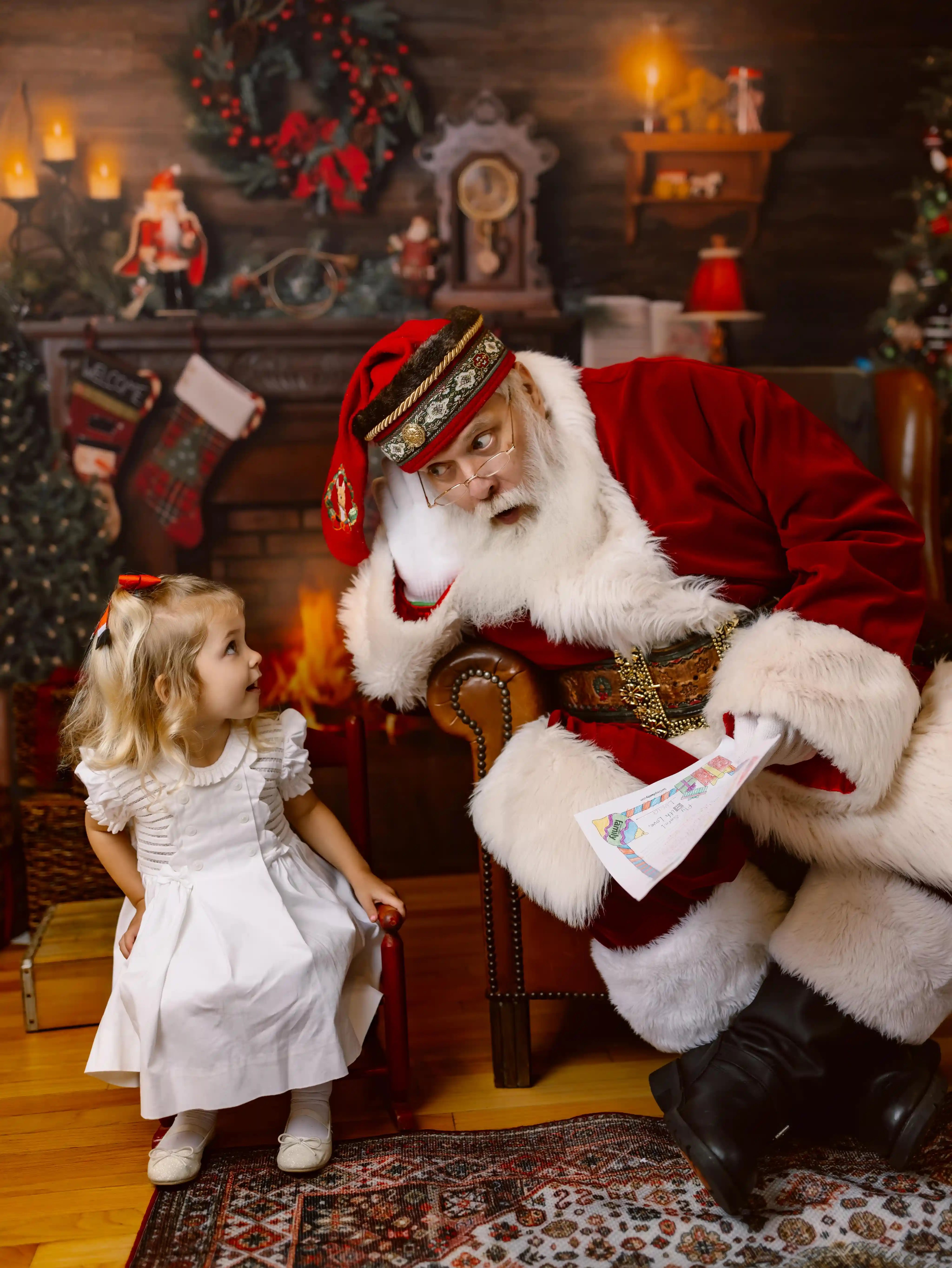 Does the idea of coordinating family holiday photos seem overwhelming? I GET it! I'm here to spill the cocoa beans on how to make your holiday photos truly unforgettable – and less stressful.
Dress to Impress (Santa)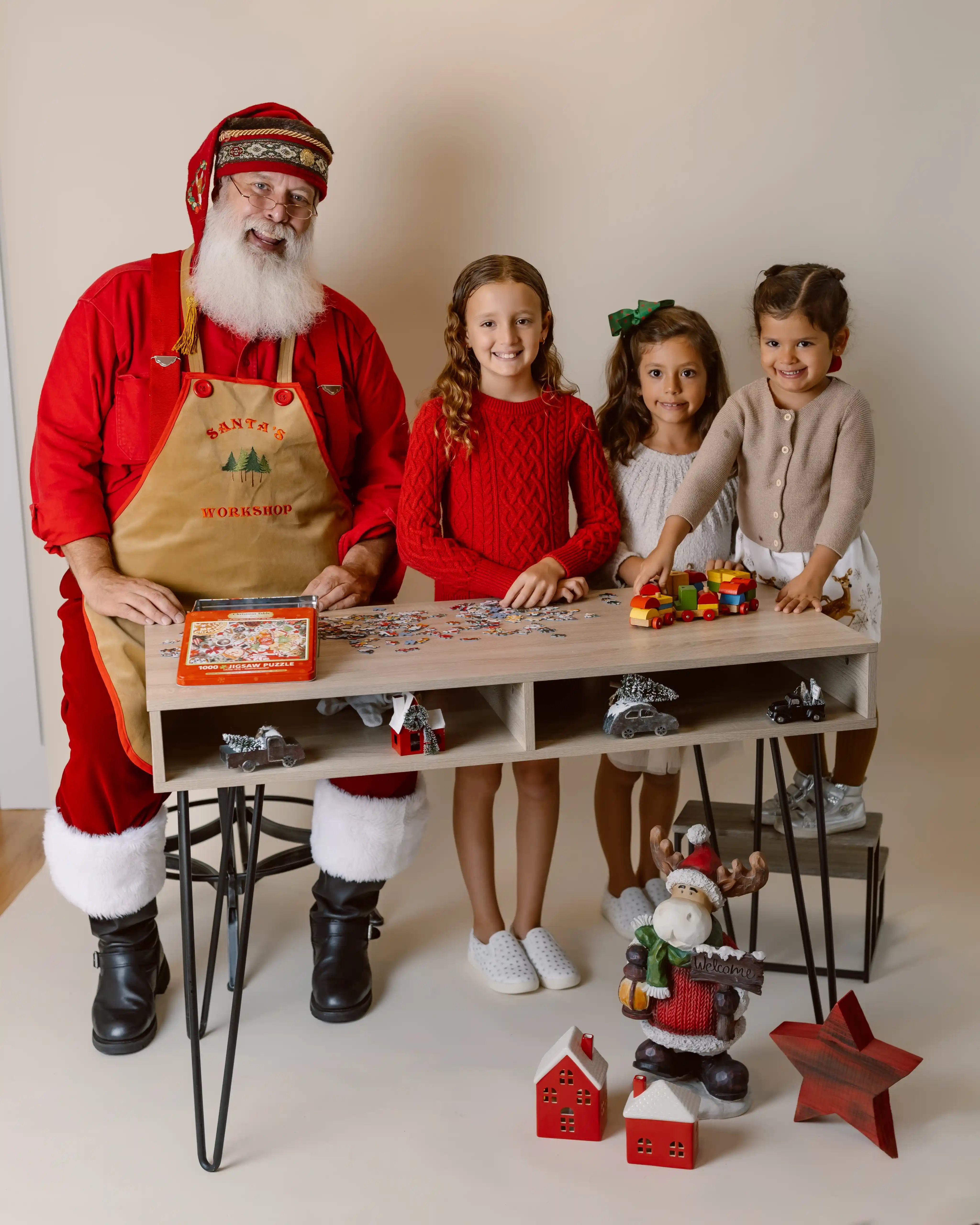 Let's talk about your wardrobe. When it comes to family photos with Santa, or family holiday photos, you have two options: classic holiday festive, or neutral color palette.
Classic means festive sweaters, plaid shirts, and cozy looks – you know the drill! This timeless look may be a great way to mirror your own childhood photos, or it might make the whole photoshoot feel more festive for you.
Alternatively, opt for a neutral color palette. Think earth tones or capsule wardrobe beiges and whites. There's something so exquisite about a pop of red against neutral tones. It gives that extra layer of luxury to your final photos.
Remember: if you're working with me, you don't have to worry about outfits. I'll help style your look and even share my best links if you want to go on a shopping spree!
How to Pick the Location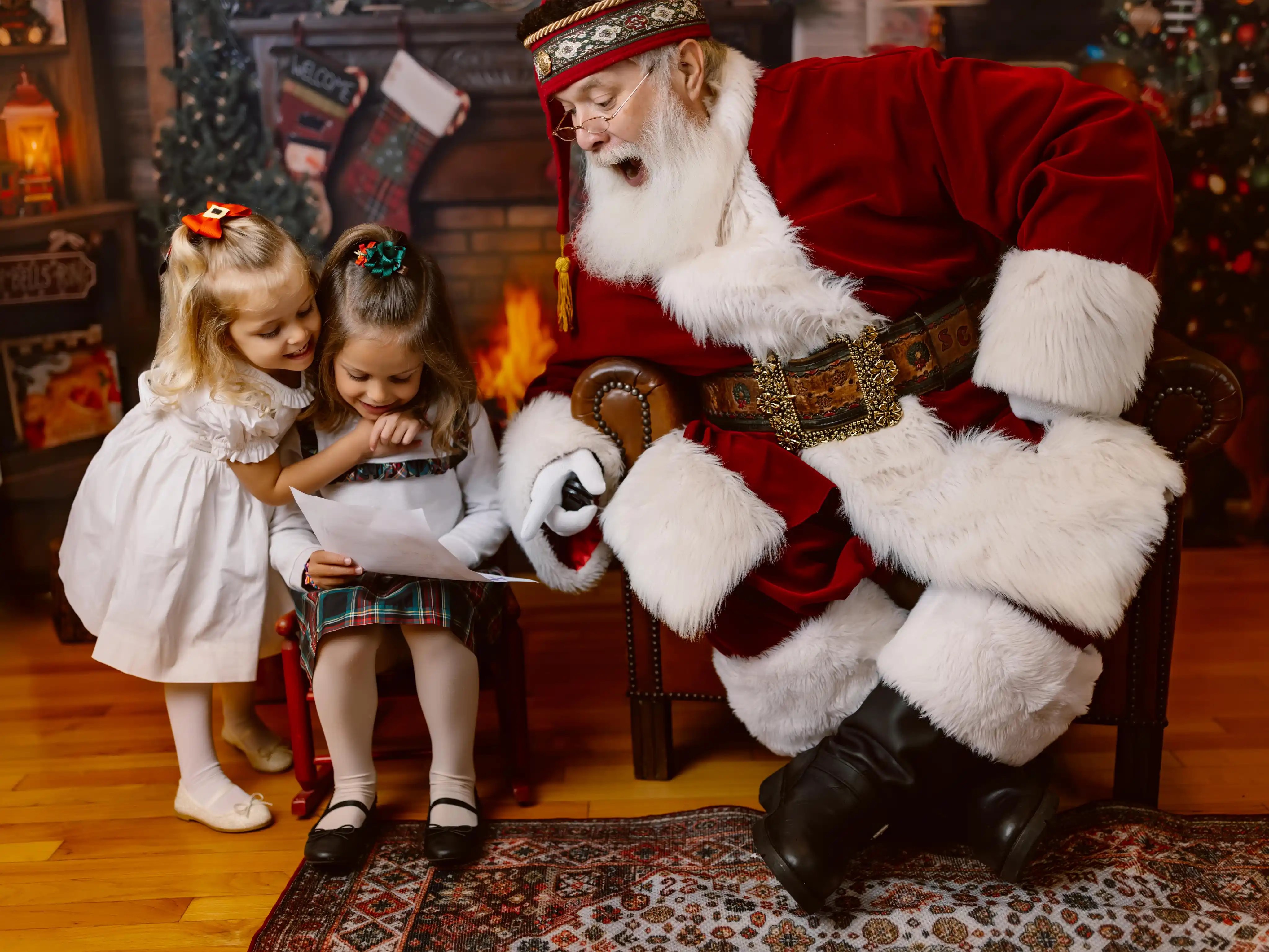 First things first, let's talk location. The holidays can be a busy time. Why not opt for a luxurious studio experience instead? Picture this: a serene haven in my studio, where you and your children can bask in the holiday spirit – at a time that works best for you. Santa is supposed to be magical, and your experience should be, too!
Your family gets a dedicated 25 minutes of Santa's undivided attention in a warm, intimate setting. It's the kind of quality time with Santa that every child dreams of, and it's all happening right here!
Our Santa sessions take place in November, just before the wild holiday rush begins. This gives you ample time to print your holiday cards and select the perfect gifts for your loved ones, all featuring the heartwarming photos from your session.
But wait, there's more magic to come! Each child will receive a golden ticket in the mail, along with a special invitation from Santa himself. He'll know their names, their wishes, and their dreams, making this experience as authentic as it gets.
It's not just a photo session – it's a journey into a winter wonderland. In my studio, I've created a stunning backdrop of Santa's living room, complete with all the cozy trimmings. Then, there's a dedicated workshop table where the kids can engage in fun games and puzzles with Santa Claus himself.
Timing Is Everything!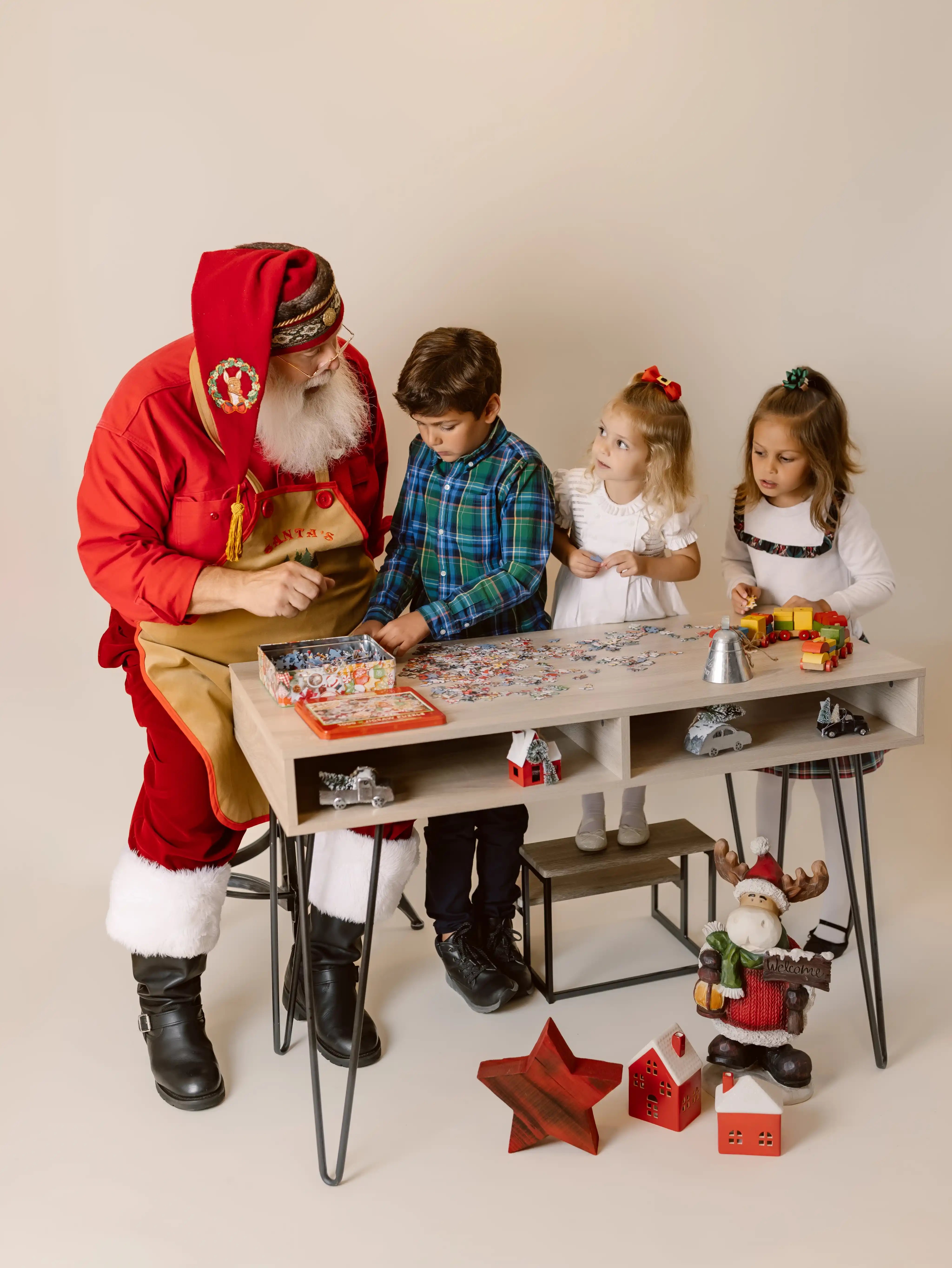 When it comes to family holiday photos, timing is everything! First things first: think about what timing works for your family. Do you need these photos earlier, for Christmas cards? Or are these family holiday photos going to serve as part of your gallery wall? You may even be able to time these photos with a fall photo session, too.
The second thing to consider with timing? The time of day! For example, if you have a newborn or young children, consider planning your family holiday photos or your family photos with Santa when they're well-rested and fed. Santa will be with us all day, and we've got morning and afternoon spots!
Create a Joyful Atmosphere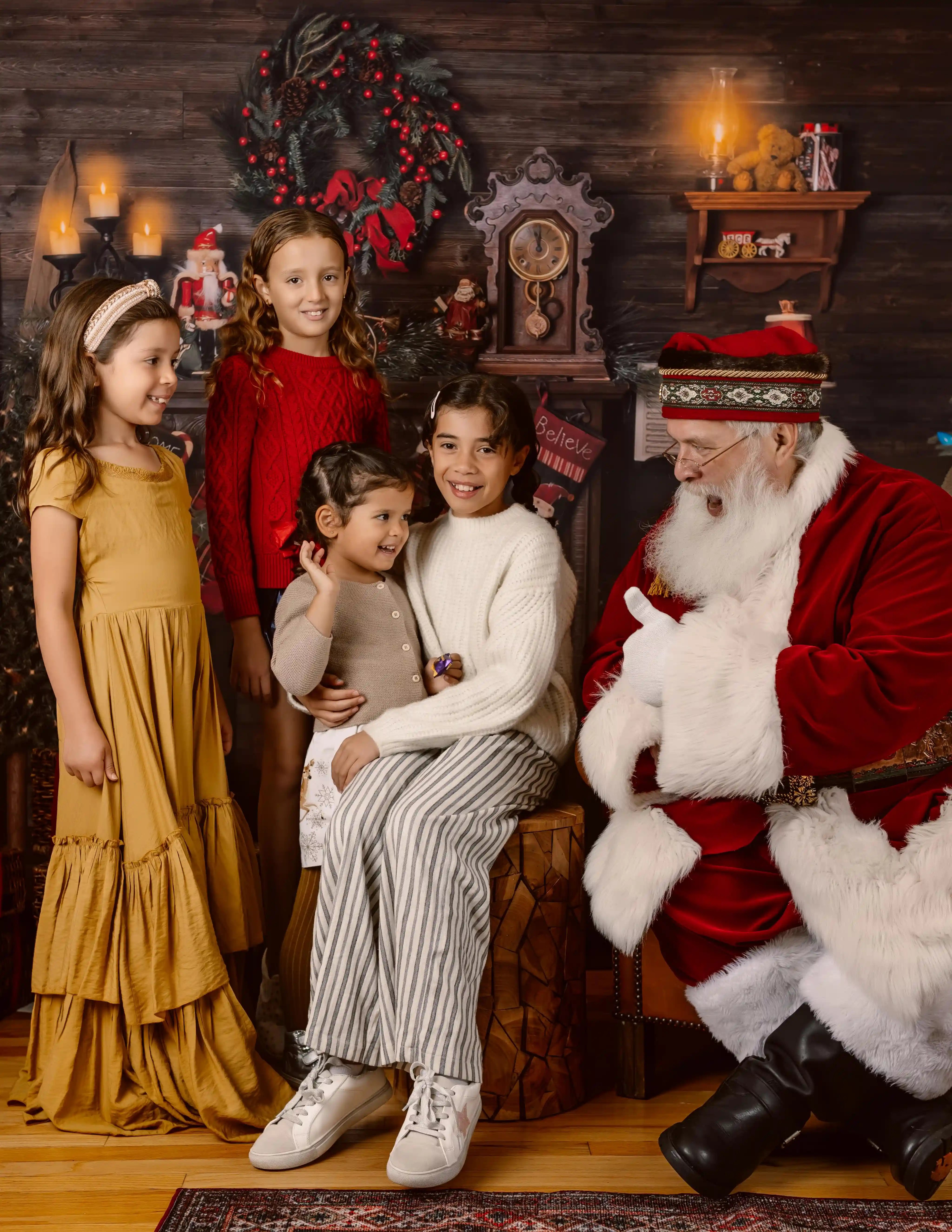 If you've taken holiday photos before, you know how stuffy it can feel. But it doesn't HAVE to feel like that! Why not create an atmosphere bursting with joy and luxury?
The holidays are all about spreading happiness, so let's make sure your family is in the spirit. When you walk into my Boston studio, you'll be walking into a winter wonderland – Santa's studio! To keep spirits high, we'll crank up the holiday tunes, share stories about your favorite holiday memories, and let the laughter flow. Kids (and adults!) tend to relax and smile more when they're having a good time, right?
Whether you're capturing festive memories with Santa or starting holiday photo traditions with a studio photography session, there's never a better time to dedicate space to your family and your special bond.
Preserving Family Memories for a Lifetime


The best part about family holiday photos? They can be shared in SO many different ways! Some families prefer to send out holiday cards, while others might opt to display some of their photos on their gallery wall. Holiday photos also make excellent coffee book tables for family members and guests to pick up any time of year to reminisce.
Celebrating Love, Joy and Togetherness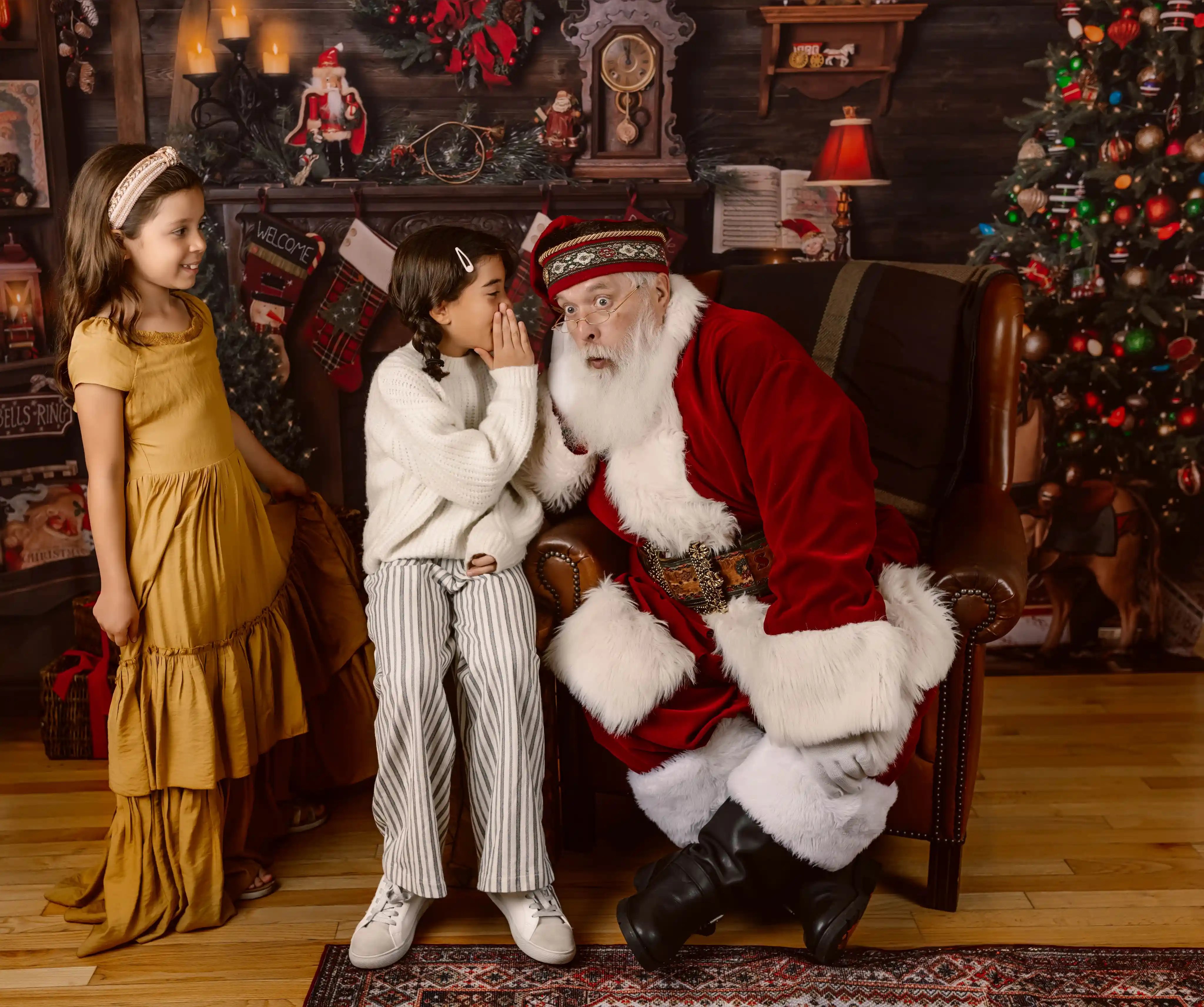 Capturing festive memories can preserve the most special, fleeting moments for a lifetime. Life moves so quickly, and everyone grows and changes each year. Spending dedicated time capturing your life as it is – beautiful, messy, wild – is the best way to freeze time, even just for this moment.