Every season has its perks. There's a charm to all of them, and each offers a unique experience when it comes to gathering your family for a photo session.
There are no bad or good choices here. Pick the season that speaks to your heart! Let me give you the pros and cons of each for you to make up your mind ❤️
When thinking about what's THE best season, there are a couple of buckets we need to consider
Ok, but, which should you choose? Let's go over them in detail, shall we?
SPRING FAMILY PHOTOSHOOT
For me personally, this season represents hope. Flowers start to bloom, the weather is warmer, and people are happy and excited to be outside! Nothing beats the Spring feeling, I'm delighted to shoot outdoors and photo season officially begins!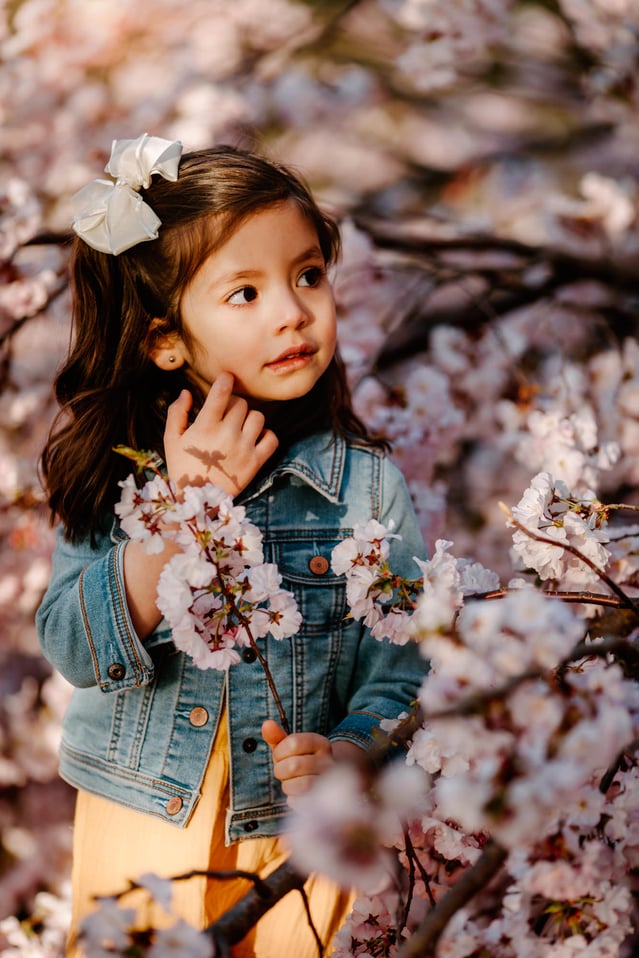 In Spring, there're all sorts of flowers and colors to play with; it's a photographer's dream. Our artistic soul fuels up with endless color possibilities.
But, is it your season? It all depends on what type of background you're looking for.
Cherry Blossoms
Late April, early May
If you're a cherry blossom lover (like me!), then SPRING is your season! The Arboretum is THE destination to capture these magnificent trees; L'esplanade and Back Bay Fens are also good spots. The Boston area looks BEAUTIFUL in Spring!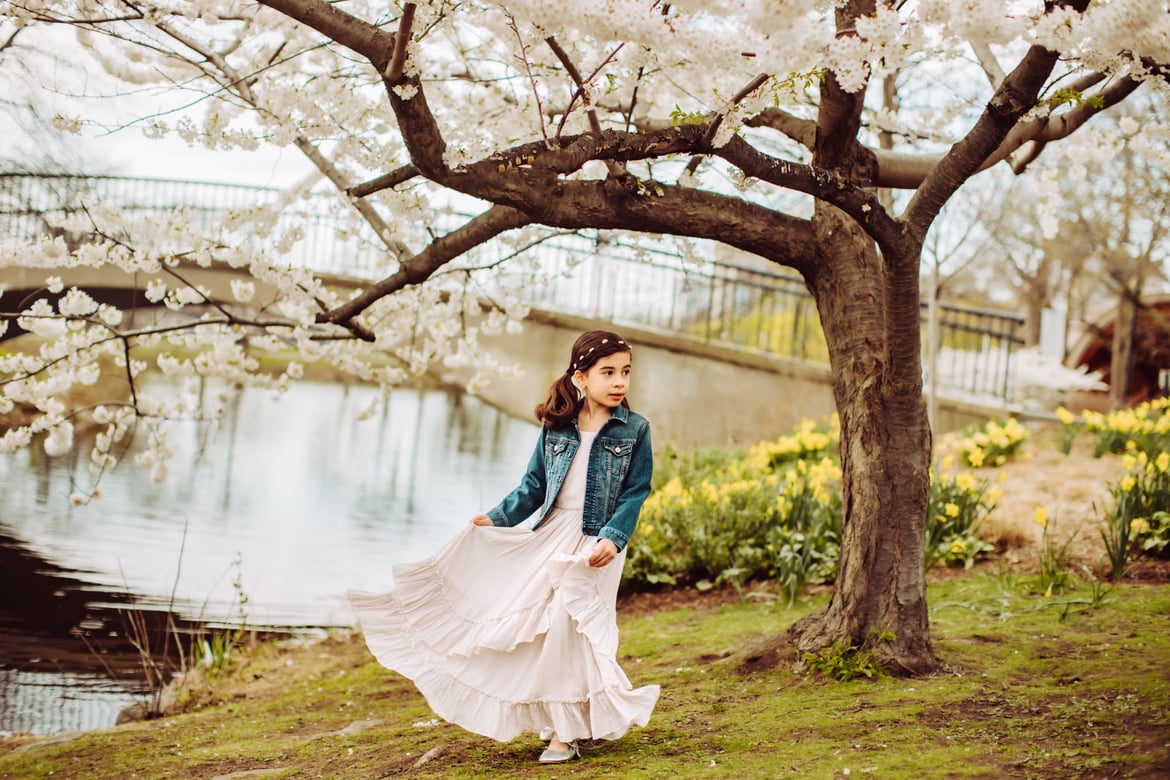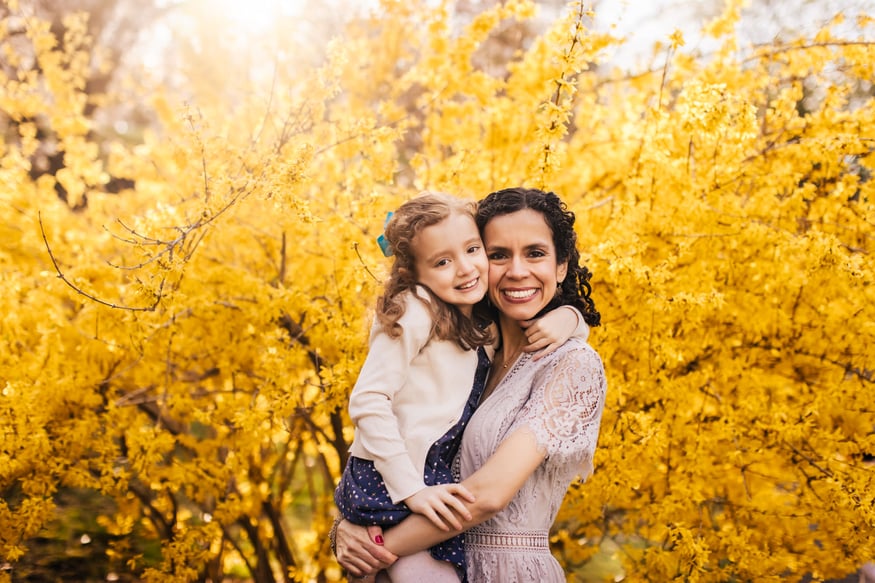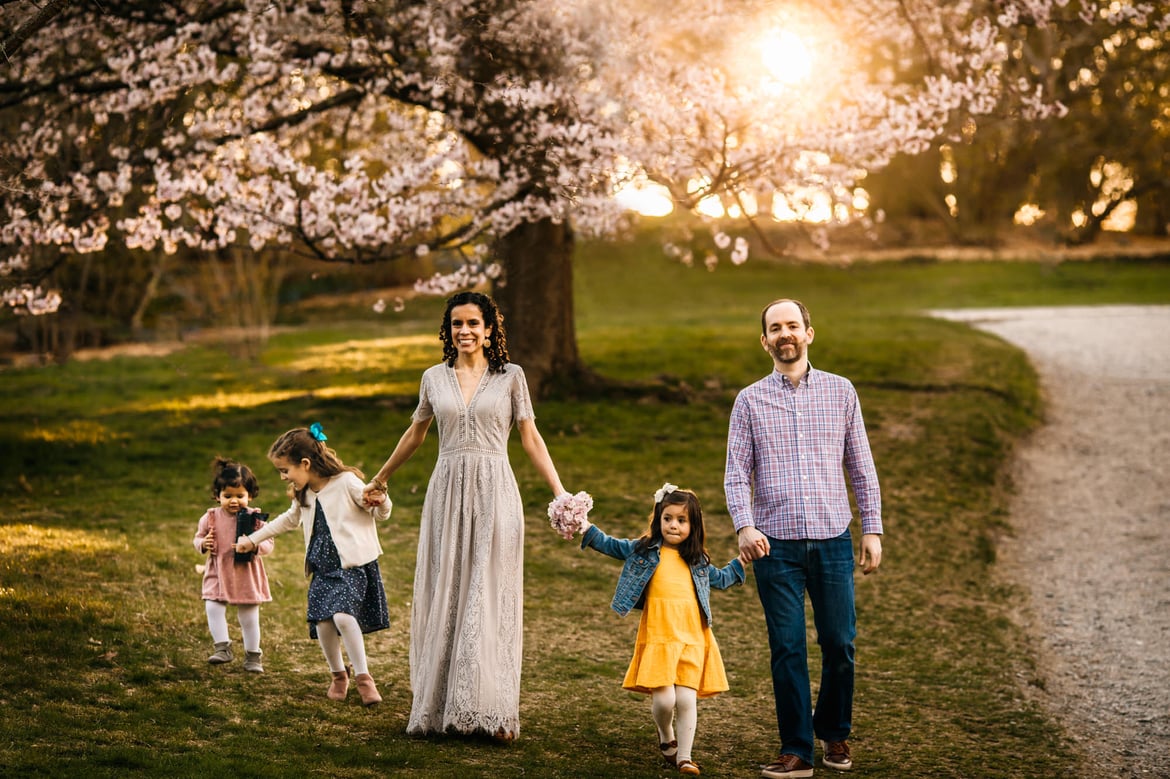 Tulips
May
May is your month to book your Spring family session! Boston offers a signature tulips destination at the Boston Public Garden. The entire garden fills with colors. To avoid tourists, I recommend being an early bird. Before 9 am the park is usually for you to enjoy the calmness of a Boston morning. Another GORGEOUS location is at Wilson's Farm in Lexington. They just opened their tulip farm in 2022, it's a hidden gem!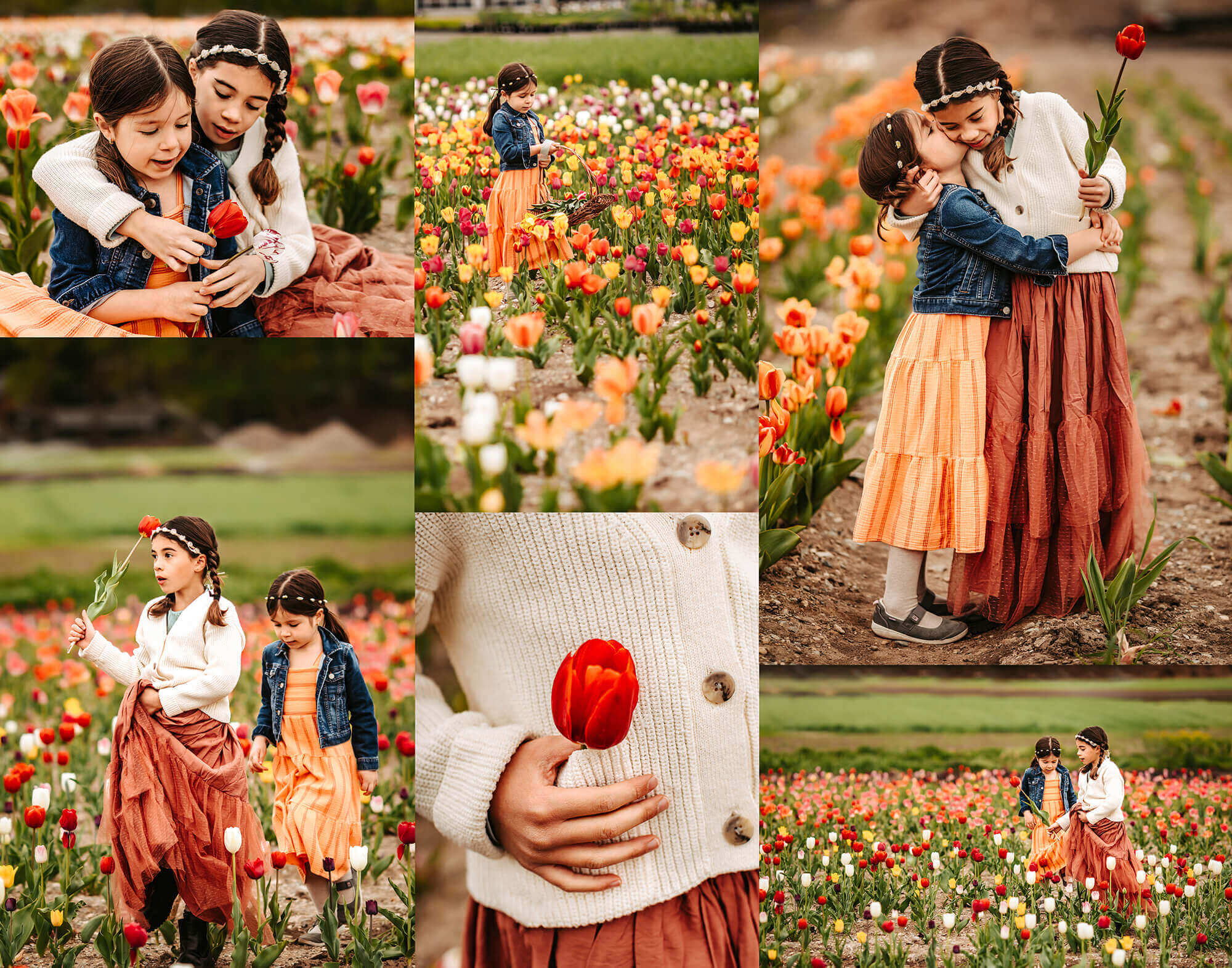 If you're willing to drive a bit, magic photo sessions happen at Wicked Tulips Flower Farm in RI. The special perk is that this is a picking farm, so you get to pick 10 tulips with your ticket! That's an incredible experience for kids and makes the photo session an incredibly fun game.
Wildflowers
If you are a wildflower lover, then you're super lucky. Basically, all spring is the perfect window of time.
Your photographer will scout locations constantly, she or he can propose unexpected spots with the most beautiful flowers to dance with and have a fairy tale photo session. Learn more about ATP Spring Sessions.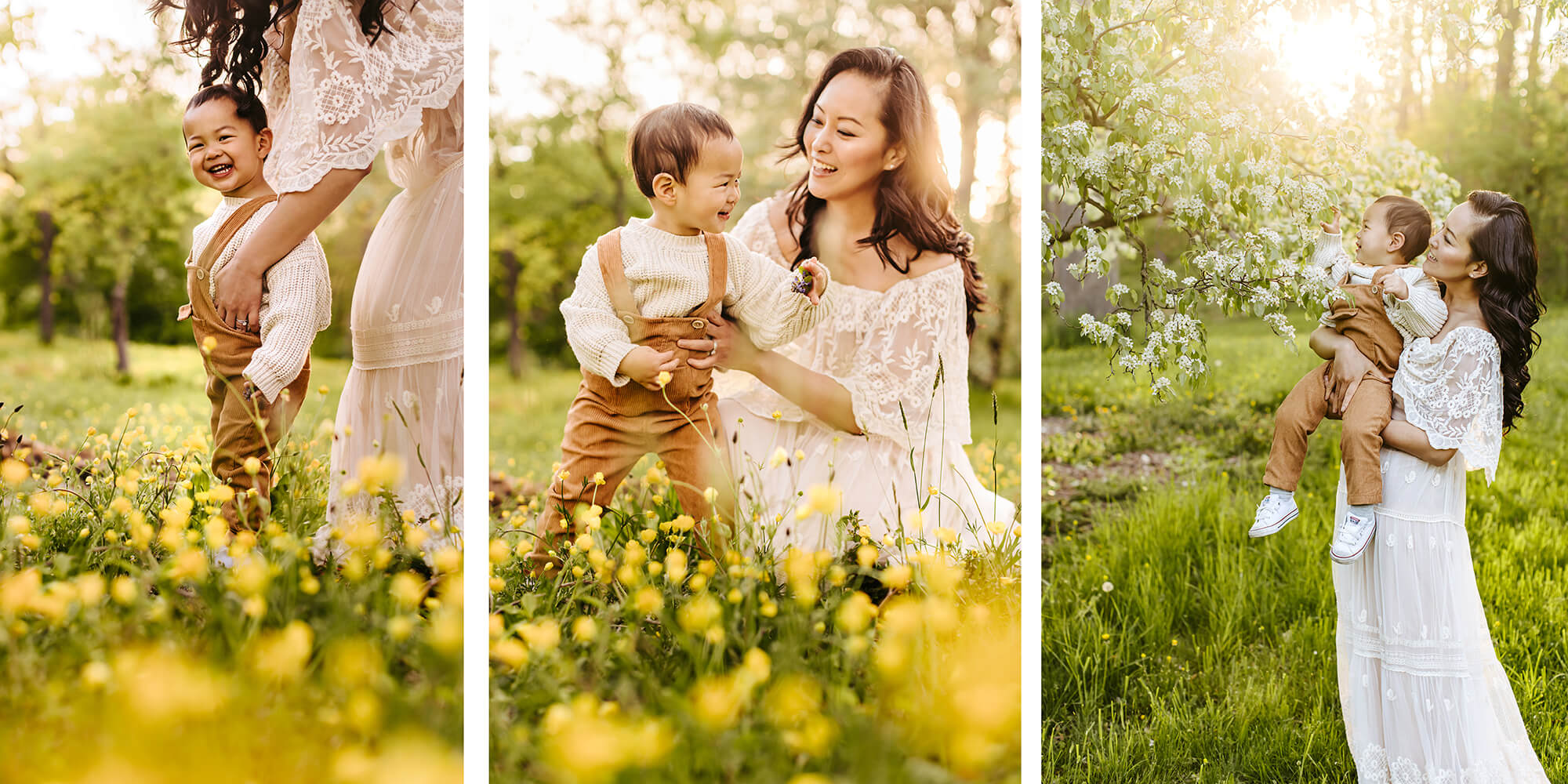 What I love about doing Spring photos
Photographers' peak season is Fall, everyone has Holiday Cards in mind and looking to book family photos. Photographers are booked way in advance and their availability to accommodate a last-minute request is tough. We're working back-to-back — literally.
In Spring, we (photographers) have a more relaxed booking agenda, better luck for you to hire your DREAM photographer 😀❤️
These photos make beautiful Easter memories :)
The weather is on the warm side, say HELLO dresses, sandals, and short sleeves! Say goodbye to multiple layers. Wohoooo!
If you've got older kids, Spring is THE perfect timing. They won't change physically between Spring and December, so you could right off Holiday Card's photos from your checklist
Fewer crowds, even the most iconic and signature locations in are super enjoyable at sunset!
Chances are kids are healthy during late Spring, so goodbye FLU season!
Why Spring could not work for your family photoshoot
If time management is everything for you, then Spring might not be the season to go after. Especially in April, it rains SO much. We photographers are constantly rescheduling spring sessions to accommodate for rain.
If you're into a specific type of session (cherry blossom or tulips, for example), you have 2 limitations: rain + flower's blooming calendar. So for these flower-related sessions, we've got a plan A, B, C, and D. We might need to meet as early birds before work, or weekday sunsets because it might have rained ALL weekend and the flowers won't wait for us. You'll need flexibility in your schedule; the photographer will be committed to making it work.
If you've got a newborn, baby, or toddler and you're planning to use these photos on Holiday Cards, your kid will grow TONS between now and then. This means that he/she won't look like the photo anymore. Not a killer but some parents like to hold photos until the Fall so their family photo is accurate. If you're ALL IN for the memories and not holiday cards, HELLO SPRING, I would 100% go for it!!! 💜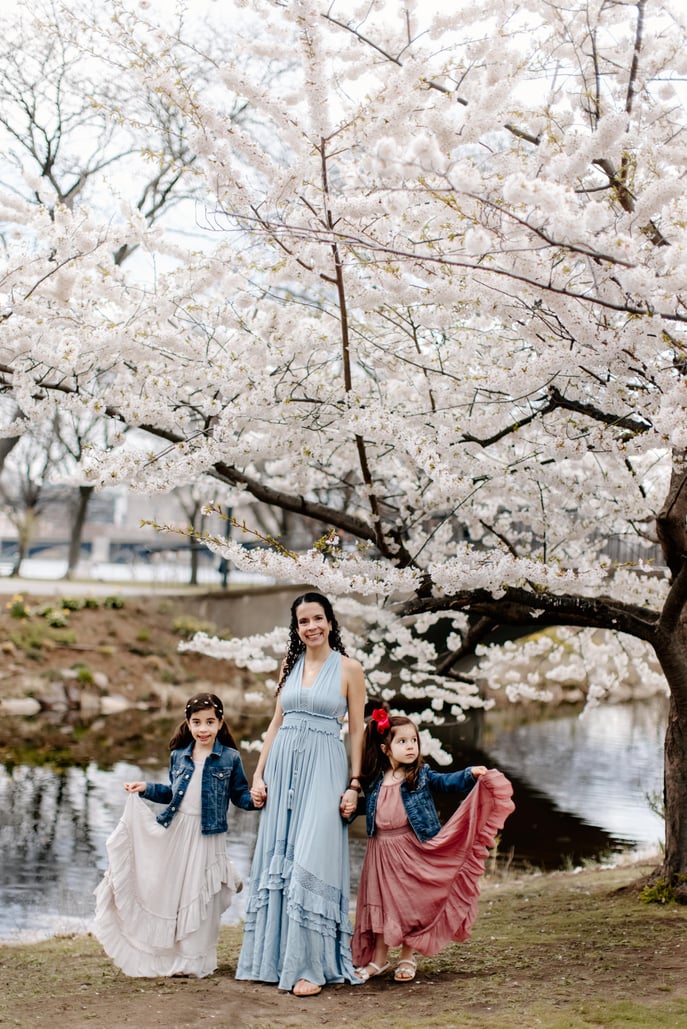 Tips to make the best of your Spring Session
Book at least 1 month in advance. If you're interested in a specific flower experience, the window of time is 2 weeks approximately, so sessions sell out fast. Check out my Ultimate Checklist for a Family Photo Shoot for what you need to get ready then.
Give your photographer multiple days options to work with, plan for rain, and expect sunshine.
If you're interested in Easter photos for Easter Holiday Cards, plan accordingly. Book for late march :)
Spring in MA is unpredictable. Some years we've got snow until April! If you are dreaming about styling without many layers, bet on warmer weather in late Spring regardless of the flowers blooming in the background. If you're ALL IN for the flowers, I recommend the last 2 weeks of April :). Ultimately, what matters is that your family is comfortable, dressed warm, so we can capture the snuggles, laughs, and candid hugs.
Styling is so important, check this blog where I talk about what to wear to your SPRING Family Photo Session.
Summer sessions are so beautiful, the weather is warm all the way through sunset, the rain is gone, and kids' vacation hits the calendar! Extended family is around, there's out-of-town family visiting, and everyone is relaxed with the academic year behind them.
The outdoors options are endless; photo sessions can take place in the park, beach, lake, or even your backyard if you've got Grandpa visiting!
Beach Sessions
May through September
My personal favorite, my heart belongs to the ocean waves & warm sand. There is a special magic to Beach Sessions that just can't be explained unless you LIVE IT, here I talk all about it. The kids adore playing with the water and having fun. It's the perfect session if you're vacationing in Cape Cod, Newburyport, or Maine beaches.
The Cape offers the most iconic sunset beaches in MA, sunsets are just beyond epic. There are also many alternatives to the Cape (just a short drive from Boston!), perfect for a sunset session for a non-vacation scenario.! The sunrise and sunset sessions are breathtaking, you get to relax with the beautiful sights while watching your kids enjoy themselves with every wave that splashes.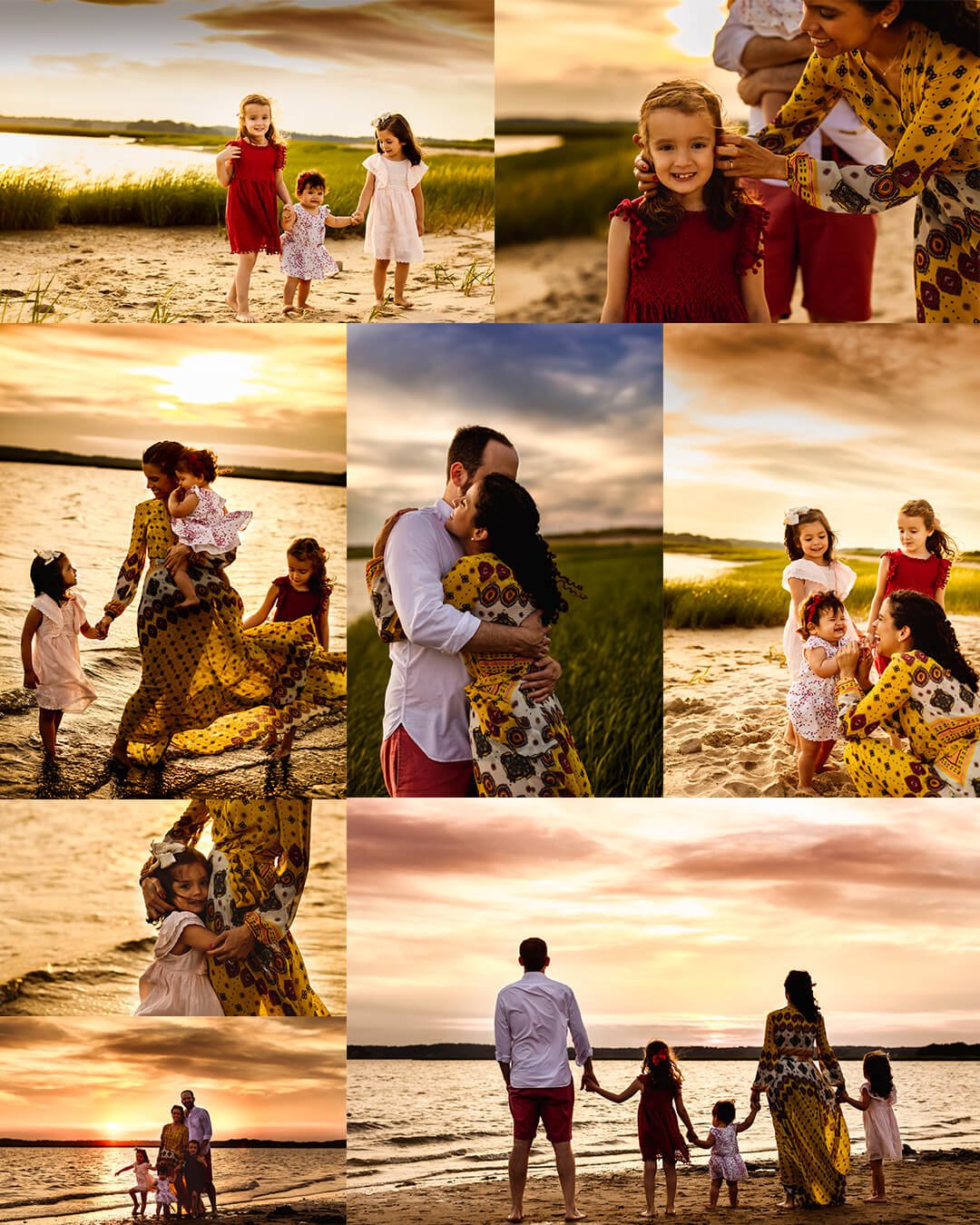 Beach photo sessions are once in a lifetime experience, you'll never forget this day. Decades from now you'll smile big when you remember the anticipation, the day of, and the tangible sweetest memories.
Sunsets at the beach also offer the most dramatic skies, low tide translates in sand dunes that add texture, and the wind creates magic adding emotion to each portrait!
Check out these best family photos on the beach that will take your breath away!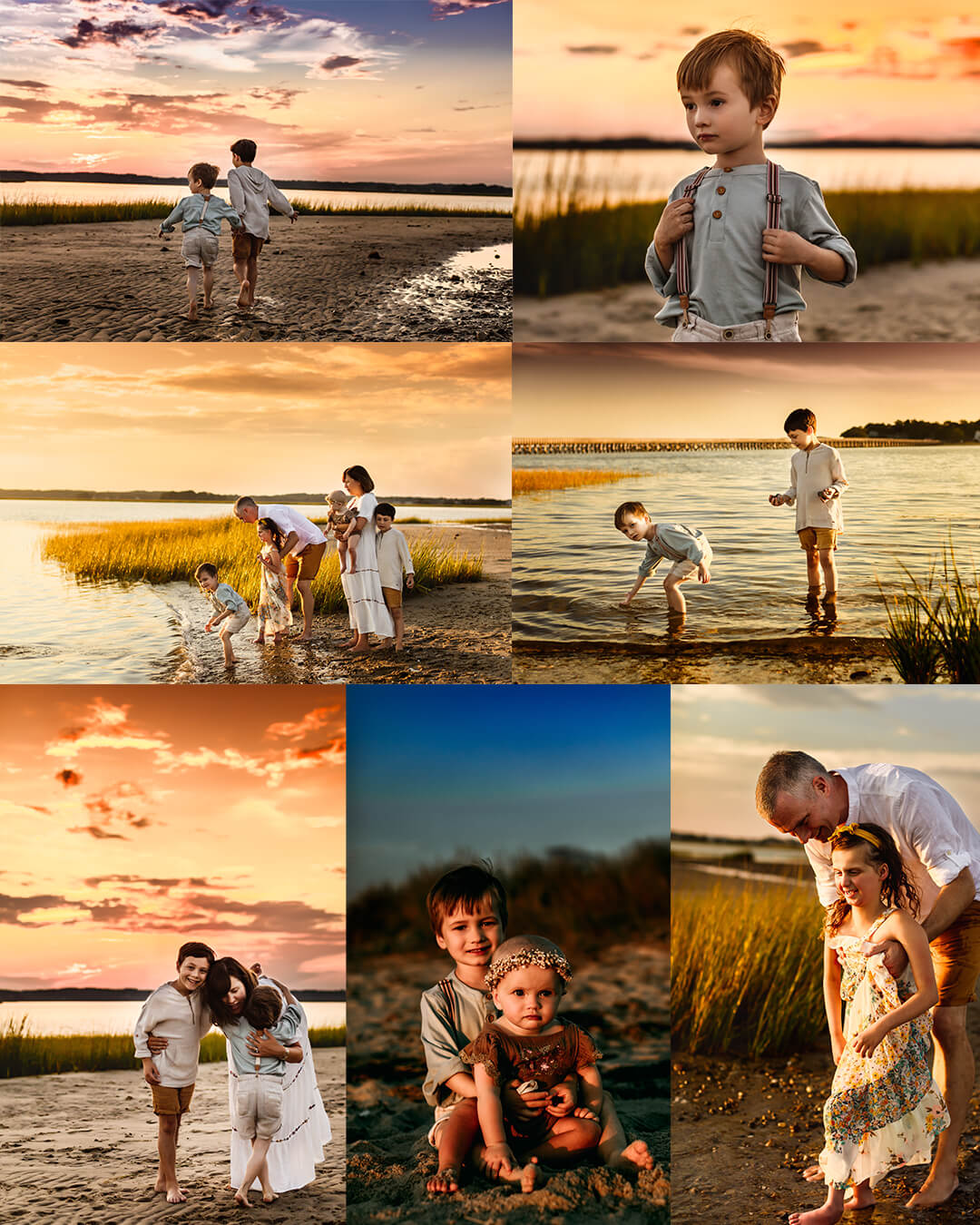 At the beach the cuddles are endless. Kids are free to run and explore. They get in their zone, parents lower their guard, and magic is unstoppable. Learn more about ATP Beach Sessions.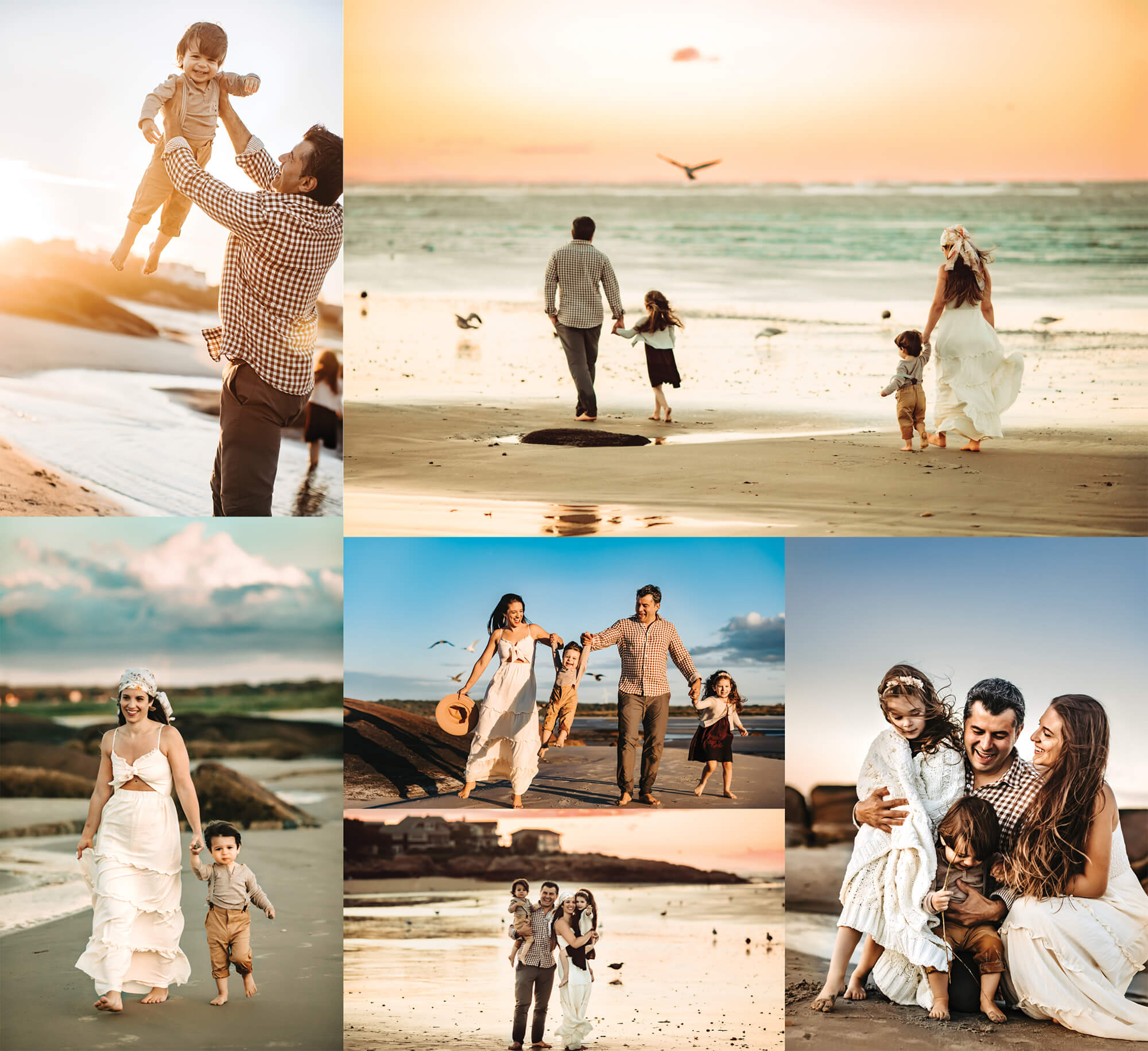 LAVENDER FARM SESSIONS
The last two weeks of June & the first week of July
Some families don't know that this DREAM location is a summer option! Can you believe that we have such beauty right here in Massachusetts? A dream come true location. Unforgettable sunrises and sunsets with a gorgeous view of Wachusett Mountain and the rolling hills!
Lavender sessions take place the last 2 weeks in June. Photographers open their books in January, it's such a SHORT lavender blooming season. It's SO worth it!! the fragrance and sceneries are incredible. You can learn more about this session on this page.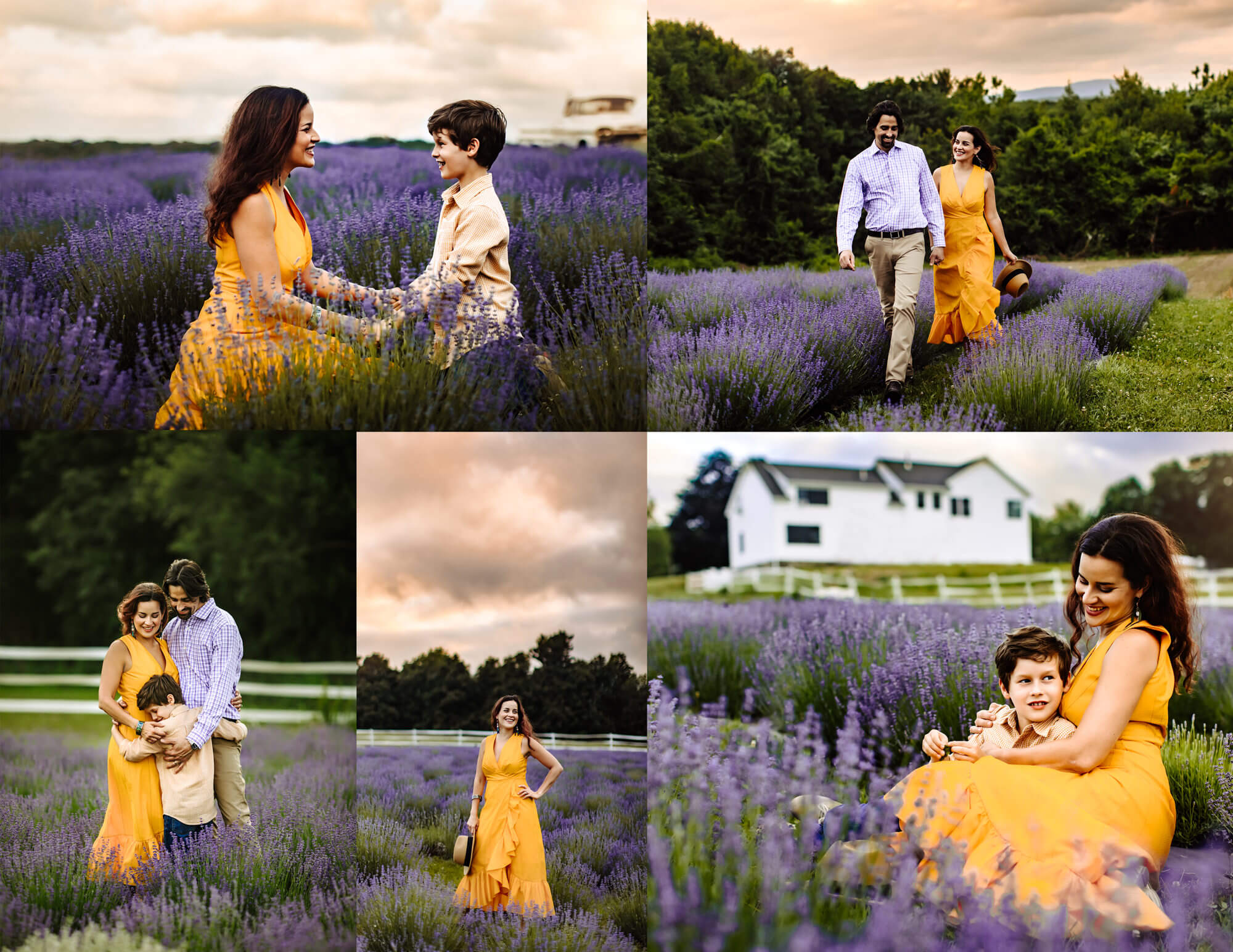 PARK SUMMER SESSIONS
Local sessions are the most popular ones, easy to commute and doable any day of the week. Boston and the suburbs offer so many gorgeous parks with nothing but green and peaceful scenarios. There are iconic ones like Boston Public Garden, or hidden gems like Stonehurst, Minute Man in Concord, and Beaver Brook Reservation.
Photographers are always scouting new locations and parks are one of our preferred locations. Many locations will allow for pets to be part of the session! We also look for locations where kids can play and run wild. Yes, in my case I'm after candid moments, snuggles, and dancing. Open fields are my FAVORITE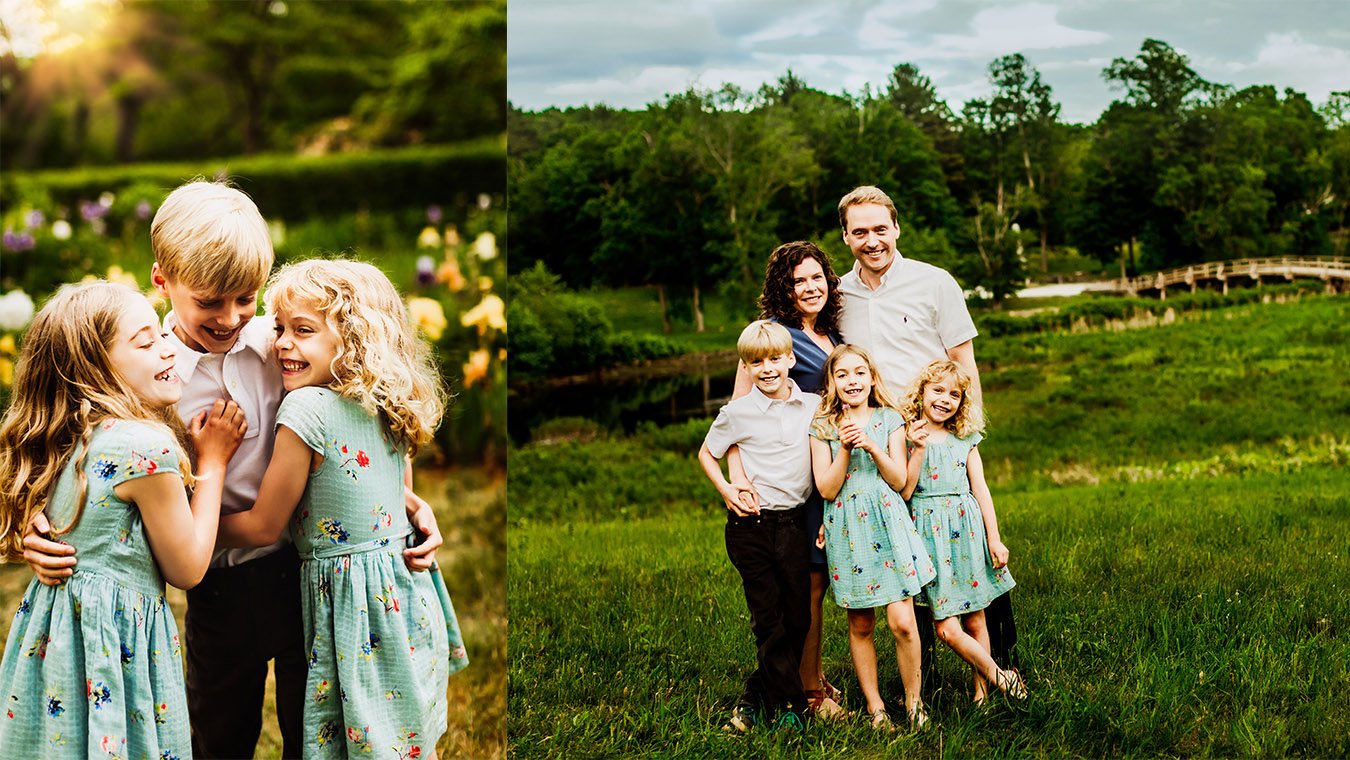 LAKE SUMMER SESSIONS
These are perfect for families who want their photos by the water but who don't want to commute to the beach. We've got Walden Pond in Concord and Morses Pond in Wellesley, which are incredible spots to capture water and green in the same frame. The kids get the water experience, and we can also play with the trees as backgrounds for great contrast.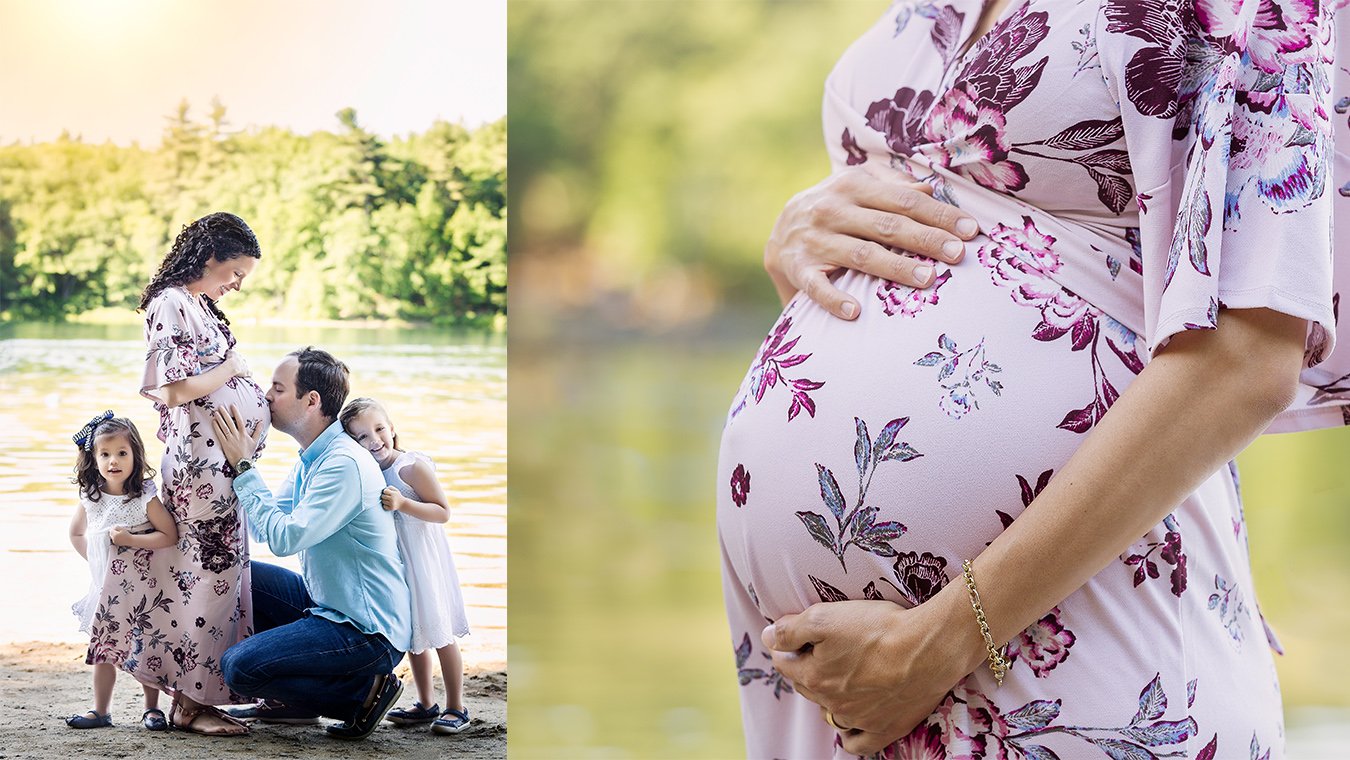 Lakes are the photographer's dream for an early morning session, as crowds have not hit the location, and we've got the entire scenery for us! The water makes it for breathtaking backlit silhouette portraits!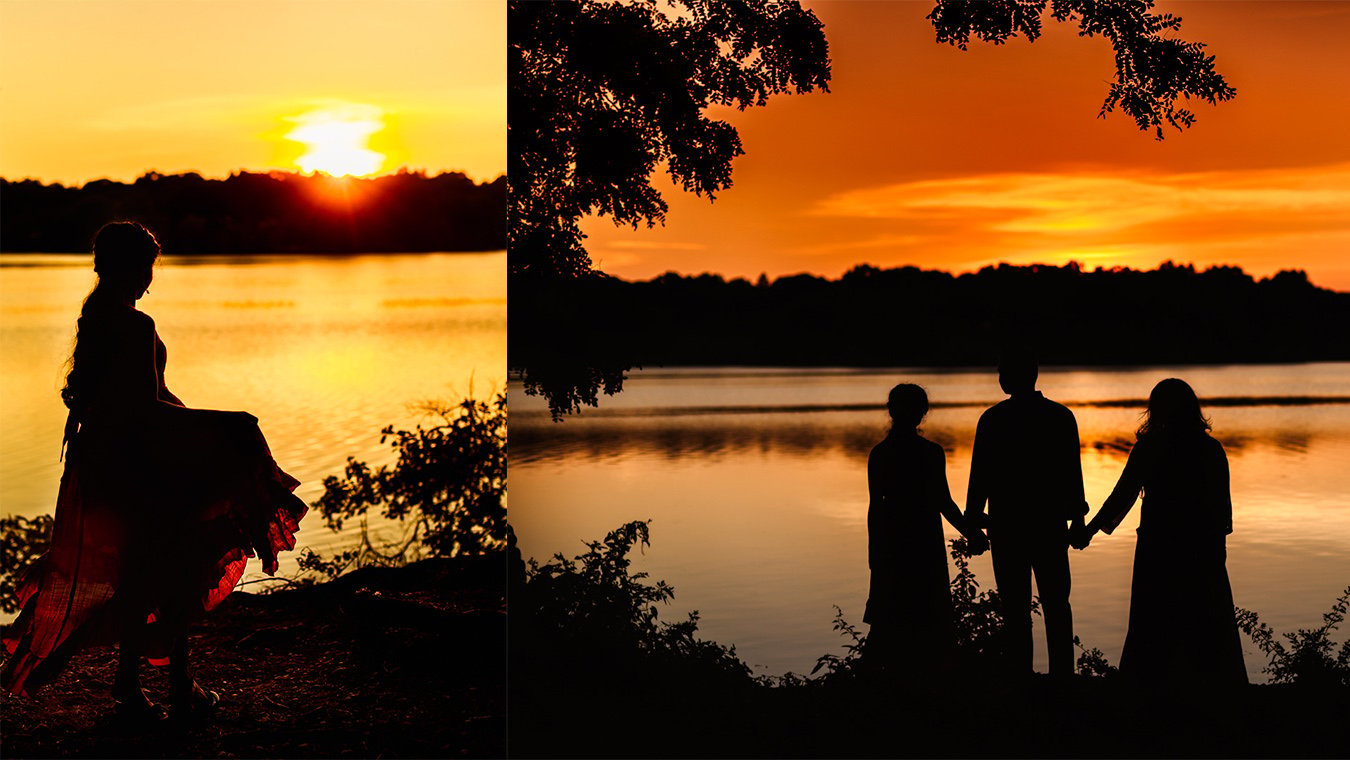 EXTENDED FAMILY SUMMER SESSION
There are so many events in the summer: graduations, birthdays, and big holidays like 4th of July.
Chances are that your extended family will be visiting you! Having family in town is the perfect reason to hire a photographer to capture your time together. Grandparents will cherish their memories with the kids, and you'll have treasured moments with those who live far away.
It's very common for these sessions to take place in the family's backyard, as grandparents appreciate the accessibility and it takes off that commute burden and logistics when you have so many people involved.
A backyard is not so glamorous, you might think. As photographers, we are trained to find beauty everywhere, a background is just that. We'll work with what we've got and always focus on the raw emotions and human connection. That's what you will feel when you see the photos. Any backyard will do. The magic can and will happen everywhere.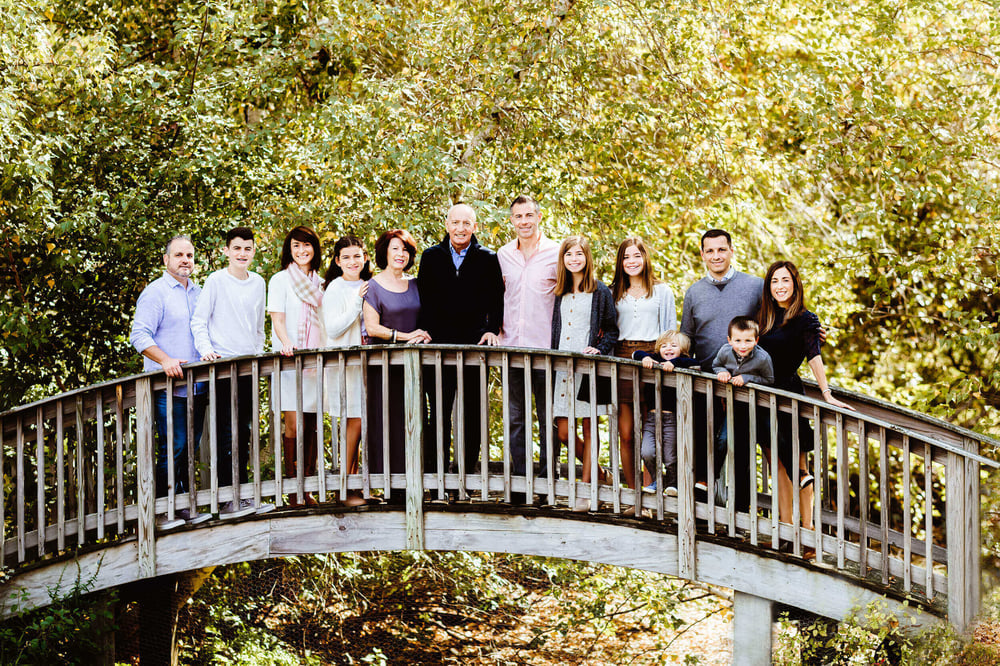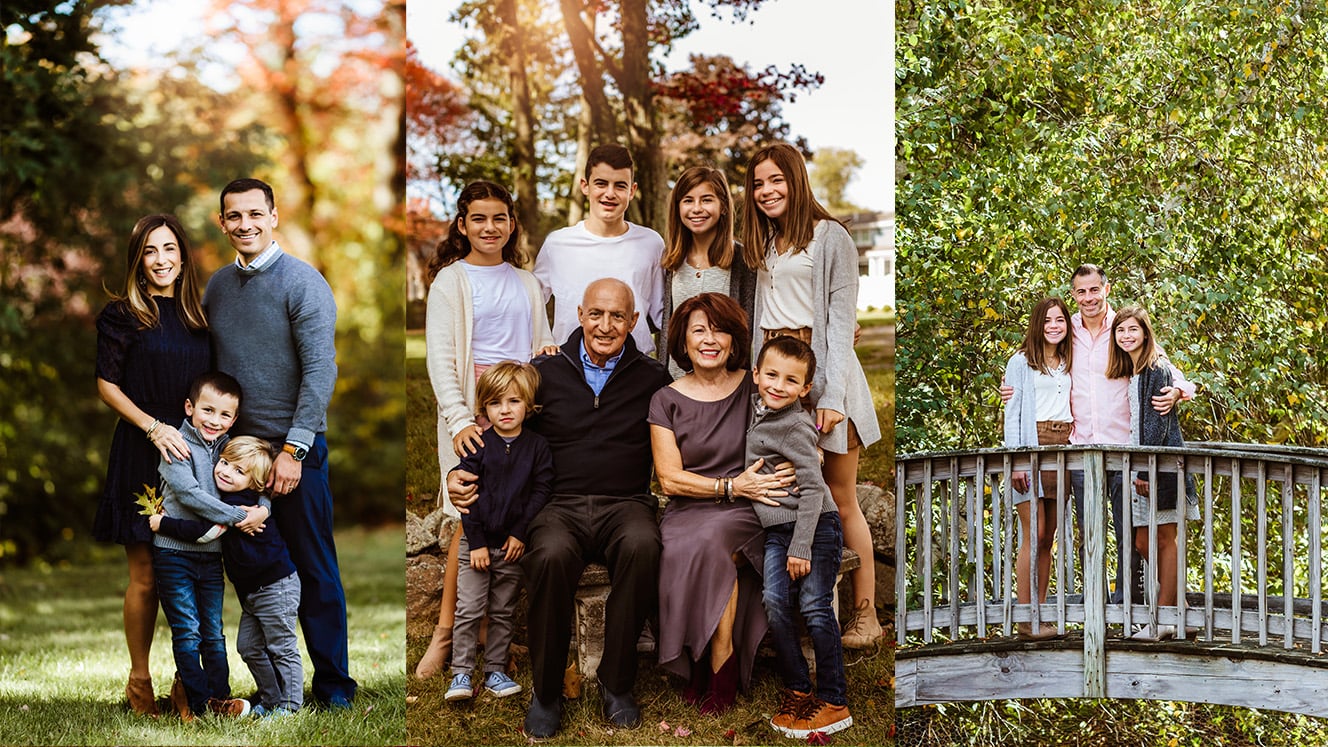 What I love about Summer Photo Sessions
Days are longer! Sunset happens around 8 pm. Weekdays after work become an option. Sunset sessions start around 6pm. The most beautiful locations have fewer crowds on weeknights. In my case, I only shoot Beach Sessions on weekdays. It's all about the experience and nothing beats an empty beach :)
Sunrise sessions are incredible, it's warm & gorgeous — if you've got an early bird tribe at home. It's a win-win for everyone!
Time management and scheduling become easier. The rain is gone, so chances are the session will take place the day is supposed to be. Bye to raincheck as plan B!
Say hello to maxi dresses, tutus, shorts, and sandals! The styling is fair game for all incredible summer outfits. Check this blog that will help you think about color palette, textures, styles and more!
Summer is THE best season for family photos! the weather couldn't be better and your family photographer will be beyond inspired and craving to shoot outdoors! As you start planning your summer vacation, think about where you would LOVE to capture your family's essence! You can do a road trip out of it, mountain, beach, lavender... there are SO many options!

Why Summer might not work for your family photo
Your preferred photographer is on vacation! Yes, we take time off in summer. It's the perfect time to recharge and spend tons of time with our kiddos before crazy / peak Fall photo season begins. We open our summer bookings in January!
Massachusetts gets warm! If you're into cooler weather and love fall outfits, you might melt during a summer session. I adore warm weather (I say I'm in my element when it's 85F) but some families prefer to avoid the humidity that comes in July and August.
That's it. SUMMER is just perfect! Fun fact: EVERY year I capture my family's essence in the summer. That's how much I love this season for family photos. In 2019 and 2020, I've hired photographers to capture our family's love. Nothing beats summer family photos!
Tips to make the best of a Summer Session
For beach sessions, schedule with enough time. Photographers are used to commuting to Cape Cod and around Massachusetts all the time to photograph our clients, yet the logistics take time to coordinate. As soon as you know your vacation dates, reach out and book. If you have the flexibility for a day trip for a sunset session, then that opens up more availability + possibilities. There are SO many beaches close by to Boston doable after work!
Check your photographers' vacation schedule! You don't want to miss out if your window is limited and you might have a conflict with the photographer's time off.
If grandparents are joining, consider doing the photo session in the comfort of your home if you've got old relatives participating. They'll be happy and relaxed.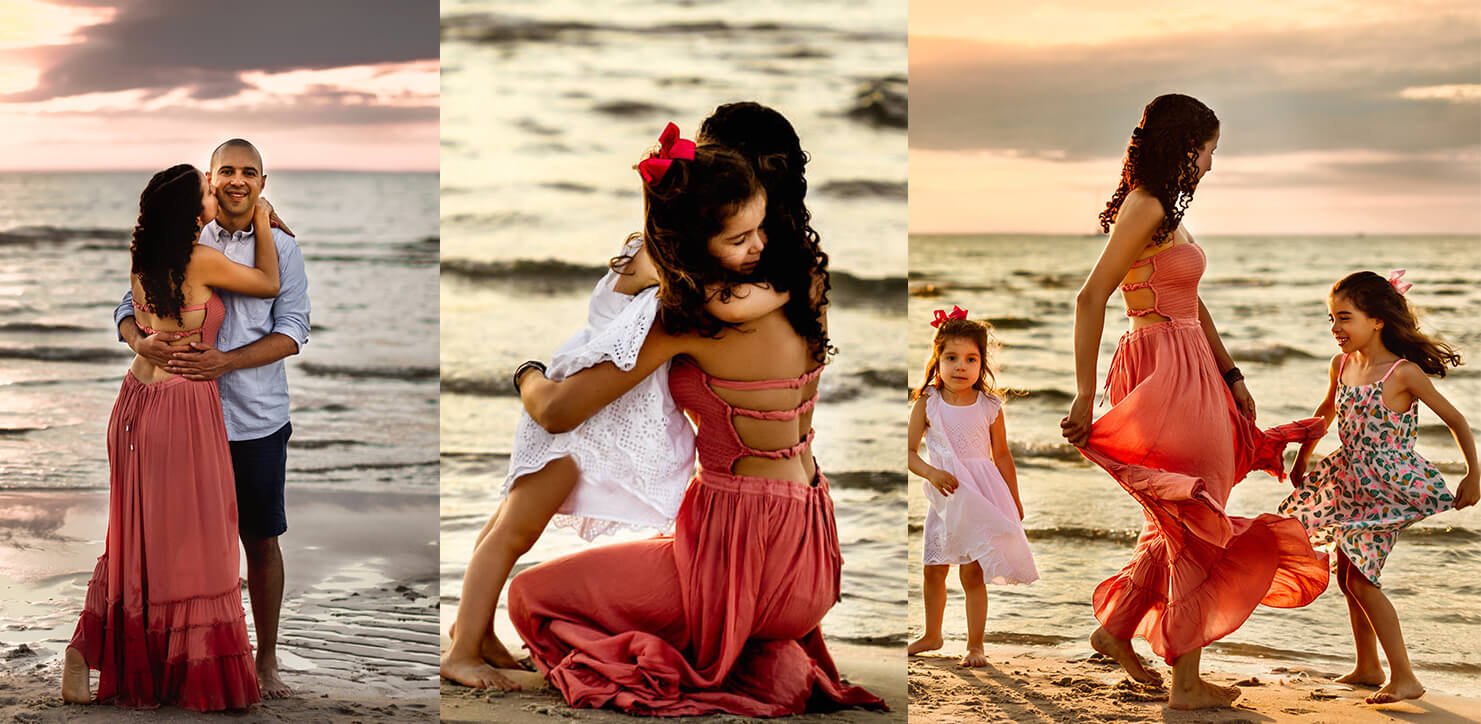 FALL FAMILY P
HOTOSHOOT
Fall is the most popular season for professional photos. Photographers dream about THIS season all year long. The combination of cool weather, breathtaking colors, and holiday mood makes it THE season for family photos. Learn more about ATP Fall Sessions.
Our booking calendars are full and our hearts explode with love. We get to bond with so many families in Fall year after year.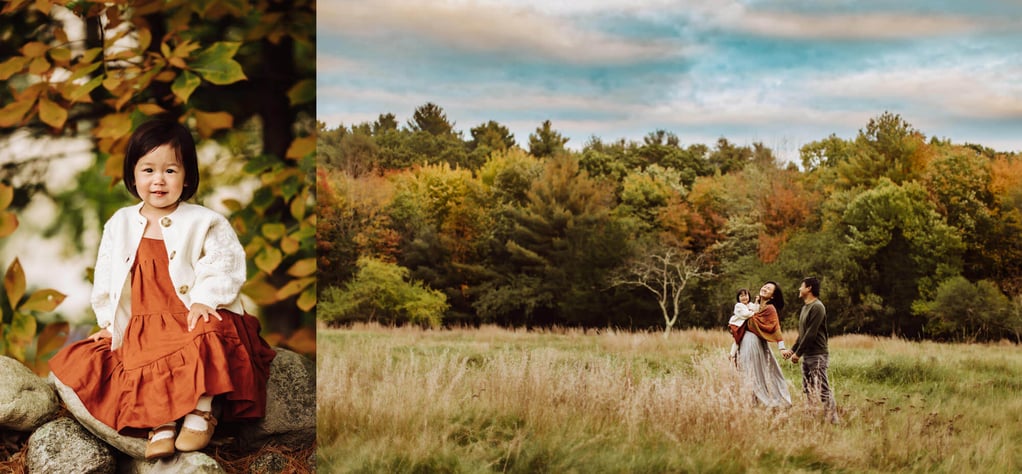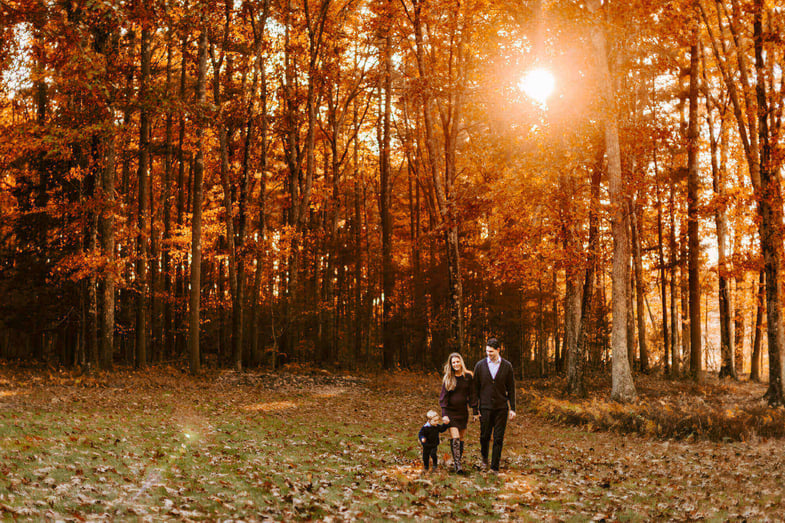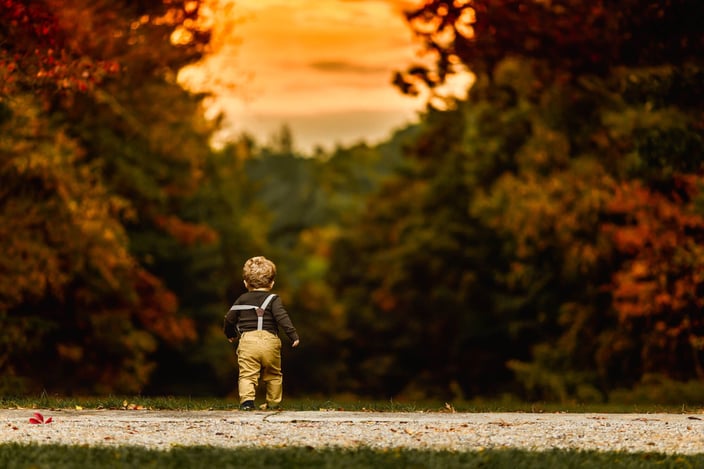 What I love about a Fall Photo Session
Did I tell you about the most wonderful colors Mother Nature could offer us? Well, this is what you get in Massachusetts' foliage. It's breathtaking. People travel from abroad to experience it, and we get to live it and capture it daily. It's every New England photographer's dream.
The weather is perfect! Not too hot, not too cold. Rain is just occasional, so rescheduling due to inclement weather is not likely.
Lovely fall outfits. Are you into wearing boots, using layers, and looking cozy? Then Fall is your season.
If you've got an infant or baby, photographing them in the Fall is the way to go for Holiday Cards. By the time your family gets the card, your little one will still look exactly like the one in the photo.
Thanksgiving. Chances are your college kids will be home for this Holiday! Take advantage of it and capture sweet memories. For families with smaller kids, this holiday is great too, everyone is on vacation and the session will be super relaxed!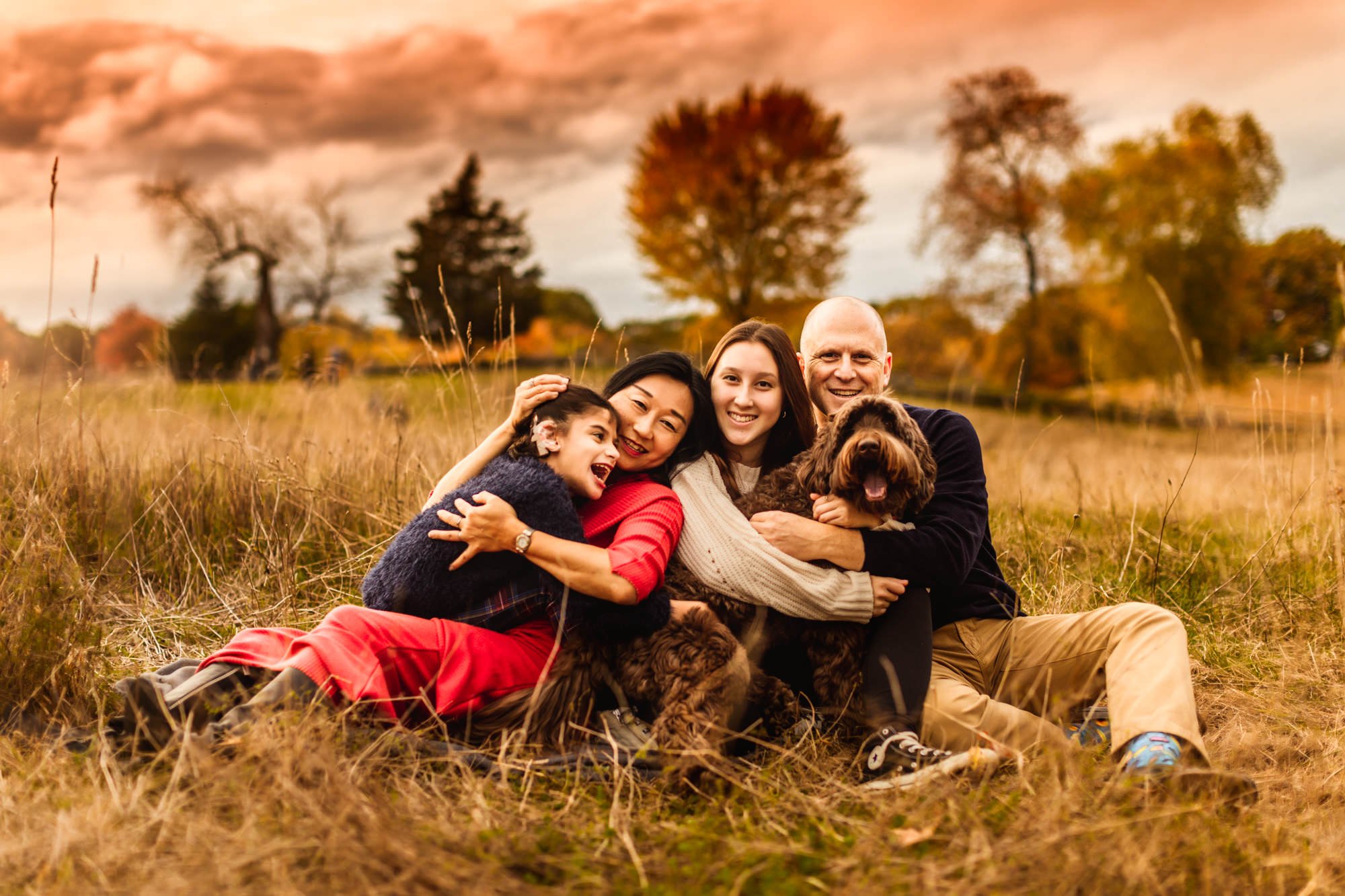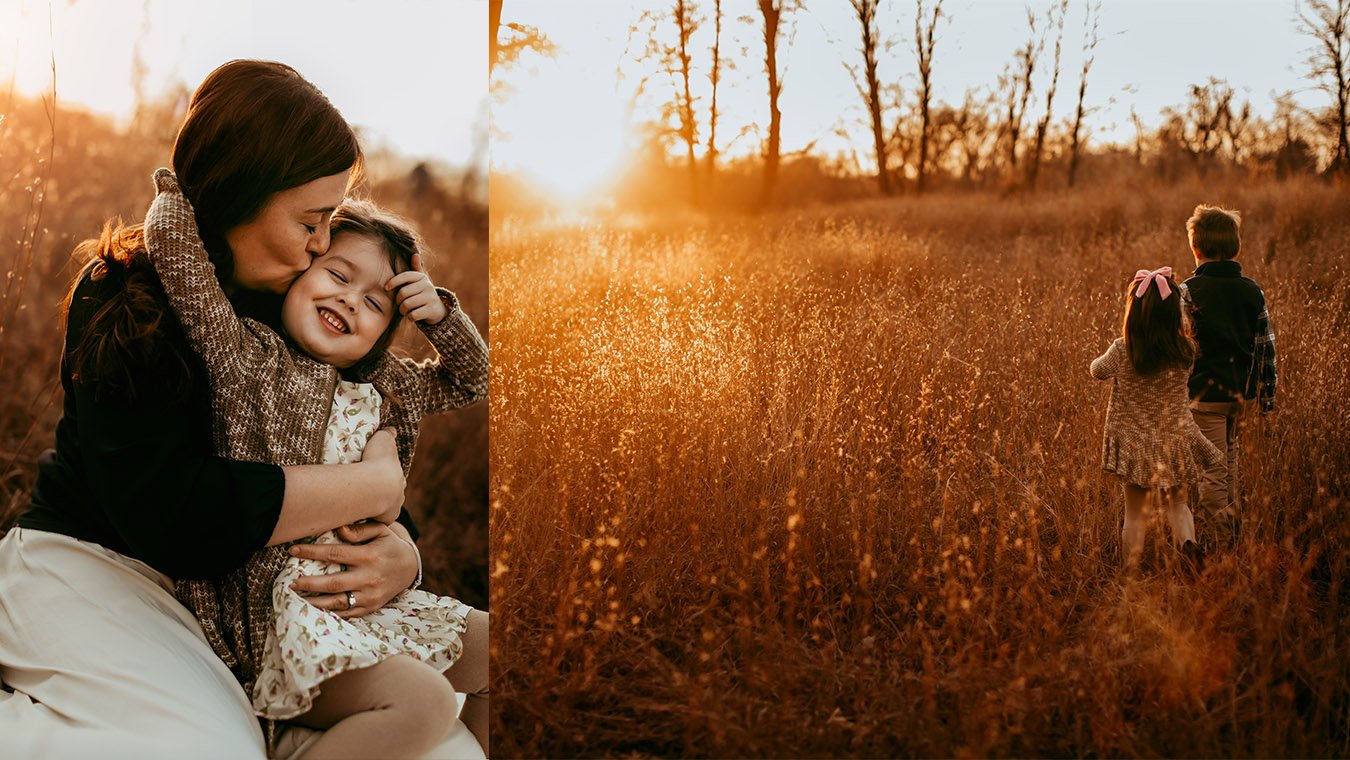 Why Fall could not work for your family photo session
Days are shorter, sunset happens between 4-6pm EST — depending on the month. Weekday sessions after work become challenging. The dream is to catch the golden hour (period of daytime shortly before sunset).
Availability. This is peak season for photos, everyone is looking for gorgeous portraits for their Holiday Cards. Photographers are most likely fully booked. I recommend you booking by early September the latest.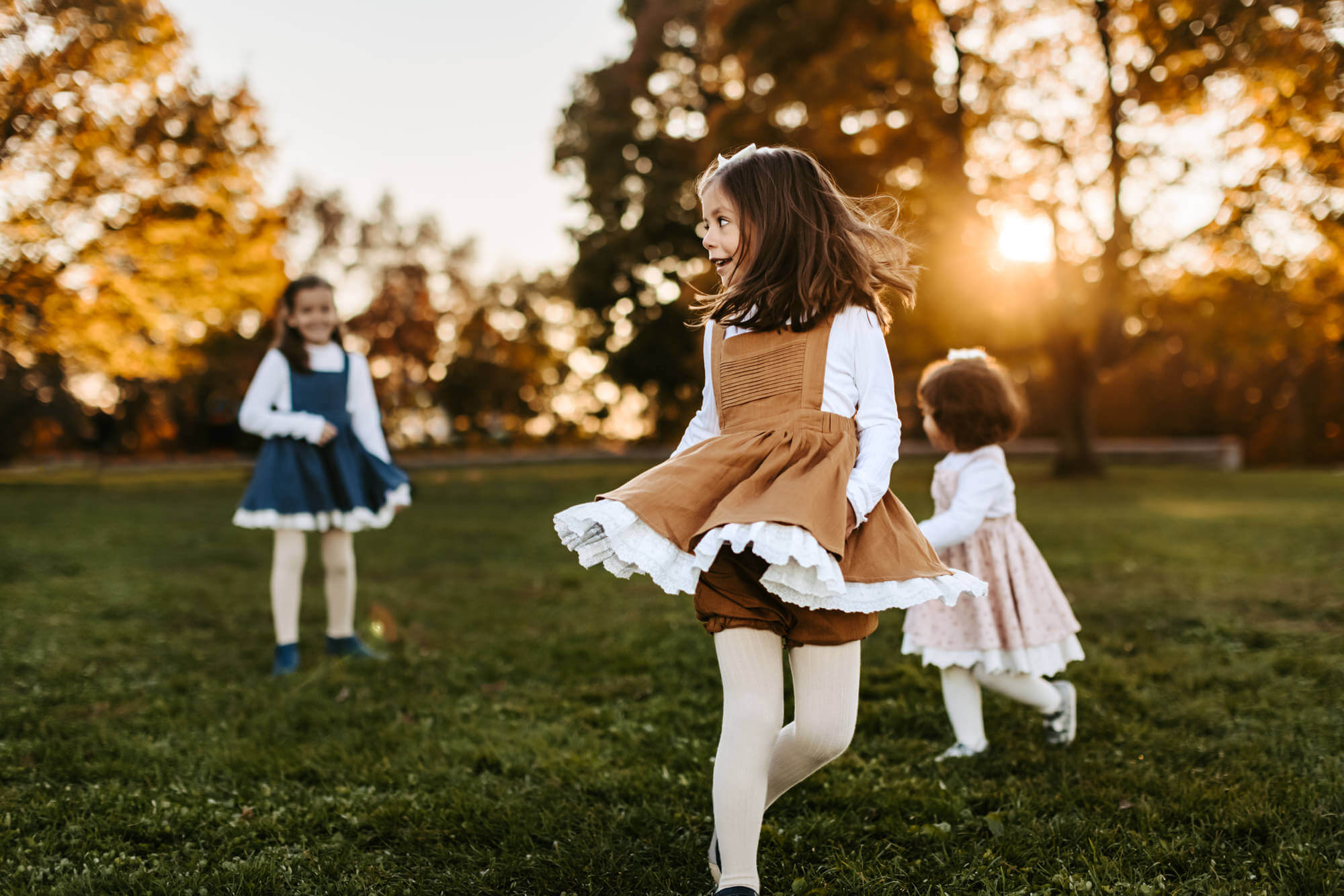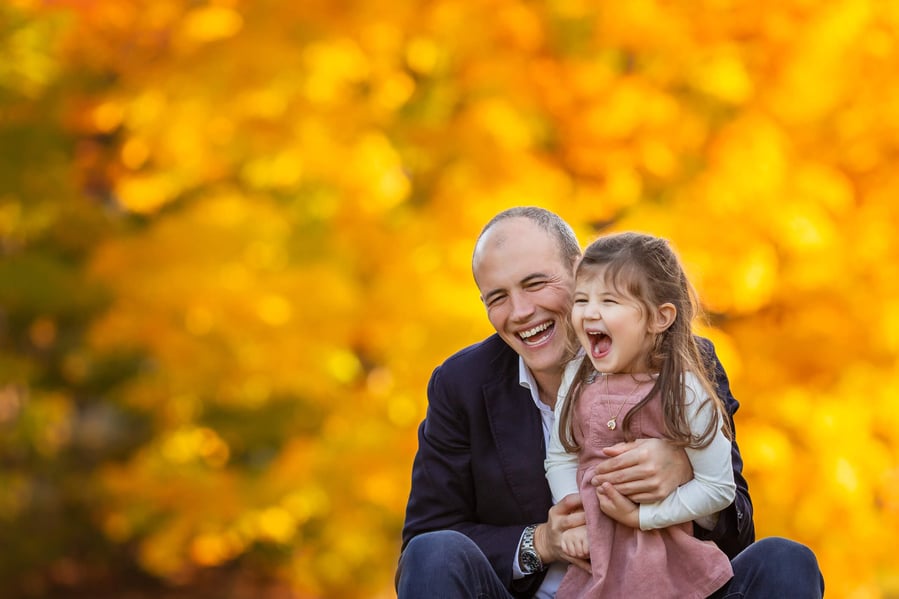 Tips to make the best of a Fall Session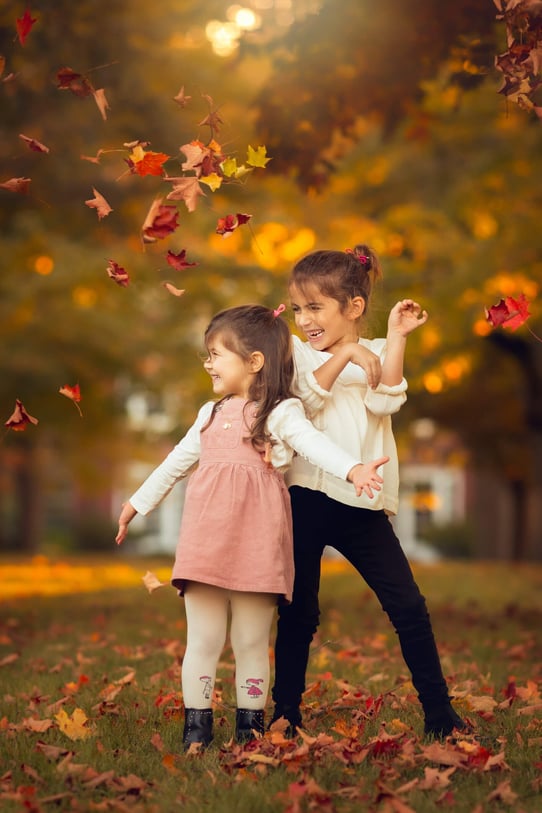 WINTER FAMILY
PHOTOSHOOT
Winter in Massachusetts can be quite harsh: snow hits, temperature drops, and daylight is very limited. You might think that this is the season to stay indoors, with a hot chocolate in your hand. Well, that plan sounds delightful and cozy but I'll challenge it a bit.
Winter photos are beyond spectacular. This is an under-rated season for outdoor photos yet the outcome is so beautiful that I can't describe it with words. Let's take a look at the winter magic.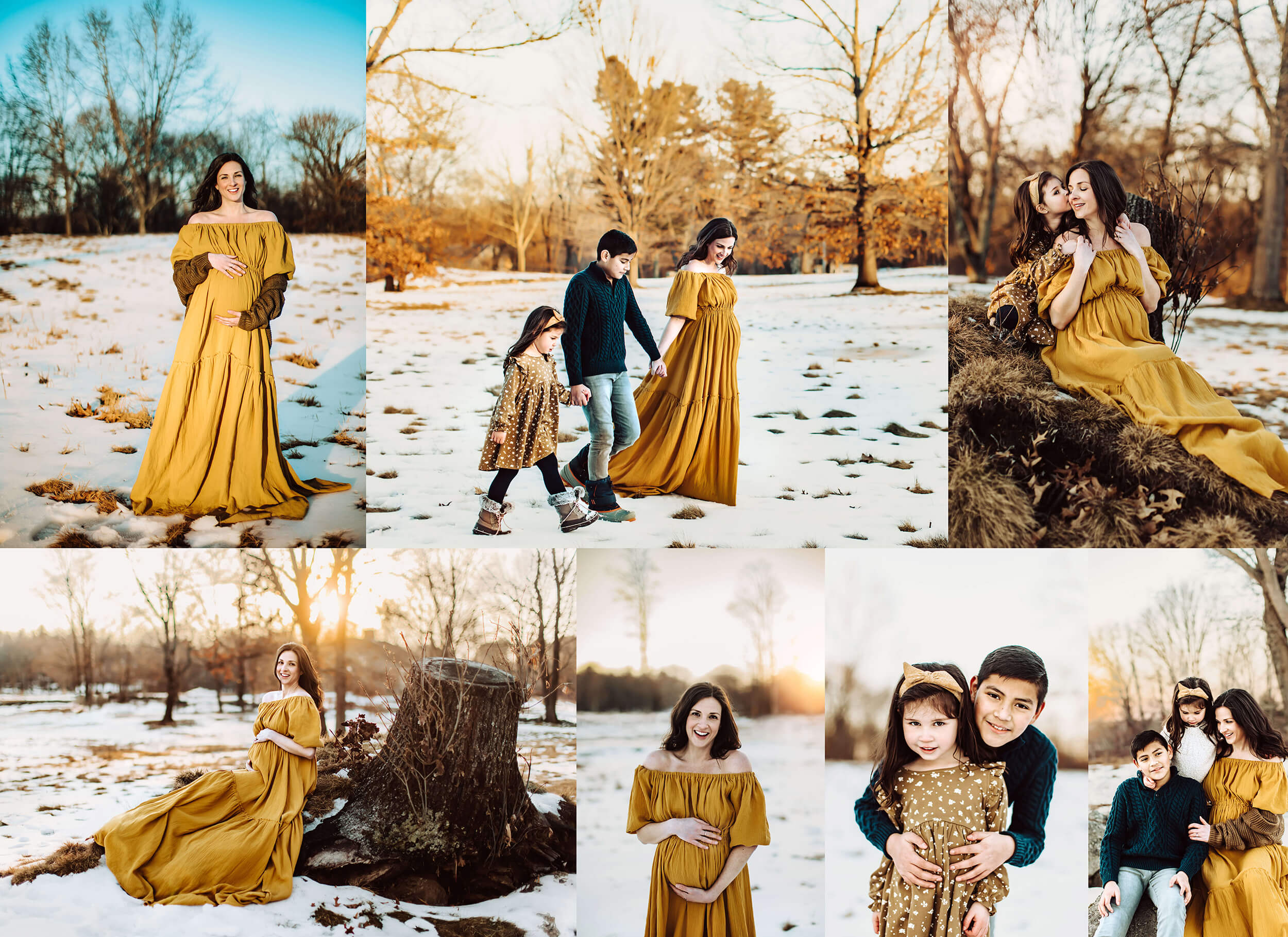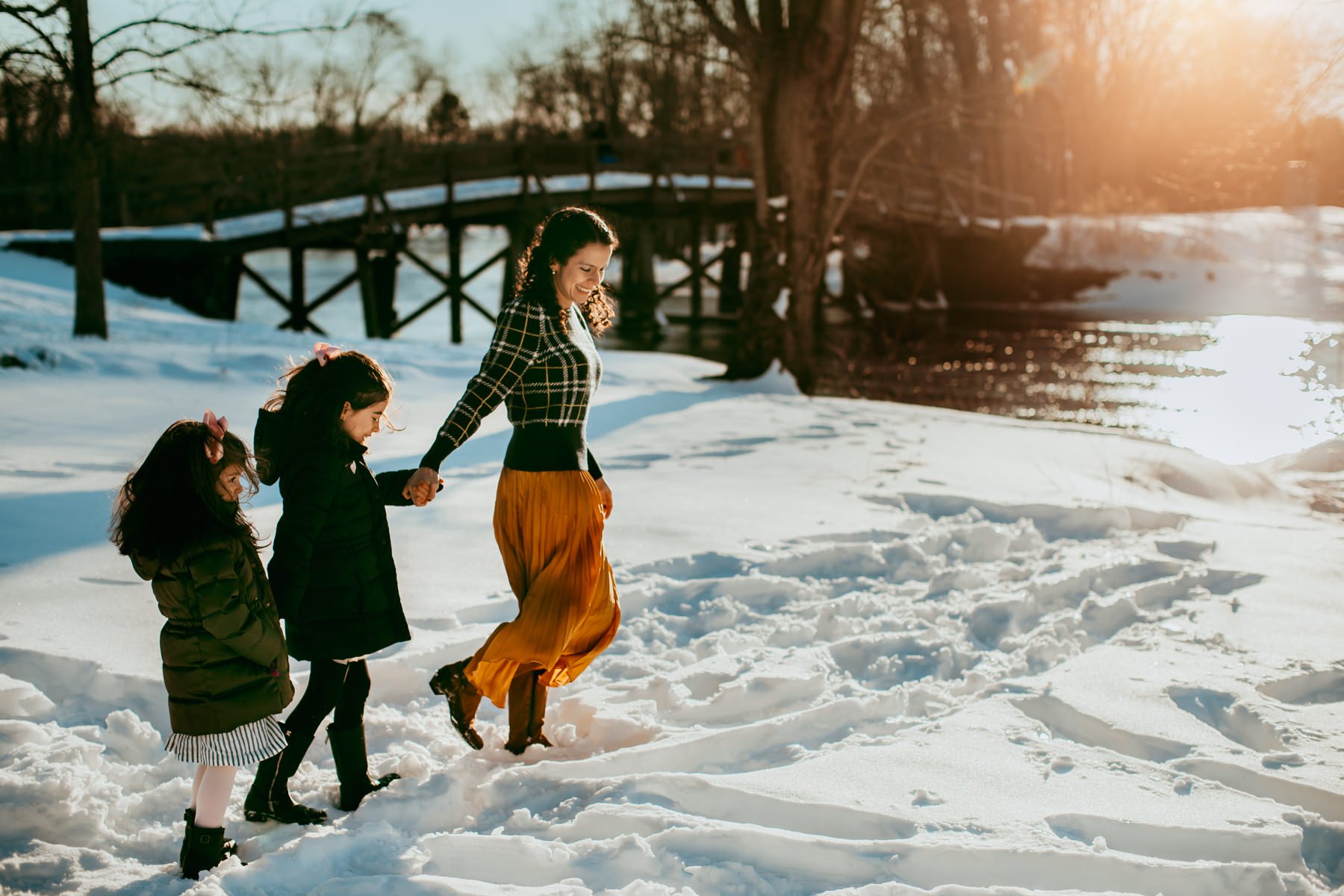 Why I love a Winter Photo Session
Did I tell you about the snow? There are so many signature spots in Boston that look like "Winter in Wonderland". Boston Public Garden becomes one of my favorite winter locations. The huge crowds are gone, the calmness in the air is so refreshing, and the bridge is beyond romantic.




Photographer's availability. For lifestyle family photographers, winter is a slow season. Not everyone is willing to experiment and experience a winter photoshoot, so you'll be able to book your favorite photographer. Wohoo!
Baby it is cold outside. Yes, the cold is real so the hugs and snuggles become a bigger thing in these sessions. We get to photograph incredible connections between parents and their kids, it's super fun to play in the snow. The hugs are tighter, and the love explodes.
Did I tell you about TREE FARM photo sessions? These are SO popular for Holiday Cards! Close your eyes and smell the combination of fragrances from

Fraser fir, Canaan, Concolor, and Blue Spruce.

Families are so happy celebrating the beginning of the Holiday season!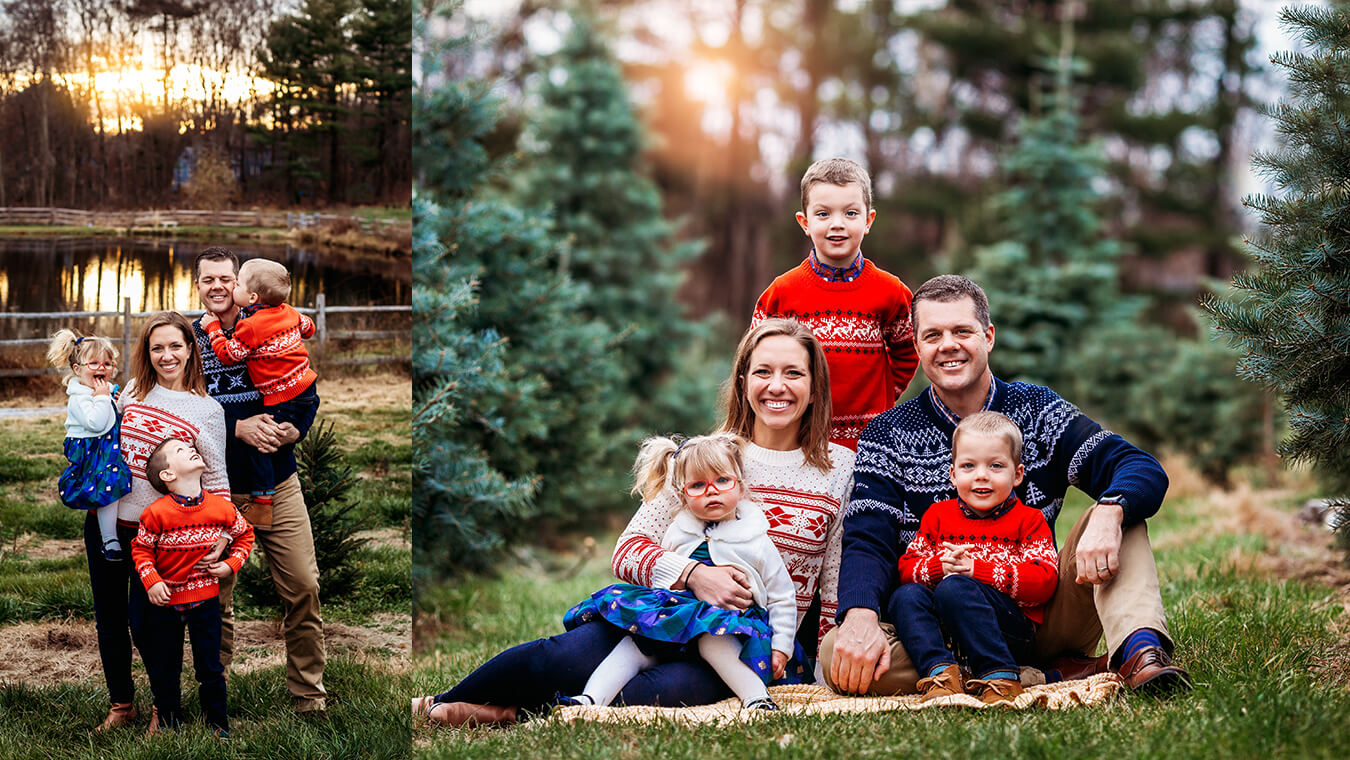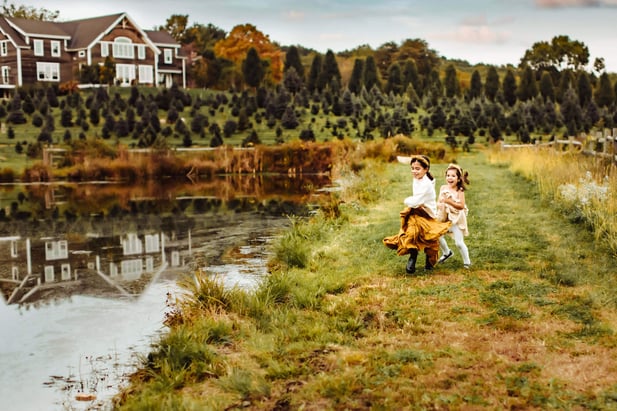 There are also so many other locations that offer stunning backdrops during winter. Think about barns and farms!


Winter also brings the softest light for portraits. There is no cold weather that a hug doesn't warm up! Learn more about ATP Winter Sessions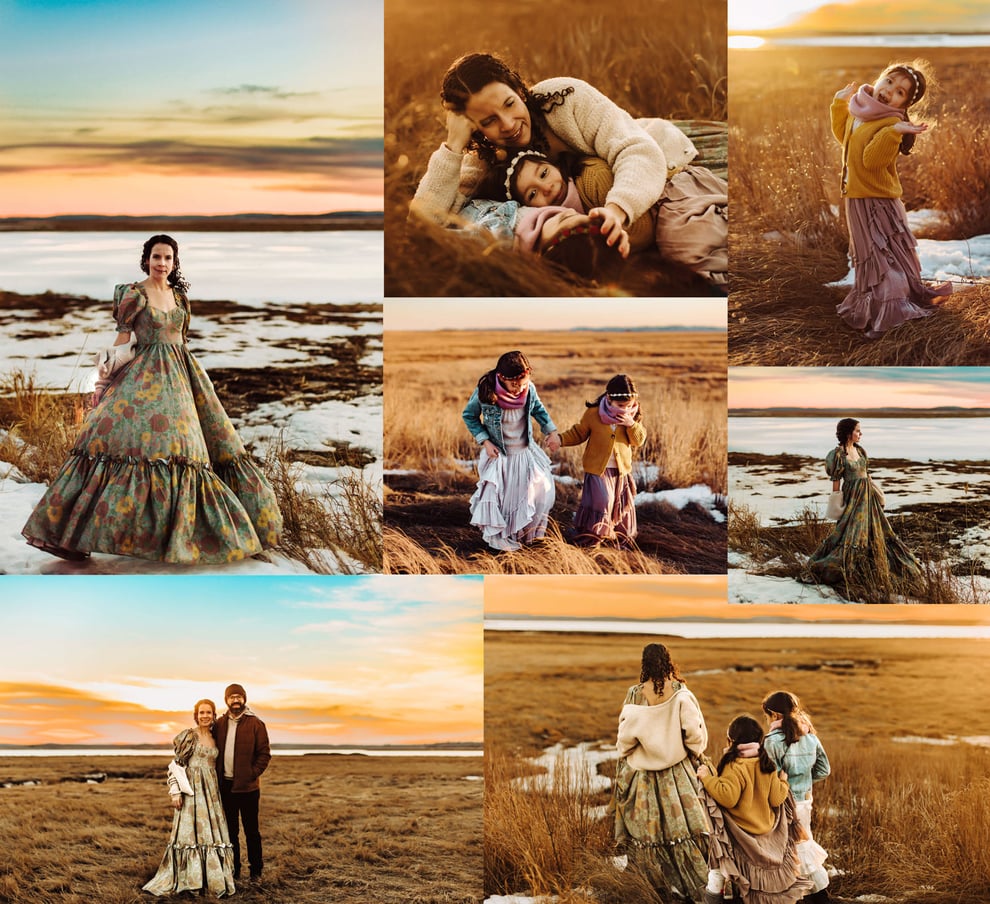 Every so often, December will SURPRISE us with WARM weather!!! This session was shot on December 15th, it was 52F :)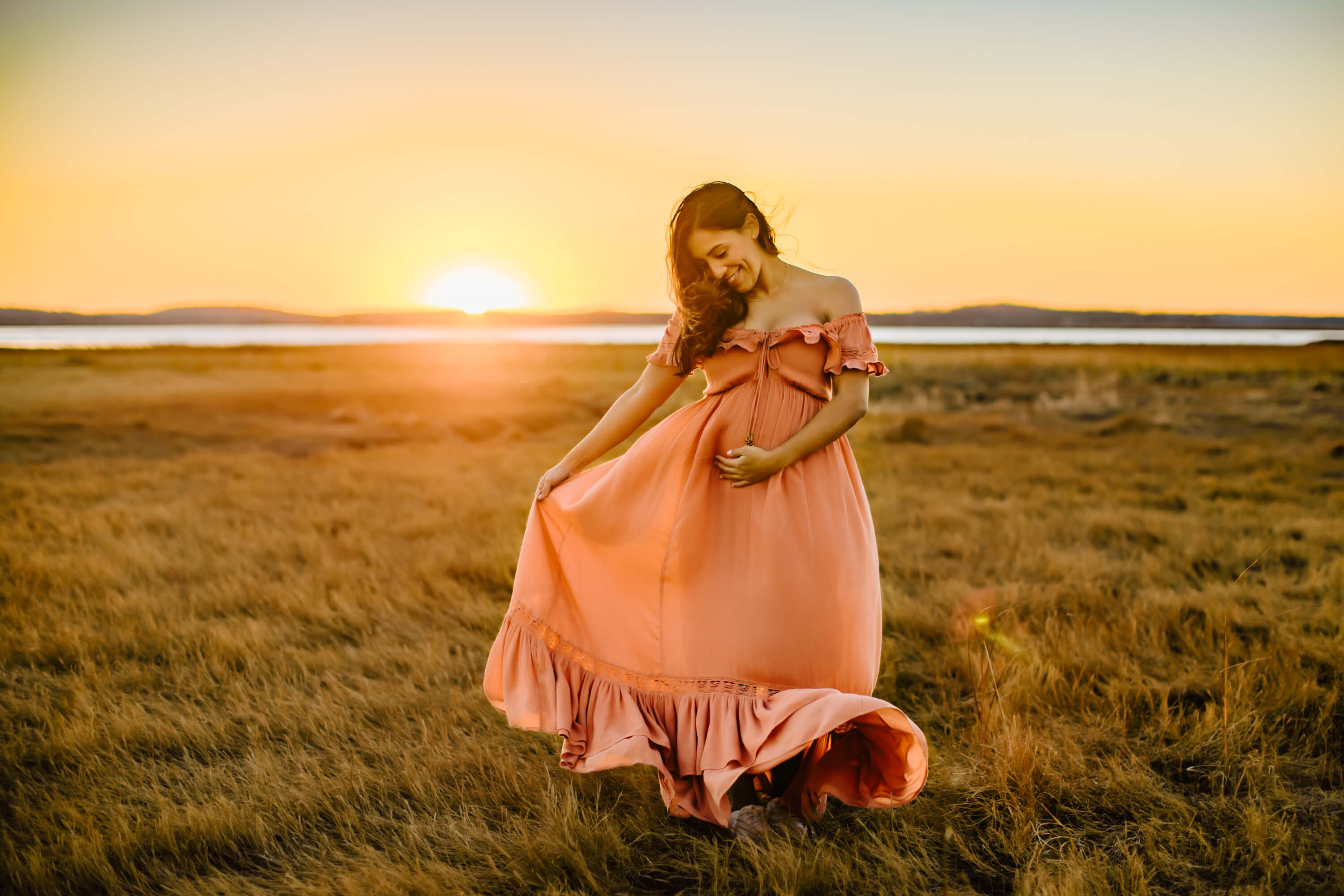 Winter is also the perfect time to do a session in the city; we get to walk and discover Boston with the camera while hopping in and out of coffee shops and little stores. It makes a delightful experience. Say YAY to Acorn street and the gorgeous Boston Public Garden. There are so many evergreen trees still showcasing their beauty! It's an unforgettable experience!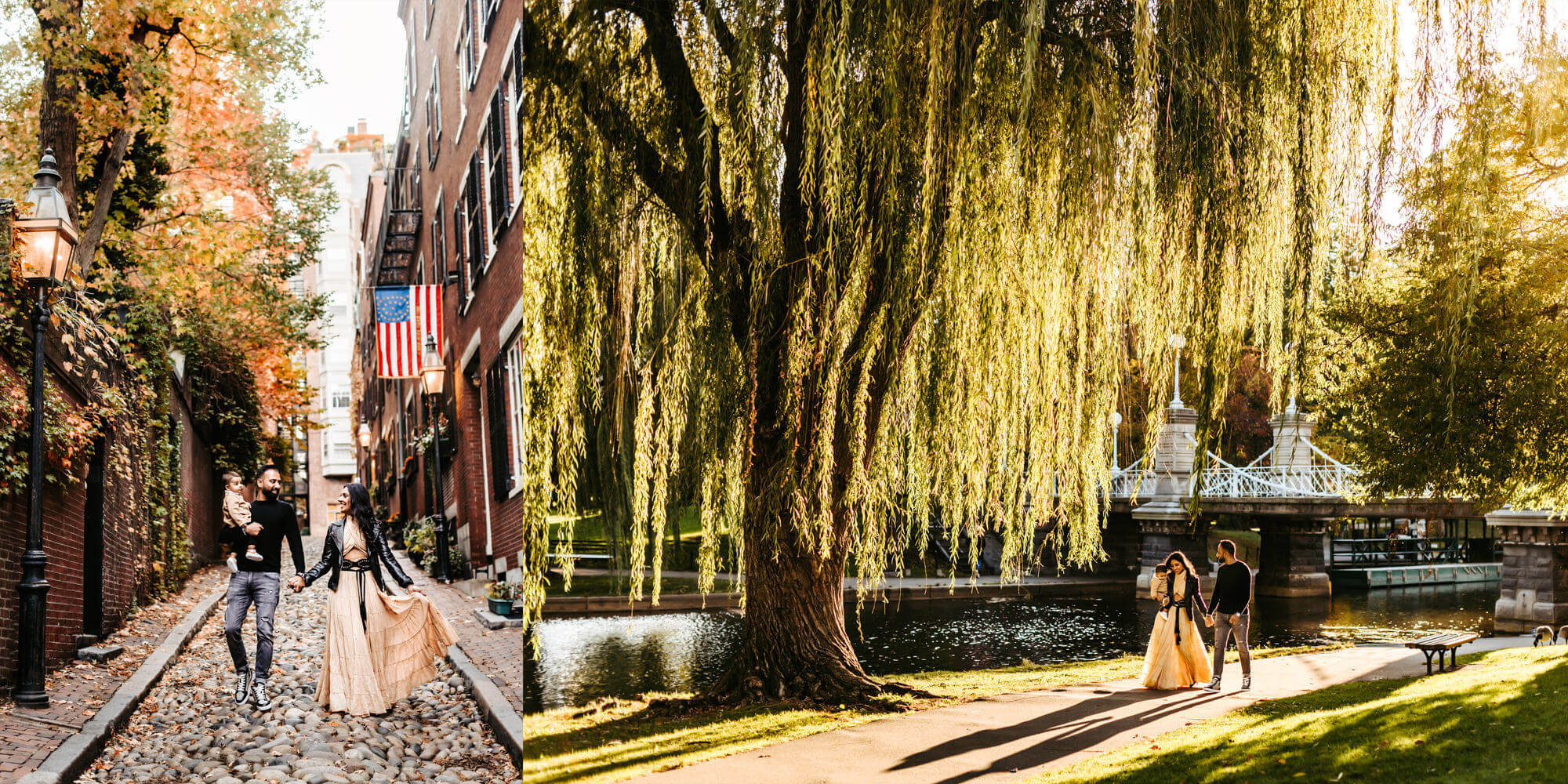 It's THE season for young adult kids. College kids always come home during the Holidays, so chances are you've got a Full House after the new year's. Scheduling a photo session by then is the perfect timing. These kids can take any temperature and make fun with and without jackets. You know how hard it is to have all kids in the house, so take advantage of it!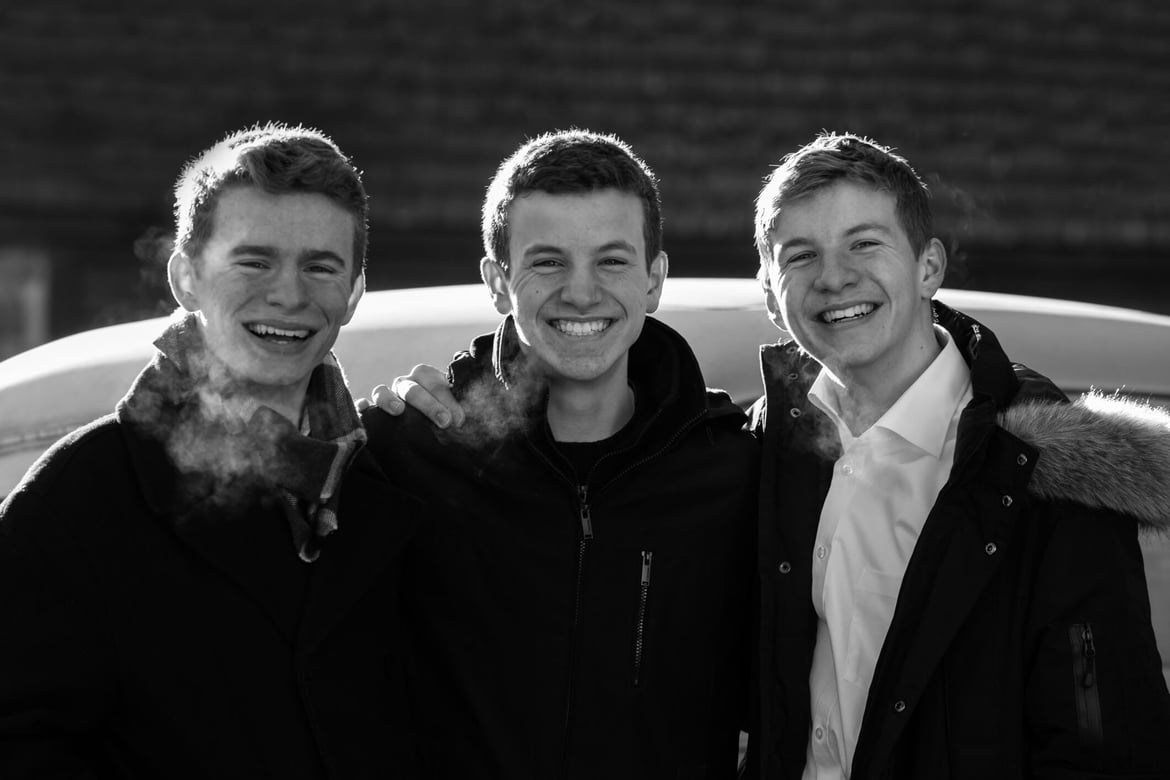 Why Winter could not work for your family photo session
The cold is REAL. For smaller kids, the cold might not be fun. We try to keep the session short and sweet!
Days are shorter, sunset happens around 4 pm EST — depending on the month. Weekday sessions after work become challenging.
Snowstorms are expected, so rescheduling due to inclement weather is something that you have to think about and plan for :)


For every photo session, there is a season!
All four seasons offer the following benefits:
Reason to bond and celebrate each other! Spend an epic sunset at a poetic location with your favorite people. What's more beautiful than memories with your significant other and the kids?
Family gatherings. If you have college-age kids, in every season there are holidays when they visit and joy is in the air — July 4th, Memorial Day, Labor Day, Thanksgiving, and Christmas, just to name a few. Take advantage of the full house!
Positive moods. Regardless of the weather, work, calendar, or vacation a photo session brings up joy and a good mood. Don't let the cold or extra-warm weather shy you away from creating memories. Having something to look forward to as a family creates a loving mood!
Here are things to take into consideration regardless of the season!
Timing. Photographers play with light, the sun is the main character that we chase. So make sure you plan around that, we shoot during the golden hour at sunset or sunrise. This means that a sunset session is much earlier in Winter than in Summer. A blog about what's the best time to take photos outside? :)
Extended families. With extended family sessions emotions can run high, every family has a style and personality. Make sure that you understand what's important to everyone. Talk to your photographer in advance of the session so you have an idea of the potential session flow, then set the expectations with the group.
Weather. Inclement weather in Massachusetts is a known fact. Snow, rain, and strong winds hit us, so trust your photographer's advice and be flexible.
If you have full flexibility, then pick the season that speaks to your heart. If you have schedule or time limits, choose the one that suits your family the most. For fun, here you can read Redfin's blog about the 7 most beautiful places in Boston According to the Locals :)
Most importantly, take advantage of the opportunity of gathering your loved ones in one place, time, and day, to show them how much you care for them with sweepstakes that last forever!
Capturing your family's essence is the best investment, you'll have treasured memories for decades to come!
Love,
Andre
ABOUT ANDRE TORO PHOTOGRAPHY
Andre Toro is an award-winning family photographer based in Boston, MA. She calls her style Real Art Photography, which she defines as Fine Art inspired by candid moments. Andre is a passionate soul, obsessed with human connection, and emotive storytelling. She believes love is raw, messy, and beautiful. To inquiry about booking a photo session, please contact her at andre@andretorophotography