Let's face it: life moves at lightning speed some days (or most days!). Before you know it, you blink and your kids are three years older and times have changed. Remember how your toddler used to play with that one special toy? Or how you used to share breakfast with your husband on a slow Sunday morning? You're constantly creating new, special memories, each and every day. There's so much to remember, and you want to preserve those moments from the past, too.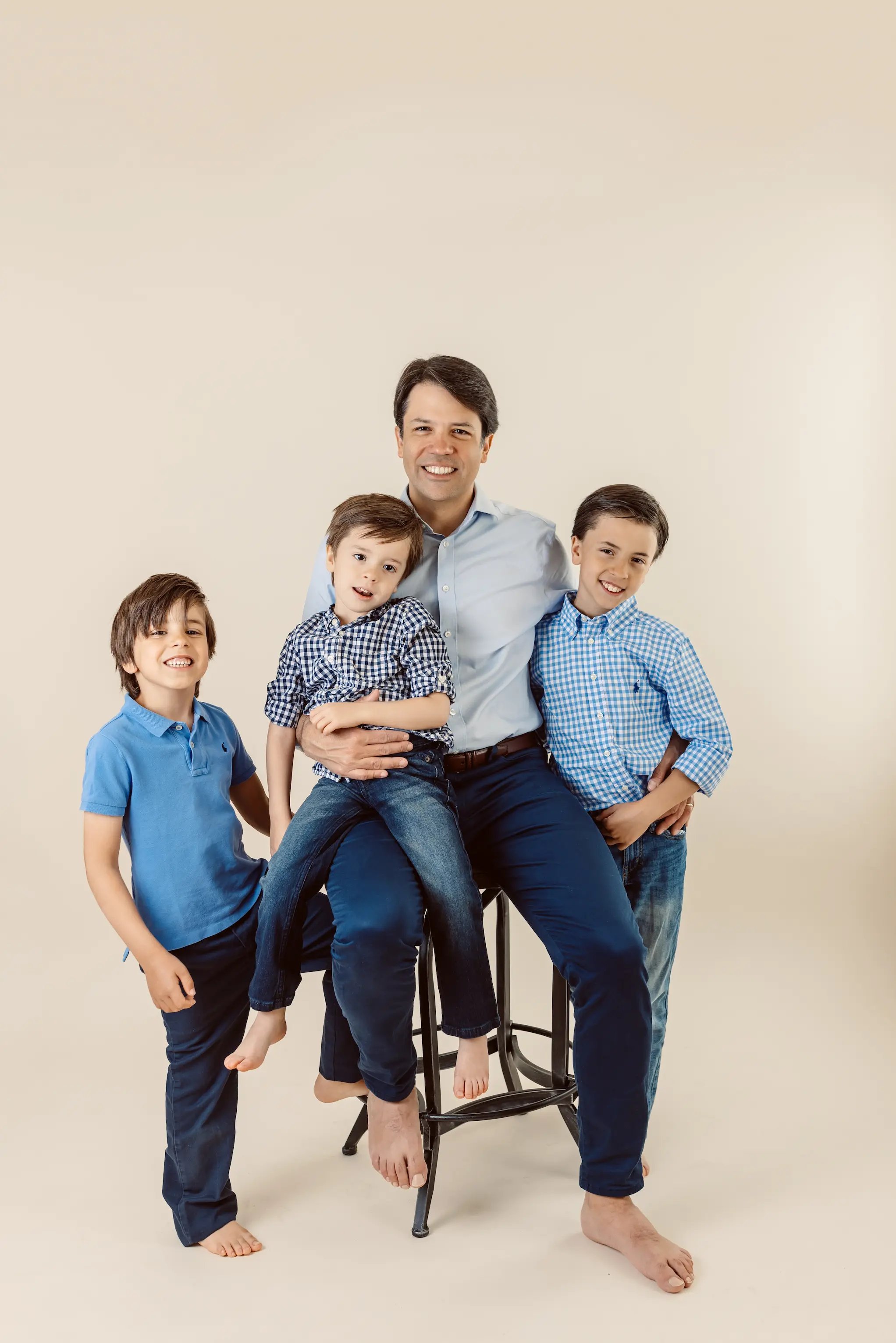 That's why I believe in the magic of a family photo shoot. Using a studio for photoshoot can be an intimate, unique time set aside once a year, or once every couple years, to capture life as it is now.
Studio photography isn't just about striking poses and flashing your smiles until your cheeks hurt. At my new studio in Lexington, Massachusetts, it's about laughing until your abs hurt; it's about capturing the sweet way your partner looks into your eyes; it's about intentional, small authentic moments together, captured forever to remember.
Whether you're a smaller family, a family of eight, or somewhere in between, a studio for a photoshoot offers an ideal setting to let your personalities shine. Let's dive into the 5 pivotal reasons to book a family photo session at a studio.
5 Reasons I Love Studio Photography Sessions
Life can be so hectic and busy! When's the last time you spent quality time with your family, just you and your tribe? Studio photography can be the best way to preserve those fleeting memories. Let me tell you why I love studio photography so much.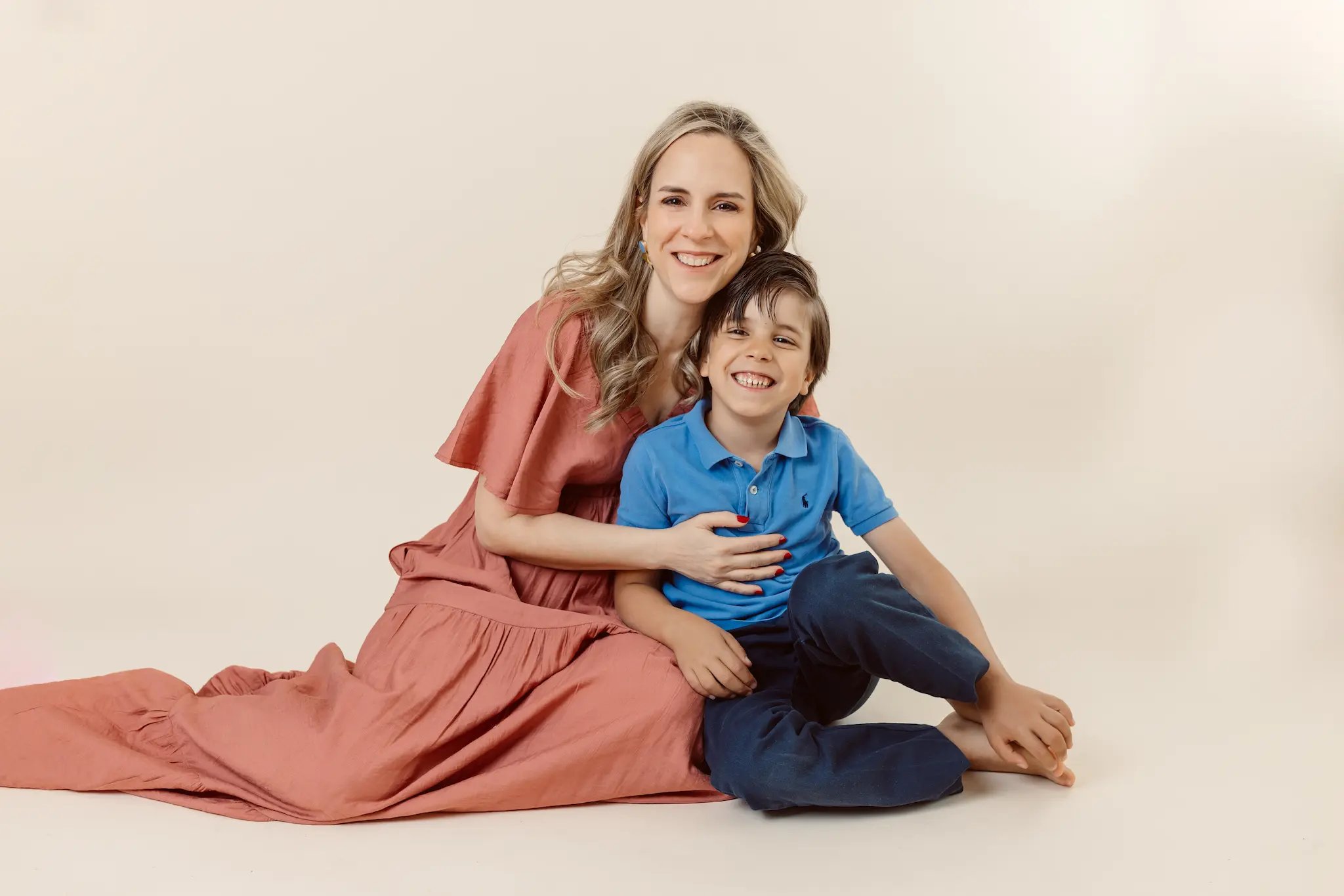 The weather is not a factor!
One of the biggest perks of booking a family photo studio session is that rain (or snow!) won't matter. Is it storming outside? All good! We're still a go!
This advantage takes away so much stress for my clients! There's no need to check the weather app on your phone or keep looking outside at those pesky clouds. Family photoshoots at the studio are popular year-round, and become a super perk in the winter when it's too cold to spend a couple of hours outdoors.
Rain, snow, storms, wind or sun, we're meeting no matter what. Nothing will get in the way of your dedicated family time, creating sweet memories! This magic? It's unstoppable.
Comfort and convenience
When you book a photoshoot at the studio, you're booking a comfortable, convenient, and luxurious experience. What does that mean, exactly? I'm glad you asked! At my Boston photography studio, I have everything we need for a comfortable luxurious experience, from a dedicated hair and makeup area with a fitting room to restrooms on sight (no searching for public restrooms in the park!) and snacks, when needed. Everyone involved can stop to have coffee or tea when they need a little pick-me-up. Likewise, we can pause for a minute if you need to nurse your baby or if your little ones need some lunch. We can have as many interruptions as you need – or as few as you need, too.
Comfort and convenience is especially important if you have family members who may need to be accommodated! That means no tromping around in snow with your grandparents, and no unpredictable outdoor settings for children who may have special needs. We won't need to stop or readjust unless you need it.
When I say comfort, I mean comfort in the physical sense, too. Because we're shooting indoors at my Boston photography studio, there's no need to worry about the weather – or your outfit. Indoors, it's always warm and cozy in the winter, or deliciously cool in the hot summer! That means you can wear your favorite dress or your favorite part of jeans – whatever makes you feel most beautiful and most yourself. There are no rules or worries. No sweaters, tights, or layers needed!
Professional lighting, equipment and guidance
As a professional photographer, there's no greater joy than seeing families spend authentic, quality time together behind my lens. That's why I opened up my very own Boston photo studio. My space is a sacred space for families to come together in their own, authentic ways – and I'm here to make sure you feel natural, beautiful, empowered and able to be your truest selves.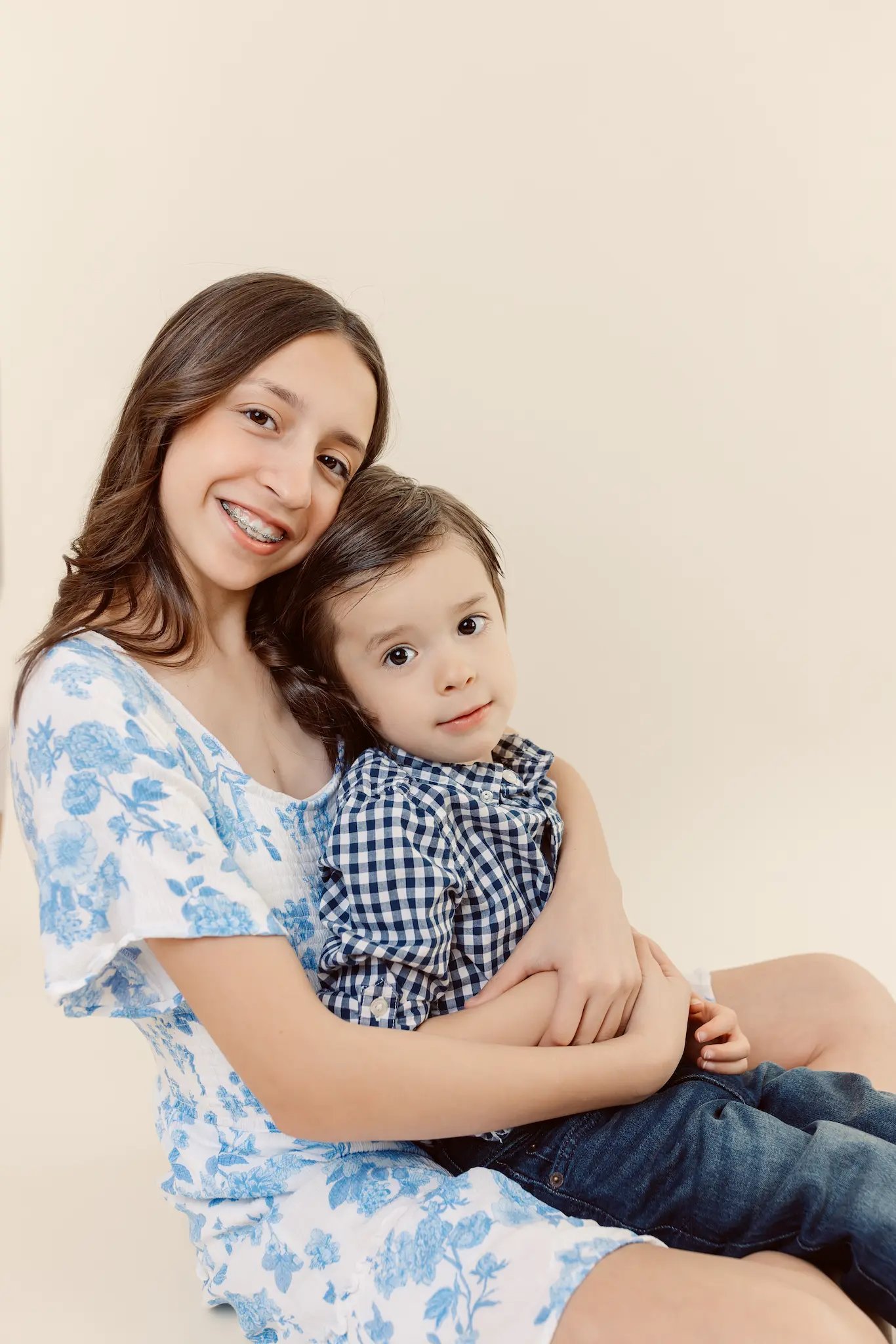 How do I help? Here are three of the biggest ways my guidance will transform your family photoshoot.
Posing: Goodbye, awkward, stiff poses! Think of me as your posing ninja, armed with the know-how to make every family member look and feel like a superstar. It's my job to guide you through a mix of classic poses and spontaneous interactions, ensuring that everyone looks their absolute best while having a blast. I will give you prompts and the candid magic starts to unfold!
Composition: Think of your photos as individual pieces of art, and your family as the stars of their own art piece! My work is all about composition and balance; I take time to carefully arrange every element in the frame, all while capturing your family's essence. You're not just getting photographs, you're getting artistic pieces of storytelling – windows to your past and your own personal walk down memory lane!
Guidance: When you book me for your Boston family photoshoot at the studio, I'm there with you every step of the way. Every session includes an in-home consultation. During this time, we'll pick outfits (yes! We'll pick from your closet pieces that you love, and I'll also share links to my favorite stores) and we'll talk about what would you like to do with your photos. Are you craving memories on the wall? Don't feel comfortable posing on your own? I'll help you pose in a natural and flattering way. I've got your back!
Consider me your personal cheerleader throughout the entire photoshoot. I'm here to help you showcase your truest selves!
No shoes needed!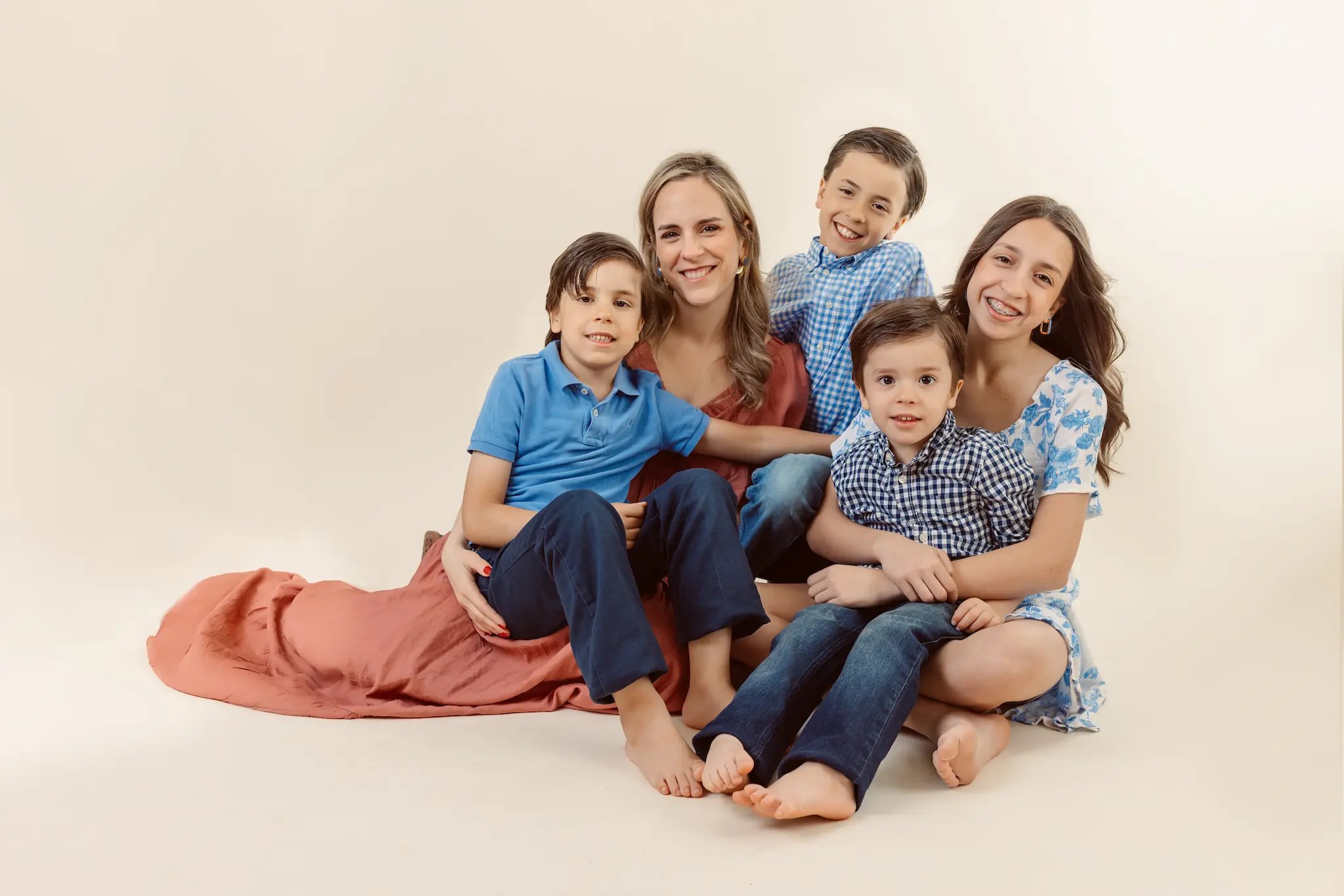 In my studio, we operate on a strict no-shoes-if-you-don't-want-to-wear-shoes policy! And who doesn't love that nostalgic, intimate barefoot feeling? Kids love being barefoot (can you blame them?) and it adds an extra layer of spontaneity, which brings a really special energy to the photoshoot as a family. Enough said! :)
If on the other hand, you're obsessed with your new stiletto shoes, bring it on! We want you to feel gorgeous, let's rock those shoes!
Studio photography is a controlled environment
I get it – stepping in front of the camera can sometimes be a tad intimidating. But don't worry, when you're booking your photo shoot at my Boston studio, you're signing up to spend a luxurious time in a cozy haven designed just for you. It's a space where you can relax, be yourselves, and let your true personalities shine.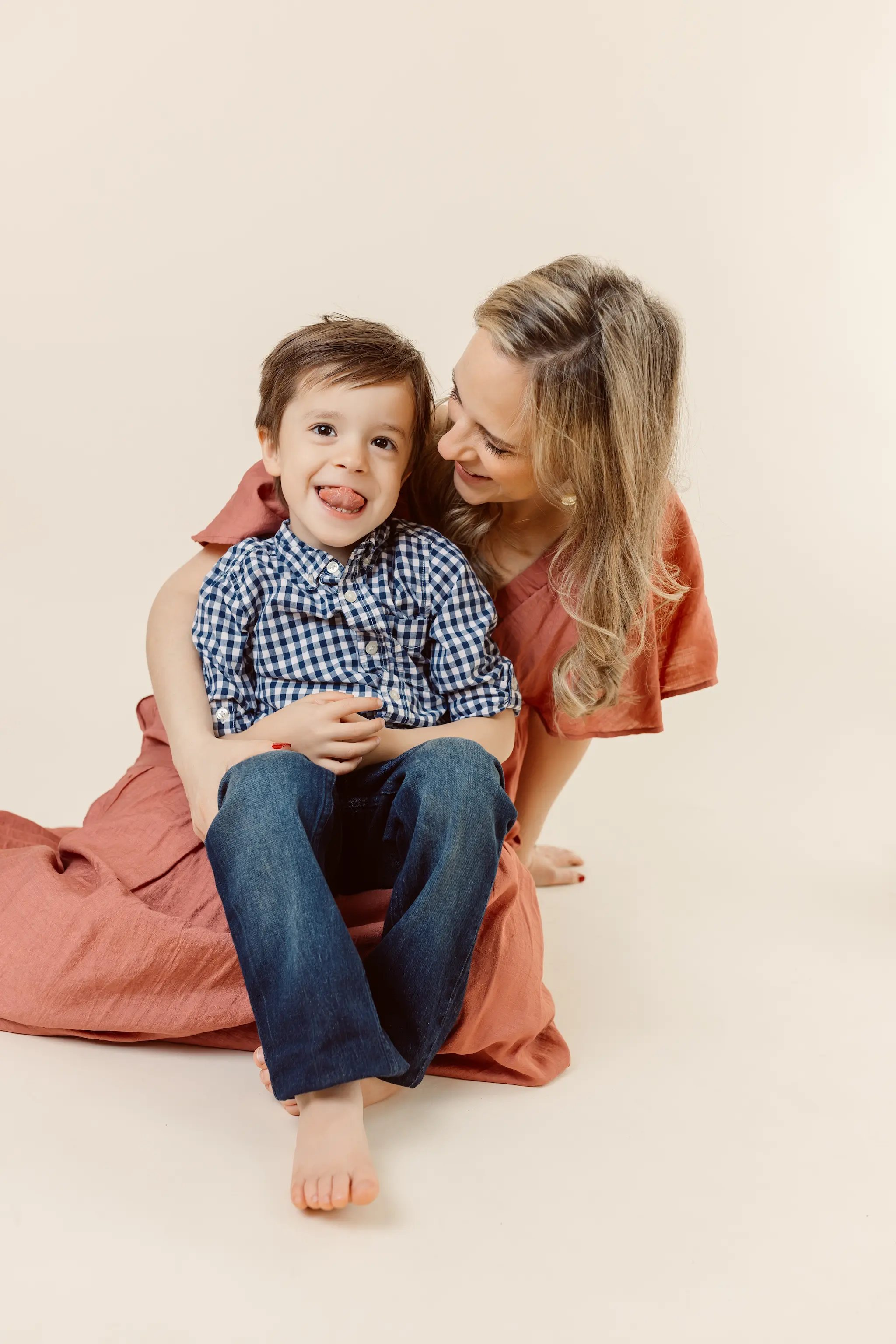 There are so many perks to being indoors! Once you arrive, the pampering begins. We have changing rooms for your comfort – and you can change outfits multiple times! And of course, we have a make-up artist on site to help you feel your most beautiful. The studio space itself will be prepared in ways we can discuss beforehand to make your photos feel as much as your photos as possible. Working in a controlled environment allows us to curate the perfect space to match your vision and your family's vibe.
Preserving Precious Memories
There's nothing more precious than those family memories, especially when time can be so brief. Trust me when I say that the exquisite moments we capture within my comfy studio will bring joy to your hearts for years to come. That's why I love my Boston photography studio so much – because studio photography sessions are like portals to a world where connections come alive. And it all starts right here!