Yay! Congrats! You've made up your mind, you're booking your Spring photo session. Love it. Now the next step is to find gorgeous outfits that work great during the Spring season. Styling is so important, it can make or break how you feel about your portraits. A happy loving family at an epic location with random outfits won't make justice to the poetic magic that can be created with a wardrobe that enhances the photoshoot mood.
Estimated Reading Time: 6 min
In Spring, everything is blooming and the welcoming augmented sunlight shakes all Winter chills. Also, colors are breathtaking this time of the year, making it one of the most popular seasons for weddings in Boston. The wedding industry has discovered that Spring is a true gem, yet for Family Photographers, Spring is a secret treasure, still undervalued. Many (me included) think Spring is THE season for Family Photos. Like late actor Robin Williams once said (snif!), "Spring is nature's way of saying let's party." Even better, Spring makes the perfect setting for some lovely outfits. Follow these tips to choose the right ones for your family photos this Spring season.
Has the thought of picking outfits kept you from booking family photos? When you hire a professional photographer like ATP, you get the whole deal, a white-glove experience! What does this mean? we do the work for you. We style your family. Yep, you heard it correctly ❤️. In this blog, you can learn all about my fun styling process.
Today, I'll share all my styling magic with you!
10 Basics Tips
Some basic tips, regardless of season, location, and motive:
Avoid matching outfits. Being m

atchy-matchy actually hurts the photoshoot potential. When you mix textures, fabrics, and colors you add diversity. Think about what goes great TOGETHER. Visually break the colors, think about dominant and accent colors.

Let your family wear what makes them feel comfortable. Whether it's a dress, jumper, shorts, jeans, etc.
Choose clothes that fit your body shape, not the way around. You know what looks gorgeous on you, follow your instinct. If you feel stunning, you'll look stunning. Be open to recommendations but stand your ground following your heart.
Dress warmly. Spring is beautiful, the colors are dreamy, but temperatures can be tricky, especially in March. Silk and satin are wonderful textures, but they can get wicked cold for sunrise sessions!
Have a spare set of clothes for the kids. Murphy happens! Your photographer will always remove stains in Photoshop but if being dirty can affect your kids' mood, extra clothes are a plus :)
When it comes to accessories, you know what you love. It can be a hat, a crown, a scarf, a necklace, or a gorgeous pair of earrings.
Don't forget about shoes. If you can't decide, barefoot always works. Bring flats for you, you can use them while walking to the specific location or even during the photoshoot if your feet need it :)
Avoid logos or graphics, it distracts and takes away from the emotion captured in the picture.
Avoid neon colors, these give an overcast to the skin that is not flattering.
Try your clothes in advance, avoid surprises on session day!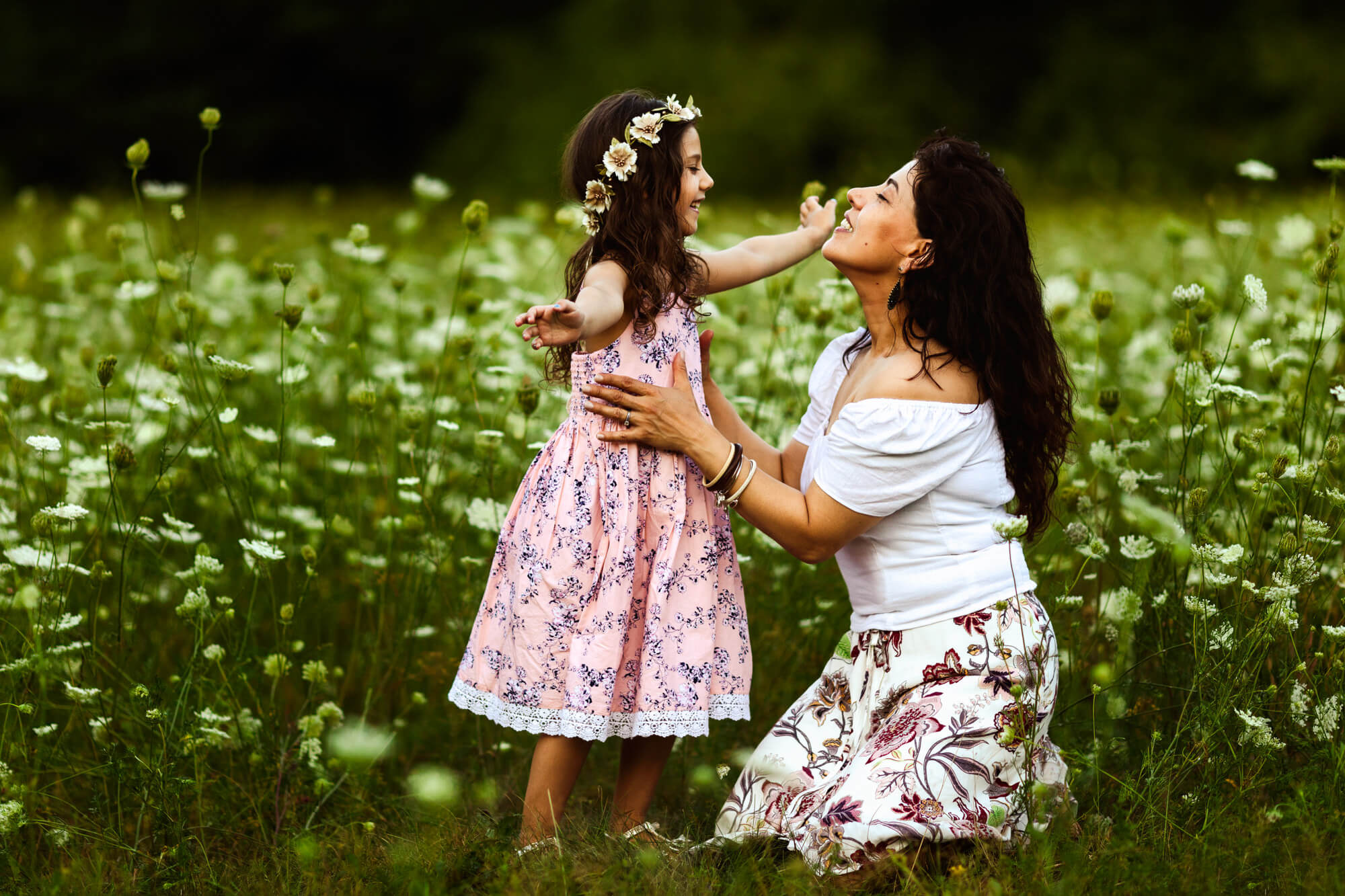 Spring Color Palettes
Boston is great in every season. But in Spring, it shows off its full colors. The ambient turns yellow, pink, light blue, lilac and white! Oh, and the tulips! Together with daffodils, cherry blossoms, and magnolias, they dominate the scene everywhere.
The Internet is crowded with all sorts of advice about the psychology of color, color theory, and fashion, so it can be overwhelming. Keep it simple and look at Mother Nature for inspiration, the goal is to complement your surroundings not to get lost on it (avoid green-grass color) or pop so much that it looks out of place (navy, save those tones for Fall). It's key to mix and match your favorite tones, you can pick 1-2 dominant colors and then complement them with accent colors. Remember to ALWAYS add neutrals to the mix. Below are some color palette ideas to get you started :)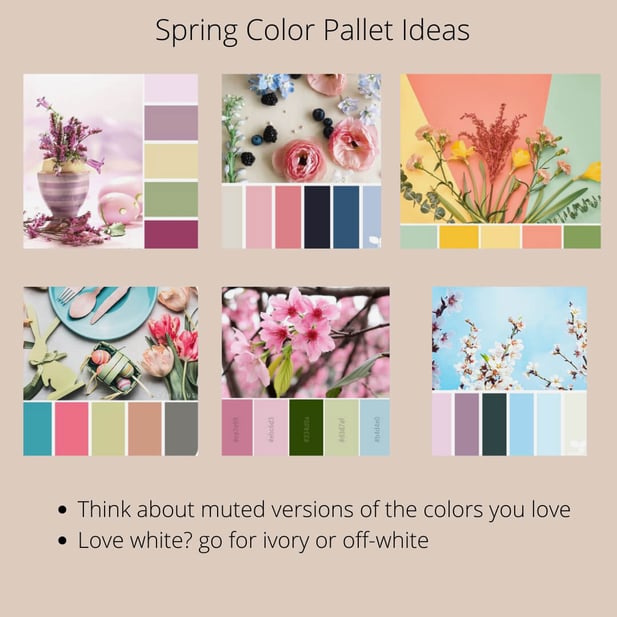 Bear in mind, these are just references. Which to use? How to wear them? Here's when it goes into a "grey" area (pun intended!). There's the issue of the colors you like versus the colors you LOVE to wear because they make you look stunning. Mind, you will not like every color that "goes with you". That's totally OK, that's actually how your personality shines through. Follow your heart.

Where To Start? Who Should I Style First?
It's not proven science, but just the way I start styling my clients. I always start with MOM. Everything else will fall into place once Mom's outfit is ready. You'll have an official color palette, you'll know what accent colors to work with, what dominant color to focus on.
There is also a big reason behind it, Mom usually drives the photo session moods. She is the one taking care of everyone on session day, if she feels STUNNING, GORGEOUS, and AWESOME she won't be uncomfortable and her bucket will be full. When our mom-buckets are full we can give love, attention, and care to others on session day. Believe it or not, the key to a successful photo is MOM. Happy Mom, happy tribe, happy tribe, loving moments, loving moments, candid captures :)
Here are a few examples of Spring Sessions I styled recently. I started with a Mom, then kids, and ended with significant other. It will give you an idea of how I think about dominant colors and accent colors. I mixed and matched textures, colors, and fabrics.
Why a dress?
Great question. First, you'll look gorgeous! There are so many dress options available that enhance your body style. But from a photography point of view, dresses and skirts add movement to the photo. They fly with the wind! It also gives you something to hold to as a prop. Imagine walking in an open field or standing at the beach holding your skirt :)
The key is to go after a maxi or midi dress. You want to be able to sit down and play with your kids without having to worry about your skirt. Also avoid a dress too tight, the more fabric the better. You'll enjoy looking like a comfortable goddess while the wind is blowing your hair!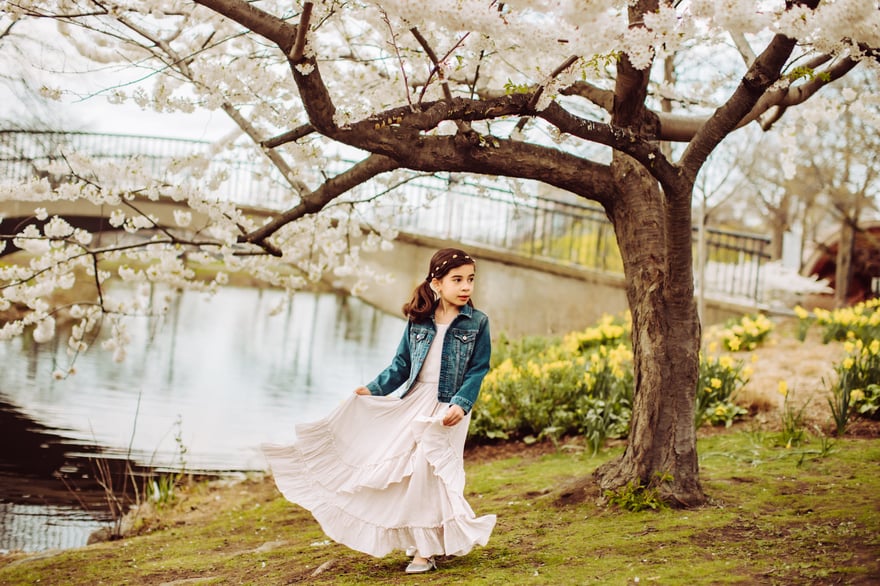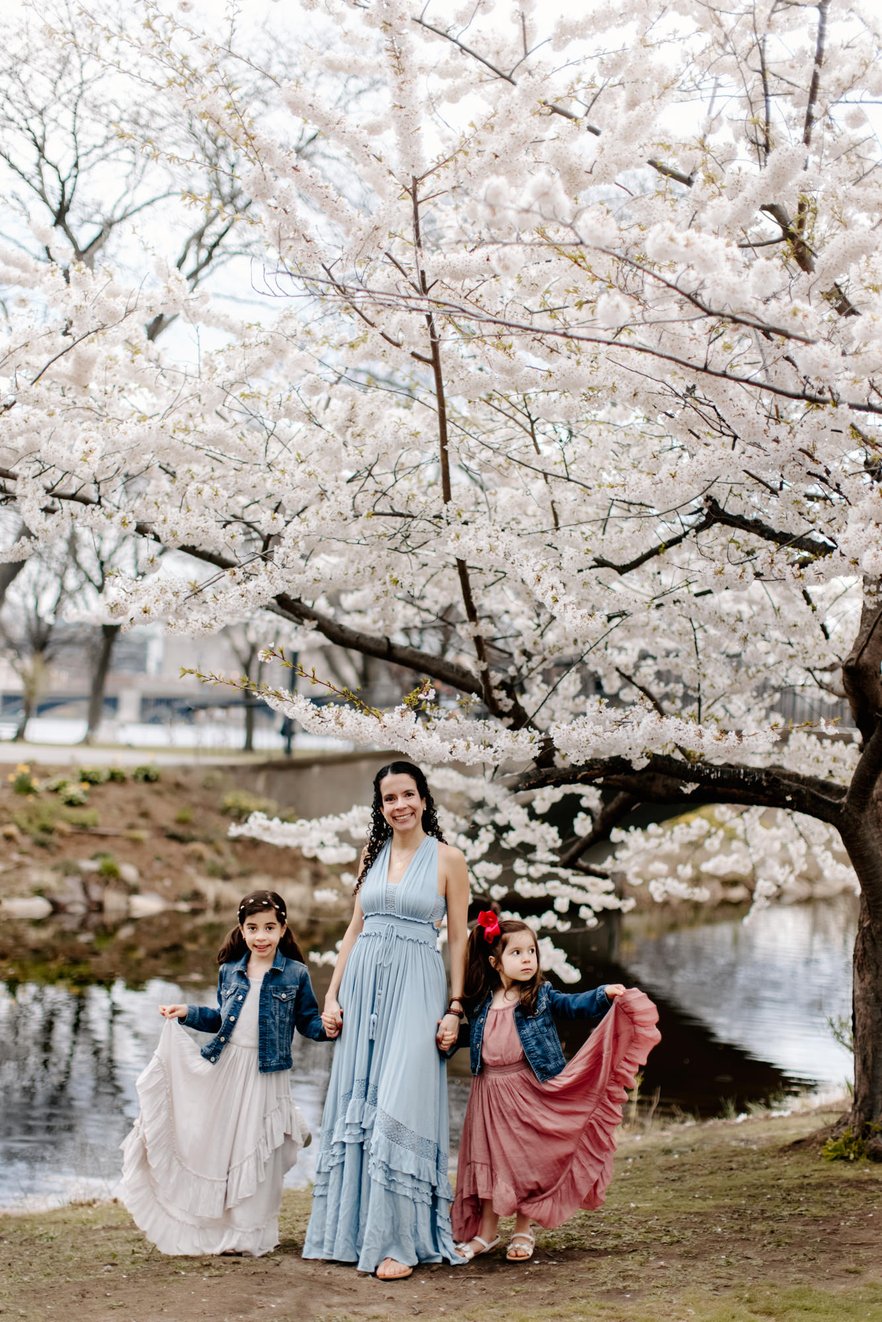 Should I think about layers?
Great point. During early Spring it can get a bit chilly in the morning. I recommend having the kids wear tights and light sweaters. Warm kids, happy kids. When you cross the late April / early May timeframe, the weather is warm enough to enjoy short sleeves and dresses without layers. Bottom line, bring light sweaters. You can get warmed up while you walk and then take it off for portraits :)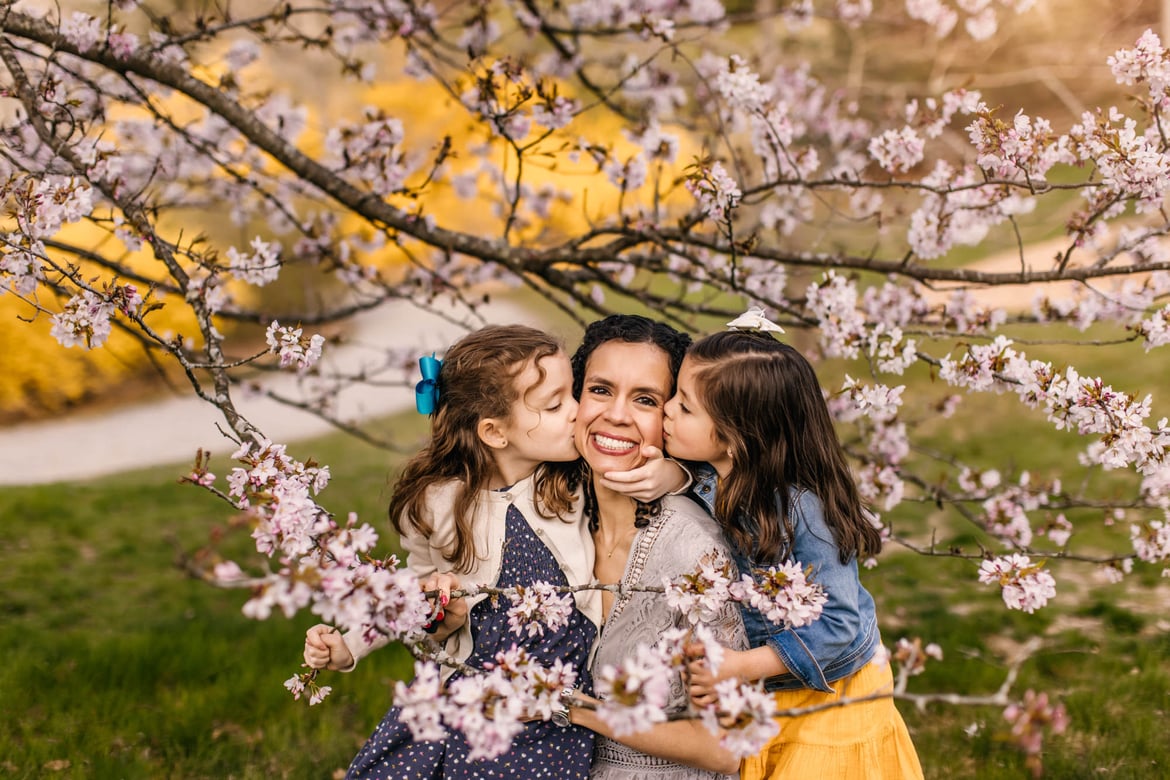 What Tools Are Available For Styling?
In this blog, I talk about all the tools to help you find your perfect outfits. In a nutshell:
Pinterest is your friend when thinking about styling. Many photographers have their own boards that will help you navigate wardrobes knowing that what you see as a PIN photographs is great. You can check my Pinterest board that I use to style my Spring Sessions.
Style And Select, Interactive Tool (subscription available only through your professional photographer)
Client Closets
Styling is key, even in daily life this applies. How you do feel with leggings and hoodies vs dressed up? When you spend time thinking about and picking your outfit, you feel gorgeous, with the energy to conquer the world!
For a family photo session, the same principle applies. You can even get poetic and think about how the wind will catch the fabric and bring life to your portraits and story. Think about the location, the surrounding Spring colors, and spirit! Most important of all, have your photographer help you out. Always show her or his pictures of the outfits beforehand to give you proper advice. No surprise on session day is a BIG win :)
But more than styling, never forget the main reason you're doing a photo session: love. Enjoy your time together. Spring is THE best season for family photos. There are no crowds, the temperature is fantastic, the colors are powerful, and the smiles are huge as we enjoy the longer days!
If you're craving a Spring Family Photos in Boston, you can check out everything about ATP's Spring Sessions.
Love,
Andre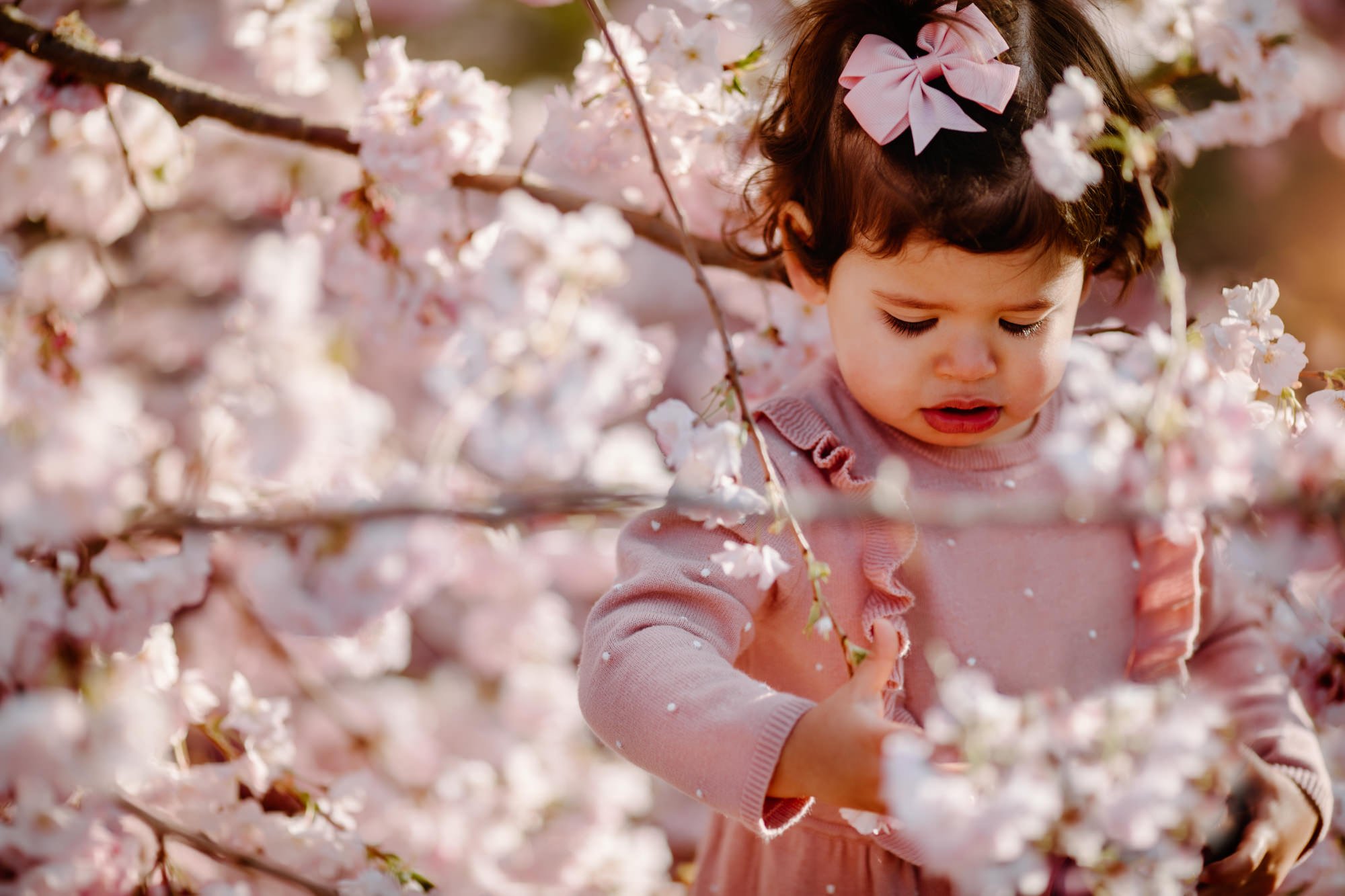 ABOUT ANDRE TORO PHOTOGRAPHY
Andre Toro is an award-winning family photographer based in Lexington, MA. She calls her style Real Art Photography, which she defines as Fine Art inspired by candid moments. Andre is a passionate soul, obsessed with human connection, and emotive storytelling. She believes love is raw, messy, and beautiful. To inquiry about booking a photo session, please contact her at andre@andretorophotography.com