I'm so happy you're here! You've booked your Autumn family photos, you're looking forward to memories surrounded by breathtaking foliage colors and golden grass yet you're in panic mode. WHAT SHOULD WE WEAR?? Fear no more, I'll help you navigate the options and even point you to my favorite shops.
Estimated Reading Time: 9min
In New England, Fall is THE season for family photos. Mother Nature puts on a show for us and there is beauty everywhere. From mid-late September to late November, every month is SO unique and charming. Regardless of the month that you book your session, the tips remain the same.
10 Basics Tips
Some basic tips, regardless of season, location, and motive:
Avoid matching outfits. M

atchy-matchy is a no-no. Visually break the colors, think about dominant and accent colors. Mix fabrics and textures.

Let your family wear what makes them feel comfortable. Today I'll walk you through gorgeous options with dresses, jeans, and even adorable shorts.
Choose clothes that make you FEEL gorgeous. You know what looks gorgeous on you, follow your instinct. If you feel stunning, you'll look stunning. Be open to recommendations but stand your ground following your heart.
Dress warmly, add layers. Fall is beautiful, the colors are dreamy, but temperatures can be chilly. Warm kids = happy kids.
When it comes to accessories, you know what you love. It can be a hat, a crown, a scarf, a headband, a necklace, or a gorgeous pair of earrings.
Don't forget about shoes. For Mom, leather boots work great, either tall or ankle boots. For the kids, make sure the show colors are neutral.
Avoid logos or graphics, it distracts and takes away from the emotion captured in the picture.
Avoid neon colors, these give an overcast to the skin that is not flattering.
Try your clothes in advance, avoid surprises on session day!
Mom put natural makeup on :) Nothing extravagant, just a natural touch-up to make you feel the special occasion while looking gorgeous!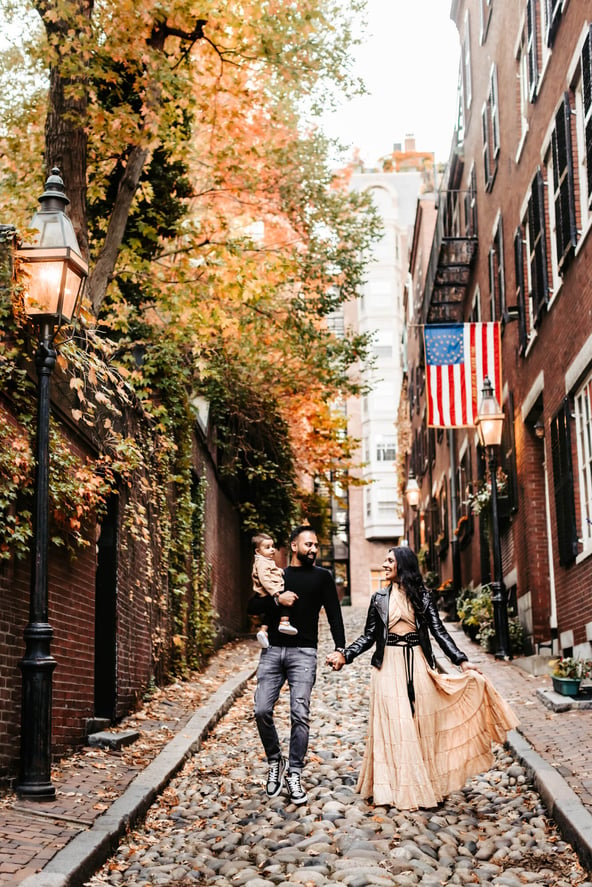 Has The Thought Of Picking Outfits Kept You From Booking Family Photos?
Styling is the most common concern moms have when they think about family photos. Life is busy already, we're running on a tight schedule, so thinking about HOW to take the time to assemble clothes can be VERY discouring to the point that you might skip the photos altogether. Fear no more! When you hire a professional photographer like ATP, you get the whole deal, a white-glove experience! What does this mean? we do the work for you. We style your family. Yep, you heard it correctly. In this blog, you can read all about this service (that it's included with every session!)
Today I'll share ALL my magic with you, yay!!! let's talk about Fall colors, layers, and styles. Wohoooo. Keep reading and get excited.
Fall Color Palettes
Boston is great in every season. But in FALL, New England shows off its full colors. The leaves start to turn their colors and golden grass stays with us throughout the season. It's beyond beautiful.
When thinking about what to wear, the goal is to complement your surroundings not to get lost on it or pop so much that it looks out of place. It's always a good idea to think about the muted versions of the colors you love. It's also key to mix and match your favorite tones, you can pick 1-2 dominant colors and then complement with accent colors, and don't forget to ALWAYS add neutrals to the mix. Below are some color palette ideas to get you started :)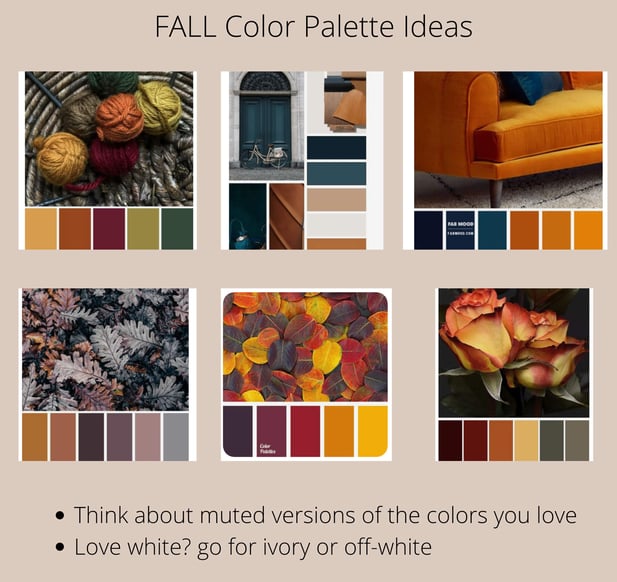 Should I think about layers?
Great point. In Fall it can get a bit chilly in the morning or close to sunset. I recommend having the kids wear tights, vests, knitted hats, and sweaters. Think about adding many layers. Undershirts are a GREAT idea. Warm kids = happy kids. When you cross the early November timeframe, the weather becomes colder and jackets might be needed. Make sure to love the jackets, they might make it in some photos. You will all get warmed up with jackets while you walk and then take layers off for portraits, we'll also keep cuddles in between to warm up your little ones :)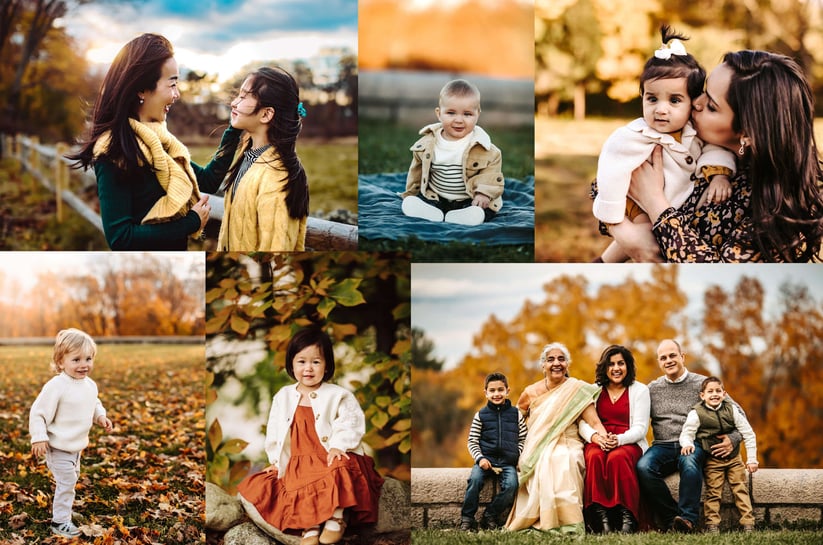 Where To Start? Who Should I Style First?
It's not proven science, but just the way I start styling my clients. I always start with MOM. Everything else will fall into place once Mom's outfit is ready. You'll have an official color palette, you'll know what accent colors to work with, what dominant color to focus on.
There is also a big reason behind it, Mom usually drives the photo session moods. Why? she is the one taking care of everyone on session day, if she feels STUNNING, GORGEOUS, and HAPPY....her bucket will be full. When our mom-buckets are full we can give love, attention, and care to others on session day. Believe it or not, the key to a successful photo is MOM. Happy Mom, happy tribe, happy tribe, loving moments, loving moments, candid captures :)
I recommend styling MOM, then the kids, and finally the other parent :)
It's an easy process, I promise. I've got your back, as an ATP client, I'll be happy to style your family.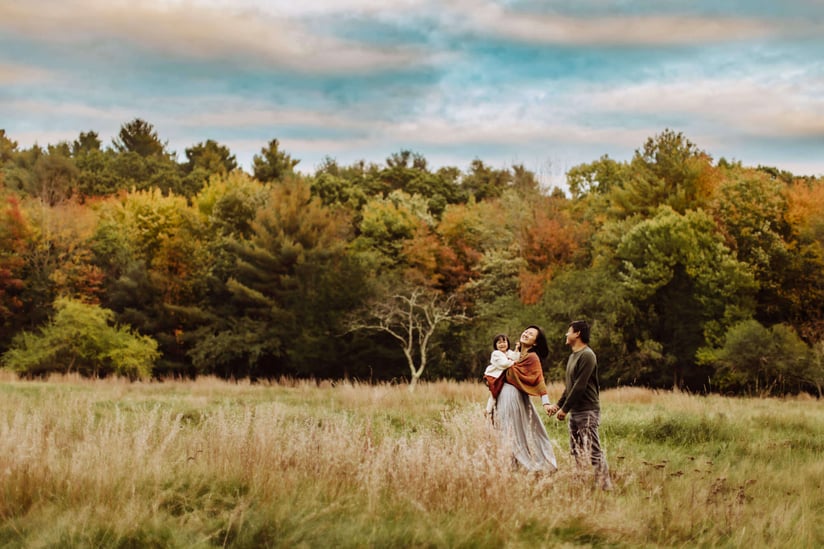 STYLING MOM
Why a Maxi dress?
Great question. First, you'll look gorgeous like a goddess! But from a photography point of view, maxi dresses and long skirts add movement to the photo. They fly with the wind! It also gives you something to hold to as a prop. Imagine walking in an open field or looking into your husband's eyes while playing with your skirt :)
There are so many maxi dress options available that enhance your body style. You'll enjoy looking like a goddess while the wind is blowing your hair!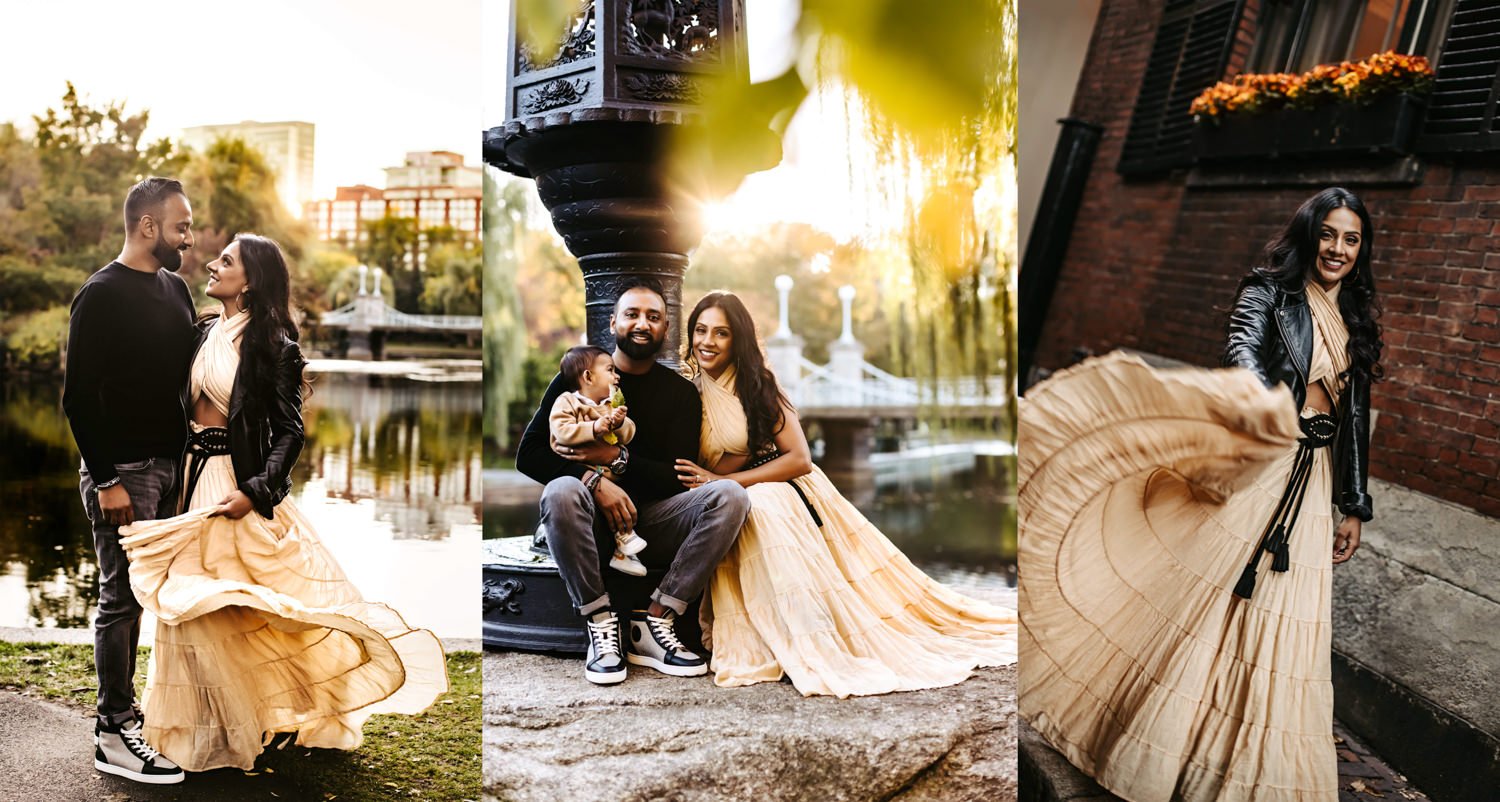 And what about a Minidress?
Absolutely! Not everyone likes flowy long dresses and that's 100% ok. Mini dresses are so charming! Add a pair of boots and you'll look incredible.
My recommendation would be to pick that that allows you to sit down and play with your kids without having to worry about your skirt. Also avoid a dress too tight, the more fabric the better.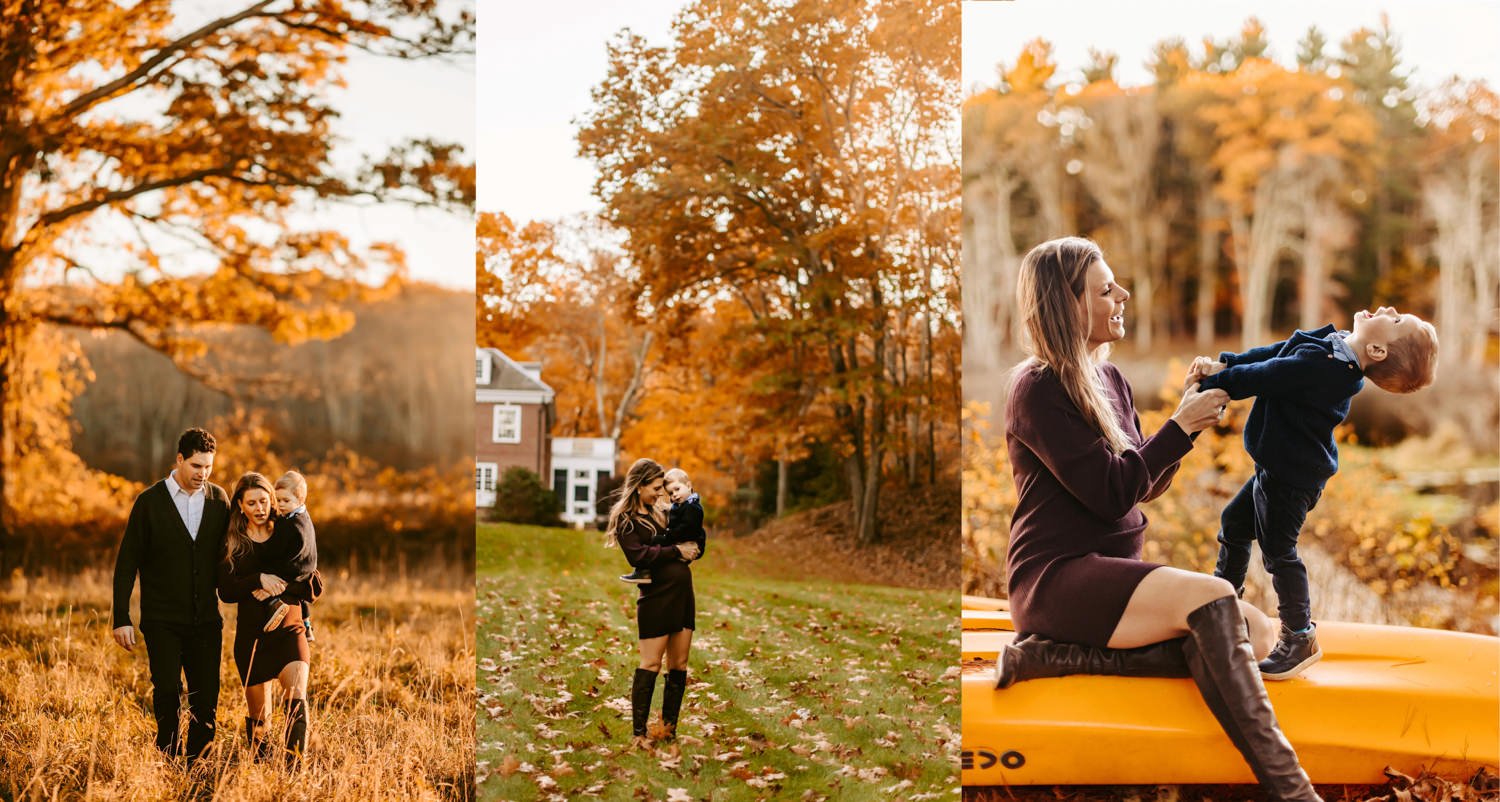 What about jeans?
Jeans work as well! You can absolutely rock a session in jeans! Make sure you add different top colors for everyone to make it interesting to the eyes. You KNOW YOU, if jeans are where your heart is, go for it. Don't let the trends get in the way.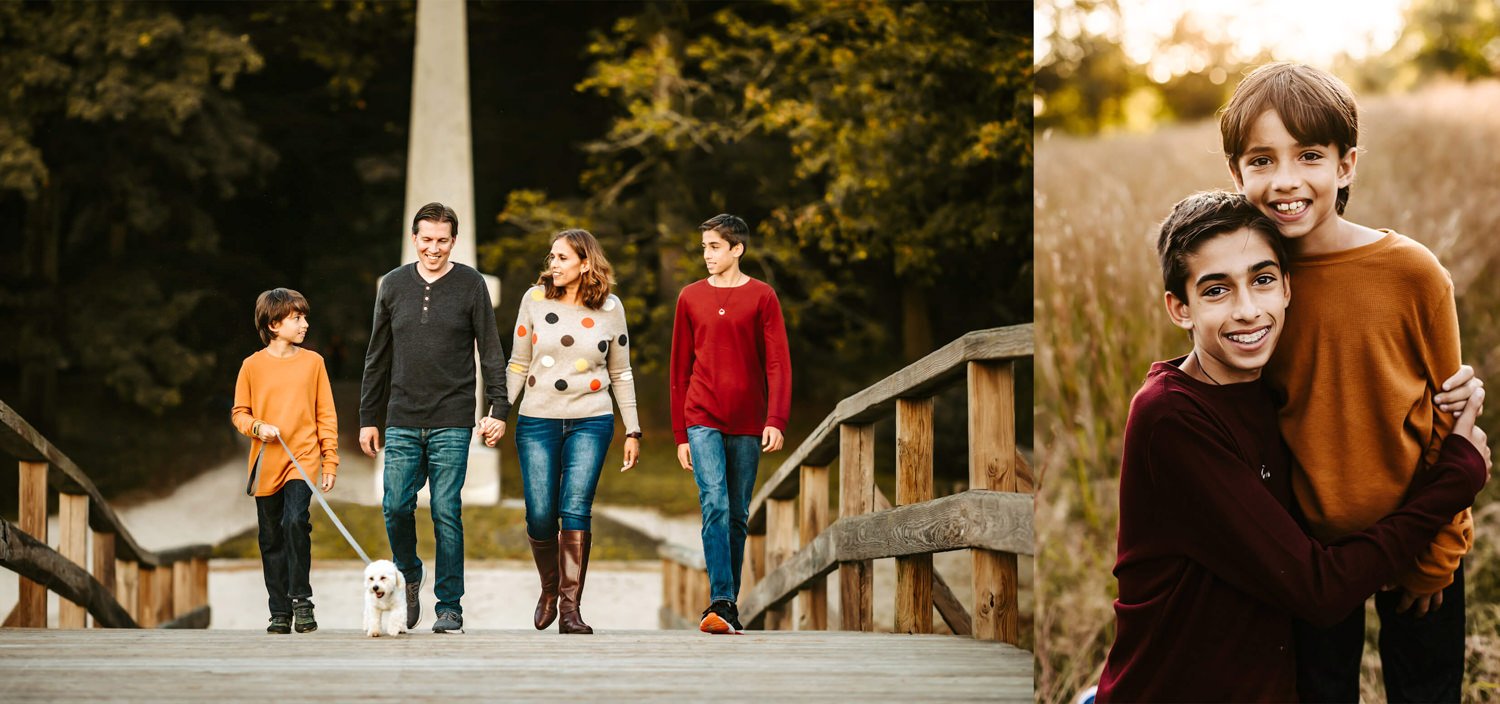 What about fabrics with patterns?
I personally LOVE patterns. It adds mood & feel to the photos. The caveat is that only 1 person gets to wear prints and the rest should be in solid colors. You don't want competing patterns.
How gorgeous is this couple? they rocked their outfits! You can see also how a formal dark jacket makes THE perfect outfit to complement her dress.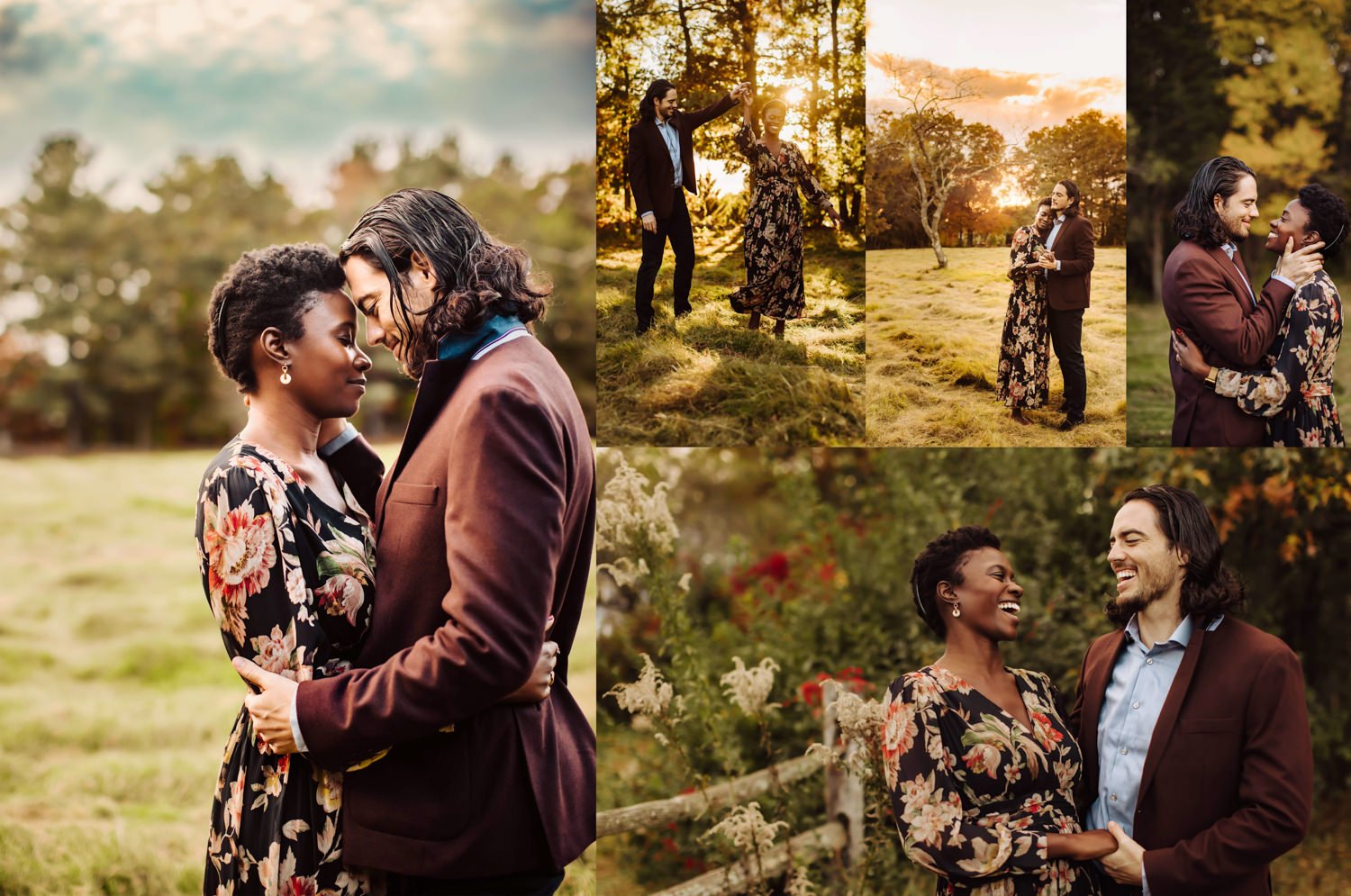 So mom is ready!
If you have daughters & sons, I would always start with the girls! There are so many more options to pick from and then your boys will be an easy pick. Complementing the girls of the house.
STYLING YOUR DAUGHTER
Little girls in maxi dresses
Similar to Mom's outfit, with long dresses there is so much movement captured in the photos. The wind always plays a role in photo sessions and a maxi dress makes the best out of it.
In the Fall, you will probably have the girls wearing sweaters, and then it looks like maxi skirts! It's so cute! With sweaters on and off you get different looks and feel.
Here are a couple of photos of ME & my family. I LOVE my girls in maxi dresses!

Little girls in short dresses
Beautiful as well! Not everyone likes maxi dresses and that's 100% OK. My twin sister has 3 girls and she LOVES short dresses instead!
There are SO many short dresses that still create movement!! You won't compromise the movement if you find the right short dress.
More than the length, make sure you pick colors that complement each other. In this case, the little one actually has a pattern, then the older sisters have solid colors. They are actually ALL the same dress in different colors!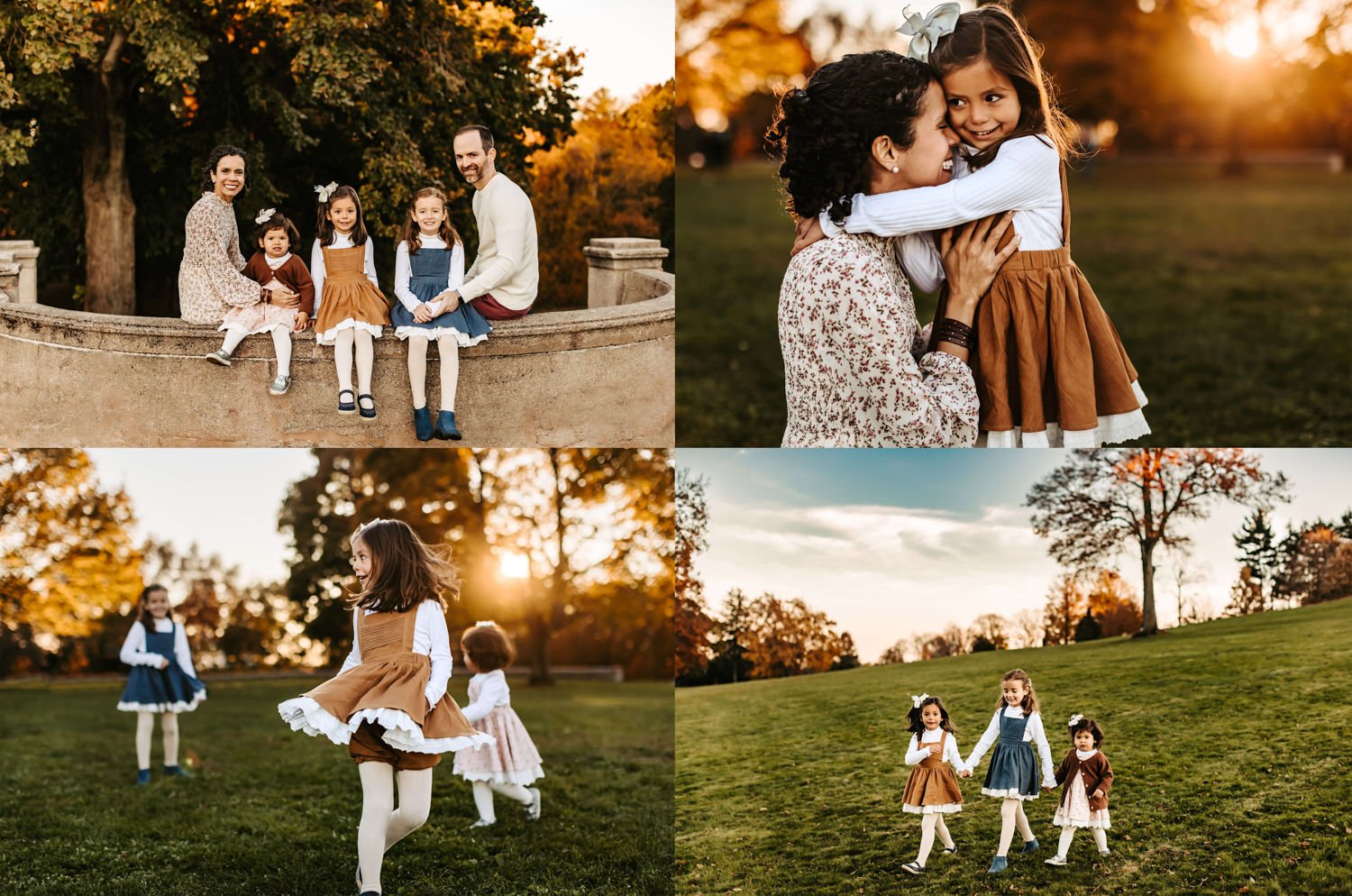 What if my little one is not into dresses?
Oh, fear no more!! Shorts are BEYOND adorable in little girls! Add a pair of tights to contrast the shorts and voila! You have a little princess in the most adorable outfit!
It's all about mixing fabrics + colors. Shorts are ALWAYS an option! It's an underused outfit that I LOVE SO MUCH!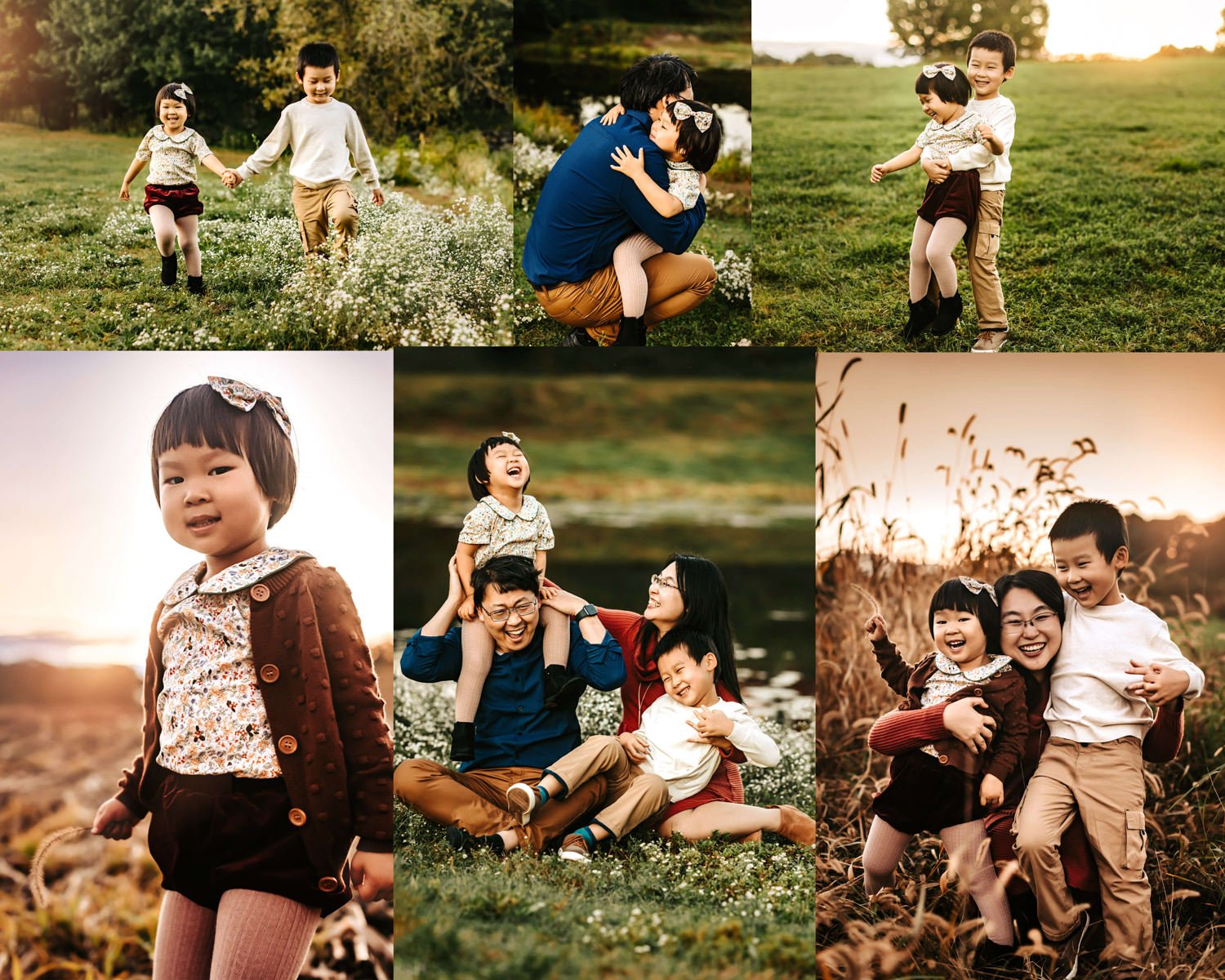 What about Teenager girls?
My recommendation is to let them pick their outfits. You want to make sure they're HAPPY. So in this case I would start with THEIR outfit and then have Mom in neutral tones. Let them wear sneakers with their dresses. They'll ROCK their outfits!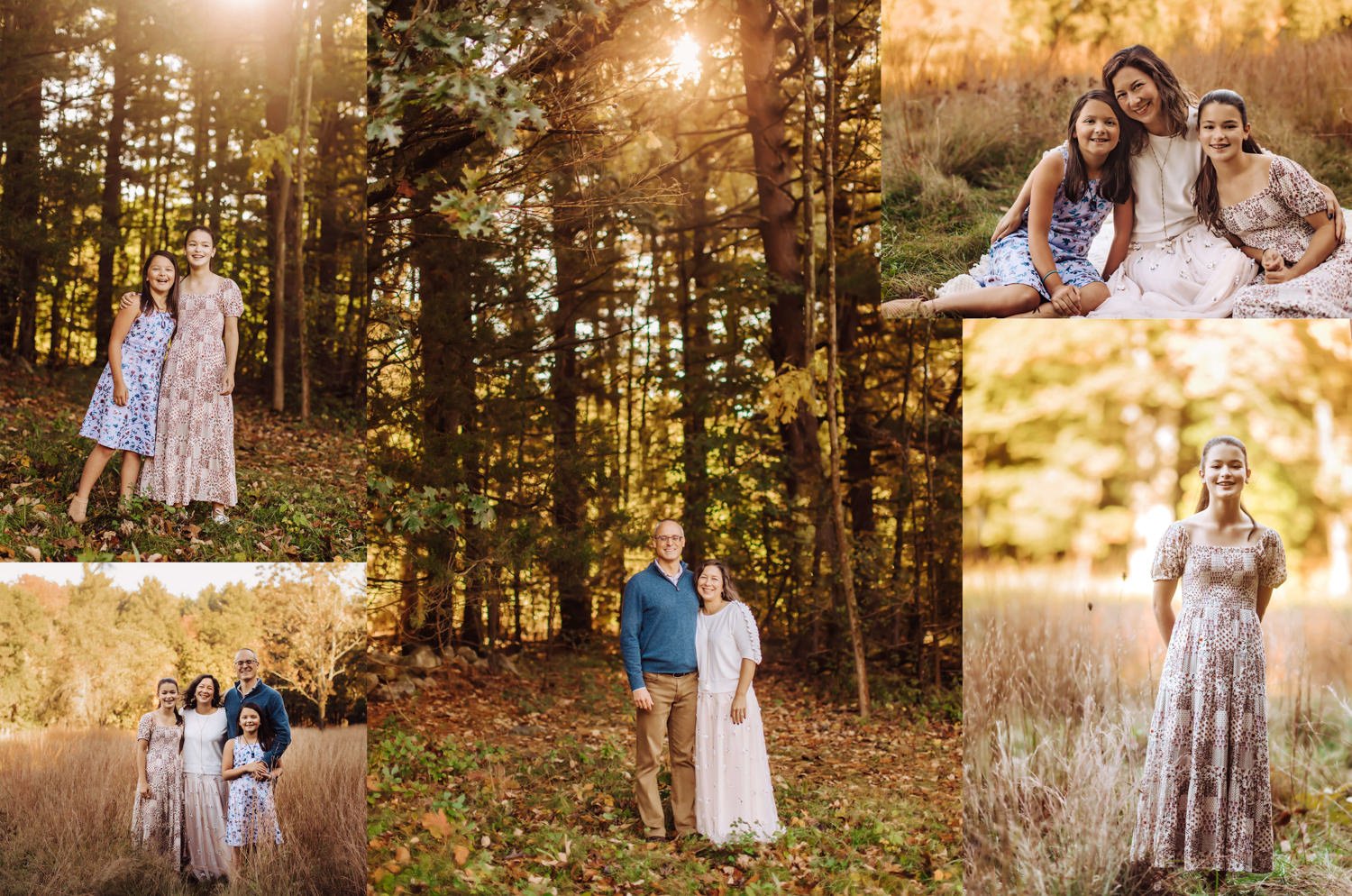 Mom & girls are done! Now, let's move to the boys!
STYLING YOUR SON
Little boys
Jeans are ALWAYS an option! Mixing an overall with regular jeans adds to the nostalgic mood!
Both hoodies and regular sweaters work as well! Just mix and match within the color palette you choose.
Below are examples of their 2020 and 2021 outfits! They ALWAYS rock their styling!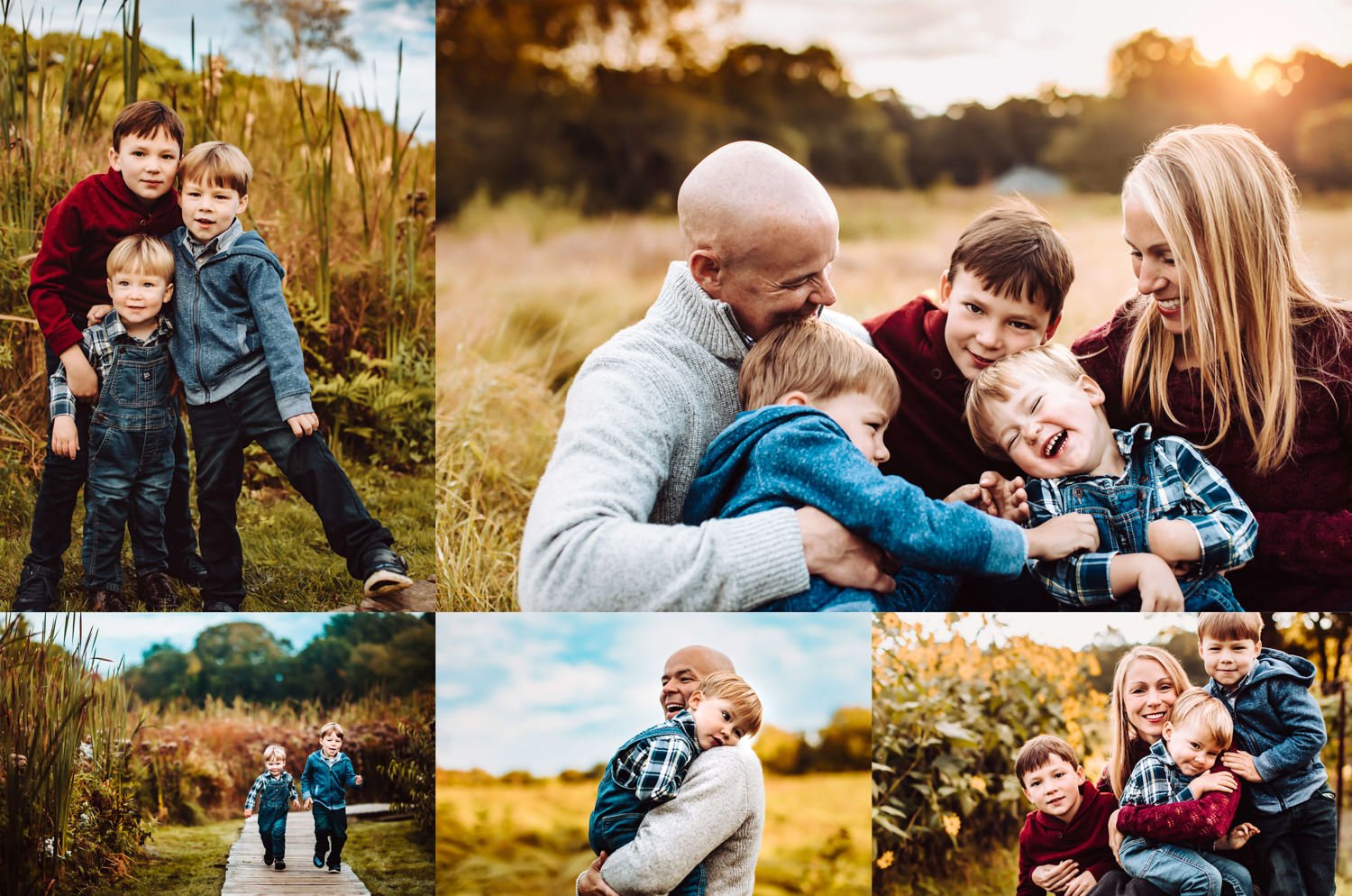 Teenager boys
For teenager boys, I would go with neutral tones, jeans, or khakis. The most important thing is SHOES!!! This generation is usually in sports shoes... haha make sure you nail the shoe selection with enough time! :)

STYLING BIG FAMILIES
For big families, I would recommend adding more neutral tones. I wouldn't add multiple colors to the mix. You don't want competing colors, we want it to flow with a theme of neutrals ❤️. It will be all about those candid smiles! Let mom be the pop of color.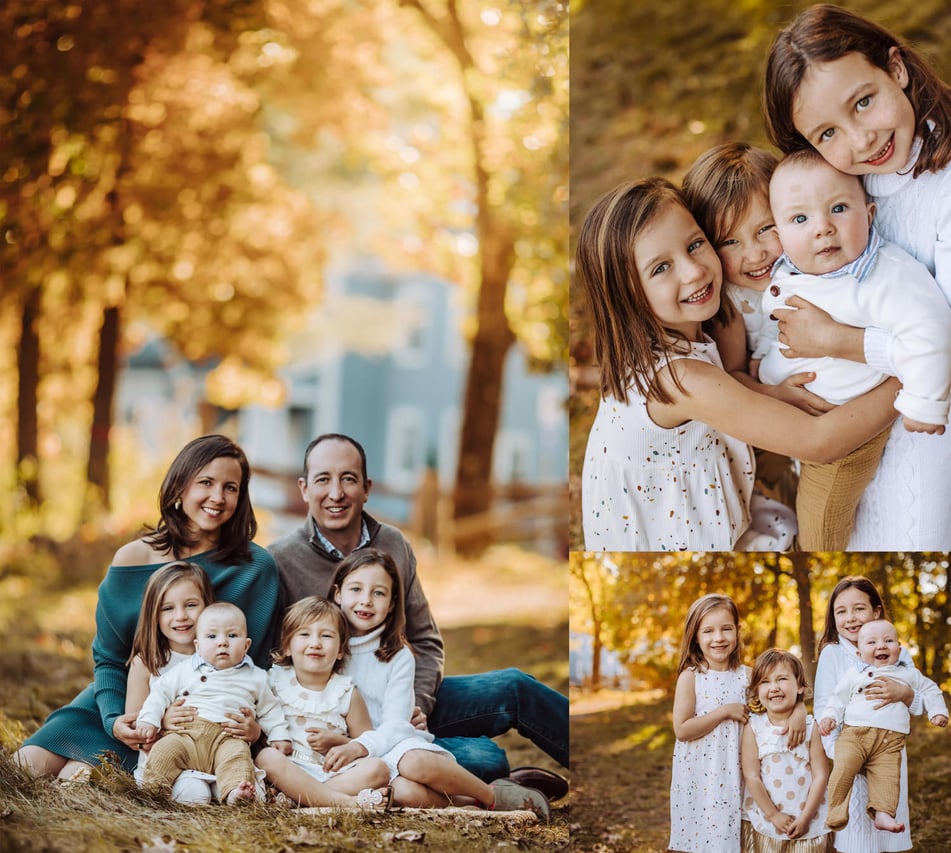 Depending on what you choose for you and the kids, you'll then style the other parent. That person will be wearing neutrals. Let that person be muted in tones! And that's it, your family will be completely styled and looking GORGEOUS!!!
What Tools Are Available For Styling?
In this blog, I talk about all the tools to help you find your perfect outfits. In a nutshell:
Pinterest is your friend when thinking about styling. Many photographers have their own boards that will help you navigate wardrobes knowing that what you see as a PIN photographs is great. You can check my Pinterest board that I use to style my Fall Sessions.

Style And Select, Interactive Tool (subscription available through your professional photographer)
Client Closets. Some photographers like myself offer a small collection of mom & girls' dresses that photograph BEAUTIFULLY. Make sure you ask!
Some Of My Favorite Stores


Moms

Girls

Boys

Babies

Etsy (you can find GORGEOUS baby outfits but order with time. Shipping takes long)

Dads
Styling is key, even in daily life this applies. How you do feel with leggings and hoodies vs fully dressed up? When you spend time thinking about and picking your outfit, you feel gorgeous, with the energy to conquer the world! For a photo session, the same principle applies. You can even get poetic and think about how the wind will catch the fabric and bring life to your portraits and story. Think about the location, the surrounding Fall colors, and spirit! Most important of all, have your photographer help you out. Always show her or his pictures of the outfits beforehand to give you proper advice. No surprise on session day is a BIG win :)
But more than styling, never forget the main reason you're doing a photo session: love. Enjoy your time together. Fall is THE best season for family photos. Mother Nature puts on a show, the temperature is a bit chilly but delicious, the colors are powerful, and the smiles are huge as we enjoy cuddles and hugs!
If you're craving Fall Family Photos in Boston, you can check out everything about ATP's Fall Sessions.