One of the most known phrases (if you're a GOT fan) is WINTER IS COMING! Well, for family photographers our favorite phrase is FALL IS COMING. I even own a shirt with that slogan! Fall is MAGICAL, BREATHTAKING & CRAZY BUSY for family photographers in Massachusetts. It's a photographer's dream. We get inspired by Fall colors and family's love, we shoot nonstop for ~10 weeks. For me, Fall is THE best season for family photos, Mother Nature puts on a show and it provides epic surroundings for emotive storytelling. Today I'll share the Fall beauty you can expect in the Boston Area from mid-September to mid-December. Let's get started, Fall Photography will take your breath away!
Estimated Reading Time: 10min (tons of photos per month ❤️👍)

When to book your Fall Family Photo Session?
Let's get logistics out of the way. The answer to this question is yesterday... LOL. I mean it, Fall is the most popular season for photos in New England. Why? the FOLIAGE. It's breathtaking, it's beautiful, and it's beyond your (and my) wildest dreams.
Photographers release their Fall calendar VERY early in the year! Repeat clients get the first pick (I email my ATP Newsletter with Fall dates in mid-January) then the dates are published to the world. We get completely sold out by early September at the latest.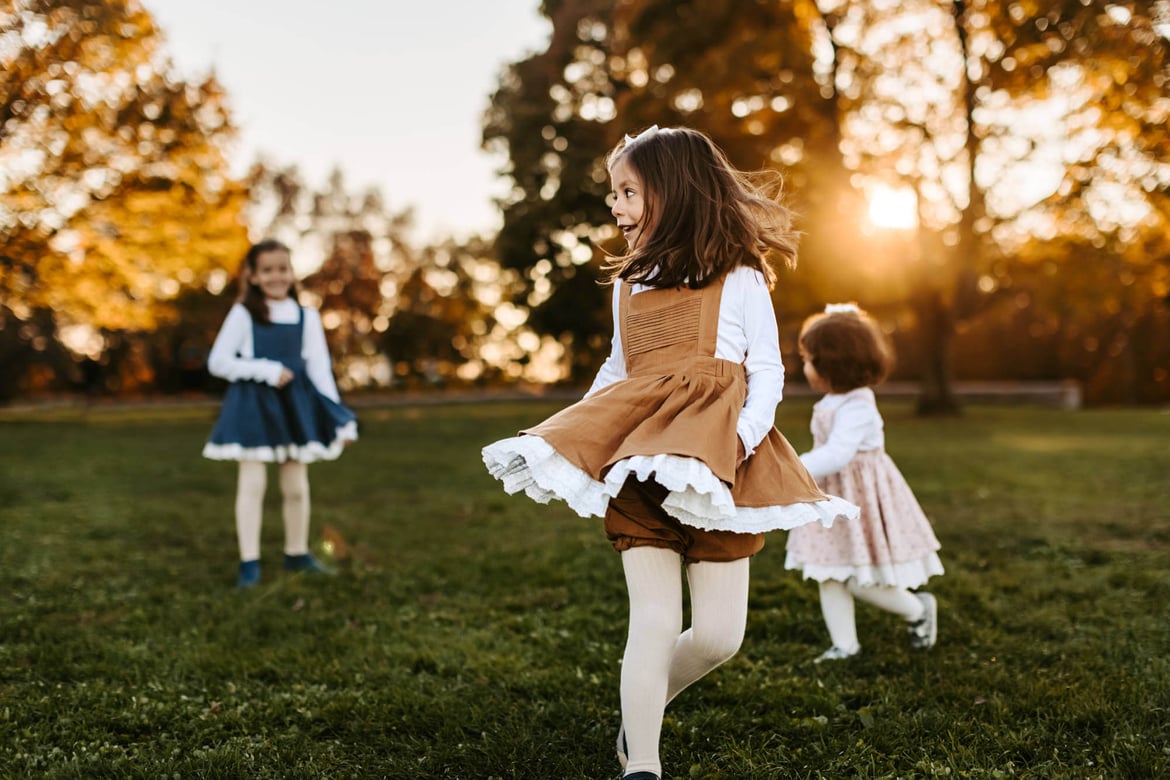 What's the best month for my Fall Family Photos: September / October / November?
Foliage takes place in mid-October (give or take), Mother Nature NEVER tells us when she'll be at peak but if previous years are a good reference, then mid to late October is a solid guess. So yes, in mid-October most of the trees will be starting to scream color. But in the same way that there are no 2 identical humans (not even twins!!) there are no 2 trees alike. This is good news!! Photographers scout ALL the time, especially in Fall. Every location has its own fall timing. We follow the leaves! In 2021, I started shooting Fall Sessions in Lexington, then moved around Concord, Belmont, Weston, Carlisle, Boston, Lincoln, and back to Lexington. Every year is a bit different, I'm constantly scouting hidden gems!
I'll walk you through sessions from 2019 and 2021 shot from Mid September to Mid December. The magic is there no matter the week or month ❤️
Mid-September
Bold colors are a stretch! but you might get lucky! You would never know that I shot this session on September 15th. This family had a limited Mid-September availability, I scouted and found a hidden gem. Yes!! some trees decide to go WILD in color in September. So if your family's calendar asks for September, don't hesitate, go for it. It's all about your photographer's scouting broadly!
Location: Lexington, MA (2019)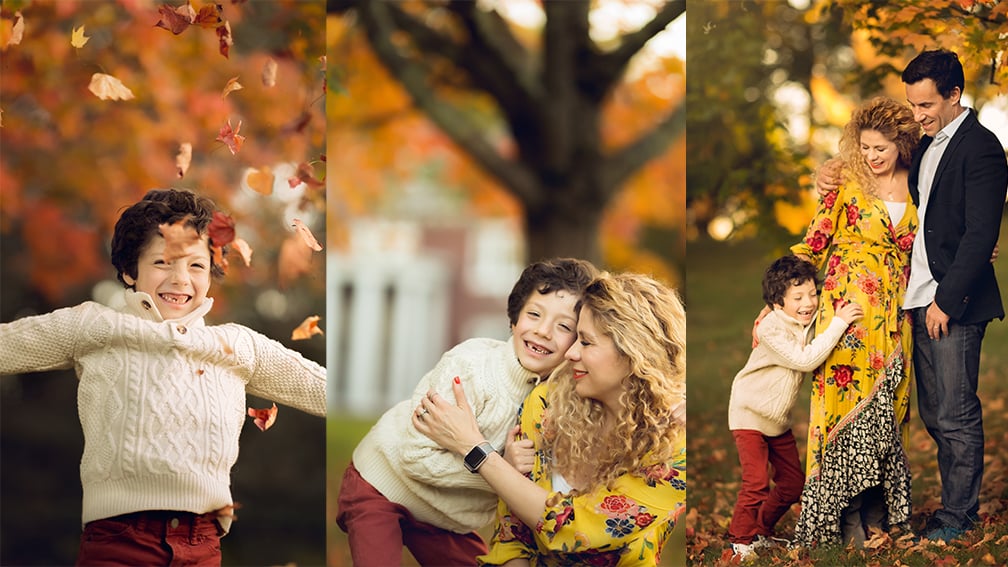 Golden tones are everywhere! Some families prefer golden tones instead of bold leave colors. If this is your case, September IS THE MONTH FOR YOU!!! There are golden tones in the most beautiful open fields! The best part is that the GOLDEN grass remains still very tall all month (woohoo), the radical landscaping takes place when it gets much colder.
This gold grass is a photographer's dream and BIGGEST obsession. Yes, for me, even more so than the colorful leaves.
Location: Carlisle (2021)


Early October
In October the possibilities open up and foliage is more predictable. The golden grass tones remain present regardless of the leaves.
Finding an open field full of gold grass is the best feeling in the world? What makes it difficult to find? THE TOWNS CUT THE GRASS in October. Can you believe that?? who dares to cut the most adored golden grass LOL. The grass we (photographers) have been waiting for ALL YEAR LONG for. We have to scout the same day, literally same day. The grass that you see today might be ALL GONE tomorrow. I once tried to negotiate with a landscaping guy cutting the lawn in Lincoln... haha if ONLY I could access the town's cutting-grass-calendar ;)
Location: Boston, MA (2021)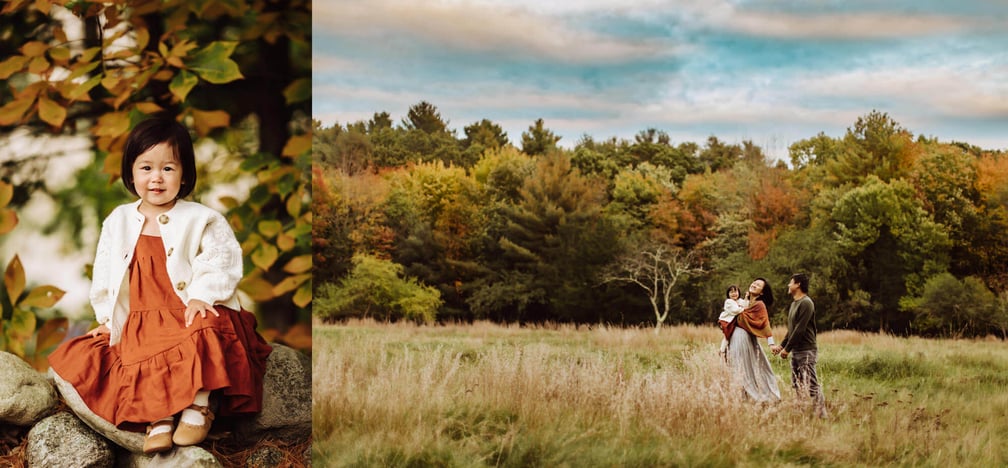 Location: Lexington, MA (2020)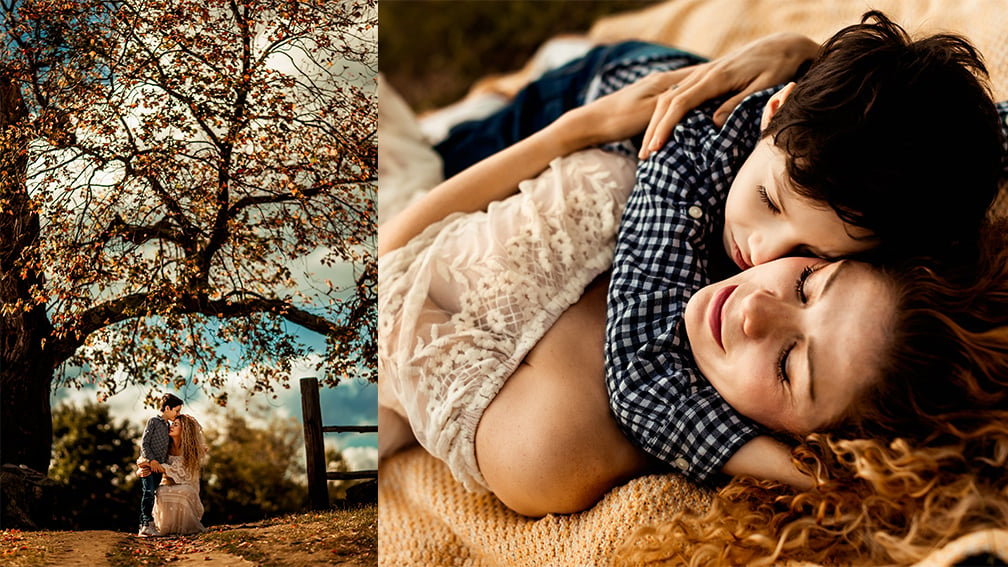 Location: Concord, MA (2020)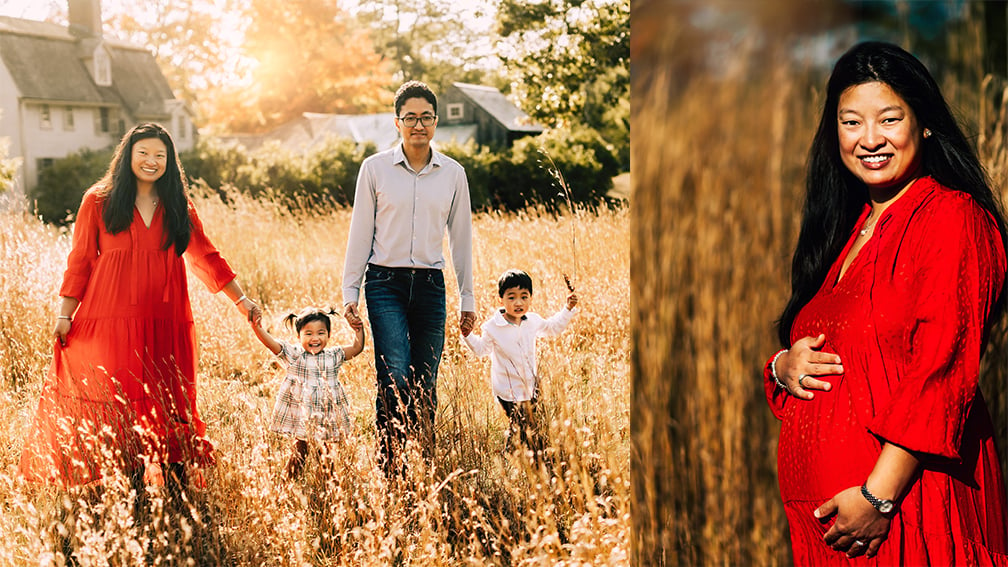 Mid October
Yay! The leaves start to change color. Here is where your photographer's 24x7 scouting pays off. We'll be monitoring trees like crazy, over the years we become best friends with Mother Nature and we can predict (we're not magicians but very close LOL) where will be a gorgeous spot to shoot during this time.
In New England that foliage goes in waves, which is awesome! In Massachusetts, around the Boston Area, starting Mid-October, there is always an area with amazing colors from golden to gold tones waiting for us. In addition, the GOLD tones are still there, it's a dream come true.
Location: Belmont, MA (2019)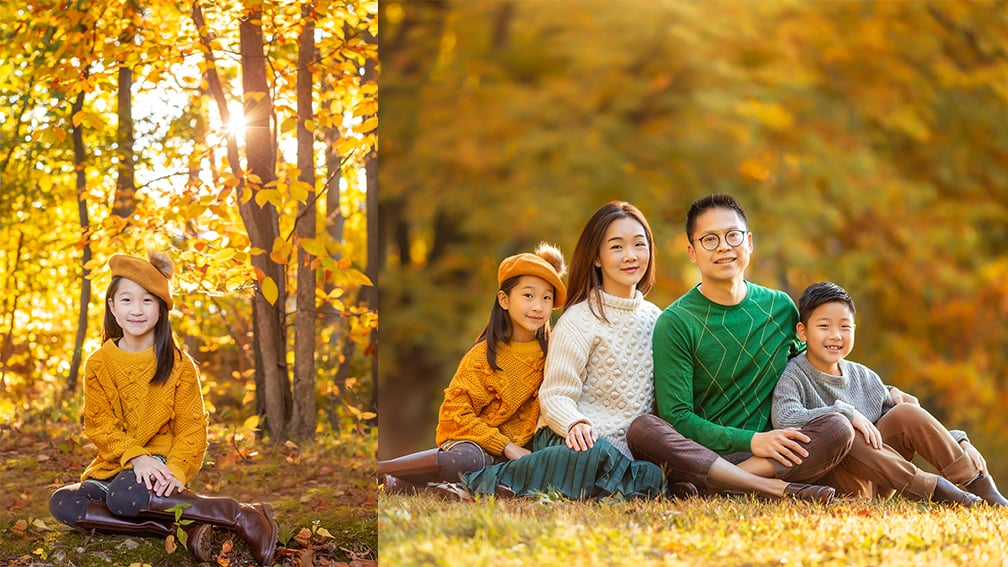 Location: Canton, MA (2020)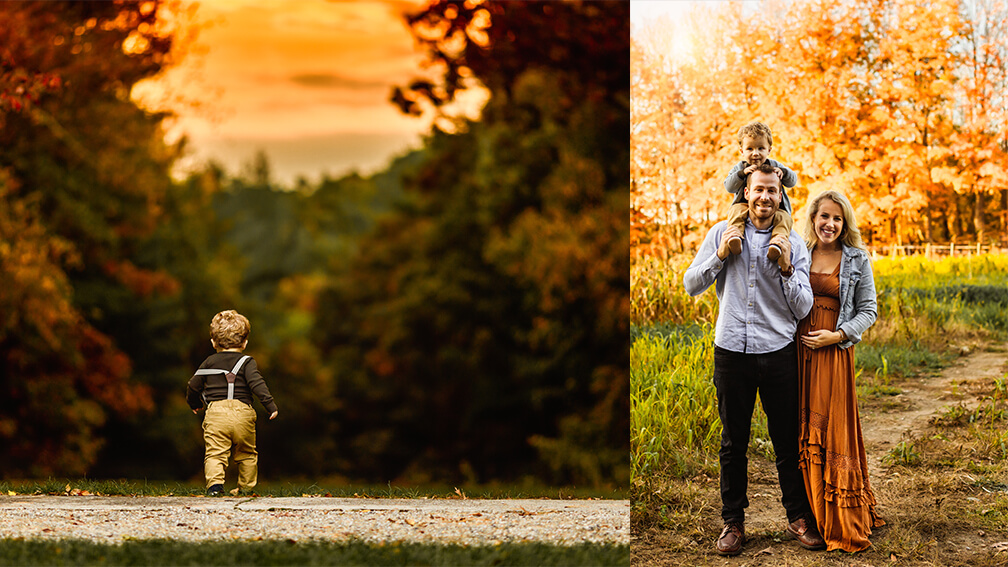 Location: Concord, MA (2020)


Location: Boston, MA (2021)


Mid-late October
For me, this is the best bet to book your photo session if you're looking for bold colors. You'll have the best chance to catch the peak foliage. The colors speak for themselves. This is the busiest for photographers and the first weekend to get booked. If you're flexible and a weekday works for you, go for it. Fewer crowds and gorgeous tones!
I LOVE finding hidden gems to avoid the crowds. Location is to a photographer like a recipe is to a chef. My peak foliage locations are well-kept secrets, haha ;)
Location: Lexington, MA (2019)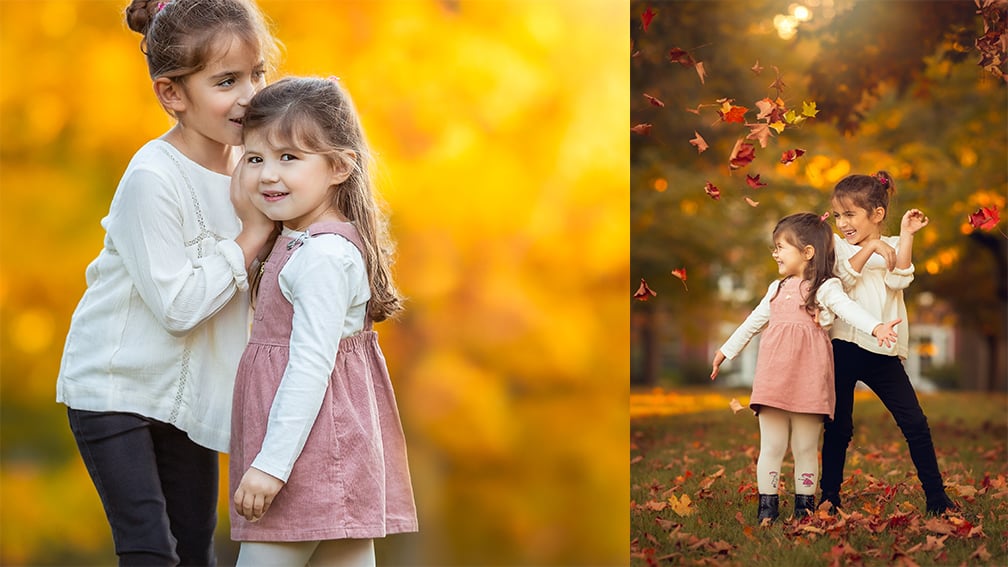 Location: Canton, MA (2020)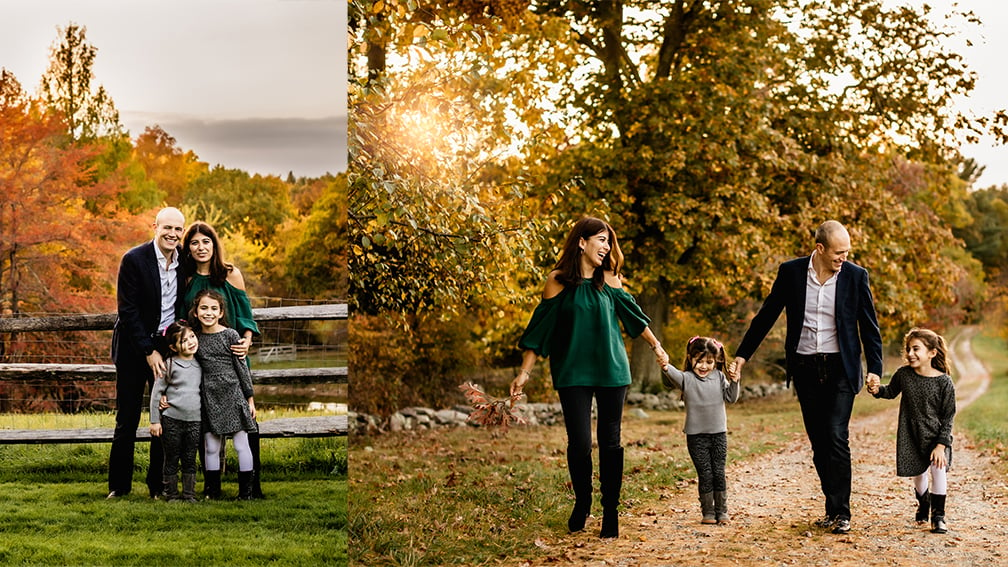 Location: Boston, MA (2019)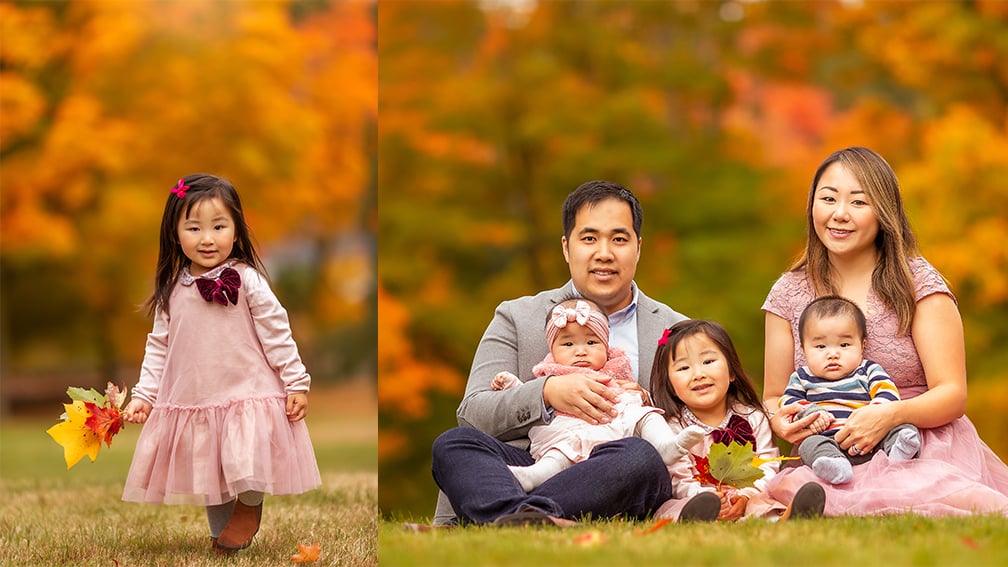 Location: Carlisle, MA (2020)


Location: Lexington, MA (2021)


Late October
Late October is a hit or miss depending on the year. In 2019, we had standing yellow trees until Halloween. The super colorful tree you see here with the family sitting below it was taken on October 29th, 2019!! Can you believe that?
If you book your session for the last days in October, be flexible. You might have a stunning yellow/orange/red as background or you may not. What I can tell you is that the fallen leaves are BEAUTIFUL. Mother Nature lets us play with leaves until the end of the year. And remember, you will always have the gorgeous golden grass tones to contrast with the blue skies ;)
Location: Lexington, MA(2019)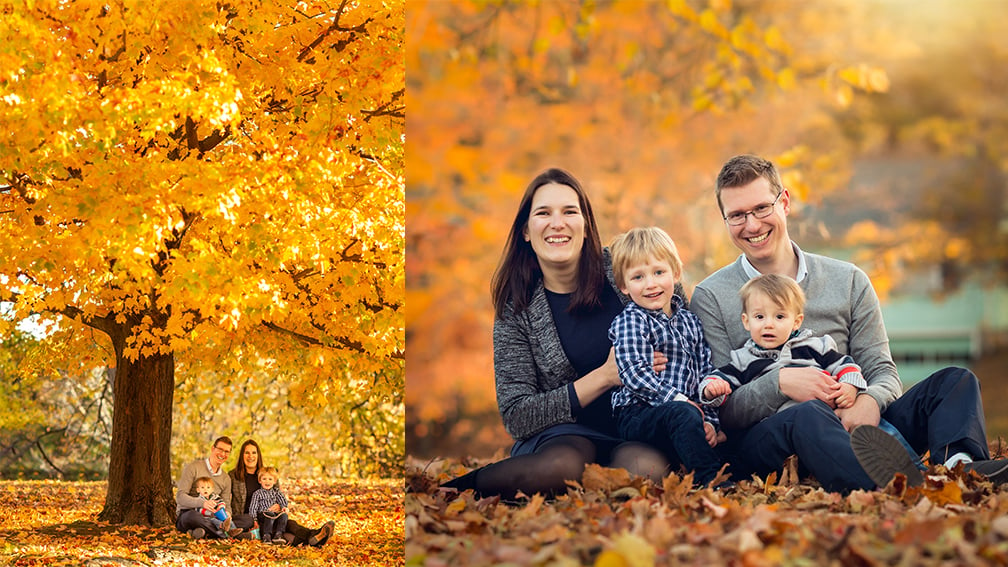 Location: Concord, MA (2020)


Location: Lexington, MA (2020)


Location: Lexington, MA (2021)



Early November
Believe it or not, these weeks are the hardest for clients (but not for photographers!). Moms might stress out that the leaves are falling from trees, they want to hold the leaves with their eyes praying that they will last until their Fall photo session.
For me, it's a new beginning. The locations start to be super flexible again because I'm not the "tree hunter" anymore.. LOL. I'm not analyzing the wind + rain + trees 24x7 (yes, my engineer hat almost has me running a mathematical model for trees with standing colorful leaves). Now is back to normal scouting (like THE rest of the year except those 2-4 weeks of foliage). I scout for locations that allow for candid love and emotive Fall storytelling.
Location: Concord, MA (2020)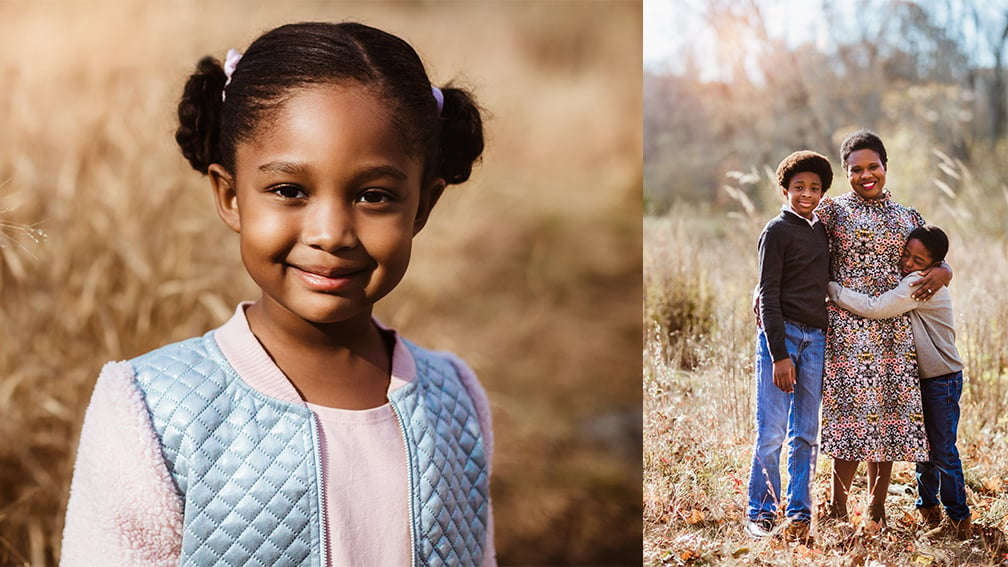 Location: Concord, MA (2020)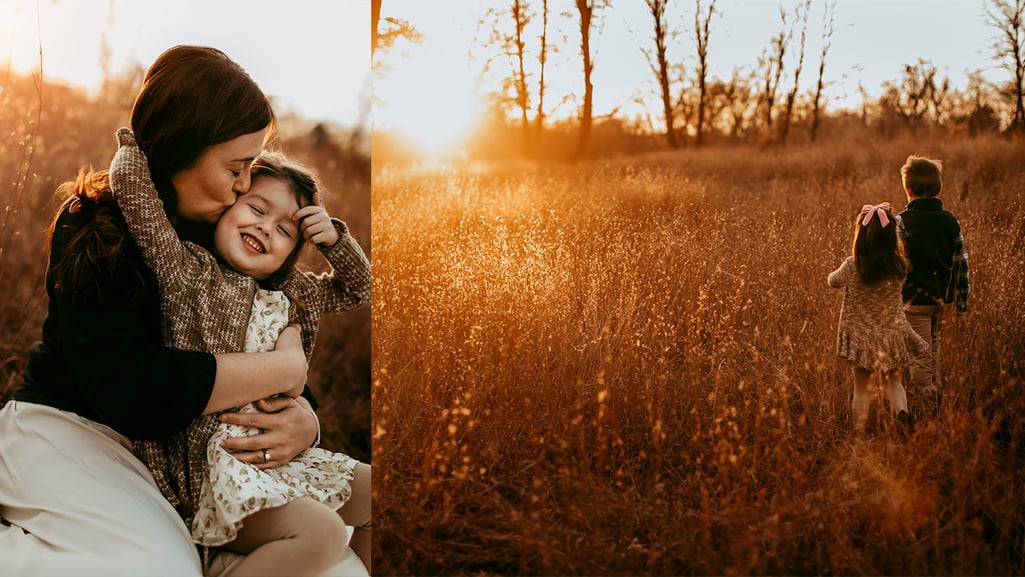 Location: Boston, MA (2021)
The city offers so much beauty in late fall. Some trees in Acorn St might still have color and then Boston Public Garden will showcase the most spectacular evergreen trees!


Mid-Late November
Some locations can surprise us with 1-2 trees that still have color! It's rare but not impossible! This session below was shot at a gorgeous barn that had ONE tree with bold yellow leaves! We had some unexpected (beautiful) color in the photos 💛
Location: Lincoln, MA (2021)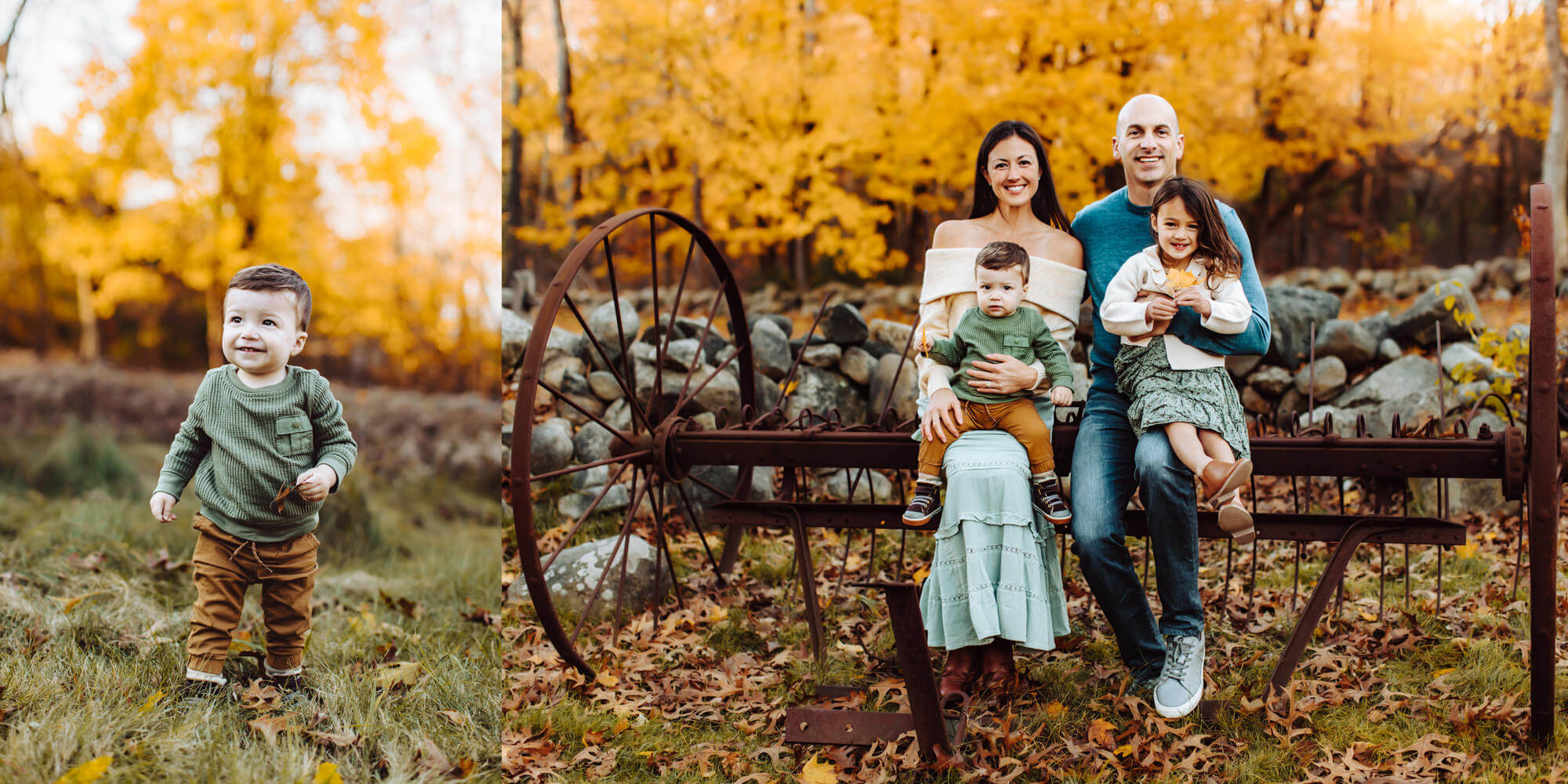 College kids! Yes, Thanksgiving is THE time of the year when the adored college kids come home. Moms' hearts explode. Finally the house is full and loud. The jokes and laughs are non-stop. Booking a family session for Thanksgiving weekend (or the weekend before) is very common. Make sure you reach out to your photographer way in advance, those 2 weekends are VERY popular and your photographer might also be traveling.
Location: Concord, MA (2019)

Some families book later in the season, others are waiting for family to arrive for the Holiday season. Grandparents are worth the wait! I would trade peak foliage for grandparents ANY DAY. Ultimately the sessions are about your family's love & essence. The leaves are just leaves. If we have leaves in the trees, wonderful! if we don't then other golden backgrounds will be gorgeous :)
Location: Lexington, MA (2019)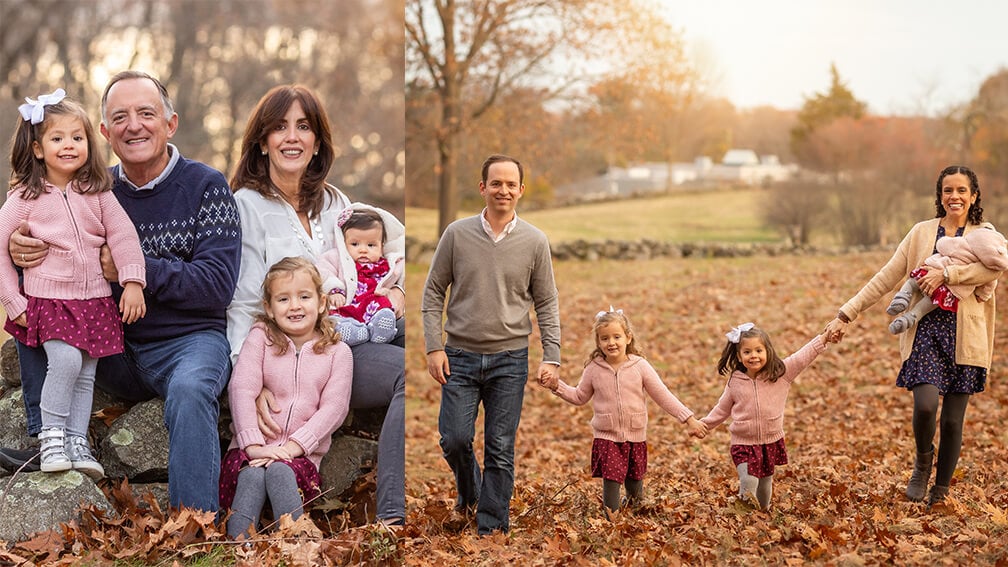 Location: Brookline, MA (2021)
This location used to have dozens of trees in peak foliage in October. When I scouted this location in mid-November, I was delighted to see this pocket of color in the park!


How about December?
Yes! Not often but sometimes I still shoot into December. This starts to be the slow fall season yet the weather can still be enjoyable if kids have warm clothes (some years the cold is not too harsh just yet) and the leaves are still there (in the floor but there!!). It makes for the perfect timing for those who like the photos after Thanksgiving. Families who book me by then are not too worried about Holiday Cards (depending on the date you might not make the shipping cutoff), they are after the treasured memories. I love it!
If you're thinking about December, I would encourage you to book your session as early as possible, many photographers take time off starting early December. By then we have been working around the clock since September, so we might agree to shoot the session (sometimes it is hard to say no) yet the gallery will most likely be delivered in January. I would totally do it! If Stormy Solis was visiting Boston in December, I would book my family session with her and wait for whatever-long-it-takes to get my Fine Art photo gallery :)
Location: Lexington, MA (2019)




Location: my most treasured hidden gem, MA (2021)
This session took place on December 15th! It was 52F and we couldn't believe our luck! December might surprise us ~ wohooo! The best part? my precious and adored golden grass. When the leaves are gone, we ALWAYS have the grass to make FALL magic with!


At what time of the day do Fall Sessions take place?
Regardless of the season, photographers shoot around the Golden Hour (sunrise & sunset). The best light is 60-90 minutes around sunrise and sunset. Then we get the blue hour (which is that soft light after the sun is set).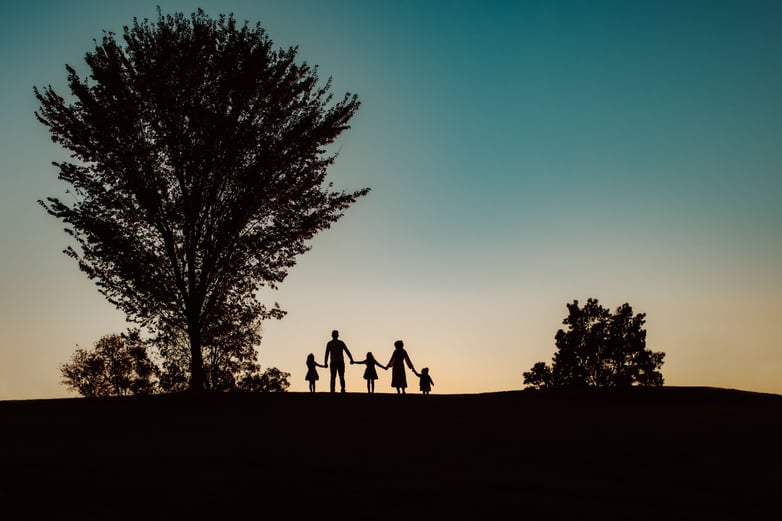 In the Boston Area, in October, sunrise is around 7.20 am! This is AWESOME news for sunrise sessions, no need to wake up at 5 am for photos!
At that time of the year, sunset is around 5.30 pm. So yes! you'll be home for dinner, yay! :)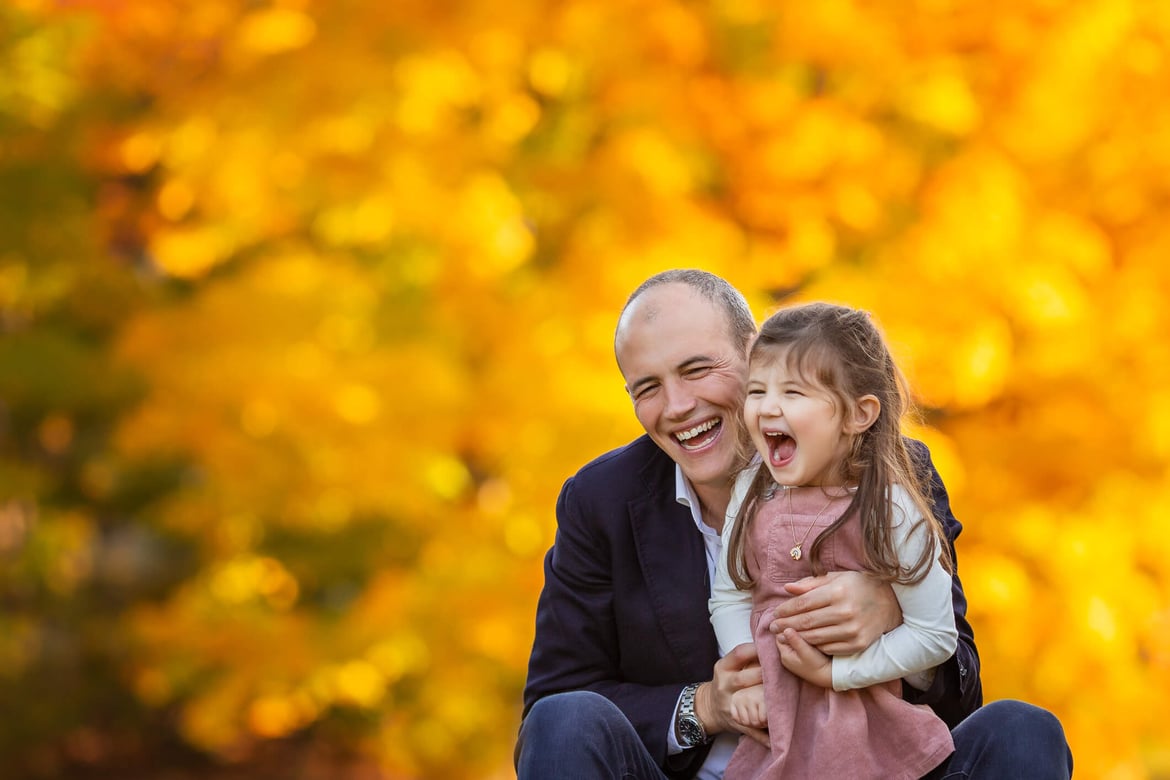 So here we go! you can see that Fall lasts much more than just 2 weeks of peak foliage. The leaves are incredible yet your photo gallery will be stunning and breathtaking regardless of what Fall week you picked. I'm sure you've seen gorgeous spring and summer photos that have taken your breath away, none of those had foliage. It's all about the candid moments captured and the storytelling 😊
If your dreamed photographer is fully booked in October but has openings in November or September, go for it! If you're late to the game and just realized you want your Christmas gift to yourself to be family memories with your kids, go for it! December is still an option in the Boston Area. It's all about dressing accordingly to be warm and happy!

How to prepare for your Fall Photo Session?
Here are some useful tips to have an amazing family photo session experience:
Styling

. Having outfits that complement each other, think about textures and fabrics. Add neutral colors to the mix. Here is a blog dedicated to WHAT TO WEAR TO YOUR FALL FAMILY PHOTOS!

Has the thought of picking outfits kept you from booking family photos?, when you hire a professional photographer like ATP you get the whole deal, a white-glove experience! What does this mean? we do the work for you. We style your family. Yep, you heard it correctly. Get excited and learn more about this perk!

Expectations. Setting the right expectations for an outdoor photo session goes a long way, there will be some chaos, you'll walk around, play, and snuggle. There is SO much beauty in the chaos. Your photographer will embrace it and capture THE most emotive memories your heart could ask for! Magic will unfold unexpectedly. Also, flexibility is key, rainchecks exist for a reason.
BE ON TIME. The sunset or sunrise doesn't wait for us! Plan to arrive 15-20min in advance :)

Why is Family Photography important? Celebrating and embracing your loved ones is at the core of Family Photography. The holiday cards are just a tiny reason, these artistic family memories will live in your heart for years to come. So don't let foliage determine if/when you book your Fall pictures, follow your heart and make the investment when it feels the right time do to so. In any month, your photographer will scout a dream location and your family's essence will be captured with love and purpose!
Fall family photos are a dream, go for it!

Love,
Andre

ABOUT ANDRE TORO PHOTOGRAPHY
Andre Toro is an award-winning family photographer based in Boston, MA. She calls her style Real Art Photography, which she defines as Fine Art inspired by candid moments. Andre is a passionate soul, obsessed with human connection, and emotive storytelling. She believes love is raw, messy, and beautiful. To inquiry about booking a photo session, please contact her at andre@andretorophotography.com