Congrats on your baby! the sweetest and most fulfilling journey is about to begin. Documenting your baby's first year is so special. There will never be a time in your kid's life when months change him/her so drastically. Within a year you'll go from having a little one whom you can fit in your arms, to a sitter, crawler, and maybe walker. They grow up so fast in the first 12 months! Today, I'll share with you my 3 favorite stages to photograph babies. Can you guess what my all time favorite baby stage is?
Newborn Stage
Having a baby is such a blessing, we discover a new side of ourselves. Our hearts grow and overnight this little baby wins our souls for life. Having memories of these first days as a bigger family will have an unimaginable value as the years go by. Those days go by SO fast in-between sleepless nights and extra cuddles. Newborn sessions are so special, they will capture the essence and blurriness of those first days. They'll never look this little again, it's absolutely precious to have newborn portraits. As new moms, we are SO tired that having a professional photographer lead the way capturing your baby's magic feels the best gift of all.
When is the best time for newborn portraits? it all depends what you're looking for. If you are dreaming about photos of the baby sleeping like an angel and posed in adorable sets, then between day 6-10 is ideal. The newborn still sleeps tons and baby acne has usually not kicked in yet. After the baby's second week, the newborn starts to be more awake and active. Newborn portraits are still doable up until month 1 yet the photos will be more lifestyle ~ think about candid moments with parents or siblings holding the baby. It's still super adorable, it's just about having the right expectations :)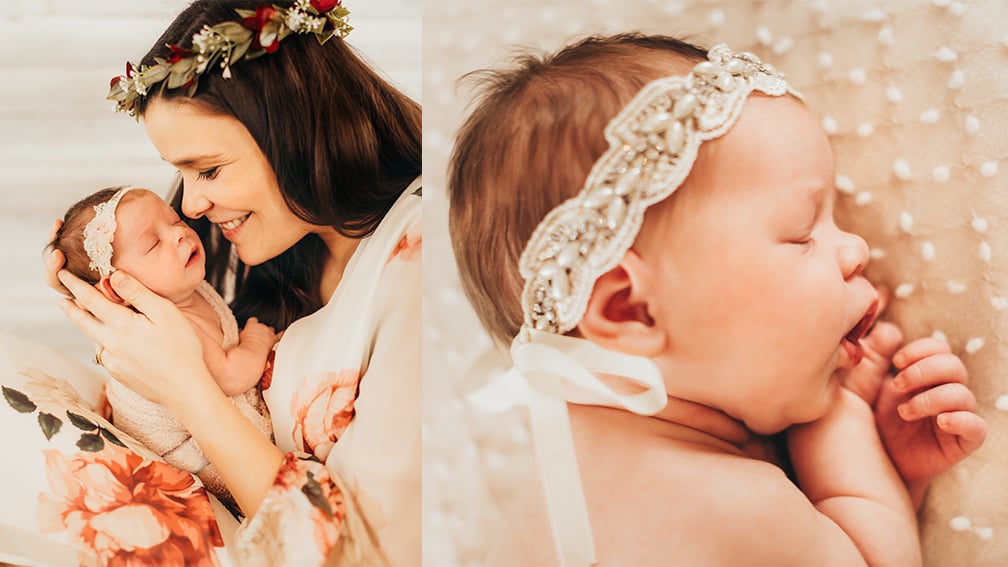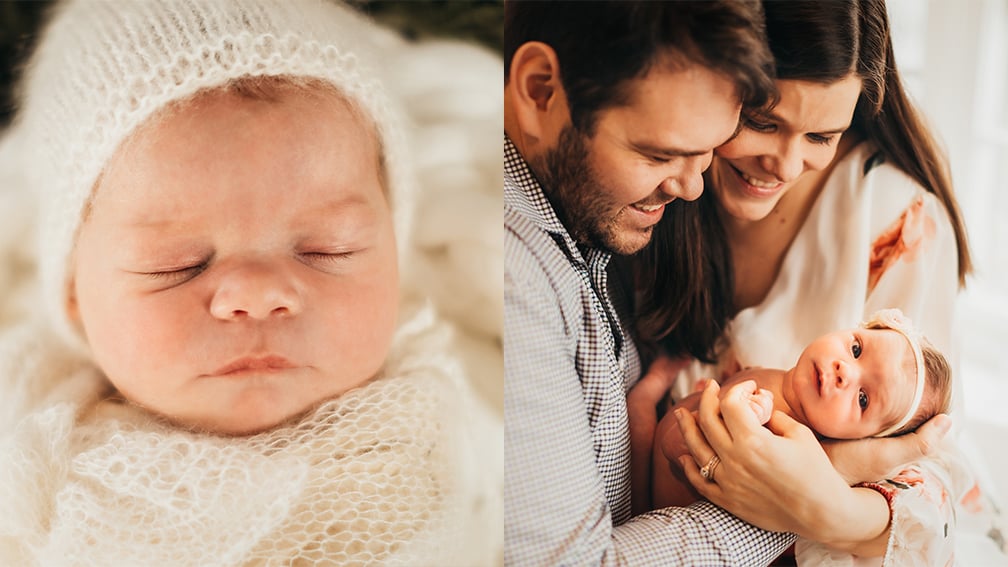 The big question becomes choosing between lifestyle and studio posed Newborn Photography. Every photographer has a signature style. You'll be able to find one that resonates to your heart. Some do only studio posed, others only lifestyle. Andre Toro Photography's approach is an hybrid between the 2 worlds, we'll make it as posed or as lifestyle as your hearts desires.
If you're craving newborn memories of your baby, but you like the documentary approach much more. I encourage you to take a look at Fresh 48 Newborn Sessions. These take place in the birth center within hours of the baby being born. The sessions are raw and emotional, you'll get portraits of the siblings meeting each other for the first time or those first moments as a family of 3. It's beautiful.
6 To 8 Months ~ Hello Sitter
This baby stage is SO ADORABLE! Your baby is starting to explore the world from a brand new perspective. They can sit and enjoy a brand new view. They might also be crawling! They are happy campers and usually separation anxiety hasn't kick in yet. It's the sweetest stage to have professional portraits of your baby.
Indoors
The magic can take place in studio or in your home (yes! ATP bring her studio to your house). You'll have the most magical memories of your baby sitting and feeling so proud of this big milestone!




Outdoors
At this age they start to explore, that means that if you have a crawler your baby will be delighted exploring mother nature. It's so adorable to watch. They can go places! You'll have the most epic portraits of your baby with the magical golden light. These professional baby portraits will be cherished forever.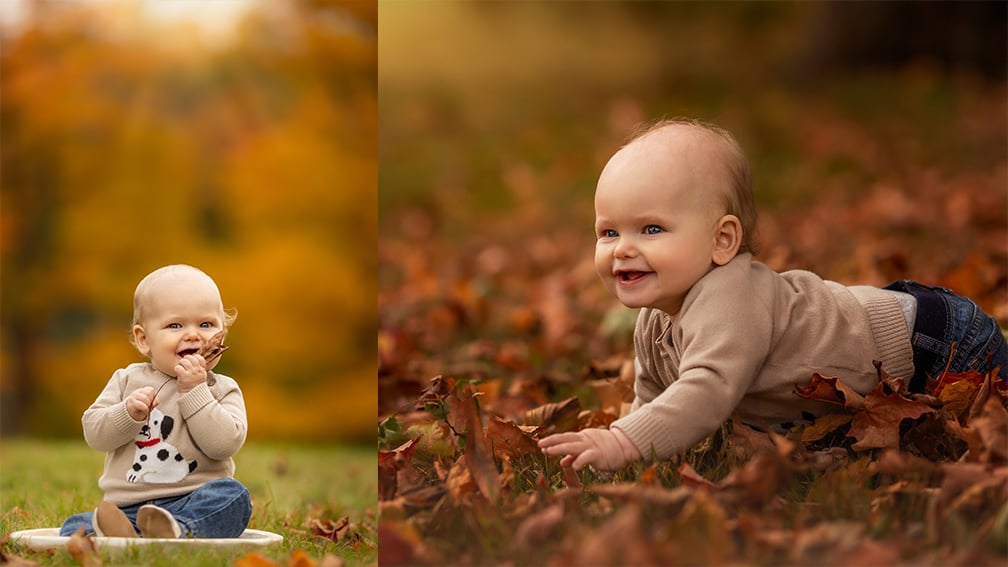 1 Year ~ Hello Cake Smash
That first birthday is SO special, it's once in a lifetime milestone. Your kid is no longer a little baby, he/she is starting to show his/her personality, maybe even walking! Celebrating this birthday with a Cake Smash is so fun.
A Cake Smash is fun all year around, if you have a winter baby and you live in a cold place like the Boston area, then an indoors Cake Smash will be gorgeous! If you have a spring/summer/fall baby outdoors sounds lovely! In both cases you'll work with your portrait photographer to choose the set and decoration that you're dreaming about.
Outdoors. The location options are endless, from your backyard to a park. My recommendation is to make it a convenient location with easy parking as the set up / decoration needs to be carries to the photo shoot. Your backyard will ALWAYS be a prime spot, the baby will be happy to not ride in the car, you'll have everything handy, AND it's so easy to clean. Cake Smash are messy... haha expect tons of frosting all over the face, clothes, and grass.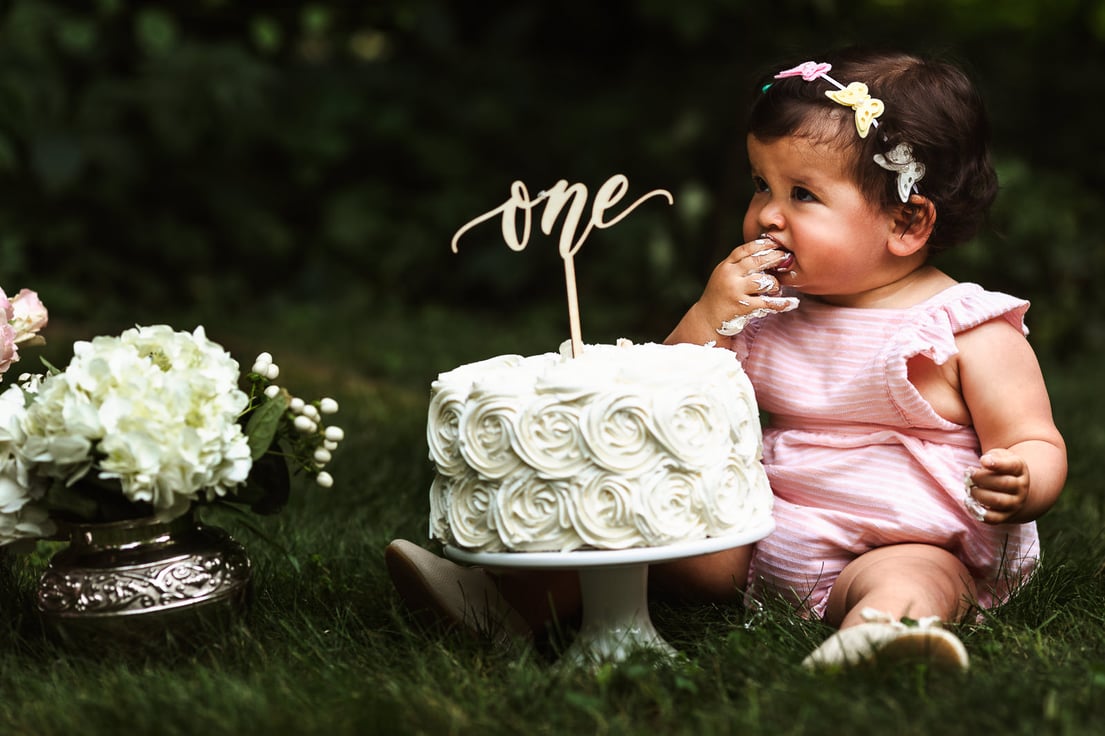 Indoors. In-Home or Studio Cake Smash will always be convenient. It's a good choice for every season. I love In-Home Cake Smash, the baby feels so comfortable and happy. He/she knows the place and feels great. The professional photographer will bring EVERYTHING to your home, you just need to relax and enjoy the session! Your little one will have so much fun, we have so many tricks if they don't like the cake! haha.. like hiding cheerios / cookies in the cake ;)


For some moms, it's important to have the photos in their hands by the time the baby turns 1. These Cake Smash portraits make it for beautiful decoration for the birthday party! If that's your case, I encourage you to schedule the session at least a 3-4 weeks before your baby turns 1, be sure to confirm the turnaround time with your professional photographer!
So this is it! Those are my 3 favorite stages for professional baby photography. Newborn, 6-8 months, and 1 year old! If you want to add a 4th to the mix, Birth Stories are magical, memory fades away and these birth portraits will own your heart forever.
Some photographers offer the Year 1 bundle that includes 2-3 sessions in the first year. ATP will launch this package later this year. This bundle has savings and you'll get to pick the Newborn Session in addition to your second favorite baby photo session! If you can only afford 1 photo session for your baby, I would recommend with all my heart to book a Newborn Session. These are once in a lifetime memories. It will be the best family investment! You and your little will LOVE to look at these portraits decades from now!

Love,
Andre
ABOUT ANDRE TORO PHOTOGRAPHY
Andre Toro is an award wining family photographer based in Lexington, MA. She calls her style Real Art Photography, which she defines as Fine Art inspired by candid moments. Andre is a passionate soul, obsessed with human connection, and emotive storytelling. She believes love is raw, messy, and beautiful. She specializes in Family, Maternity, Newborn, and Birth Photography. To inquiry about booking a photo session, please contact her at andretorophoto@gmail.com